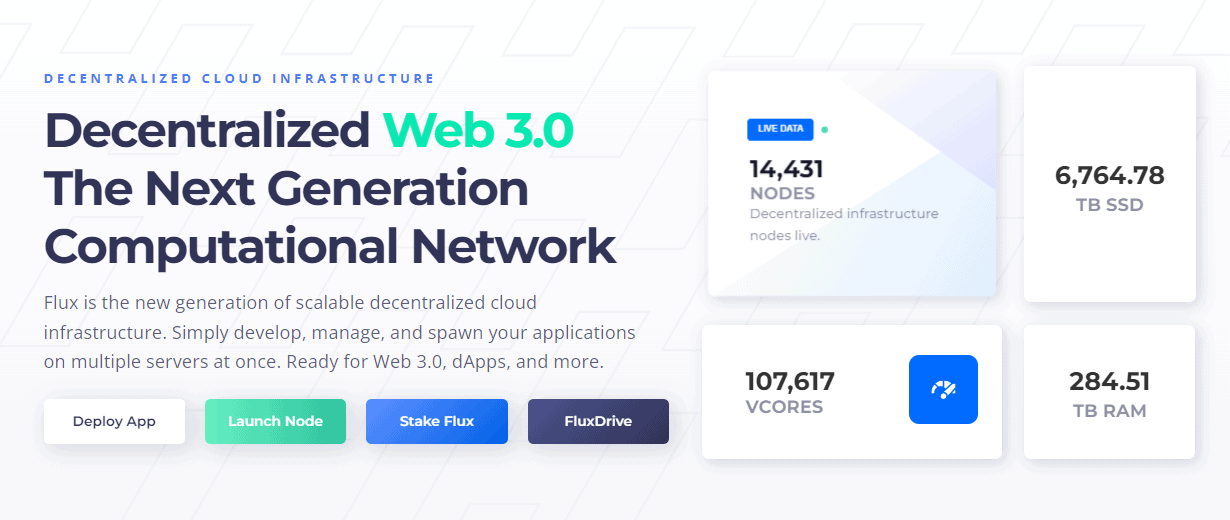 Flux (FLUX) is a highly innovative blockchain ecosystem that provides users with resources for decentralized app (dApp) launching, cloud computing, crypto mining, a blockchain operating system, and a multifunctional crypto wallet.
Flux is an all-encompassing crypto project with various utilities and a special focus on Web3 functionalities. Let's dive into the details of the Flux cryptocurrency.

Buy & sell 70+ Cryptoassets
Practice risk-free with a $100K demo account
30+ Million users
Also trade stocks, shares and other assets
Staking service enables you to grow your crypto holdings, simply by owning crypto

350+ Cryptocurrencies Listed
<0.10% Transaction Fees
120 million Registered Users
Secure Asset Fund for Users
Earn On Deposits

200+ Cryptocurrencies Listed
Get Crypto After Your First Buy
Protected By Insurance
Secure Storage With Vault Protection
The Most Trusted Cryptocurrency Platform
Flux Price
Flux (FLUX) Exchange Rate Calculator
Historical Flux Price Chart
Flux
(FLUX)

Price
Market Cap
How Flux (FLUX) Works
Flux has several layers of features. The Flux blockchain is originally a fork of the Zcash (ZEC) network, made by forking the Bitcoin (BTC) blockchain. Flux shares its core operating Proof-of-Work (PoW) mechanism, and it, too, relies on miners to validate blocks and process transactions.
However, Flux uses an entirely different hashing mechanism and allows far more programming flexibility than Bitcoin. For example, Flux enables developers to launch all types of dApps, establish cloud storage solutions, integrate Flux into already existing corporate platforms, and easily set up FLUX validator nodes.
The Flux blockchain is entirely operated by thousands of decentralized validator nodes. There's no central entity that owns a huge share of nodes. Anyone can become a Flux validator if they meet certain requirements.
There are three levels of validator nodes that require users to deposit 1,000, 12,500, or 40,000 FLUX as a stake in the network to start operating a node. All three node tiers can validate transactions, but the higher tiers can process more transfers and earn higher rewards.
Deploying Flux nodes is the key advantage of the Flux ecosystem because it's much more affordable than Bitcoin mining, and users don't need such expensive mining hardware. 
With Flux, programmers can launch dApps by leveraging the Flux operating system (Flux OS), a blockchain operating system designed to allow users to quickly launch and manage decentralized platforms. There are more than 4,000 active dApps in the Flux ecosystem, and the network is steadily growing.
The Flux team is constantly integrating new cross-chain functionalities within the network. For example, various leading cryptocurrencies have parallel assets on the Flux chain. Some of these parallel assets include Ethereum (FLUX-ETH), Solana (FLUX-SOL), Tron (FLUX-TRX), Avalanche (AVAX-FLUX), and many more. 
What Is Flux (FLUX) Used For?
Flux can be used for a wide variety of operations, from mining, creating, and powering dApps all the way to managing financial assets in a decentralized, cross-chain-compatible manner. 
The Flux network depends on validator nodes, and users are encouraged to operate their own nodes. Zelcore is the official wallet of the Flux ecosystem and its most important dApp. Zelcore acts as the gateway to the Flux blockchain and allows users to set up their own Flux nodes and manage their mining operations by connecting their accounts to their mining hardware. 
Additionally, users who don't have the means to operate their own Flux node can stake as little as 50 FLUX coins through a Tier 3 validator node with staking capabilities. This feature is called Titan staking and allows FLUX holders to lock up their coins for a period of 3, 6, or 12 months. Once the lock-up period ends, users can withdraw their Flux, along with their staking rewards. 
Flux has around 13,000 validator nodes across the globe, which means the network is extremely decentralized and has a lot of computing power. Developers can utilize this computing power to launch their platforms and host them on the Flux blockchain. The Flux OS supports several popular Web3 programming languages, which makes it easy for developers to launch platforms on Flux and make them compatible with other blockchains. 
Cross-chain compatibility is an important characteristic of Flux, and crypto holders can benefit from it by easily bridging assets between blockchains without using multiple dApps. For example, Zelcore allows users to convert Avalanche (AVAX) to AVAX-FLUX, then convert that asset to SOL-FLUX, and finally convert it to Solana (SOL).
Users don't need to leave the Zelcore app to convert assets between mutually incompatible blockchains like Avalanche and Solana. This feature is handy for users who often need to convert assets from one chain to another. 
Where to Buy Flux (FLUX)?
Flux is a very well-established crypto project, and you can buy it on numerous crypto exchange platforms. According to CoinMarketCap, there are more than 25 exchanges that support FLUX, with over 40 trading pairs. 

Buy & sell 70+ Cryptoassets
Practice risk-free with a $100K demo account
30+ Million users
Also trade stocks, shares and other assets
Staking service enables you to grow your crypto holdings, simply by owning crypto

350+ Cryptocurrencies Listed
<0.10% Transaction Fees
120 million Registered Users
Secure Asset Fund for Users
Earn On Deposits

200+ Cryptocurrencies Listed
Get Crypto After Your First Buy
Protected By Insurance
Secure Storage With Vault Protection
The Most Trusted Cryptocurrency Platform
You can buy FLUX on major centralized trading platforms like Binance, KuCoin, and Gate.io. As far as decentralized exchanges are concerned, PancakeSwap and Kaddex support FLUX.
To buy FLUX on a centralized exchange, you just need to create a user account and fund it with some fiat currency. Alternatively, you might send crypto to your exchange platform account and exchange it for an intermediary crypto that supports FLUX trading, such as Tether (USDT) on Binance or Bitcoin on KuCoin. 
To purchase FLUX on PancakeSwap or Kaddex, you'll need to connect your crypto wallet to these platforms. Buying FLUX on PancakeSwap is only possible with Wrapped BNB (WBNB), while Kaddex supports FLUX trading with Kadena (KDA) coins. 
How Long Has Flux (FLUX) Been Around? 
Flux is present on the market for quite some time. The project was initially launched as a Zcash fork back in 2018. However, the name of the project was ZelCash (ZEL) until March 2021, when the team decided to rebrand the project to Flux. 
Since the rebranding, Flux began rapidly evolving thanks to the team's strategy of mass expansion through decentralized validator nodes that enable users to earn passive income by providing computing power to the network.
During 2022, Flux added support for numerous parallel assets for popular blockchains, which accelerated the development of the Flux network and contributed to the growth of the number of Flux dApps. 
What's Controversial About Flux (FLUX)?
So far, there hasn't been any controversy surrounding Flux. The developers managed to put out a huge amount of innovative features within a two-year period since the Flux rebranding. 
How Many Flux Coins Are There?
Flux has a hard cap of 440 million FLUX coins. This is the maximum number of FLUX coins that will ever be in circulation.
Currently, there are 285 million FLUX tokens in circulation. There wasn't any initial coin offering for FLUX. All of the coins are produced by mining through the work of Flux nodes and their validation mechanism.
Can FLUX Be Mined?
Yes, FLUX is a mineable, Proof-of-Work cryptocurrency. The Flux blockchain's validation mechanism relies on FLUX miners who operate Flux nodes. Miners receive block rewards, and the current reward is 37.5 FLUX per block. A new Flux block is created every two minutes.
Users can mine FLUX with the GPU of their PC, a mining rig with multiple GPUs, or even with special ASIC miners designed for mining Flux. 
Market Cap and Price History of Flux (FLUX)
Flux is positioned among the top 200 cryptocurrencies, between the 140 and 150 marks, with a market capitalization of 130 million USD. At the time of its launch as ZEL, Flux had a price of 0.027 USD and stayed around this level until the rebranding to FLUX in 2021. 
The price of FLUX exploded in late 2021 during the last bull market when FLUX coins reached an all-time high of 3 USD per coin. The price of FLUX has fallen sharply since then, and FLUX is now trading between 0.65 and 0.45 USD per coin. 
Biggest Competitors of Flux (FLUX)
Flux is a multi-functional blockchain ecosystem that simultaneously provides a solid passive income opportunity for miners, various dApp development resources for programmers, and a wide range of financial services through the Zelcore Web3 wallet.
This means that Flux is competing with some of the largest dApp development ecosystems on the market, such as Ethereum, Avalanche, and Solana. However, Flux doesn't use a Proof-of-Stake (PoS) consensus mechanism like these networks. Flux relies on miners but also has smart contract functions for launching dApps.
This mix makes Flux a rather unique blockchain, which is one of its strengths. The fact that Flux is already highly positioned on the market and has a dedicated developer team might propel the project even higher in the future.
What Does the Flux (FLUX) Project Road Map Look Like?
The Flux developer team has been true to their word since the project's rebranding in 2021. The team is constantly delivering improvements and new functions to the network. Future plans for Flux include introducing new FLUX parallel assets and transforming the Zelcore wallet into a proper Web3 browser with cross-chain connectivity. 
Additionally, the team plans to introduce support for more dApp programming resources compatible with other blockchains. One of the goals of the Flux project is to become a blockchain that connects all the leading market networks. 
Pros and Cons of Flux (FLUX)
Pros
Cross-chain compatibility with numerous leading blockchains.

The Zelcore Web3 wallet supports FLUX parallel assets.

Users can mine FLUX with Flux nodes.

Flourishing dApp development ecosystem.
Cons
Flux uses the PoW consensus mechanism, which uses a lot of electricity and isn't environmentally friendly. 
Flux User Reviews
Review Summary
0 out of 5 stars (based on 0 reviews)
Recent Reviews
There are no reviews yet. Be the first one to write one.
Submit a Review