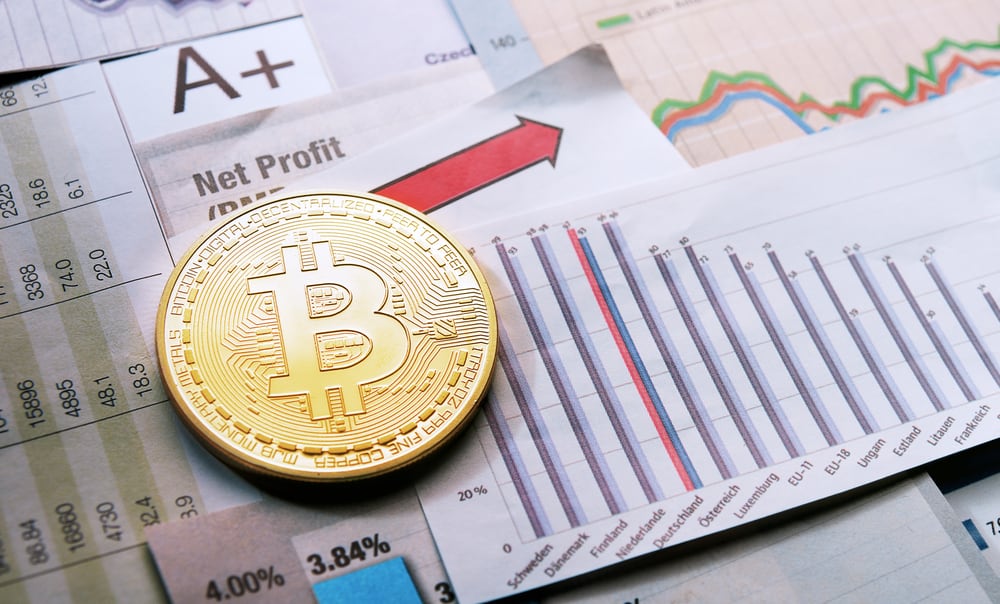 In this review, we'll compare Coinbase vs Uphold – two veteran exchanges that let you buy crypto with fiat currencies. Still, there's a lot more to these trading platforms that make them popular among traders. 
For your convenience, we'll compare and contrast the versatile trading options Coinbase and Uphold offer. We'll also look at the security of the platforms, their trading fees, the pros and cons of conducting your trading strategy through these exchanges, and more. 
About the Exchanges
Coinbase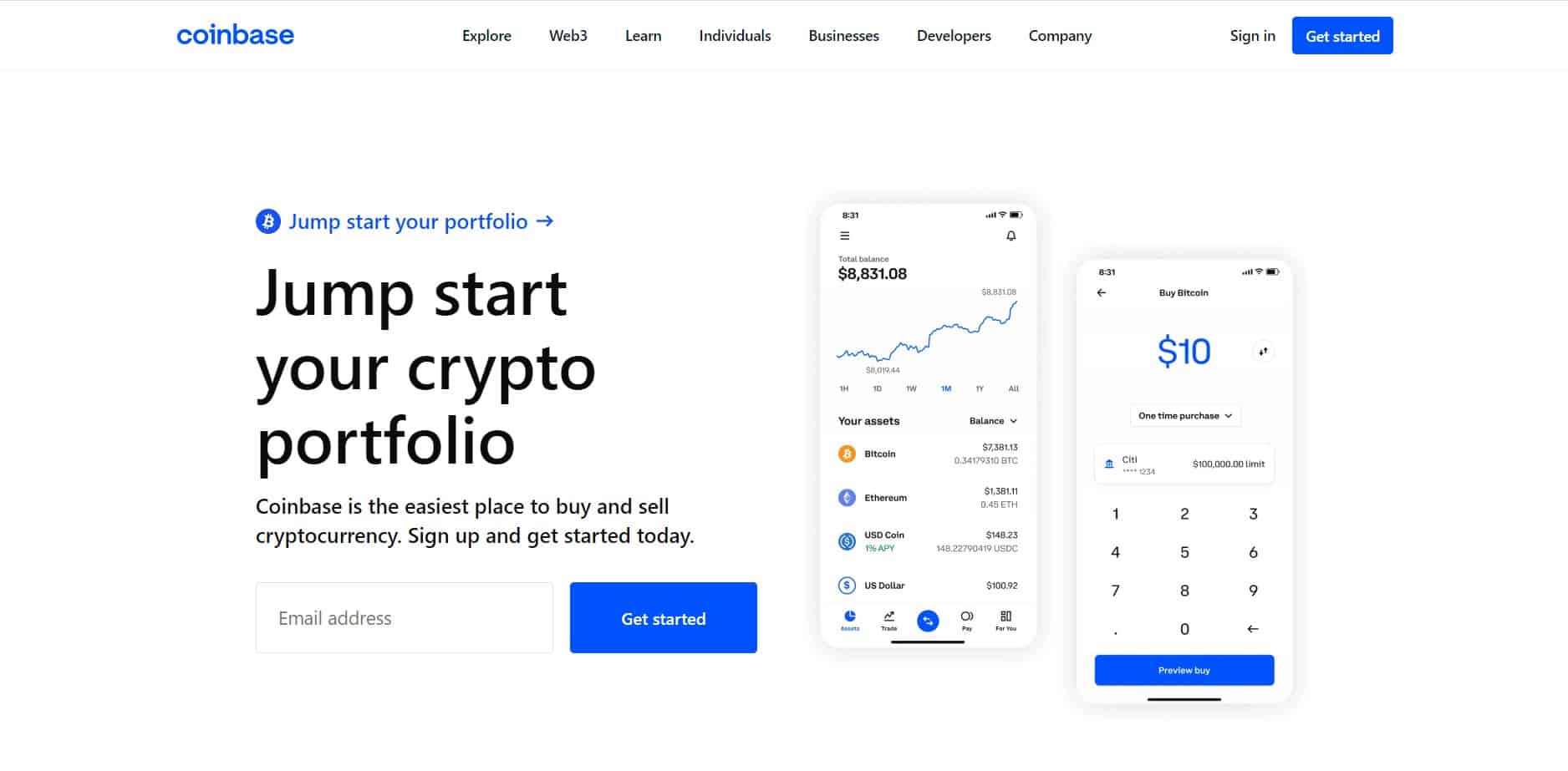 Established in the US in 2012, Coinbase is one of the largest crypto trading platforms in the world by trading volume. During the years of its operation, this exchange gained prominence among crypto investors as the world's user-friendliest platform, which was the primary aim of its developers.
To this end, Coinbase provides a primary Coinbase marketplace aimed at beginners in crypto trading. Anyone who lacks prior experience in trading digital coins through this platform can buy their first cryptos in a couple of clicks – it's really that simple. 
There's also the Coinbase Advanced Trade platform (formerly Coinbase Pro), where professional traders can employ more sophisticated and advanced financial instruments in their trading strategies. 
Uphold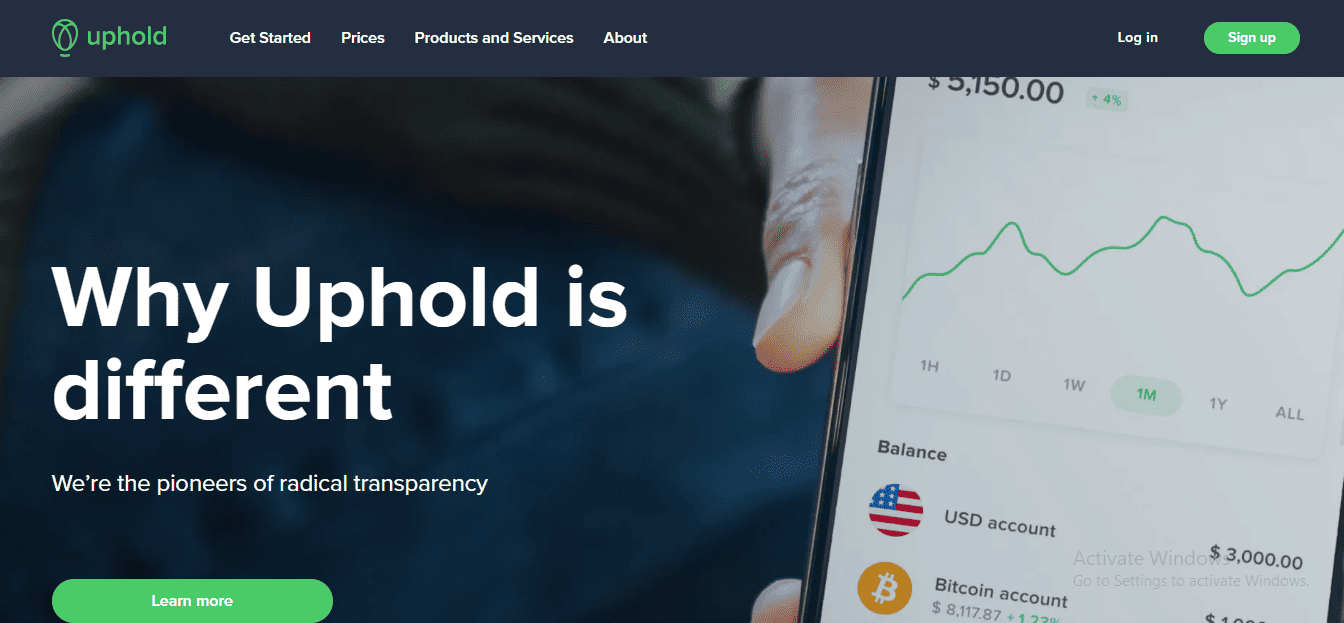 If you're looking for a trading hub that offers more than digital coins for trade, look no further than Uphold. This veteran platform, established in 2013, was put into operation two years later and offers multiple assets, including cryptocurrencies and metals. 
Uphold is a client-oriented exchange that provides versatile trading tools and assets suitable for beginners and advanced traders from more than 184 countries worldwide. 'Anything to anything' is the motto of the exchange. Here, you can trade anything for anything. This includes cryptocurrencies, fiat currencies, metals – you name it.
It also features a user-friendly interface that's easy to navigate, although some financial instruments can be a bit more complex than expected for novice investors. 
Pros and Cons
Coinbase Pros
Provides a wide variety of tradeable cryptocurrencies;

Features an advanced trading platform (Advanced Trade) alongside the beginners' marketplace;

You can stake the eligible coins for a passive income;

Rich knowledge base;

One of the beginner-friendliest platforms in the industry.
Coinbase Cons
Uphold Pros
A FinCEN-regulated and commission-free platform;

An all-in-one trading hub;

Offers more than 200 tradeable cryptocurrencies and fiat currencies;

Enables trading of metals alongside cryptocurrencies;

Fee-free transactions when sending money to a family member or a friend from your balance;

Provides a recurring buy feature.
Uphold Cons
Customer support could use some improvement;

Residents of the UK and the US can not trade US stocks through Uphold;

Hefty credit card/debit card deposit fees for US residents;

Beginners could find this platform more difficult to use than Coinbase.
Coinbase vs Uphold: The Crypto Exchange Comparison 
Opening an Account
If you're over 18 years of age, you are eligible to open a Coinbase account. To trade or invest in cryptocurrencies through Coinbase, you'll need to prove your age and identity using a government-issued ID (passports are not supported as evidence on this exchange) and provide a functional password-protected email and a phone number to receive the account verification code. 
After you verify your account, you'll need to complete your trader's profile by entering some more personal data, such as your full name, place, address, country of residence, birthdate, as well as your workplace, employee details, salary, etc. While these data may seem too much, rest assured that the exchange collects them for your safety through the KYC protocol. 
Namely, as a registered exchange, Coinbase strictly adheres to the financial regulations that protect its clients' data and funds. The KYC protocol, in particular, safeguards the platform from being misused by some clients for illegal financial activities, thus protecting you, too.  
Onto Uphold's registration procedure now. Getting started with Uphold is easy, and you'll be able to register your account in no time, even if it's your first time opening a crypto trading account. 
All you need to do is provide a valid email, protect it with a strong password, fill in the form with a few simple pieces of information, such as your name and country of residence, and verify the email. 
The entire process of registering your Uphold account will take only a few minutes, after which you can dedicate your time to your trading strategy. 
Main Features
To begin with, Coinbase provides something for everyone. Even if you have yet to experience trading cryptos, you can get your feet wet in the crypto waters through Coinbase by following the simple instructions on your display. It takes only a couple of clicks with the mouse to buy your favorite coins through the streamlined Coinbase widgets. 
If you'd like to learn about Coinbase's features and trading options before venturing into buying or selling cryptos, this exchange provides some of the most extensive knowledge bases in the industry. In this learning hub, you can get concise answers to some of the most intrinsic concepts about crypto trading that could make you feel like a pro.
Later on, when you gain enough experience, you can try out different trading strategies and advanced tools through the Advanced Trade platform. 
To further boost your strategies, Coinbase offers you TradeVew active charts that display the market dynamics, advanced trading options, and ways to earn passive income on your idle coins. 
When it comes to Uphold as a multi-asset digital trading platform, you have numerous investment options at your disposal – all in one place. You can opt to trade digital currencies, fiat currencies, or metals in a secure blockchain environment.  
The best thing about this platform is that you can effortlessly swap different asset classes with your credit/debit card with no commission. Typically, you'd need to go through several conversions and transfers to trade between a Meta stock and Bitcoin. 
As an illustration, you'd first have to sell your stock for USD and then buy bitcoins with the money on most exchanges. But, on Uphold, it's just a one-step transaction. A walk in the park, indeed. 
Moreover, Uphold enables you to transfer some of your funds to your relatives or friends without incurring transaction costs. The conversions between the currencies are automatic, ensuring the funds will be allocated to the chosen account in no time. 
Supported Cryptocurrencies
Coinbase may be far behind Binance by the number of listed cryptocurrencies, but the (more or less) 300 tradeable coins it offers are some of the most liquid ones, which is perfect for anyone's trading methodology. 
Alongside the most popular coins in the market, such as Bitcoin (BTC) and Ethereum (ETH), Coinbase lists some low-cap coins. These coins are ideal for traders with limited investment capital, as they can provide you with a more outstanding market exposure for much less than if you invest in a prominent cryptocurrency.
Uphold has an almost equal number of supported cryptocurrencies as Coinbase. Even more remarkable is the wide variety of listed fiat currencies enabling you to buy just about anything on Uphold (digital coin, ETF, platinum stocks, etc.) with your credit/debit card. 
As most beginners don't hold any crypto, having the option to make fiat-to-(crypto/stock/EFTs) purchases is ideal for them. 
Payment Methods
It's easy to make a trade on Coinbase, as it accepts not only many prominent coins but also many payment options. If you choose to trade, buy, or sell crypto through this American exchange, you can opt to make the transaction by using your bank account, debit card, GooglePay, Apple Pay, and Pay Pal, to name a few. 
Trading Fees and Limits
The trading fees are probably the only thing that doesn't shine bright on Coinbase. But it's not all doom and gloom. 
For starters, let's say that the more experienced traders get to trade with lower fees through the Advanced Trade platform. These investors typically trade crypto in larger volumes, so this fee rebate makes a massive difference for them.
On the other hand, the fact that new buyers pay higher trading fees shows how complicated Coinbase's fee system is. In particular, these traders pay more fees because the costs depend directly on things like the payment method they use, where they live, and the trading tool they use to make a deal.
Also, Coinbase doesn't charge a fixed trading fee, but it calculates the expenses based on a part of the whole traded amount. Usually, completing a trade on the primary Coinbase platform may cost you from 0.99 USD to 2.99 USD. Please note that using the Instant Buy feature and your debit card on Coinbase is the most expensive option, as it could cost you a staggering 3.99% (and more) of your trade. 
Uphold doesn't employ a traditional fee system. Instead, this exchange charges a spread (i.e., the difference between the cryptocurrency prices). Every time there's a coin available for sale or purchase through this platform, Uphold will come out with a bid-ask spread for that coin, noting the difference between the cryptocurrency's selling and buying price. 
To be more specific, the bid spread is the price you'll need to pay to sell a coin, while the ask spread is the price you'll need to pay to buy a coin. So, if you want to proceed with the transaction, you'll have to pay Uphold's spread on top of the entire trade cost. 
How Safe Are Coinbase and Uphold?
Coinbase employs tried and true methods of securing its clients' assets, like keeping 98% of them in cold storage. Furthermore, secure encryption algorithms are implemented in the platform's architecture that guards all input data against misuse and stealing.
In case Coinbase suffers a security breach (as it happened), the exchange has all US funds secured by FDIC of up to 250,000 USD per client. To this end, it's worth noting that this insurance covers only the losses caused by a hacking incident of the platform or misuse of its features by Coinbase's employees. In other words, this insurance will cover no losses caused by your mishandling of assets or private data.
On the other hand, Uphold is a regulated provider of financial services supervised by the United States Department of Treasury regulator FinCEN. As a cryptocurrency trading platform, Uphold complies with all local and international regulations by implementing the Anti-Money Laundering (AML) protocol to protect both its clients' funds and the platform from being abused for criminal financial activities. 
As Uphold also serves as a fiat gateway, it strictly follows the Payment Card Industry Data Security Standards (PCI-DSS), thus reducing the possibility of fraudulent activities such as stealing the cardholder's data, etc. 
Additionally, a Qualified Security Assessor (QSA) performs annual external audits of the exchange's adherence to the abovementioned protocols and standards to ensure compliance with the imposed financial and data-safety regulations. 
Last but not least, Uphold integrates a number of sophisticated security mechanisms to protect the platform and the users' assets, such as encrypted communication and layered security defenses. The exchange also has 24/7 monitoring of the system's functionality and a bug bounty program so that everyone who notices an irregularity can report it.  
Customer Support
Coinbase features one of the wealthiest knowledge bases among its peers. You can find everything blockchain and crypto-related among these writings and become better familiarized with the trading instruments and processes before deciding on a trade. 
The 24/7 customer support on this exchange is available through email, chatbot, or submitting a ticket with your inquiry through the Help Page. There's also an automated phone line for those who prefer the speedier and more personal communication method. 
Uphold doesn't have as many educational articles as Coinbase. Still, it offers a unique Cryptionary that will undoubtedly help you grasp the concept behind some of the complex crypto terms. Uphold's Blog is also a great place to start if you are new to the world of cryptocurrencies and eager to learn more about cryptocurrencies. 
In case you need professional support regarding some trading options, Uphold offers you a dedicated email through which you can send your inquiry, easily reachable through the Help Center page. 
Additionally, Uphold has a highly active Uphold Twitter account, so if you're more into social media, you can reach out for advice through this page. 
Mobile Trading
To make trading even easier, Coinbase launched its customized mobile app that features all of the exchange's functionalities you can utilize through a web browser. The app is compatible with any iOS and Android-supported device and is free to download. One note: if you want to benefit from the premium features of this app, you must update it regularly. 
Uphold's mobile app opens with an intuitive user interface that effortlessly guides you to complete your trade. Just like through the web-based platform, you can trade 'anything for anything' on the go with this piece of software. Placing an order through the Uphold app is an utterly two-click job – simply select your asset and click the dedicated Transact button. 
In addition to making fast and easy trades, you can use this app to monitor your transactions, balances, and market statistics or send money to your family and friends whenever needed. 
How Do Coinbase and Uphold Compare to Other Crypto Exchanges
If we compare it with Coinbase and Uphold, Binance would be the best of the two worlds. Here's why.
For starters, Binance is the number one cryptocurrency trading platform by trading volume, number of daily registered users, selection of cryptocurrencies, number of trading pairs, supported fiat currencies, payment options, and more. Everything about this exchange is expressed in superlative form.
With more than 600 digital assets listed for trading, no exchange can come even close to Binance, according to CoinMarketCap. 
Similarly to Coinbase, Binance features two marketplaces – one for beginners and one for expert traders. Even more to it, this exchange has a specialized platform for US residents, Binance.us, that provides financial services in compliance with strict US financial regulations. 
With Uphold, Binance shares its offer of trading precious metals and stock. Namely, you can invest in gold or silver through Binance and pay with fiat currency or crypto, too. 
Margin trading is also possible with Binance, which enables you to increase your investment capital by borrowing funds from the platform. If you decide to test this trading option, take note that it's one of the most volatile financial products on the market and can lead to significant losses, as it could bring you huge profits. 
Furthermore, Binance levies some of the lowest trading fees in the industry, lower even than the trading costs and spreads imposed by Coinbase and Uphold. In general, opening a spot position and successfully closing the trade would cost you around 0.1% of the deal. Provided you're buying or selling coins, you're in for a fee of 0.5% per transaction.  
If you belong to the market maker category of traders, you might get an even larger discount on your Binance trading fees which can reach as little as 0.000% in some cases. 
Ultimately, Binance also has its flaws, just like Coinbase and Uphold. Namely, the customer service of this exchange could use some improvement, which is also the case with the other two trading platforms. To some extent, we understand that servicing millions of active users daily can be a real challenge, but as long as there is a will, there's also a way. 
We also have to mention here that Binance is an unregulated exchange, which has a history of security breaches of its platform, as well as regulatory issues in several countries worldwide. But even these 'hiccups' cannot dim Binance's prominence in the industry, as it consistently remains at the top for many years in a row now. 
Conclusion
If you like to be spoiled for choice and don't feel much versed in crypto trading, both Coinbase and Uphold are good options. These two platforms offer an extensive selection of digital currencies and a wide variety of traditional currencies, which is useful for beginners who don't own any crypto yet. 
And while these platforms are very customer-centric and provide secure trading environments and many investment options, you should be wary of the spreads levied on their markets and the fees imposed for using your bank card when buying cryptos. 
But, despite this concern, Coinbase and Uphold are still great choices for investors who prefer to go the easier route to diversify their portfolios with cryptocurrency, precious metals, stocks, and more.