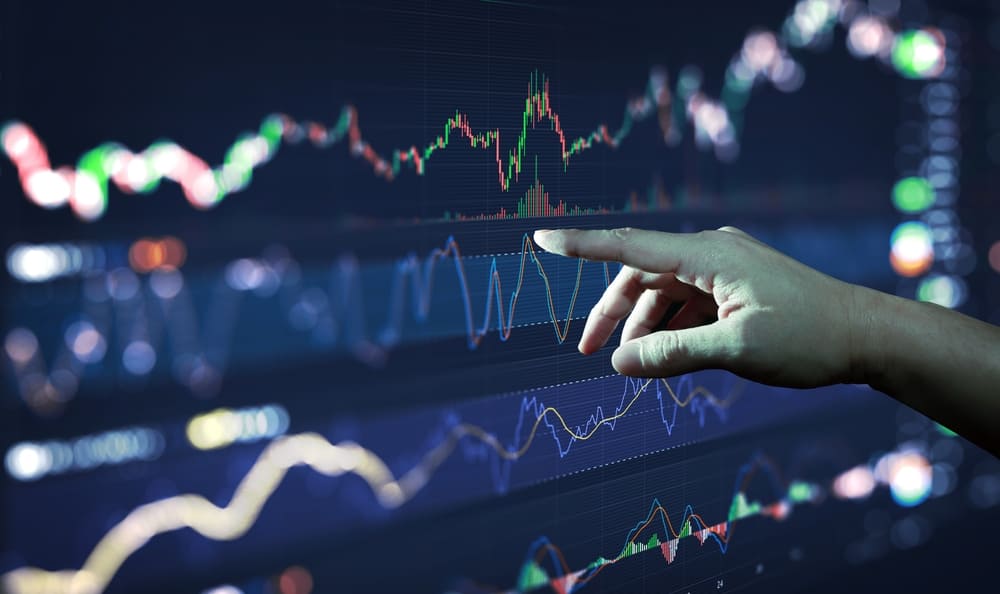 There are hundreds of active trading platforms on the crypto market, however, Coinbase and Kraken are among the top five cryptocurrency exchanges according to CoinMarketCap.
Stay with us until the end of this Coinbase vs Kraken review to learn all you need to know about the two platforms. 
About the Exchanges
Coinbase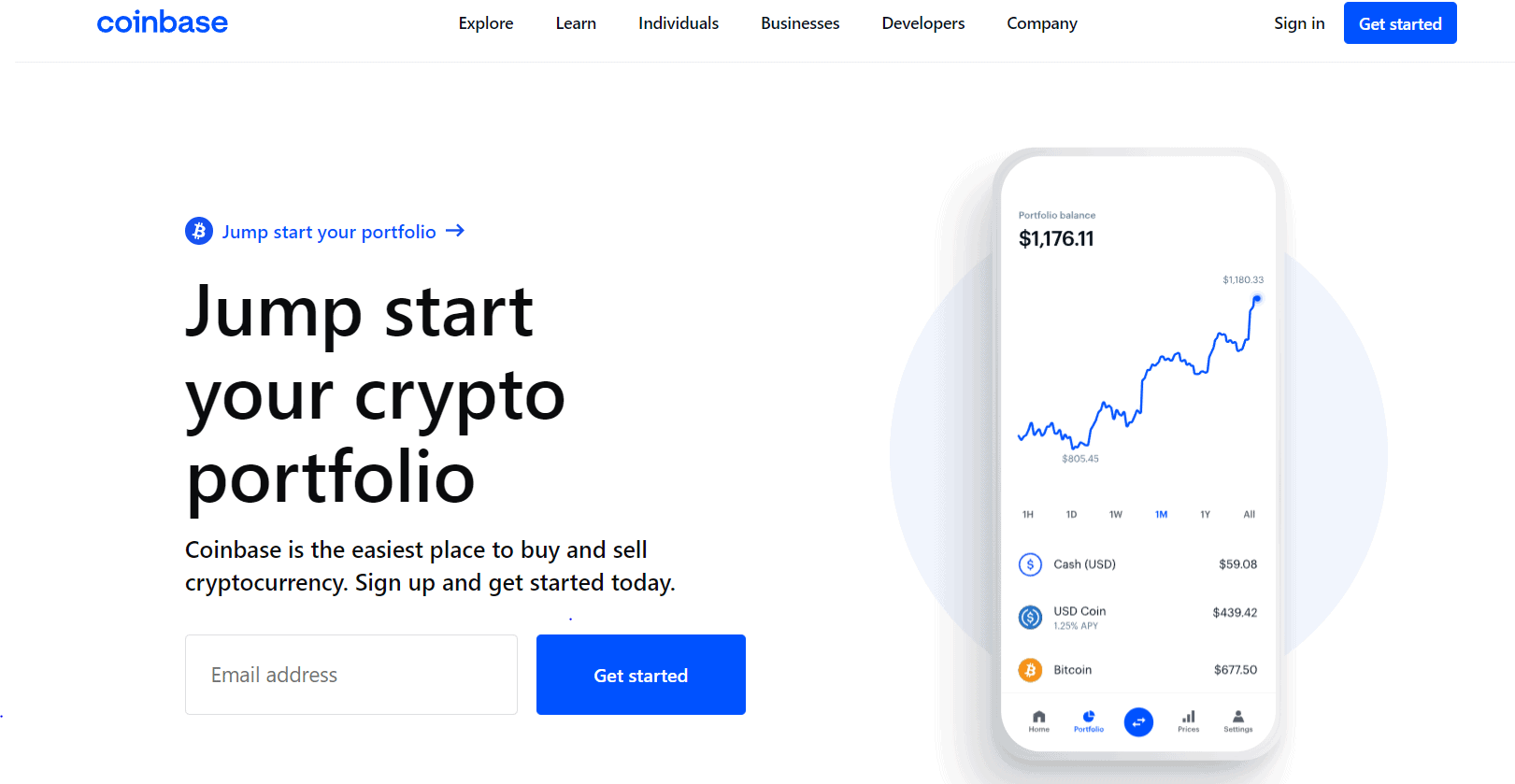 The story of Coinbase began in 2012 when a group of blockchain enthusiasts and financial experts decided to launch a top-quality Bitcoin (BTC) exchange in the US in accordance with the strict local regulations regarding money services.
Coinbase is one of the oldest and most trusted crypto exchanges on the market. Also, the platform has millions of users across the globe who use its services for everyday crypto trading.
Since 2012, Coinbase has evolved into a massive international trading platform that supports numerous digital currencies, NFTs, advanced trading options, financial services, and crypto staking.
Furthermore, the Coinbase Wallet is among the most well-designed and easy-to-use multi-currency solutions for storing crypto. Finally, Coinbase is the first crypto exchange to get listed on the NASDAQ stock exchange in 2021. 
Kraken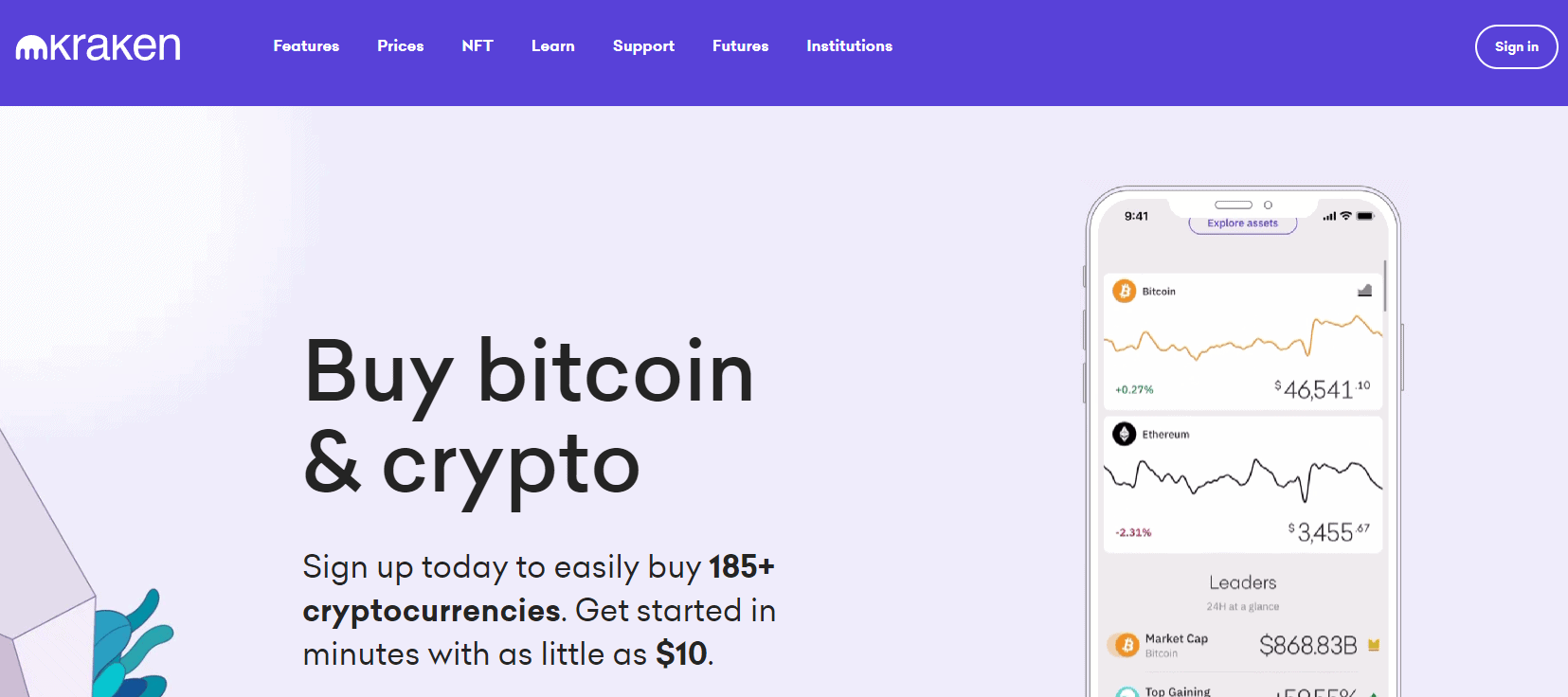 Kraken is another US-based crypto trading powerhouse known best for its industry-leading safety measures and security protocols that make it one of the safest exchange platforms in the world. The Kraken founding team decided to launch the platform in 2011 as a safety-first Bitcoin exchange, and thanks to its focus on security, Kraken became one of the top destinations for investing in crypto and trading.
Users can expect to find most of the top global crypto projects on Kraken, along with several types of trading options. The average users can stick to instant trading, but the more experienced traders can utilize the famously detailed Kraken trading interface with loads of tools and a super-detailed price chart to plan and execute their trading strategies.
The most advanced users have a separate Kraken Pro section of the platform at their disposal, and they can even engage in futures trading, which is quite rare among regulated US-based platforms.
Pros and Cons
Coinbase Pros
The famously smooth Coinbase user experience.

Various tools for pro traders in the

Advanced Trade

platform section (formerly Coinbase Pro).

You'll find most of the trending cryptos on Coinbase.

Crypto staking options and NFTs.

A Visa debit card option.

The Coinbase Wallet.

Licensed to operate in most US states.
Coinbase Cons
Limited crypto staking choices.

The trading fees are somewhat higher compared to popular competitors.

Coinbase was a victim of a

hack in 2021

.
Kraken Pros
The Kraken Pro platform section has everything advanced traders need, including futures contracts.

Loads of popular crypto coins and tokens.

An NFT section.

Fully regulated by US authorities.

Handy over-the-counter (OTC) desk for large-scale traders.
Kraken Cons
Coinbase vs Kraken: The Crypto Exchange Comparison
Opening an Account
Before you start your Coinbase journey, it's necessary to provide various details during account creation:
Start by hitting the

Get Started

button and fill out the form with your information, including your email address, full name, and password. Also, confirm that you're 18 years of age or older and agree with the privacy and user terms documents.

You've now registered a Coinbase account.

The next step is to activate your account by clicking the link sent to your email address. 

The link will take you to the Coinbase login page, and Coinbase will now require you to verify your phone number by entering the code sent to you in an SMS message.

Since Coinbase is regulated and follows KYC protocols to prevent scams and money laundering, you must undergo an identity verification process before you can start using the exchange.

First, enter your full name again, but this time you must also provide your date of birth, country of residence, and home address.

Coinbase will ask you a series of questions regarding what you plan to use Coinbase for, what is your source of income, your employment status, and your social security number.

After submitting this information, you'll receive an email to proceed with the final steps of ID verification.

Since Coinbase has adopted new ID verification rules, the platform only accepts photos of the front and back sides of your ID card. You can't submit a photo of your passport.

When you've submitted the photos, the Coinbase verification system will confirm your identity in a few minutes and send you a confirmation email. 

After receiving the email, Coinbase will allow you to use all of the exchange's features.
Kraken's registration process is similar:
Choose to create an account on

Kraken's webpage

. 

For a start, enter your email address, choose a username and password, and specify your country.

Click on the checkbox to agree with Kraken's platform use terms and tap the

Create Account

button. If you want to create a business account for your company, click on the

Create a Business Account

option in the lower left section of the screen. 

Kraken will immediately send you an activation key to your email address. Enter the key when logging into your account. You'll also have to confirm your password once more and solve a simple captcha to prove you're human.

Although you can log into your Kraken account now, you can't use any of the trading options without verifying your identity. 

Kraken has a Starter, Intermediate, and Pro verification level. For beginners, the starter level is enough.

Choose the

Get Verified

option on Kraken in the upper right section of the app, in the fall-down menu, right below the

Security

button.

Choose the

Starter

option, and you'll be required to provide a bunch of personal details and information regarding your full name, address, employment details, and other information. 

You must prove your identity if you want to get the

Intermediate

verification with higher trading limits, withdrawals, and access to Kraken's crypto staking features (only for non-US customers).

To do this, take a photo of your ID card and submit it to Kraken, along with your social security number. 

The

Pro

verification level requires additional documents depending on your geographical location, and the registration process is guided personally by a Kraken executive for large-scale investors.
Main Features
Coinbase is a crypto exchange built with the average crypto investor in mind. This means that it's simple to use, straightforward, has an easy-to-navigate design, and lets users quickly invest fiat currency in crypto.
All of the trading goes through the Coinbase buy/sell option, which is basically an instant trading feature. Users can browse cryptos, check their price chart, and instantly buy assets with a bank card or with their on-platform funds.
Experienced traders looking for additional features have the Advanced Trade platform at their fingertips. This section of Coinbase is where you'll find all of the pro tools for trading. 
Furthermore, the NFT section houses various trending collections, while the Coinbase Earn section is where you can stake crypto and earn an annual percentage yield on popular digital currencies.
Additionally, the Coinbase Wallet is a highly-secure multi-currency software wallet that allows users to connect the wallet to their Coinbase account and easily manage their trades while storing crypto in their wallets in a non-custodial manner.
Kraken caters more to experienced traders. Although the platform has a beginner-friendly instant trading option, the Kraken Pro platform section is the real strong point of the exchange. The Pro section has one of the most advanced trading interfaces among crypto exchanges and provides traders with valuable technical analysis tools for estimating crypto price changes and recognizing price change patterns. 
Furthermore, traders can customize the interface and shift the different parts of the interface according to their needs. For example, traders can move the price chart to the right section and shift their order book to the upper left area if they wish so. 
Additionally, Kraken's Futures platform section is built for high-risk trading strategies that involve futures contracts and derivatives trading. It's important to note that Kraken is one of the rare US-regulated exchanges that offer futures trading. However, the derivatives trading features are only available to non-US customers.
Supported Cryptocurrencies
The first thing we need to emphasize when it comes to supported cryptos is that Coinbase and Kraken are both strictly regulated exchanges. For every crypto they support, they have operating licenses. Because of this, these two exchanges have a smaller selection of coins and tokens compared to some unregulated platforms like Binance and KuCoin, which support 600+ and 300+ cryptos. 
However, the advantage of Coinbase and Kraken's smaller selection of cryptos is that they have deep liquidity for all of the assets they support. Unregulated exchanges often struggle with liquidity for many less popular crypto assets.
Users can invest in 150+ cryptocurrencies, on Coinbase, including market leaders like Bitcoin (BTC), Cardano (ADA), Avalanche (AVAX), Ethereum (ETH), Polkadot (DOT), Polygon (MATIC), USD Coin (USDC), Tether (USDT), and numerous other popular projects.
Also, users can stake Algorand (ALGO), ADA, ETH, Cosmos (ATOM), Dai (DAI), Solana (SOL), USDT, USDC, and Tezos for an annual reward of up to 6.1%.
Kraken supports around 150 coins and tokens. You'll find most of the cryptos available on Coinbase, and the platform also has a crypto staking feature.
However, staking is only available to non-US customers because of Kraken's settlement with the US Securities and Exchange Commission, which ruled that Kraken's staking services dealt with unlicensed securities.
Non-US customers can stake ALGO, ADA, ATOM, ETH, Flare (FLR), Flow (FLOW), Kava (KAVA), Kusama (KSM), Mina (MINA), DOT, MATIC, Secret (SCRT), SOL, XTZ, The Graph (GRT), and Tron (TRX). The staking rewards go up to 20 to 24% for staking SCRT tokens.
Payment Methods
Coinbase is a very fiat-friendly crypto exchange that tends to make it easy for crypto newcomers to invest cash in crypto. There are two ways to pay for crypto on Coinbase. You can use a credit or debit card to make a quick purchase or pay with a bank account transfer. Also, you can deposit cash into your account and spend it afterward. 
US customers have ACH and SWIFT bank account transfers at their disposal, while customers from the EU can use SEPA transfers. Users from other parts of the world need to use SWIFT transactions.
Kraken supports the same payment methods as Coinbase. 
Neither of the platforms supports third-party payment providers because they can only accept payments tied to bank accounts due to strict regulations prescribed by US authorities.
Trading Fees and Limits
Trading fees are one of the rare dealbreakers for many users when it comes to Coinbase. That's because the standard Coinbase trading fees for instant purchases and sales are pretty high, i.e., 1% per trade.
Also, Coinbase charges various fees for different payment methods. For example, bank account deposits incur a 1.49% charge, while debit card purchases are charged 3.99%. Furthermore, incoming wire transfers cost 10 USD, while outcoming cost 25 USD per transaction.
However, if you use the Advanced Trade section, you'll incur much lower fees because there are multiple fee tiers. The first one is 0.6% for takers and 0.4% for makers who trade less than 10,000 USD per month. Traders with somewhat higher trading volumes between 50,000 USD to 100,000 USD pay a 0.25% taker and 0.15% maker fee. 
Investors with extremely high monthly trading volumes above 400 million USD pay 0.05% taker and 0% maker fees. 
The daily withdrawal limit for Coinbase users is 50,000 USD.
Kraken's instant trading fee is even higher compared to Coinbase. The fee is a whopping 1.5% per trade. The credit card purchase fee is 3.75%, while bank account transaction fees depend on the bank you're using, and they can be anywhere between 0 USD to 150 USD. However, ACH transfers are free of charge.
Kraken Pro trading fees are much more affordable, and users can start trading with fees from 0.16% and 0.26% for makers and takers with a monthly volume of up to 50,000 USD.
The Kraken Pro fees are considerably lower than Coinbase's Advanced Trade fees. For example, traders with a monthly volume over 10 million USD incur 0% or 0.1% fees depending on whether they are market makers or takers. On Advanced Trade, even users with a trading volume above 400 million USD incur a 0.05% fee if they are market takers.
Kraken's withdrawal limit is 500,000 USD daily for Intermediate tier users.
How Safe Are Coinbase and Kraken?
Coinbase uses various security measures to make sure customer funds are safe. The primary measures include platform encryption and account passwords, with the addition of a two-factor authentication (2FA) system that relies on email and text message confirmations for all trades and transactions. Furthermore, the bulk of the assets on Coinbase is stored in the company's cold storage devices.
Unfortunately, despite the strong security measures, around 6,000 Coinbase users got their crypto stolen in a large-scale cyber attack in 2021. Hackers gained access to user accounts due to an exploit in the exchange's 2FA system that allowed them to read the SMS 2FA codes and confirm outgoing transactions from 6,000 user accounts. Coinbase acknowledged the hack, stepped up the 2FA measure to prevent future breaches, and reimbursed all affected users.
Regarding regulations, Coinbase is licensed to provide services in most parts of the US, the European Union, and the UK. Also, Coinbase complies with local laws in all additional regions where it operates.
The Kraken exchange is a synonym for security on the crypto market. According to cer.live, a cybersecurity evaluation website that analyzes crypto exchange security measures, Kraken has an AAA rating of 100%. In fact, Kraken is the only crypto exchange with a perfect security rating, and of course, it doesn't have any hacks in its track record.
The platform uses some of the most advanced encryption standards on the market to ensure no one can breach the exchange or user accounts. Besides passwords and 2FA, Kraken relies on bug bounty programs that reward white hat hackers for reporting potential security risks. Also, Kraken is subject to external penetration tests on a regular basis, and most of the funds are kept in cold wallets.
Kraken is a regulated US platform, which means it follows some of the most strict rules for providing financial services.
Customer Support
Coinbase takes customer support very seriously, and that's why the platform has a wide selection of options for contacting the support team. Also, the team is very quick to respond and help customers solve their issues.
Users can contact the team via email, but it's much faster to do so by using the Coinbase support telephone line, which is available 24/7. This is quite rare among crypto trading platforms. Additionally, users can navigate to the Coinbase Help section and submit a support request, along with their contact details, so a Coinbase support team member can contact the user through their preferred communication channel.
The available channels include Twitter, Facebook, Linkedin, and various additional platforms.
Kraken's support service is a bit different, but it's also very helpful. You can write an email support request, but you can also contact the team through the 24/7 available phone number. Additionally, there's a live chat option for communicating with Kraken support team members.
Mobile Trading
When it comes to mobile trading, the Coinbase app successfully brings its famous platform simplicity to Android and iOS phones. The app is very easy to use, has an intuitive interface, and users can do everything from trading and buying NFTs to staking crypto with just a couple of taps. 
As for the Advanced Trade section, it isn't yet available as a separate app. The Coinbase Pro app is still active, but the company will soon migrate Coinbase Pro to Advanced Trade and launch a separate app.
Kraken's mobile experience is similarly straightforward and user-friendly, with all of the exchange's features readily available in the platform's mobile version. Just like the online version of the platform, Kraken keeps the pro trading features separate from its basic trading options. That's why Kraken has the Kraken Pro mobile app for experienced traders looking for an advanced trading view with detailed price charts and various order types. 
The exchange also had a separate Kraken Futures app, but the platform decided to shut it down in 2022. However, futures contracts are still available on the browser version of Kraken.
How Do Coinbase and Kraken Compare to Other Crypto Exchanges
Since Coinbase and Kraken offer similar services, we'll compare the two platforms with the same competitor. Most of the top exchanges on the market offer spot trading on a detailed interface with technical analysis tools and complex price charts as their main features, except for the Gemini exchange.
This platform divides instant trading and advanced trading into two platform sections, just like Coinbase and Kraken. For a start, Gemini has a much lower trading volume compared to Coinbase and Kraken and offers much fewer cryptos at around 90+ coins. Gemini charges a 1.49% instant trading fee, which is the same as Kraken, but it's 50% higher compared to Coinbase's 1% fee.
Regarding the Gemini advanced trading section, the fees are similar to those on Coinbase but are considerably higher when compared with Kraken. Also, while both Coinbase and Kraken have an NFT section, Gemini doesn't support NFT trading.
Conclusion
Coinbase and Kraken are two trading platforms sitting at the top of the crypto market, with extremely high trading volumes and millions of users. It's quite difficult to decide which one is better because they are very similar in terms of supported cryptos, trading fees, and additional features. 
In conclusion, Coinbase is a better option for beginners looking for a quick and easy way to invest in popular cryptos, while Kraken is more geared toward experienced traders who wish to implement advanced trading strategies.