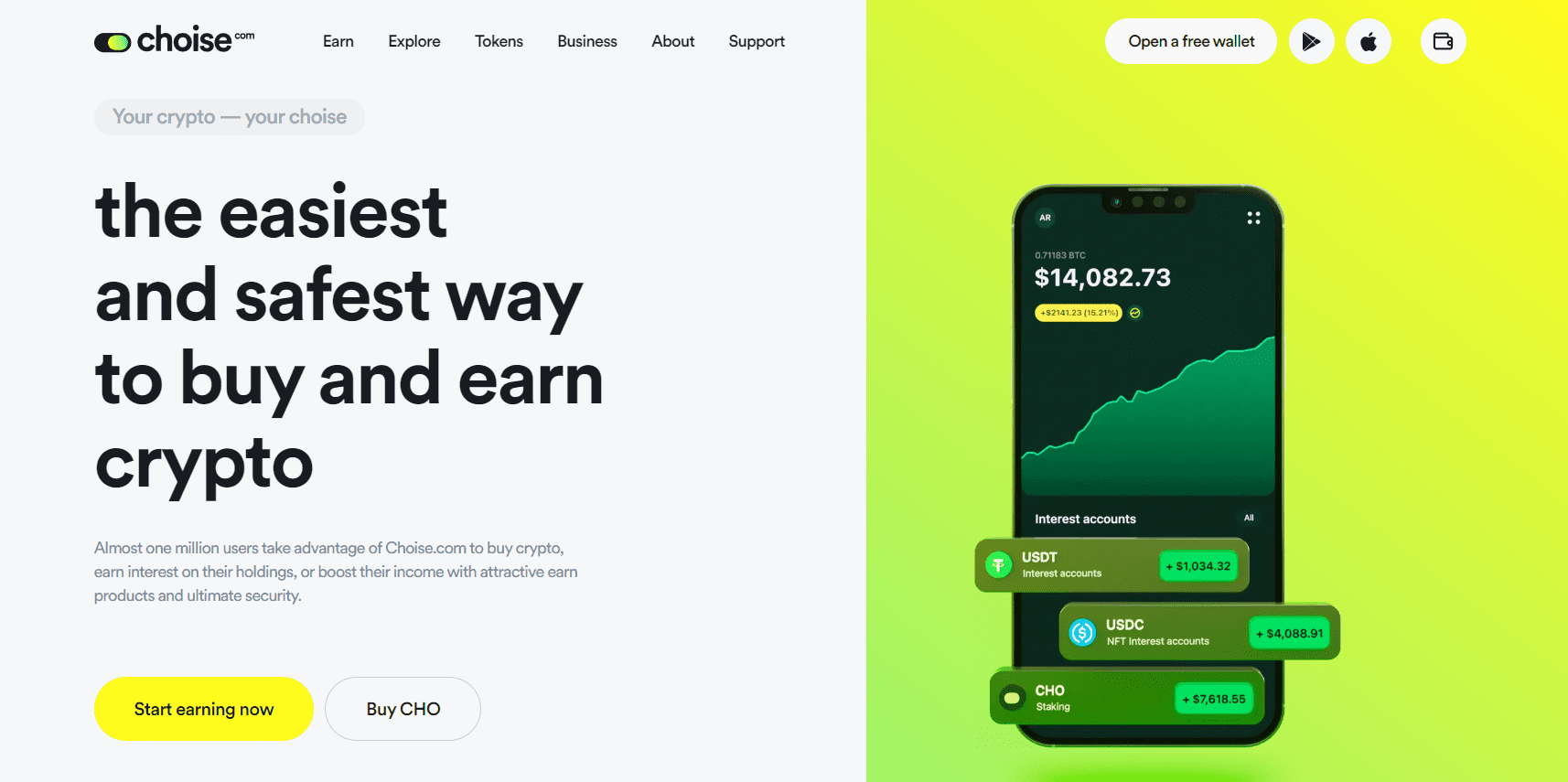 Choise.com (CHO) is a multifunctional DeFi token that gives users access to numerous profitable services within the Choise.com MetaFi ecosystem. With CHO, users can utilize multiple types of staking, bridge coins, swap cryptos, earn interest, and buy digital assets.
In this coin review, we'll check out all the specifics of CHO and its critical use cases. 
How Choise.com (CHO) Works
Choise.com (CHO) is part of the Choise.com MetaFi platform, which combines centralized finance (CeFi) and decentralized finance (DeFi) features in one single app.
The platform's CHO token is an ERC-20 Ethereum (ETH) asset, but it's also available on the Solana (SOL) blockchain through the integrated blockchain bridge. Choise.com app users can utilize the bridge to shift assets between the Ethereum and Solana networks with CHO as an intermediary token. 
The Choise.com app's primary token was Crypterium (CRPT) until July 2022, when the developers launched CHO as a high-utility DeFi token that gives users access to a multitude of features and services in the Choise.com ecosystem. 
To understand how CHO works, let's have a quick overview of the features available on Choise.com. The platform works as a mobile app that gives users exposure to various types of portfolio-growing services, including multiple choices for crypto staking and earning interest through crypto interest accounts. 
Additional DeFi services on Choise.com include integrations with the 1Inch decentralized exchange aggregator, liquidity pools on Curve Finance and UniSwap, along with fixed-income generator services through Barnbridge and ElementFi. Choise.com even has integrated crypto vault services for receiving amplified yield-farming rewards through Beefy Finance and Yearn Finance.
Also, users have access to multiple exchange platform integrations, and they can trade on leading centralized exchanges, including Binance, KuCoin, Coinbase, and Kraken, by connecting their platform accounts to their Choise.com app. Furthermore, the Choise.com app provides users with a custodial wallet service and fiat-to-crypto conversion options.
The CHO token connects all of these services because users can earn interest, staking, and liquidity-providing rewards in CHO and use it as an intermediary currency for bridging, swapping, and trading crypto. There's no need to use the native tokens of Choise.com's partner platforms because they are all compatible with CHO. 
This makes it relatively easy to utilize a broad range of DeFi features without the hassle of buying or exchanging assets for specific native tokens to use on different platforms. 
What Is Choise.com (CHO) Used For?
One of the key strengths of the CHO token is that it grants numerous benefits to users in terms of increased profitability. 
First off, holding CHO gives users access to all of the Choise.com features, with added benefits. Of course, the app's features are available with other cryptocurrencies, but to get the most out of the app, users need to combine their crypto portfolio with CHO. 
For example, users can buy 35 popular cryptos within the Choise.com app and can stake these assets or create crypto interest accounts for specific coins to grow their portfolios over time and earn high returns of over 10%. 
However, if users choose to earn staking rewards or interest in the platform's native CHO token, their returns are much higher and can go up to 20% annually for some cryptos. Users can also choose to directly stake their CHO tokens and earn the highest rewards on the Choise.com platform.
Users can select for how long they want to stake their CHO and see the exact projection of their staking rewards at the end of the staking period. Staking CHO grants users veCHO governance tokens with additional CHO rewards once their staking period ends. Users can also exchange their veCHO back to CHO.
The same goes for Choise.com integrated partner services such as liquidity pools and vaults. Users get increased rewards when they use these services with CHO tokens.
When users swap CHO for other crypto tokens or use the integrated blockchain bridge, they pay fewer fees because they utilize the app's native token. Also, by holding CHO in their accounts, users get additional fee discounts, depending on how much CHO they are holding. 
Since Choise.com has a DAO governance structure, CHO holders get to have a say regarding project development and new partnerships. The number of veCHO tokens a user holds represents their voting power in the DAO.
Where to Buy Choise.com (CHO)?
Users can buy CHO tokens directly with cash on the Choise.com app, either with a bank card or by funding the app with a bank account transfer and then purchasing CHO.
Also, CHO is available on several crypto trading platforms. Traders can buy CHO with Tether (USDT) on the UniSwap and Raydium decentralized platforms by connecting their crypto wallet apps and trading USDT for CHO. 
Despite the possibility of connecting leading centralized exchange accounts to Choise.com, the platforms that allow this feature still don't support CHO tokens. This means that users can only trade the other crypto available on Choise.com on Binance, Kraken, KuCoin, and Coinbase. However, the team plans to secure CHO listings on these platforms in the future.
For now, some of the centralized trading platforms that have a USDT/CHO trading pair are Gate.io, MEXC, and Hotbit. 
How Long Has Choise.com (CHO) Been Around? 
The Choise.com platform was launched in 2017, but the CHO token is much younger because it was launched less than a year ago, in July 2022.
What's Controversial About Choise.com (CHO)?
Choise.com has built a reputation as a reliable multipurpose MetaFi platform over the years. The developers are known for introducing the most demanded crypto services in line with industry standards. That's why the platform is constantly expanding the number of supported coins, staking options, and utilities.
As the platform expands, so does the number of use cases for the CHO token, and there haven't been any shortcomings in terms of promised and delivered features so far.
How Many Choise.com Coins Are There?
The CHO token uses a deflationary tokenomics model where the supply of coins is constantly decreasing through token burns to make the asset more scarce and, thus, more valuable. 
Initially, 124 million of the one billion max supply was sold through the CHO token pre-sale and initial seed round. The rest of the token supplies are reserved for additional series A and B rounds, while the vast majority of coins are reserved for future development and the distribution of staking and interest rewards. Currently, there are only 27 million CHO on the market. 
Can CHO Be Mined?
Users can earn CHO through crypto interest accounts and staking within the Choise.com app. The whole supply is pre-produced by the developer team, and there is no mechanism to create new coins.
Market Cap and Price History of Choise.com (CHO)
CHO has numerous utilities, but its market position isn't very high. In fact, the token is positioned below the 700 mark on CoinMarketCap, with a market capitalization of 15 million USD. This makes CHO a micro-cap coin.
CHO's token price is just above 0.5 USD, which is nearly the same as its initial market price back in July 2022. CHO reached an all-time high of 1.35 USD two months after its launch but has fallen in value to its initial price by April 2023.
Biggest Competitors of Choise.com (CHO)
The most popular project that provides integrated fiat and crypto services, with a focus on savings accounts and staking, is Nexo. The platform provides high returns on initial crypto deposits, has integrated exchange features, and its own Nexo (NEXO) token that grants increased rewards and fee discounts to users, similar to CHO. 
Nexo's market share is more than 370 million USD, with over five million users. Currently, Choise.com and the CHO token can't compete with Nexo's market position. 
However, there have been a lot of controversies lately surrounding Nexo, and the company was fined 45 million USD in a recent court case in the US for providing unregistered services.
Choise.com hasn't had any controversial events so far, which might boost the platform's popularity in the future as a reliable alternative to Nexo. 
What Does the Choise.com (CHO) Project Road Map Look Like?
Choise.com's roadmap ended in the last quarter of 2022 when the project rolled out its latest essential features. However, this doesn't mean there won't be any further updates to the platform.
The Choise.com Twitter account shows that the platform has recently listed some new coins on the app and secured some new business partnerships. Also, Choise.com has launched its own NFT collection and announced the introduction of its Bitdriven investment feature, where users will be able to invest in a basket of reputable cryptocurrencies through the Bitrdive token. 
Pros and Cons of Choise.com (CHO)
Pros
Numerous options to earn CHO through interest and crypto staking

CHO holders can vote in the Choise.com DAO

CHO tokens grant fee discounts on the Choise.com app

High yields for staking CHO
Cons
The CHO token is very young, and users are yet to see whether its high yields on Choise.com are sustainable

The token still isn't available on the leading exchange platforms.