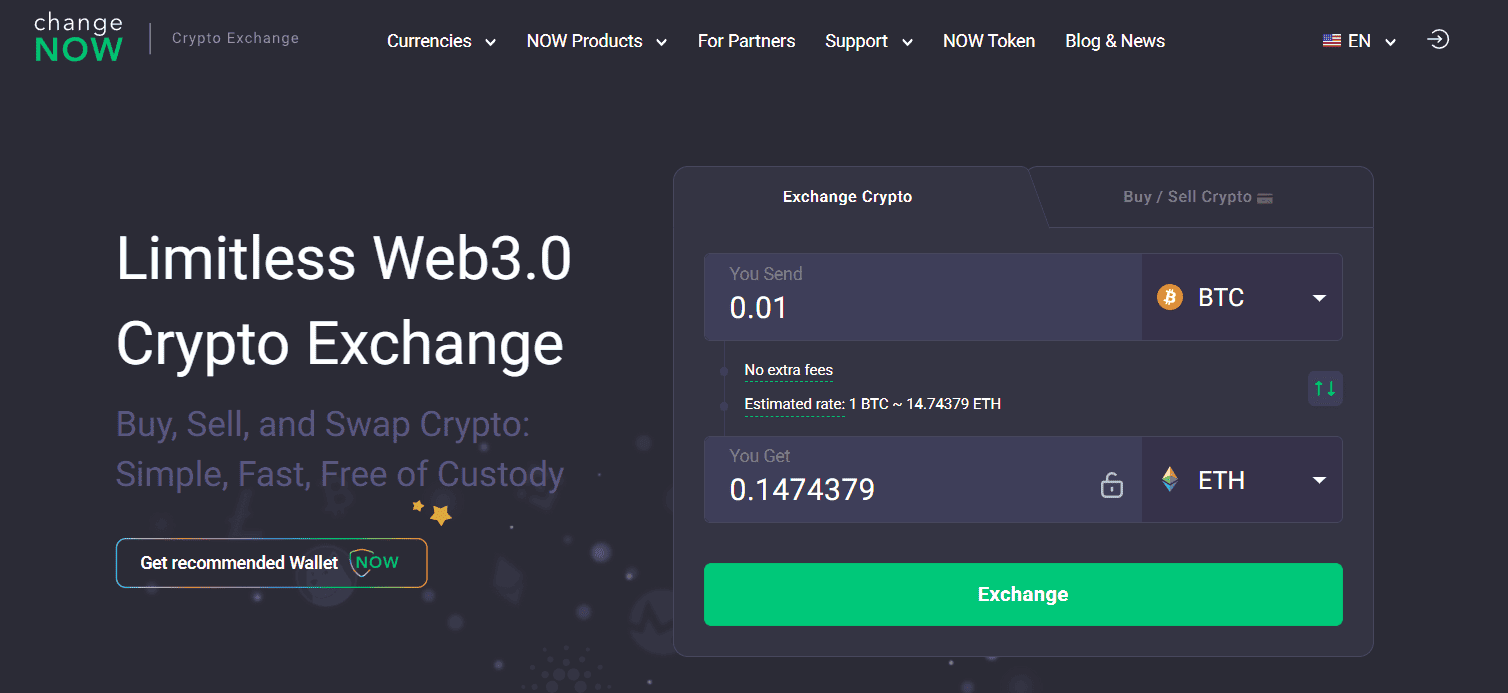 ChangeNOW is a centralized cryptocurrency exchange (CEX) that uses a considerably different operational model than most CEX platforms. 
Our ChangeNOW review will cover all of the noteworthy aspects of the platform and walk you through its features.
Pros & Cons of ChangeNOW
Pros
More than 900 digital currencies and thousands of trading pairs.

A non-custodial platform that lets users control their assets.

Users can purchase all available cryptos with fiat currency.

Users don't need to create an account to use ChangeNOW.

Premium section with cashback trading rewards.

Numerous services for enterprise clients.
Cons
ChangeNOW doesn't have an advanced trading section with price charts and trading orders.

Lack of futures and derivatives contracts.

No business licenses from regulators.

Doesn't operate in the US.
About ChangeNOW
ChangeNOW is a Seychelles-based trading platform operational since 2017 in most parts of the world. ChangeNOW is a centralized trading platform since it's a privately owned company, and all of its operations are centrally controlled. 
However, ChangeNOW operates its trading business in a manner that resembles decentralized exchanges (DEXs). Unlike standard CEX platforms, ChangeNOW doesn't take custody of your assets, and you won't have to deposit funds into your accounts to start trading crypto.
In fact, there's no account creation procedure. You can connect a crypto wallet to the account through the appropriate option and start exchanging assets while keeping the private keys to your crypto on your device.
Essentially, ChangeNOW fetches your crypto at the best possible exchange rate from decentralized liquidity providers such as UniSwap (UNI) and PancakeSwap (CAKE) and major centralized platforms like Binance and Huobi, with whom it has partnered up. ChangeNOW exchanges your crypto for assets from other platforms and sends your desired tokens straight to your crypto wallet.
The platform also solves one of the key drawbacks of DEXs – the lack of fiat support. ChangeNOW combines decentralized liquidity and trading mechanics with fiat cash. This means that users can pay with their bank cards for hundreds of digital currencies and receive the coins at their wallets' public addresses. 
Also, thanks to ChangeNOW's ability to fetch crypto from numerous liquidity sources, users can exchange all available cryptocurrencies for any other crypto on the list. CEX platforms usually support trading pairs with Bitcoin (BTC), Ethereum (ETH), and a few stablecoins as the base currency. ChangeNOW, on the other hand, allows users to trade all supported cryptos without limitations. 
ChangeNOW also has a Premium section that provides users with cashback rewards in the platform's native ChangeNOW Tokens (NOW). 
Crypto Coins Available on ChangeNOW
ChangeNOW is incredible when it comes to the number of assets it supports, as there are more than 900 altcoins available for investing, and users can purchase any of these assets with cash.
In comparison, many popular exchanges that support hundreds of cryptos only allow users to buy a couple of dozen coins directly with fiat currency. 
ChangeNOW can facilitate direct cash purchases of all of the listed coins because it has its own NOW payment service. The platform simply fetches crypto from a third-party liquidity source and charges the user in fiat currency. Once the payment goes through, ChangeNOW sends the crypto to the user's wallet.
Because of this mechanism, ChangeNOW has one of the largest selections of cryptos available for instant buying. 
You'll find all the major cryptocurrencies on ChangeNOW, such as Bitcoin (BTC), Tether (USDT), Avalanche (AVAX), BNB (BNB), Solana (SOL), Hedera Hashgraph (HBAR), The Graph (GRT), Ethereum (ETH), USD Coin (USDC), Monero (XMR), Zcash (ZEC), and tons of other trending projects.
Also, you'll be able to find hundreds of micro-cap altcoins, including Plato Farm (PLATO), Kennel Locker (KENNEL), Tenshi (TENSHI), Wise Token (WISE), Falcon Swaps (FALCONS), Lucky Block (LBLOCK), and hundreds of other tokens.
You can also take out crypto loans in the following currencies: USDT, USDC, Binance USD (BUSD), BTC, ETH, Dogecoin (DOGE), and DigiByte (DGB).
Fiat Currencies Supported on ChangeNOW
Besides the huge range of cryptos, ChangeNOW also offers support for numerous fiat currencies. Traders can pay for crypto directly with over 40 fiat currencies, including USD, HKD, TRY, BRL, JPY, AUD, GBP, INR, TWD, EUR, ARS, AED, and 30+ other local currencies.
However, users can even pay with other fiat currencies with a bank card, but the ChangeNOW payment service will need to convert the local currency into one of the currencies available on ChangeNOW. This means that users will pay more for their crypto because of potentially unfavorable automatic exchange rates.
Countries Supported on ChangeNOW
ChangeNOW is accessible in more than 180 countries but isn't available in the US, which is a considerable drawback. Furthermore, ChangeNOW doesn't operate in China, Sudan, Russia, Myanmar, Iran, North Korea, Cuba, Syria, Zimbabwe, and Somalia. 
ChangeNOW Fees
ChangeNOW doesn't have a straightforward fee policy. Since the platform fetches crypto from third-party providers, the exchange profits from the flexible trading spread.
Popular cryptocurrencies like BTC, ETH, and other coins from the top 100 list on CoinMarketCap have high liquidity, and the spreads aren't usually high. However, less-known altcoins with low market capitalization can cost quite a lot for ChangeNOW to fetch. 
The spreads can go from 0.5% to 4% per trade. A great thing about ChangeNOW is that you can see in advance exactly how much crypto you'll get for your money. The number of coins displayed in your trade preview includes the market spread. There aren't any extra fees. 
Main Features of ChangeNOW
ChangeNOW's key feature is crypto trading in a non-custodial manner. Users can invest fiat currency in over 900 tokens with a debit or credit card. The platform uses the Simplex and Guardarian fiat-to-crypto payment gateways to facilitate crypto purchases while it fetches crypto from third-party providers, which are mostly reputable CEX and DEX platforms.
You don't need to create a user account to use Change NOW. You just have to pay for your crypto and have it delivered to your non-custodial crypto wallet. This means there's no risk of someone hacking the platform and stealing your assets. 
The crypto swapping feature on ChangeNOW is extremely easy to use. Users can select which crypto they wish to exchange for another one, connect their crypto wallet, and facilitate the trade through the blockchain immediately. 
The ChangeNOW Premium section gives users access to a crypto cashback feature as well as additional benefits in exchange for a monthly subscription of 0, 15, or 100 USD, depending on the package you select. Cashback rewards are paid out in NOW tokens. 
The exchange supports crypto loans for a range of popular cryptocurrencies, with flexible payback periods and affordable interest rates.
For businesses, ChangeNOW has some incredibly useful features, such as NOWPayments, a crypto payment integration that businesses can include on their websites and in their apps to start accepting crypto payments. The service lets companies access digital currency and easily withdraw fiat money to their bank accounts.
ChangeNOW even supports a custom API service for clients who want to launch their own decentralized exchanges, with ChangeNOW as the liquidity provider. 
The ChangeNOW trading platform also has a LightningNOW service for users who need to frequently transfer large volumes of crypto. This service provides users with a zero-fee lightning network for transferring assets on various popular blockchains.
Additionally, the non-custodial NOW Wallet app lets users seamlessly integrate ChangeNOW trading features with a reliable wallet that lets them fully control their private keys.
Finally, ChangeNOW provides cryptocurrency custodian services for business clients, with support for more than 800 digital currencies kept in the platform's cold wallets. 
How Easy Is It to Open a ChangeNOW Account?
Despite being a CEX platform, ChangeNOW doesn't require traders to open an account. There's no option for opening an account on ChangeNOW, which means there isn't any Know Your Customer (KYC) protocol that requires you to submit photos of your documents. 
If you want to buy crypto on ChangeNOW, you'll just need to provide a recipient wallet address to which you want ChangeNOW to deliver your purchased crypto. 
When exchanging one crypto for another, you need to connect your wallet to the platform. ChangeNOW supports MetaMask and all other software wallets with the Wallet Connect feature for using blockchain-based platforms.
The ChangeNOW Premium platform service has an optional account creation procedure, which only requires users to enter an email address and provide a password. Alternatively, users can create a Premium account with their private crypto wallet.
How Secure Is ChangeNOW?
ChangeNOW is more secure than most CEX and DEX platforms. 
CEX platforms act as crypto custodians and require users to deposit their crypto to use the exchange's trading features. This means that users give custody over their assets to a centralized third party. In these cases, if the platform gets hacked, user funds are at risk.
Most reputable CEX platforms keep over 90% of user funds in cold storage, but the remaining assets are still in danger in case the exchange's hot storage accounts are breached. 
ChangeNOW never takes custody of your crypto. When you trade crypto on ChangeNOW or make a purchase with fiat currency, you're directly receiving crypto in your private wallet. 
Also, ChangeNOW has better security compared to numerous DEX platforms in terms of sourcing liquidity. DEX platforms provide various DeFi services such as staking, liquidity providing, and crypto loans. These services can be targeted by hackers, who tend to search for security flaws they can exploit to drain a platform's liquidity, like in the case of LaunchZone. 
When hackers drain a DEX's liquidity pool, the exchange can't provide trading services to users. This can't happen with ChangeNOW because the platform pulls liquidity from numerous sources simultaneously.
Has ChangeNOW Ever Been Hacked?
There haven't been any cases of security breaches of the ChangeNOW exchange in its operating history. 
However, there were some cases when cyber attackers who breached other platforms or blockchains tried to launder their stolen crypto on ChangeNOW by taking advantage of the platform's non-custodial approach.
In early 2023, hackers tried to exchange 1.5 million USD worth of stolen Algorand (ALGO) coins on ChangeNOW, but the platform prevented the attempt with its risk-prevention protocol.
Is ChangeNOW a Regulated Exchange?
One of the platform's few downsides is that it doesn't have any regulatory authorization for providing money services and crypto trading features. In case something unfortunate happens with the platform, users are left without any legal protection. 
However, the fact that ChangeNOW isn't regulated lets the platform list any crypto token for trading. ChangeNOW supports hundreds of coins that aren't available on regulated competitor exchanges, which makes it a great platform for trading micro-cap altcoins. 
It's important to emphasize that users should always exercise caution with relatively unknown cryptocurrencies because there are a lot of scam projects on the market.
How Does ChangeNOW Compare to Other Crypto Exchange Alternatives?
Since ChangeNOW is a centralized cryptocurrency exchange that uses some trading mechanics similar to DEX platforms, let's compare the exchange with one CEX and one DEX.
First, let's see how ChangeNOW fares against Binance, the industry-leading CEX platform. Binance is a custodial exchange, and users need to create an account before they start trading. However, they don't need to provide any personal details to use the platforms since it's not regulated and doesn't require a mandatory KYC for basic trading accounts. 
There are some 350 coins and tokens available on the platforms, and users can engage in a variety of trading modes, including instant, spot, futures, derivatives, and margin trading. The platform has a simple instant buying interface, along with an advanced interface for pro traders. Also, Binance has numerous staking options. The platform's fees are some of the best on the market, starting at 0.1% for market makers and takers.
In comparison, ChangeNOW has far more cryptos at 900+ coins, but the spread fees are much higher, and there aren't any advanced trading features or staking options available on the platform.
As far as DEX platforms are concerned, UniSwap is the most popular decentralized exchange on the market. The platform supports thousands of tokens built on various blockchains, including Ethereum, BNB Chain, Polygon (MATIC), Arbitrum (ARB), Optimism (OP), and more. 
Apart from trading, UniSwap also offers different DeFi services, such as multiple options for participating in liquidity pools or staking crypto and earning rewards. The platform is known for its deep liquidity and relatively affordable fees of 0.3% per trade. However, trading less-known coins can be more expensive because they have lower liquidity, and UniSwap might only be able to fetch those assets at higher prices. 
UniSwap doesn't require users to create accounts. Once you connect your crypto wallet to the platform, you can start trading right away.
ChangeNOW has higher fees, but unlike UniSwap, the exchange allows users to purchase all available cryptos directly with fiat currency by using a debit card or a credit card.
Does ChangeNOW Have an App?
Traders can install ChangeNOW on their Android mobile phones and iPhone devices to take advantage of the platform's trading features regardless of their location. The app has a 4.8 score on App Store, with over one thousand ratings, which is a pretty high score.
It works just like the desktop version of ChangeNOW. Users can swap cryptos with their private wallets or purchase coins with cash and have them sent to their wallets' public addresses. 
The app focuses purely on ChangeNOW's trading service, which means you can't access crypto loans, enterprise services, or the LightningNOW feature.
However, this isn't really a negative aspect of the app since enterprise services aren't something you'll subscribe to while on the move. Plus, the LightningNOW service is mainly for users with frequent large-scale transactions, such as companies engaging in day-to-day business transactions.