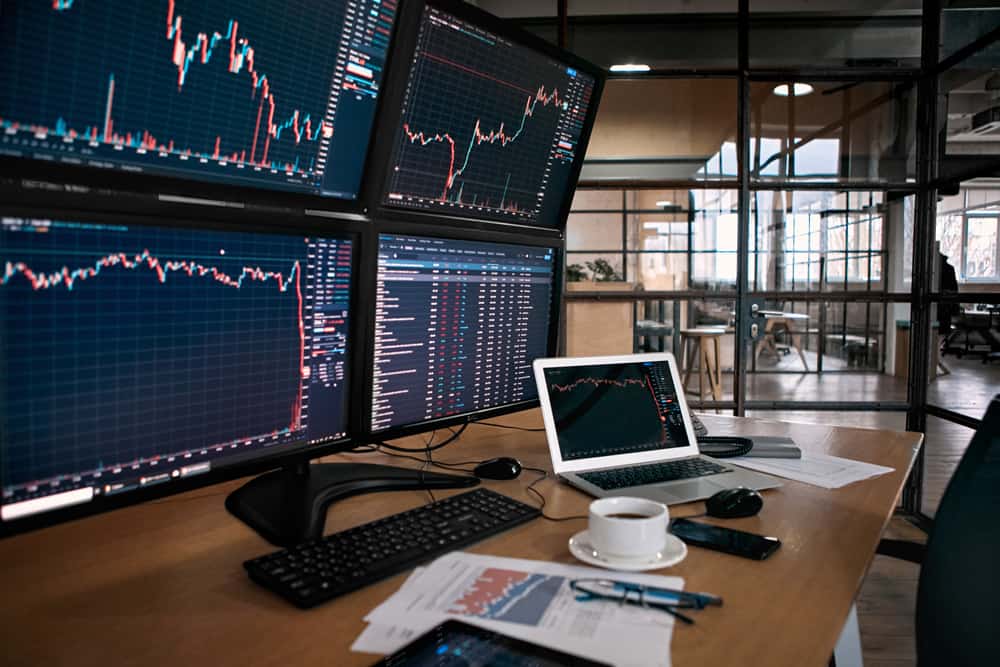 Binance is a household name on the crypto trading scene, while BitPay is a multifunctional app that combines crypto wallet, trading, and payment card features. 
The two platforms are dramatically different, so let's go through a step-by-step Binance vs BitPay review to help you learn everything you should know before using one of these platforms. 
About the Exchanges
Binance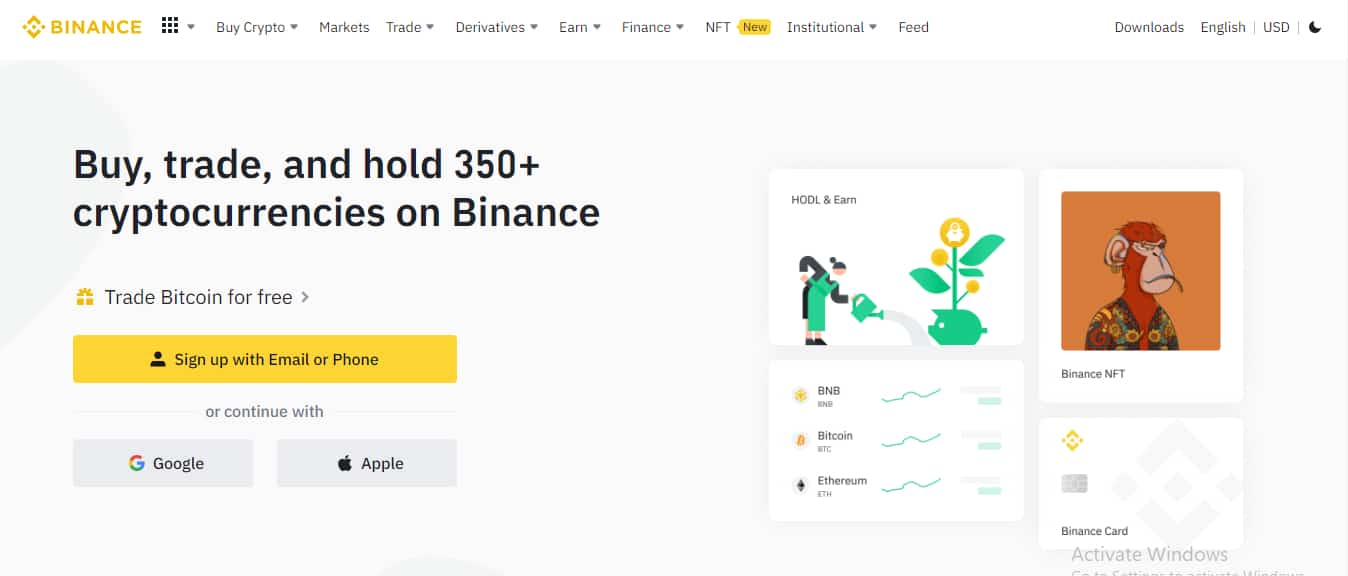 When beginners want to start investing in crypto, Binance is one of the first names they hear among cryptocurrency exchange platforms. That's because it's the largest exchange by market capitalization and trading volume in the whole market.
It's available in most parts of the world and supports one of the broadest selections of digital currencies. Binance is built for user convenience above everything else, which means users can find every type of crypto service on the platform.
Features like instant trading, quick swaps, margin trading, futures contracts, NFTs, staking, and crypto loans are some of the critical services offered by Binance. Additionally, the exchange allows users to connect their crypto to the traditional financial system and spend it like cash with the help of Binance's prepaid Visa card. 
BitPay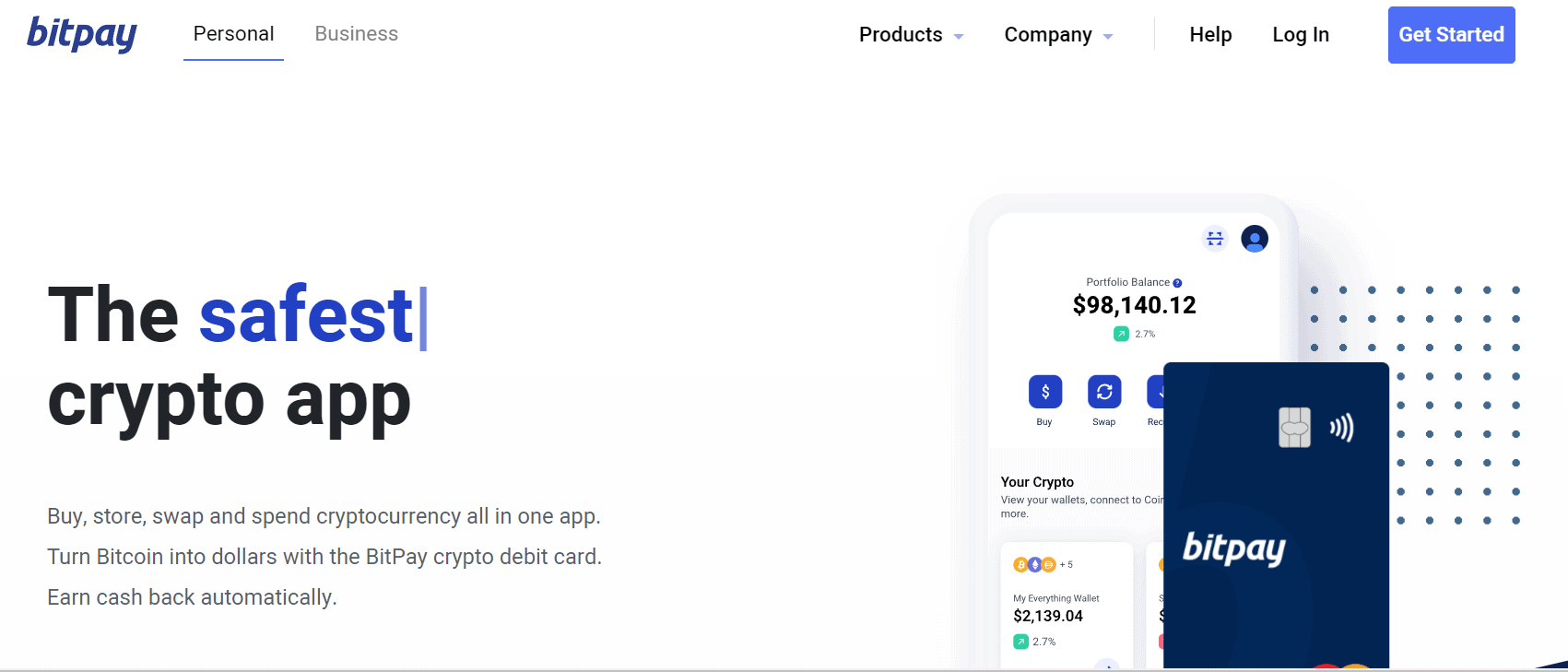 BitPay isn't a crypto exchange platform, but it does allow users to swap selected cryptocurrencies and purchase digital currency directly with fiat money.
In fact, BitPay is a mobile and desktop app that offers non-custodial crypto wallet services coupled with crypto payment options. The app allows users to make purchases at numerous companies with their BitPay crypto balance and purchase prepaid gift cards from popular brands.
Initially, BitPay started as Copay in 2011, which was exclusively a crypto wallet for storing and sending Bitcoin (BTC) and Bitcoin Cash (BCH). However, after the rebranding to BitPay, the app expanded its services to include more cryptos, crypto trading, and BitPay's payment services, for which the platform is famous today.
Additionally, the BitPay Visa card makes it even easier for users to spend their crypto at online and physical payment spots.
Pros and Cons
Binance Pros
One of the most reliable exchanges on the market, trusted by millions of users worldwide.

The platform supports 600+ cryptocurrencies for buying and trading.

The Binance Visa card.

Everything from beginner-friendly to pro-level trading tools.

Wide range of Binance Chain-based NFTs.
Binance Cons
Lacks operating licenses, and users have no protection in case of platform hacks.

Customer support is often slow to respond.
BitPay Pros
Non-custodial crypto wallet service.

Users can pay for products and services at 250+ businesses with their BitPay account.

The BitPay Visa card.

BitPay allows users to purchase prepaid gift cards from famous brands.
BitPay Cons
It only supports a few digital currencies.

Limited crypto trading possibilities. 
Binance vs BitPay: The Crypto Exchange Comparison 
Opening an Account
Binance makes it simple and easy to start using the platform:
Google and Apple users can connect their accounts to Binance during the account creation process. However, the more popular method is to create an account with your mobile phone number or email address.

Clicking on

Sign up with Email or Phone

will lead you to the account creation screen, where you'll be asked to provide the necessary contact details.

You'll have to create a log-in password and accept Binance's user terms.

Additionally, you can get a welcoming bonus if you enter a Binance referral code.

Once you're done, proceed to create your Binance account.

Before you log into Binance, you'll receive an email message or a text message with an activation code for your account. Enter that code during your first login on Binance to activate the account and start trading. 
BitPay has a different process for registering accounts, depending on whether you want to download and create a BitPay wallet account or a BitPay account for crypto purchases or order the BitPay Visa card.
BitPay personal account creation:
Choose to create a

personal account

on the BitPay website. If you're a merchant or a business looking to accept crypto payments or pay third parties, then choose the

Business Use

option. 

The following steps require you to enter your email, choose a password, and verify the email address with the code sent to you by BitPay. 

Regarding account creation, you now have a BitPay account, but you must go through the ID verification procedure before making or accepting payments. 

Click on

Get Verified

to start the process. Choose a document for the process, such as your passport, ID card, or driver's license. 

Please take a photo of your document and submit it to BitPay. BitPay will ask you to position your face within the circle on the display and take a photo.

Now you'll have to fill out additional personal details, such as your address, city, and state of residence.

When you submit everything for verification, the platform will confirm your ID shortly, and you'll be able to use all of BitPay's features without any restrictions.
BitPay Wallet Creation:
You can download the BitPay wallet as a desktop program for Windows and Linux or as a mobile app for Android and iOS devices. 

Once you install the app, open it and select which cryptocurrencies you wish to include in your wallet.

Agree to BitPay's terms and click on

Confirm and Finish.

BitPay will ask whether you want to add an additional security layer in the form of an encrypted passphrase, basically a password for your BitPay app.

Now choose the

Create New Key

option to create a brand new private key for your wallet.

You'll receive a recovery seed phrase for your wallet, and be sure to store it safely because it is the only way to recover your wallet. 

You've now created an encrypted wallet within your BitPay account. Remember that you can always create additional wallets within the app with their own private keys. For example, you can have one wallet for investments, one for payments, and another one for savings.
Main Features
Binance supports all types of crypto trading. The simplest way to invest in crypto on Binance is through instant trading, which allows you to buy crypto with a bank card, bank account transactions, or third-party payment services. The next level of trading is spot trading on a pro interface with loads of order types and technical analysis options. 
Next up is margin trading with leveraged contracts that allow you to multiply your potential gains (and losses), along with futures contracts that enable users to bet on the price change direction of various popular cryptos. Finally, there are crypto derivatives contracts with different cryptocurrencies as collateral. 
Besides trading, Binance has one of the largest selections of crypto staking and yield-farming options among centralized exchange platforms. Furthermore, NFT collectors can browse the Binance NFT section for Binance Chain NFTs and select Ethereum-based collections. Finally, the Binance Visa card is a game changer because it works like a standard bank card, enabling you to spend crypto like fiat currency.
BitPay can't compete with Binance in terms of crypto exchange features. The platform enables users to swap all the supported cryptocurrencies with each other, but that's it when it comes to trading. There aren't any spot or margin trading options, and there's no actual trading interface with a price chart and trading orders. 
BitPay's primary focus is on its crypto wallet and payment services. The BitPay wallet is non-custodial, which means you're in complete control of your crypto at all times, and the private keys to your funds always remain on your device.
BitPay's key strength is its payment features. You can pay for goods and services at more than 250+ businesses and purchase prepaid gift cards with crypto. The gift cards include popular brands in various industries, like Amazon, Airbnb, and Adidas. 
Furthermore, business owners can use BitPay to accept crypto payments and even pay out salaries to employees in crypto. Additionally, users can spend crypto just like fiat currency with the handy BitPay prepaid Visa card.
Supported Cryptocurrencies
The selection of crypto assets on Binance includes more than 600 cryptos of all types. You'll find stablecoins, all of the leading crypto projects, DeFi tokens, metaverse cryptos, gaming coins, and a bunch of newly launched BEP-20 tokens on the Binance Chain.
These are just some of the coins and tokens available on the exchange: Ethereum (ETH), Litecoin (LTC), Avalanche (AVAX), Bitcoin (BTC), Fantom (FTM), Polkadot (DOT), Cardano (ADA), Kusama (KSM), Gala Games (GALA), Solana (SOL), Cosmos (ATOM), Filecoin (FIL), and the list goes on.
BitPay's selection is far more limited. In fact, the platform only supports 15 cryptos, including BTC, ETH, Dogecoin (DOGE), Shiba Inu (SHIB), Wrapped Bitcoin (WBTC), LTC, Bitcoin Cash (BCH), Ripple (XRP), Polygon (MATIC), ApeCoin (APE), USD Coin (USDC), Binance USD (BUSD), Pax Dollar (USDP), Gemini USD (GUSD), Dai (DAI), and Euro Coin (EUROC).
Payment Methods
There are three ways to purchase crypto on Binance. The most practical is buying tokens and coins with a bank card through the instant buy/sell option, but card purchases incur higher fees than other payment methods. It's more affordable to make a purchase by depositing a fiat currency like USD, EUR, GBP, or any of the other 15+ supported currencies. You can then invest the money into different cryptocurrencies on the platform.
Additionally, Binance supports a peer-to-peer (P2P) trading feature where users can pay for crypto with dozens of payment providers, such as fiat to crypto gateways like MoonPay, or popular payment services like GooglePay.
BitPay users can pay for assets through a bank account transfer or a payment card. Users can opt for a bank account deposit such as SEPA, SWIFT, or ACH or instantly purchase coins with a debit card.
Trading Fees and Limits
Most Binance users are covered by the exchange's primary fee tier, which charges a 0.1% rate on all trades for accounts with monthly traffic below one million USD. Traders with higher monthly trading volumes get lower fees, but even this first trading fee tier is extremely low compared to many popular exchanges. The lowest fees are reserved for massive trading volumes above four billion USD, which incur a 0.02% maker fee or a 0.04% taker fee. 
Furthermore, if you have a certain amount of Binance's BNB (BNB) coin in your account, you can get a 25% discount on the already low fees. 
The BitPay wallet itself doesn't charge users for transactions because it's a crypto wallet, and you're free to receive or send crypto, but every transfer does incur a variable blockchain fee. 
However, if you create a BitPay business account to receive payments as a business, you'll need to pay certain fees. If you receive less than 500,000 USD per month, BitPay will charge you 2% + $0.25 for each transfer. The next tier, between 500,000 USD and 999,999 USD, incurs 1.5% + $0.25, while the last tier above one million USD adds a 1% + $0.25 cents fee.
The BitPay payment card incurs no fees in the US but charges a 3% fee for payments made abroad. Also, ATM card withdrawals are charged 2.5 USD.
BitPay doesn't charge fees for buying crypto.
How Safe Are Binance and BitPay?
Security is a top priority for Binance because the platform has millions of users worldwide and deals with multibillion-dollar assets. That's why the exchange uses data encryption, account passwords, and two-factor authentication (2FA) to protect users. The 2FA measure isn't mandatory, but it's recommended because it requires users to confirm every transfer with a code sent to their email address or phone number. 
Unlike many popular trading platforms with a history of hacks, Binance wasn't penetrated by any cyber attackers, but the exchange's Binance Chain was subject to a major breach in 2022. Fortunately, Binance users weren't affected by the hack because the platform itself doesn't depend on the Binance Chain.
Binance's main security risk is its regulatory status because it isn't licensed to operate, and there's no regulatory body protecting Binance users. This is one of the reasons why Binance supports a load of cryptos, as it doesn't have to ask for any regulator licenses. However, this means that users don't have protection if something unfortunate happens to the platform, such as a major hack.
The BitPay wallet and payment platform uses passwords and recovery seed phrases to protect user accounts. However, despite these measures, BitPay was the target of an elaborate cyber attack on three occasions between December 11 and 12, 2014. 
These attacks left BitPay without approximately 5,000 BTC. The hacker managed to breach a BitPay executive's computer and email address and then urged BitPay's CEO to send him a total of 5,000 BTC on three separate occasions. Since then, BitPay has improved its safety protocols, and there haven't been any subsequent hacks. 
Unlike Binance, BitPay is regulated and licensed to provide money-related services by relevant US institutions. The BitPay wallet has no operating license because crypto wallets aren't subject to regulatory bodies. 
Customer Support
If you have an issue with your Binance account, you can contact support via email or the support ticket option. Both options allow users to describe their problems in detail, but they aren't very convenient because the support team often takes quite a long time to respond. 
Users can contact BitPay through email and a dedicated phone line for BitPay merchant clients. Regular users can also use this line since there's no specific phone number for personal account users. 
Mobile Trading
Binance has a bunch of trading features, and it's pretty challenging to include all of those options in one app, but the Binance app's developers managed to do a great job and seamlessly integrate everything. Android and iOS users can buy, sell, swap, trade, stake, borrow assets, and purchase NFTs within the Binance app.
As far as BitPay is concerned, the mobile app works as a smoothly designed crypto wallet, which lets users easily store and manage their cryptos. The wallet has integrated crypto trading and swapping features that let users buy and exchange assets with a few clicks. 
How Do Binance and BitPay Compare to Other Crypto Exchanges
To compare Binance and BitPay against other platforms, we need to separate these two platforms into two categories. We'll compare Binance with a similar crypto exchange and BitPay with a reputable crypto wallet app. 
Gate.io is a top-rated crypto trading platform that covers the needs of both beginners and pro traders. You can find everything from instant and spot trading to derivatives features. Similarly to Binance, Gate.io has an NFT section and supports leveraged futures contracts. As far as fees are concerned, Gate.io has a similarly affordable fee structure, and users get fee discounts if they hold the exchange's native Gate token in their accounts.
The main difference between Gate.io and Binance is that the first platform supports more than 1,200 cryptos, while Binance supports 600+ coins and tokens. Both exchanges are known for their exceptional service quality, but Binance has far more users and deeper liquidity than Gate.io.
We'll compare BitPay with one of the most popular software crypto wallets, Coinbase Wallet. This multi-currency software wallet supports thousands of digital currencies because it's compatible with multiple popular blockchains such as Ethereum (ETH). This means that users can import and store any ERC-20 tokens in their Coinbase Wallet, which is far more compared to BitPay's 15 cryptocurrencies.
Additionally, Coinbase Wallet lets users purchase dozens of different cryptos, store NFTs, and even stake different crypto assets and earn staking rewards. In conclusion, Coinbase Wallets is far more feature-rich compared to BitPay.
Still, the key area where BitPay is at an advantage is the payments segment. With BitPay, users can make purchases at hundreds of companies with crypto and even buy prepaid gift cards.
Conclusion
The final verdict is very simple. If we compare Binance vs BitPay as two exchanges, Binance is the undisputed winner of the comparison because BitPay isn't a fully-fledged exchange. On the other hand, if we look at Binance and BitPay as crypto wallets, BitPay is the winner, with its easy-to-use, non-custodial crypto wallet approach.
The two platforms belong to two different product categories, and each of them is better than the other one in its own category.