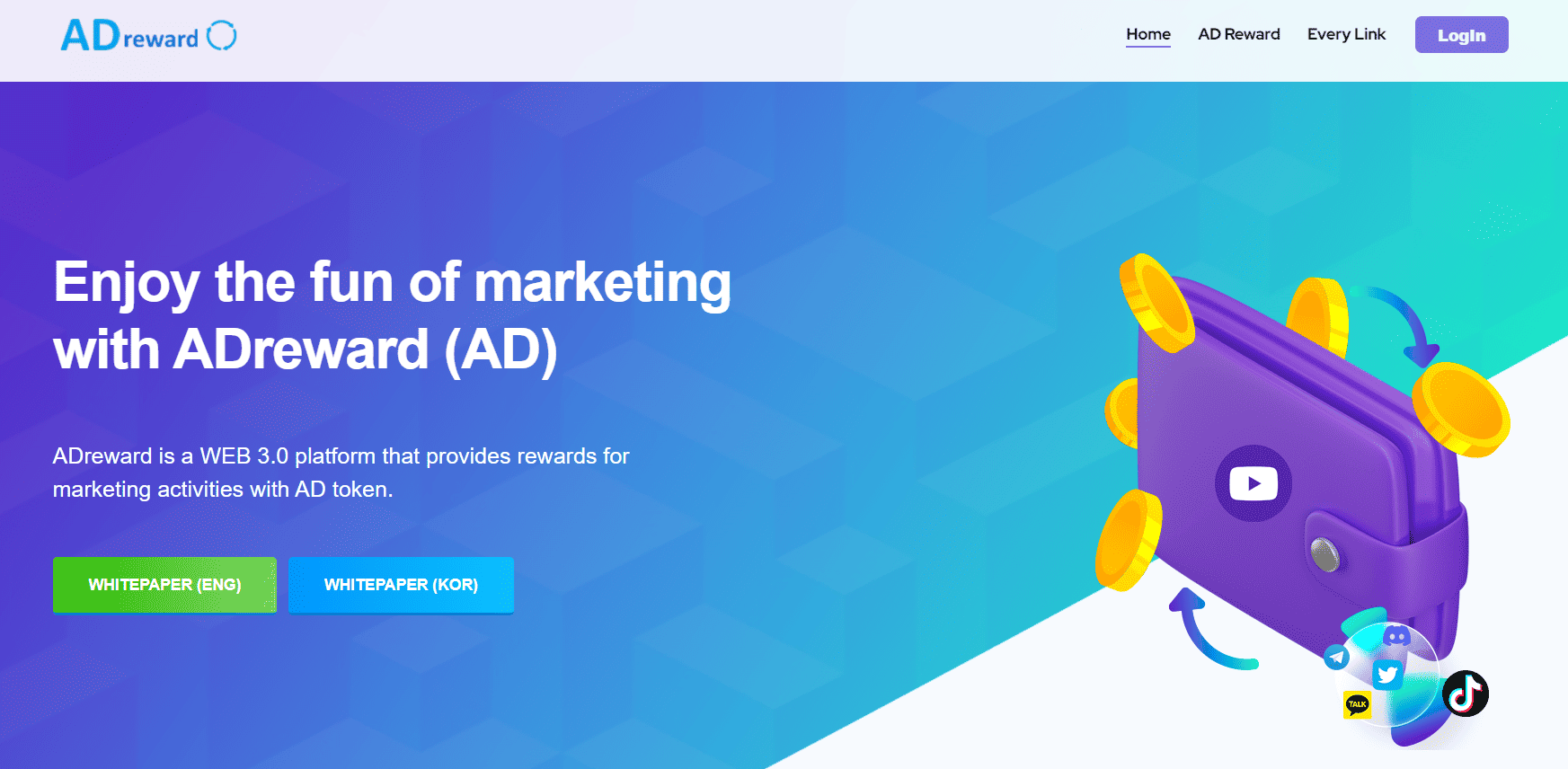 ADreward (AD) is a token that tries to tackle the issue of aggressive and poorly targeted marketing campaigns. The token's mechanics are designed to reward users for watching ads they are interested in, while advertisers get to reach users who actually care about the products and services they're advertising.
Let's dive into the characteristics of ADreward to see how this token aims to change the advertising industry.
How ADreward (AD) Works
AD is the utility token of the ADreward blockchain advertising platform. The token itself uses Ethereum (ETH) and is, therefore, an ERC-20 token. The project attempts to offer advertisers a medium for reaching users who are potentially interested in what they're advertising.
The dominant online advertisement model indiscriminately targets users based on their online footprints, such as Google search history and the websites they've visited. This often leads to users getting bombarded with ads they aren't interested in and aggressive pop-up ads that follow users across multiple websites. 
The idea behind ADreward is to create a platform that shows users a variety of ad previews and lets them browse the available ads. Users don't need to view all of the ads. Instead, they can select an ad that deals with a product or service they're interested in. The platform isn't operational yet, but the developers have already launched the AD token and claim that ADreward will be up and running shortly. 
The platform will include an elaborate payment system that will let advertisers purchase ad space and post their ads with the AD tokens. At the same time, users who watch ads will get AD rewards for taking the time to check an ad. Both advertisers and users must create user accounts on ADreward to view or post ads. 
Apart from viewing ads, users will be able to follow links directly to advertiser websites where they'll be able to purchase products or services. A small portion of proceed from the purchases that originate through ADreward will be distributed to users as a form of AD token cashback rewards.
What Is ADreward (AD) Used For?
The AD token is the main driving force of the ADreward platform. Advertisers can purchase advertising space on ADreward only with AD tokens. You can't do it with fiat currency. This way, the developers aim to drive investments toward the AD token since it's the only way to post ads.
The platform cleverly uses the AD tokens paid by advertisers to incentivize ordinary users to create platform accounts and start watching ads. By watching ads, users earn ad token rewards over time. The tokens will be distributed to users periodically, but the platform hasn't yet specified the exact timeframe.
Besides viewing ads, users will also be able to earn additional rewards by completing tasks specified in ads. For example, some ads might ask users to join the company's official Telegram chat group, follow their Twitter account, or subscribe to their YouTube account. Essentially, advertisers can come up with numerous types of calls to action that reward users with AD tokens.
This way, AD tokens make viewing ads a more fun experience, and users get to choose what they view while earning crypto. Furthermore, users can withdraw their AD tokens from their ADreward platform accounts and exchange them on a crypto exchange platform for other digital currencies or cash them out to fiat money.
Where to Buy ADreward (AD)?
ADreward is a fresh crypto project, and it's only listed on one crypto exchange so far, Gate.io. However, Gate.io is one of the largest centralized exchange platforms and allows users to easily purchase AD with Tether (USDT).
You can do so by creating a Gate.io account and buying some USDT with cash. Afterward, you'll be able to trade USDT for AD tokens.
Hopefully, AD will secure some additional future listings on other popular exchanges.
How Long Has ADreward (AD) Been Around? 
ADreward's development journey began in the first quarter of 2023 when a group of South Korean blockchain experts formed a team to create an innovative crypto-based marketing platform. 
The project's team members come from reputable organizations such as Korea Blockchain Association and Global Mobile Game Confederation(GMGC). The AD token's launch happened during the second quarter of 2023, in late April. 
What's Controversial About ADreward (AD)?
There's no record of any issues with ADreward so far, but the project promises to introduce some very ambitious features, and if the developers don't succeed in doing so, the project will effectively become a failure. The ADreward platform isn't yet launched, and neither viewers nor advertisers can utilize the AD token for anything except for speculative trading.
This will change once the team launches the fully functional ADreward platform. However, it isn't clear how ADreward will gain popularity and attract users to the platform. Especially given the fact that viewers and advertisers need to register an account on ADreward to use it.
This means that ADreward needs to convince users to create a platform account, and this can only be done if the platform itself puts considerable effort into marketing activities. 
How Many ADreward Coins Are There?
ADreward's maximum 10 billion token supply is divided into various allocation subgroups. The developer team and the planned ADreward foundation each get 10% of the supply, while partners and advisors get 5% each. 
The remaining 70% is divided among marketing purposes, ecosystem development, and the initial coin sale. Marketing activities get 30% of the tokens, and the ecosystem's growth will have a 10% token budget, while 30% is reserved for the token sale. 
Currently, 56% of all AD tokens are in circulation.
Can AD Be Mined?
Users can't mine AD tokens. The whole supply is already created by the developer team, and the only way to acquire AD is either by participating in the ADreward platform or by buying AD on an exchange. 
Market Cap and Price History of ADreward (AD)
ADreward has a modest market capitalization of a bit less than five million USD, according to its official page on CoinMarketCap. The token's price is also very low at just 0.00081 USD. ADreward set its all-time high of 0.00099 USD on April 26, 2023.
Biggest Competitors of ADreward (AD)
ADreward's direct competitor is the Basic Attention Token (BAT) project, which is connected to the Brave Web3 browser. BAT is designed to reward users who use Brave and watch selected ads with crypto rewards on a monthly basis.
Brave has an integrated crypto wallet for storing BAT tokens. Apart from viewers and advertisers, the BAT ecosystem also allows content creators to enable BAT token tips on their platforms and receive financial incentives for using Brave.
Furthermore, BAT has a market value of nearly 400 million USD, and the Brave browser has millions of users across the globe. ADreward doesn't yet have a functioning platform, and it can't yet compete with BAT. However, even when ADreward launches the platform, it will need years to build up a considerable user base to eventually endanger BAT's position as the leading advertisement-focused crypto project.
What Does the ADreward (AD) Project Road Map Look Like?
ADreward's roadmap shows that during the second quarter of 2023, the team plans to set up the project's landing page and integrate MetaMask wallet connectivity on the website. 
Also, they will integrate YouTube and TikTok ad functionalities with ADreward. In the third quarter of the year, ADreward will launch its advertising platform and give users access to all of the key features, including advertising and viewing ads.
During the autumn of 2023, ADreward will launch its mobile app for Android and iOS operating systems, as well as an updated version of the desktop platform.
Pros and Cons of ADreward (AD)
Pros
Users can earn AD rewards for viewing ads

Advertisers can pay for ads with AD tokens
Cons
AD can't really hope to compete with BAT, its main competitor

The AD reward system isn't available yet