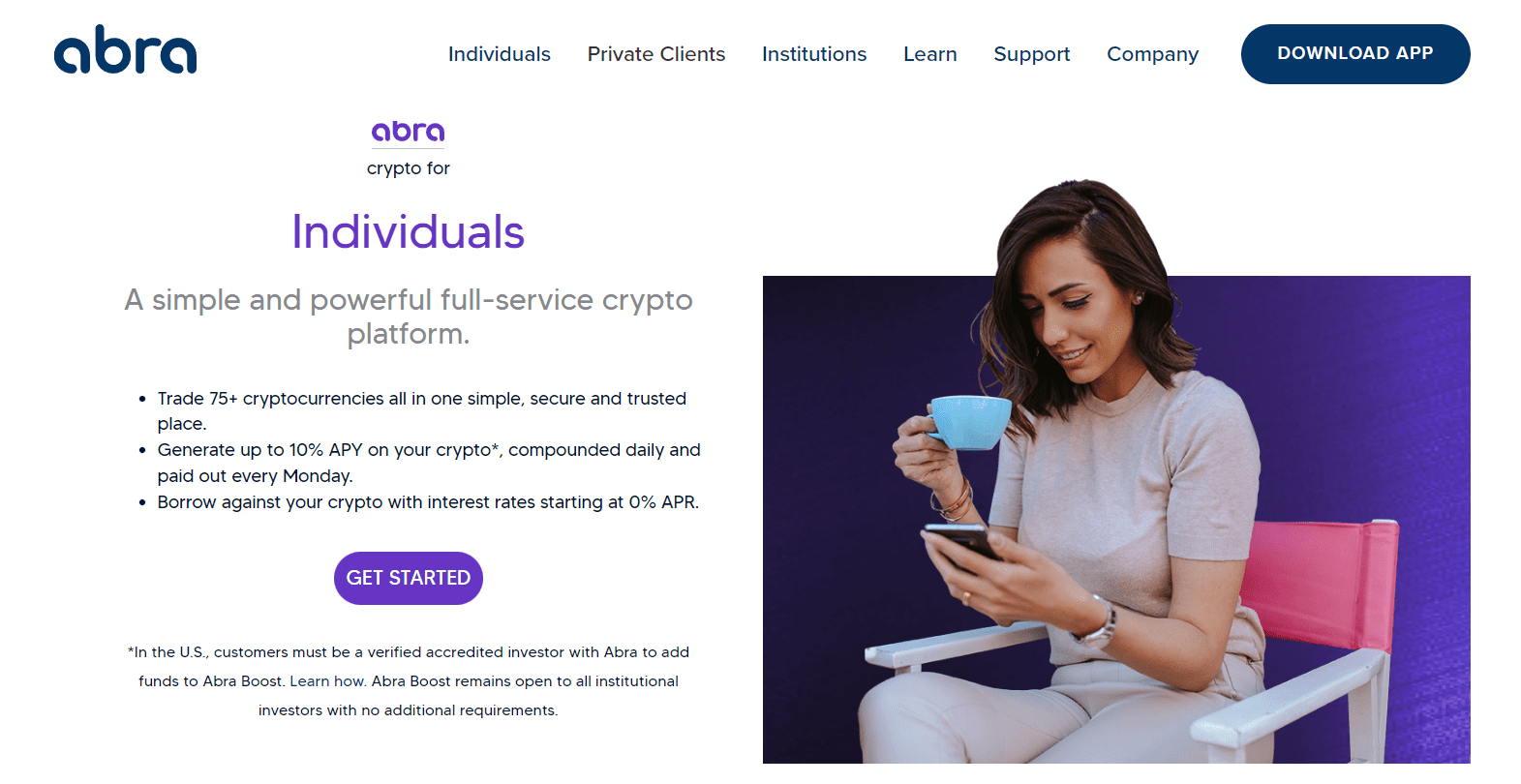 Abra is a practical crypto trading mobile app that also provides users with a custodial wallet service and a wide array of additional services, such as crypto staking and borrowing. With Abra, users can simultaneously access an easy-to-use crypto investment app and a trustworthy wallet. 
This review will explore all of the critical features of Abra and what users get by installing the app. 
Pros & Cons of Abra
Pros
Abra supports most of the leading digital currencies from the top 100 list (75+).

The app integrates crypto trading and wallet features.

Users can earn interest on their crypto through the

Abra Boost

feature.

Purchase crypto with fiat currency or sell it and cash out to your bank account.
Cons
Abra shifted from a non-custodial to a custodial wallet service, which some users might consider a backward move.

Many popular competitors support a much broader selection of cryptocurrencies.
About Abra
Initially, Abra wasn't a crypto-related platform. In fact, it started as an online payment service provider that allowed users to send money to each other through the Abra app, which was launched in 2014.
However, a few years later, the app underwent a dramatic transformation and became a crypto-focused investment platform that provides users with secure storage features for their whole crypto portfolio. 
The contemporary Abra app was rolled out in 2017 and introduced various crypto-related services. At first, it wasn't really clear whether Abra was a crypto exchange or a wallet app. In reality, it was both. We can best describe it as a mobile crypto investment app that lets users perform all their crypto operations through one interface.
Abra acts as a multi-currency crypto wallet, which can provide users with a handy storage solution for their digital assets. The app supports various trending coins and tokens, making it an excellent choice for the average crypto trader who sticks to the most prominent digital currencies.
The Abra wallet was a non-custodial wallet during its initial phase, which meant that the private keys to your crypto were always kept on your mobile device. However, Abra later shifted to a custodial solution, storing all user assets in a third-party custodian's crypto vaults.
Abra's custodian is Bittrex, one of the top global crypto exchanges. Although Bittrex is a highly-secure exchange, custodial storage is generally riskier than a non-custodial crypto wallet because you depend on the custodian's security measures.
Crypto Coins Available on Abra
Abra doesn't support a huge selection of hundreds of cryptos like some leading exchange platforms or popular software crypto wallets, but it does have a careful selection of the top crypto projects on the market.
Users can buy, sell, exchange, and store 75+ digital currencies like Bitcoin (BTC), Binance Coin (BNB), Aave (AAVE), Dai (DAI), Litecoin (LTC), Ape Coin (APE), Axie Infinity (AXS), Algorand (ALGO), Ethereum (ETH), Compound (COMP), Civic (CVC), Elrond (EGLD), Polkadot (DOT), Dogecoin (DOGE), and Enjin Coin (ENJ). 
An interesting fact about Abra is that all coins that the wallet can store are also available for instant buying through the app. Many popular crypto wallets support hundreds of currencies for storage, but they don't allow users to purchase all of those coins with fiat currency. With Abra, you can buy everything available for storage. 
Fiat Currencies Supported on Abra
Abra supports more fiat currencies than many popular exchange platforms and crypto wallets. Users can fund their Abra wallets or buy crypto directly with over 70 global fiat currencies. The list includes major fiat currencies like EUR, USD, CAD, GBP, AUD, and an excess of 60 other currencies. 
This means that users across the globe can deposit their local currency into their Abra accounts without going through a pricey conversion procedure and incurring additional fiat conversion fees. 
Countries Supported on Abra
According to their official website, users from more than 150 countries can use Abra, including traders from all US states except New York. 
Abra Fees
Users don't pay any fees for using Abra as a custodial crypto wallet. All of the expenses of the custodial storage service provided by Bittrex are paid by Abra. The platform makes money from its crypto exchange and trading business. 
While users don't pay specific fees for trading assets through Abra, each trade rate has a built-in market spread from which Abra profits. The spreads for trading most cryptocurrencies are around 1%.
Also, users incur additional fees for using the various payment methods available on Abra. However, these fees depend mainly on your payment service provider or channel. For example, payment card deposits incur a 4% fee, while bank account deposits incur anywhere between 0 and 0.25%, depending on your bank's policy.
If you want to cash out your crypto, you can always withdraw money to your bank account for free (although your bank might impose some charges). Additionally, crypto deposits and withdrawals incur different fees depending on the currency itself. These fees are blockchain transaction fees, varying from crypto to crypto. 
There aren't any fees apart from the market spreads during crypto trading on Abra's end.
Main Features of Abra
Abra is a multifunctional app that provides users with both secure crypto storage and access to crypto investment features. You can use Abra as your go-to crypto wallet and store all of your coins and tokens, but you can also invest, trade, and sell crypto through the app.
Abra makes investing in crypto really simple and easy because you can select which crypto you wish to buy from the list on your Abra app and start purchasing assets immediately. You can buy crypto directly or deposit funds to your Abra account to spend them afterward. If you wish to buy crypto right away, just choose the currency, specify how much money you want to spend, and select your preferred payment method.
Generally, you can make a purchase with a bank account transfer or with a payment card, but besides standard Visa and MasterCard options, you can also pay with your virtual Google Pay or Apple Pay cards
 Furthermore, the fiat-to-crypto conversion is handled by reputable payment gateways like Banxa, Wyre, Ramp, MoonPay, and others. Abra will always show you all the available offers for multiple payment providers so you can choose the one that suits you best. Remember that you'll need to provide personal information and ID details when making crypto purchases on Abra. 
Abra also allows users to withdraw fiat currency and cash out their crypto gains to their personal bank accounts, which means that if you use Abra, you don't need an intermediary fiat-friendly exchange to cash out your crypto. Instead, you can directly convert crypto to fiat with Abra and send the money to your bank account. 
The Abra Boost feature is where users can earn an annual percentage rate (APR) on 12 popular cryptocurrencies, while the Borrow option lets users take out crypto-collateralized loans from Abra. 
Also, Abra is preparing to issue a crypto debit card for US customers, allowing users to connect their Abra wallets to their cards and spend crypto just like fiat currency at retail spots. 
How Easy Is It to Open an Abra Account?
Since Abra is a crypto investment platform built on top of a crypto wallet, opening an Abra account is very similar to creating a crypto wallet:
Download Abra

for iOS or Android from the platform's website. 

Unlike most crypto wallets, Abra requires you to provide your full name and email address. That's because Abra is a custodial wallet and a regulated money service provider.

Next, enter your phone number, and select your country.

Abra will send you an activation code for your account. Just enter the code and proceed to the next step.

You'll need to set up a PIN code with four digits to access your Abra app.

You'll now receive your recovery seed phrase. Write it down and stash it someplace safe. Abra still gives users a recovery seed phrase despite being a custodial wallet, but the private keys themselves are kept in the cold storage of the Bittrex exchange.

After you've saved your recovery seed phrase, you can start using Abra as a wallet and crypto trading platform.

Keep in mind that you'll need to provide additional personal details and proof of identity if you plan to purchase crypto through Abra. 
How Secure Is Abra?
Abra boasts solid security measures in line with market standards. Apart from the PIN code for accessing their accounts, users can also set up two-factor authentication for every trade. 
The main security issue with Abra is the debate on whether custodial storage is less safe than non-custodial storage.
If you look at Abra as a trading service, then it has standard security measures. On the other hand, if you're looking at the app exclusively as a wallet, then the fact that it's custodial might be a drawback compared to popular wallets that are mostly non-custodial.
Is Abra a Regulated Platform?
Abra's crypto trading services are fully regulated, and the platform is registered for providing fiat to crypto services with the US Department of Treasury Financial Crimes Enforcement Network (FinCEN). FinCEN is one of the most reputable financial regulatory bodies, and the fact that Abra has its license shows that it's a trustworthy trading platform.
Has Abra Ever Been Hacked?
There aren't any public records of Abra security breaches or hacks so far.
How Does Abra Compare to Alternative Platforms?
Let's compare Abra with one of the market's most popular crypto exchanges and multi-currency crypto wallets.
Coinbase offers very similar crypto investment options to those on Abra. The exchange supports around twice as many cryptos (150+) compared to Abra, and its investment interface is based on instant trading, just like the one on Abra.
Regarding fees, Coinbase is known to be quite pricey, with most trading fees around 1%, so they're on equal ground here. Abra's advantage over Coinbase is its users have more staking options and higher staking awards available in the Abra Boost section.
Trust Wallet is among the most popular multi-currency solutions for storing digital currency. Compared to Abra, Trust Wallet offers way more storage options. The wallet supports dozens of blockchain networks and thousands of coins and tokens.
Also, it has an integrated dApp browser that enables users to use numerous decentralized apps and DeFi platforms. Furthermore, users can store NFTs in their Trust Wallet accounts. However, the wallet doesn't allow users to cash out crypto to fiat, as Abra does, and doesn't support crypto loans.