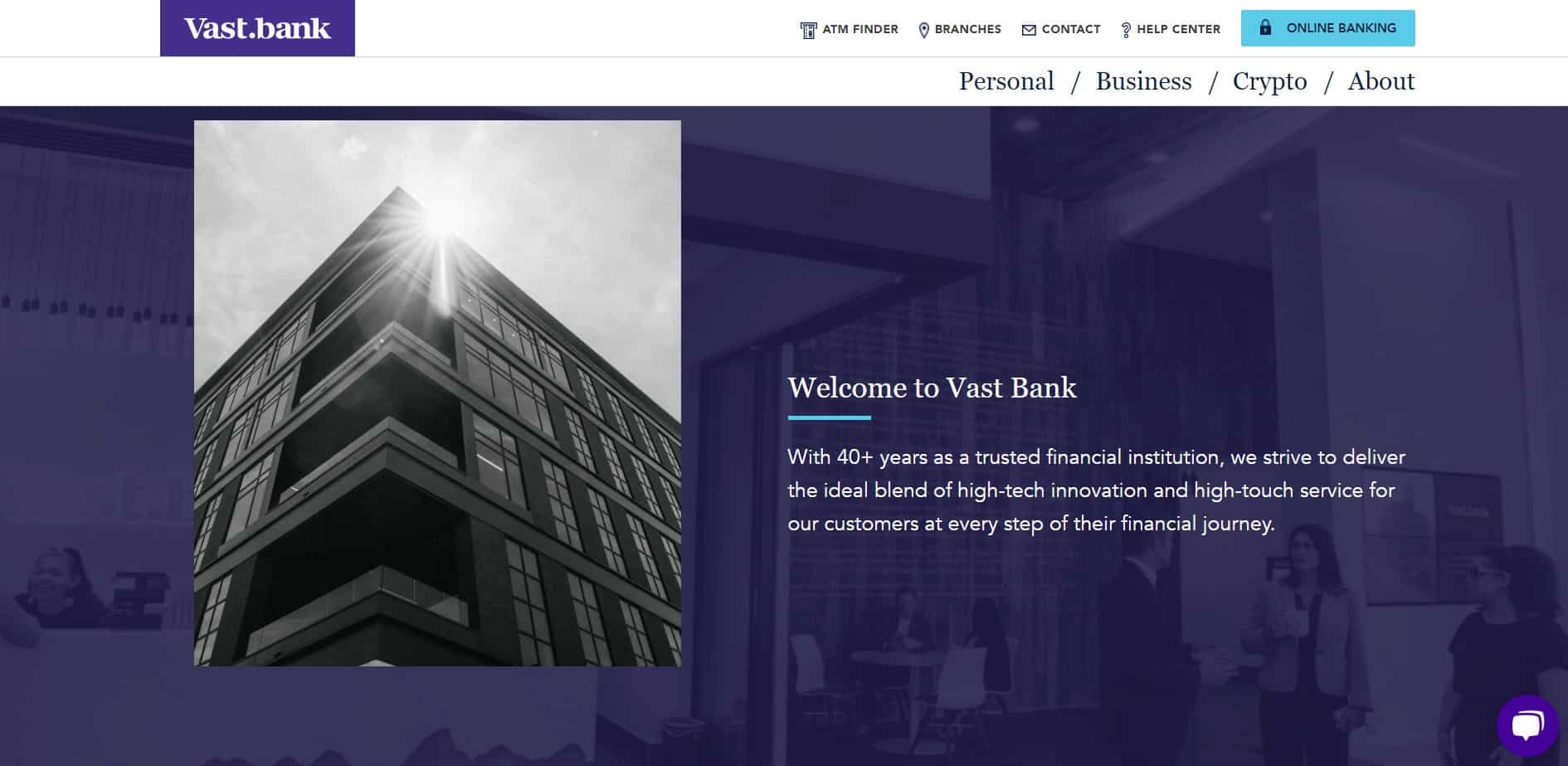 The mobile app developed by Vast Crypto Banking i is the first central bank to provide users the ability to purchase, trade directly, and store cryptocurrency. The bank is insured by the Federal Deposit Insurance Corporation (FDIC).
The service allows Vast Bank customers to manage their cryptocurrency holdings and bank deposits in a secure and user-friendly environment, whenever they want, wherever they are.
About Vast Bank
In 2021, Vast Bank, a reputable family-owned financial institution that has been servicing consumers since 1982, launched its innovative Crypto Banking service. This is a huge step forward for the bank, which made history in the world of finances by being the first central bank in the United States to allow users to buy and trade cryptocurrencies alongside a standard checking account.
Vast Bank's Crypto Banking service, which can be accessed through a sleek mobile app, makes it easier for customers to buy and sell crypto directly through their bank accounts while still getting the high-quality personal banking services they are used to. 
The cryptocurrency banking service provided by Vast Bank is powered by the strategic partners Coinbase and SAP, both of which have extensive technical experience across the full spectrum of banking and crypto. As a result, the service provides customers with one of the simplest and most dependable entry points into the cryptocurrency market.
Main Features of the Vast Bank Mobile App
The mobile app offered by Vast Bank comes with a number of advantages for cryptocurrency banking, including the following:
No Lockouts 
According to statistics provided by Chainalysis, almost 20% of all Bitcoin has been lost. This amount of Bitcoin is estimated to be worth about $140 billion. 
This loss is because investors need to remember the passcode or digital keys to their wallets or have passed away without passing this data on to their family members. 
Since Vast Bank operates as a custodian for its clients' cryptocurrencies, those customers can rest certain that they won't be locked out of their accounts. This makes retrieving their cryptocurrency holdings simple for clients and their successors.
Cryptocurrency Accounts Insurance 
Because Vast Bank is a federally licensed bank, the FDIC insures clients' checking accounts for a maximum of $250,000. Coinbase, as a pooled insurer, is responsible for providing protection for the cryptocurrency holdings in Vast Bank accounts.
No Waiting Period for Money Transfers
When you send money from a bank account to a conventional cryptocurrency exchange, this transfer might take up to several days. This isn't the case with Vast Bank's crypto banking service. 
The app instantly deposits U.S. cash into their respective bank accounts when users sell cryptocurrency assets. In accordance with the guidelines outlined in the bank's Funds Availability Policy, users can seamlessly convert the digital currency held in their crypto accounts to fiat currency held in their Vast Bank checking accounts at any time.
Low Fees
Vast Bank has one of the lowest trading costs for cryptocurrencies, at 1%, making it one of the best places to stash your crypto. On the other hand, traditional banking products are subject to various fee plans, while cryptocurrency accounts at Vast Bank do not incur deposit fees.
High Security and Confidentiality Level
As a result of their regulatory status and FDIC insurance of up to $250,000 per client, Vast Bank is among the most secure places to store and earn interest on your cryptocurrency holdings.  
When dealing with Vast Bank, clients' personal information is never distributed to other parties. At Vast Bank, your private financial data and digital assets are protected from unauthorized access and use at all times.
As a Tulsa-based branch of a nationally chartered US bank, Vast Bank is a highly practical choice for residents of the United States who value security for their cryptocurrency holdings.
Checking Accounts That Pay Interest 
Having a checking account that pays interest ensures that your U.S. dollar assets as a Vast Bank client never sit idle. This is one of the major benefits of combining a traditional bank with cryptocurrency.
According to Vast Bank, the banking process should be the least difficult aspect of your business. Because of this, they developed checking accounts geared specifically toward the requirements of individual businesses. Moreover, the bank offers the ideal account for your company, no matter how big or little it is: whether you run a sole proprietorship or a multinational conglomerate.
As a result, you have the choice to open either a personal or a business checking account, as these are the two varieties of checking accounts available.
Business checking accounts are protected with top-of-the-line security. You also have the option to conduct banking transactions online or through your mobile device and enjoy the bank's individualized customer service.
As an individual investor, you have the flexibility to bank whenever, whenever, and as you see fit, thanks to the straightforward checking choices offered by Vast Bank. With an account meant to provide you with more functionalities, you can stay on top of your bills, pay for your regular costs, and keep up with your lifestyle.
Free ATM Withdrawals All Over the Country With Your Debit Card
Clients of Vast Bank get access to free ATM withdrawals at any of the more than 55,000 Allpoint and Transfund locations around the country when using their debit cards.
Supported Cryptocurrencies
As a Vast Bank client, you can buy a variety of cryptocurrencies like Bitcoin (BTC), Bitcoin Cash (BCH), Cardano (Ada), Ethereum (ETH), Litecoin (LTC), Orchid, and Algorand through the Vast Bank Crypto Banking app. You can effortlessly handle your cryptocurrency holdings whenever and wherever you want through the dedicated Vast Bank mobile software. 
Moreover, the digital assets team at Vast Bank continually assesses new digital currencies to determine whether or not they should be included in the platform.
Conclusion
A relatively new addition to the world of cryptocurrency, Vast Crypto Banking is making a strong showing thus far. Their cutting-edge platform makes it simple and safe for customers to purchase, trade, and earn income on their digital assets, in addition to giving them access to conventional banking services. 
Vast Bank is an excellent choice for cryptocurrency investors due to the fact that they offer attractive interest rates, cheap fees, strong safety protocols, and adherence to the United States financial regulations.
So, if you're looking for a convenient place to trade, store, and earn interest on your crypto assets, go no further than Vast Bank.