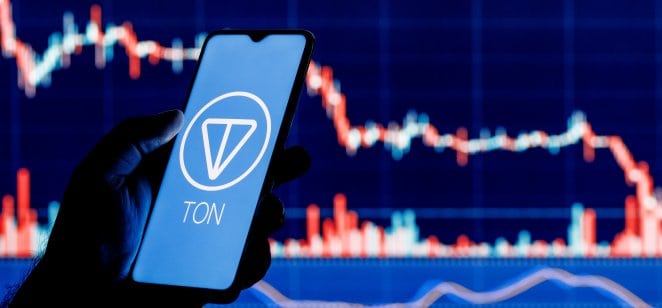 Toncoin is an innovative crypto project that is a Layer-1 blockchain that focuses on speed, scalability, and efficiency with a modest transaction price.
TON stands for Telegram Open Network, a project developed and launched by the Telegram instant messenger company back in 2018. Since then, the project has gone through considerable changes and become one of the largest cryptocurrencies on the market, with a firm position among the top 50 cryptos, according to CoinMarketCap.
Let's have a closer look and find out all the details about Toncoin.
How Toncoin Works
Although Toncoin was launched by Telegram, the company abandoned the project at one point, after which the newly formed TON Foundation took over and continued developing Toncoin.
Toncoin has a large community of dedicated users and several important use cases. The network is a Layer-1 blockchain, which means it doesn't use another network for its operations because it has its own, fully developed blockchain. 
The Toncoin blockchain uses a unique network architecture where smart contracts use blockchain sharding to facilitate transactions. This means that transactions are split on several subsections of the blockchain – master, work, and shard chains – to lift the pressure of the main chain and enable fast transactions without causing a traffic jam on the blockchain. This is one of the key reasons why Toncoin is highly scalable. 
Toncoin transactions take one second on average, and theoretically, the network can process up to one million transactions per second, which ranks Toncoin among the most scalable blockchains on the market.
The high throughput capacity is a key selling point for the mass adoption of the Toncoin blockchain. Toncoin transactions cost a fraction of a US dollar on average, making the network highly fit for launching decentralized applications (dApps).
The Toncoin blockchain uses a Proof-of-Stake (PoS) consensus mechanism. There are more than 200 validator nodes responsible for checking and processing transactions. The nodes have a stake in the network, which consists of TON coins.
Anyone can stake TON through a validator node and receive rewards deducted from transaction fees in return. The network is extremely secure because validators lose all of their staked TON if they approve an illegitimate transaction.
What Is Toncoin (TON) Used For?
Toncoin's high efficiency makes it great for providing users with a variety of financial services. Classic bank account transactions take several hours and sometimes even multiple days. Bank card transactions are approved within a few seconds, but the transfer of funds takes up to 48 hours. Toncoin aims to provide users with a super-efficient and fast solution for storing, managing, and transferring funds.
One of the key use cases of TON is in-app transaction integration. This means that developers can easily integrate Toncoin within their apps and enable users to facilitate transactions with TON.
Developers can integrate TON in banking apps, social media platforms, blockchain gaming projects, NFT marketplaces, DeFi protocols, and other apps. Additionally, traditional companies that use Web2 technology can also integrate TON within their business models by allowing users to conduct TON-based crypto transactions.
Although Telegram doesn't run the TON project anymore, it's one of the key platforms that integrate Toncoin features into its operational model. Users can buy TON within the Telegram messenger through the Wallet Bot feature that allows them to set up their own TON wallet within Telegram.
Users of the messaging app can quickly transfer funds between themselves by sending TON to one of their contacts. This means that Telegram users all over the world can nearly instantly transfer funds across borders and without any bureaucracy associated with the traditional banking system. Additionally, there's no waiting time since transfers only take a second. 
Users can also transfer their TON to third-party crypto wallets and exchange their coins for other cryptos. There are various Toncoin wallets, such as Tonkeeper and TON Wallet, which allow users to store TON and manage it just like any other crypto. 
Toncoin has several highly useful blockchain platforms. Ton Storage works as a Toncoin-based blockchain storage platform that provides decentralized storage features. Ton Proxy is great for providing users with full anonymity when browsing the web.  The Ton Domain Name Service provides users with a practical domain name tool for dApps and platforms built on Toncoin. 
Where to Buy Toncoin (TON)?
Toncoin is a very popular cryptocurrency since it's ranked among the top 100 projects by market capitalization. However, some of the largest crypto exchanges, like Binance and Coinbase, still don't support TON trading. 
The largest crypto exchanges that support TON trading are Huobi Global, Gate.io, KuCoin, and OKX. PancakeSwap and UniSwap are the main decentralized cryptocurrency exchange platforms that support TON. Additionally, there's a variety of less popular platforms where you can buy and sell TON, such as HitBTC, BitMart, and Poloniex. 
To buy TON on a centralized exchange, you need to create a user account on the platform and deposit some fiat currency or other cryptocurrency into your account to buy some TON. Alternatively, many exchanges support instant trading, allowing users to buy TON with a credit or debit card.
As far as decentralized exchanges are concerned, you need to connect your crypto wallet to the DEX platform and exchange another cryptocurrency for TON. On UniSwap, you can exchange the Tether (USDT) stablecoin for TON, while PancakeSwap also supports the USDT/TON trading pair.
How Long Has Toncoin (TON) Been Around? 
Toncoin has been around for quite some time, given the fact that the project launched in 2018. However, the coin was initially called Gram during the period when the project was operated by Telegram.
During its private token sale in 2018, Gram raised 1.7 billion USD worth of assets, which makes it one of the largest private crypto token sales in history. After the private sale, the project raised an additional amount of over one billion USD from sales to various global companies that took an interest in the project.
Telegram operated Gram until 2020, when it stopped developing the project, and the newly formed TON Foundation took over. Telegram withdraw from Gram after losing a high-profile court battle with the US Securities and Exchange Commission (SEC). Telegram paid nearly 20 million USD worth of fines and repaid 1.8 billion USD to its initial investors.
However, once they took over, the TON Foundation continued cooperating with Telegram, which is why the messenger app integrated TON functionalities into the app. 
The TON Foundation was built by the community because Gram was an open-source project, and developers from the already huge Gram community decided to take over and continue developing the project. That's how Gram was rebranded to TON and gradually became a super-fast, scalable, and cheap blockchain during the period from 2020 to 2022.
What's Controversial About Toncoin (TON)?
The Toncoin project hasn't been associated with any controversies since the Ton Foundation took over the project in 2020. However, the early period of the project, during the Gram era, was quite controversial because, during the private sale of the Gram token and the subsequent public launch of the project, there were a lot of scams. 
For example, scammers targeted users on numerous Telegram groups and used fake Twitter accounts for promising access to free Gram tokens and airdrops while actually luring users to grant them access to their crypto wallets or pay them money.
Also, the court case between Telegram and the SEC was quite controversial because the SEC accused Telegram that the Gram token was actually a security – a tradable financial asset – and that they didn't have the authorization to sell it to users as they did.
The SEC considered the Gram pre-sales an unregistered distribution of securities and cracked down on the project in court. Telegram was basically forced to abandon the project due to bad publicity and refund all of the investors.
How Many TON Coins Are There?
The circulating supply of TON coins is a little above 1.2 billion coins. However, the maximum supply of TON is five billion coins. Each TON validator node needs to have at least 600,000 TON coins to be eligible for the role. The validators gather these coins by pooling together coins from numerous users who wish to stake TON and earn staking rewards. 
Can TON Be Mined?
Although TON is a PoS blockchain, it used a Proof-of-Work (PoW) mechanism to initially mine all of the TON coins. The coins were guarded by so-called Giversmart contracts and the mining of TON ended in June 2022. There's no possibility of mining TON anymore.
Now, users can unlock new TON by participating in the network through coin staking. The validator nodes reward users with a portion of the transaction fees, but they also unlock and distribute new TON coins on the market. 
Market Cap and Price History of Toncoin (TON) 
TON is a major cryptocurrency and has a huge market capitalization of over three billion USD. Back in December 2021, during the last bull market, TON reached an all-time high of 4.4 USD per coin, however, the price fell dramatically during the bear market of 2022. The price has lately fluctuated between 1.5 and 2.5 USD per coin. 
Biggest Competitors of Toncoin (TON) 
Since Toncoin is focused on providing fast and efficient transaction capabilities, it has many competitors among the top cryptocurrencies on the market. Blockchains like Polygon (MATIC), Cardano (ADA), Ripple (XRP), Avalanche (AVAX), and Solana (SOL) are all key Toncoin competitors. However, Toncoin managed to achieve a rapid rise through the ranks of the top 100 cryptocurrencies and continues to grow.
It will be interesting to see how TON competes with other blockchains in the future because it has a much higher transaction-per-second capacity than all of the coins in the top 20 list. For example, Solana, Polygon, and Avalanche all have TPS capacities of several tens of thousands of transactions, while Toncoin can process up to one million TPS.
What Does the Toncoin (TON) Project Road Map Look Like?
Toncoin's roadmap indicates that the developer team will focus on creating a more versatile framework for developers to integrate TON into third-party apps. The team will continue working on the TON Developer Program, which is Toncoin's ecosystem development framework for launching new core features of the TON blockchain.
The key roadmap milestone for 2023 is to introduce TON compatibility with Ethereum Virtual Machine-compatible blockchain networks, such as Ethereum (ETH), MATIC, AVAX, and Binance Chain. On top of this, Toncoin will introduce support for BTC, which will turn Toncoin into a multichain-compatible network. 
Pros and Cons of Toncoin (TON) 
Pros
Extremely fast transactions and a one million transaction per second network capacity.

Low transaction costs.

A flourishing dApp development ecosystem.

Suitable for integrations with third-party apps.

Well-established among the top 100 coins on the market.
Cons
Negative publicity during the early stage of the project because of the SEC court case.