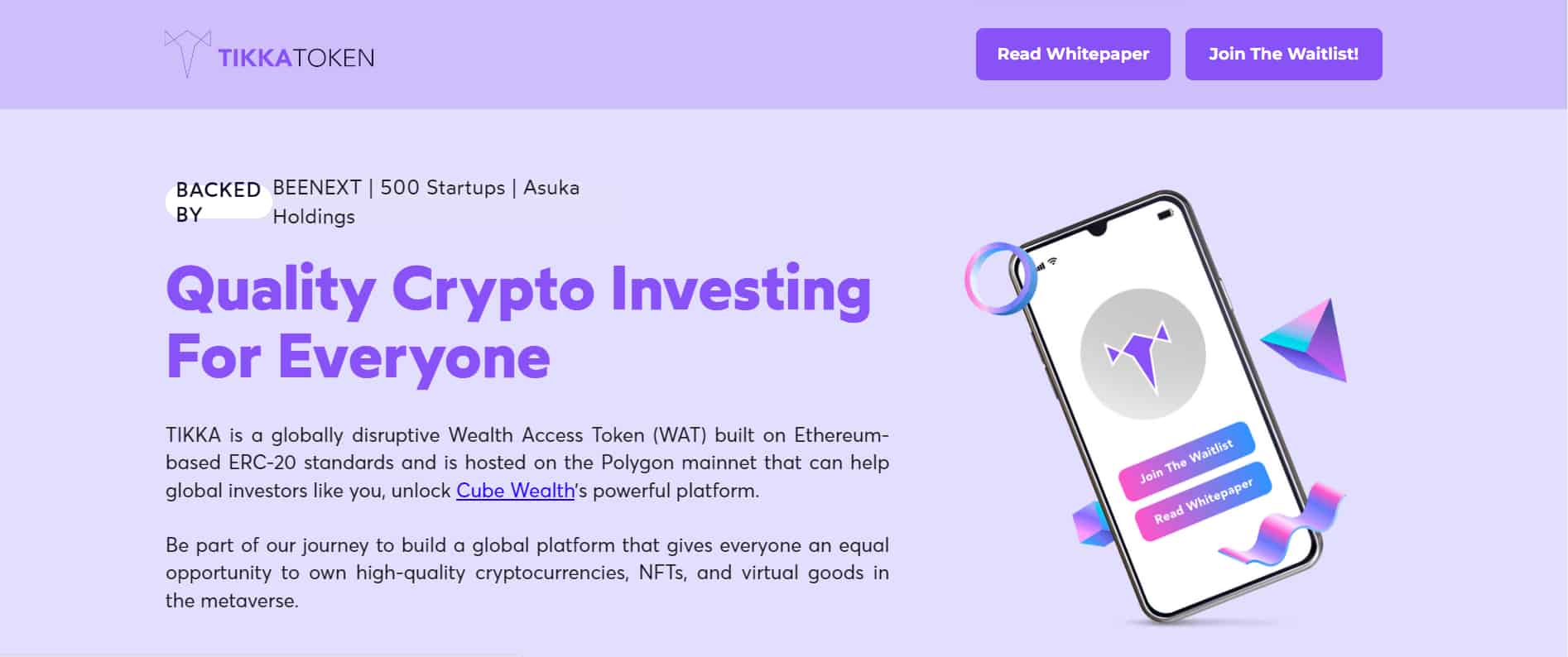 The concept behind the Tikka Token (TIKKA) was conceived by the team powering Cube Wealth, a fintech company from India that assists customers in assembling ideal investment portfolios by deploying carefully selected asset opportunities. 
The Cube developers wanted to do something about the fact that only the ultra-rich had access to high-quality consulting services and a diverse range of alternative investment opportunities. As a result, they decided to launch the Tikka Token (TIKKA)-powered platform and promote their simplified approach to investing to the rest of the globe.
Keep on reading to learn more about the Tikka Token (TIKKA).
What Is Cube Wealth?
Cube Wealth is an innovative platform that is changing the face of India's investing and financial technology sectors. Through its Cube Wealth app, Cube provides the vast Indian middle-class access to high-quality financial advisory services previously reserved for the world's ultra-high net-worth investors.
One of the many reasons people are sceptical about investments is the great variety of assets available, especially since a lot of these assets turn out to be phony versions of legitimate ways to make money. Because of this, the vast majority of individuals don't make any investments, and the minority who do usually rely on low-quality, publicly-sourced information spread by similarly inept friends and family.
It becomes obvious that what middle-class investors need is affordable guidance. As such, the greatest success of Cube is the way it has restored faith in the financial system and given investors who previously lacked access to high-quality assets and advice the freedom to make their own investment decisions.
The Tikka Token (TIKKA)
All Cube Wealth functionalities are powered by its native Tikka Token (TIKKA). The Tikka token is a wealth access token that allows more people to have access to high-quality financial advice and opportunities through the Cube Wealth platform.
The TIKKA token does this by constructing an egalitarian opportunity platform that brings those with average incomes up to the same level as those with extremely high incomes. In turn, the opportunities offered on the Cube Wealth platform that an investor can access by holding TIKKA tokens eliminate the wealth creation opportunity gap.
Additionally, the funds collected from the token sale will be used to build a platform for selected assets, promote the site, and offer Tikka Holders first-rate possibilities to invest in cryptocurrencies, NFTs, and Web3 products after its release in 2023.
How Tikka Token (TIKKA) Works
The TIKKA utility token was developed using the Ethereum mainnet's ERC-20 protocol and is stored on the Polygon blockchain. Polygon is currently the most popular Layer 2 scaling fix for Ethereum's many scalability issues.
Polygon has the same advantages as Ethereum, including increased throughput and decreased transaction fees. Unlike Ethereum, which employs Proof-of-Work (PoW) for its consensus mechanism, Polygon utilizes Proof-of-Stake (PoS) to provide a more long-term solution and fortify Polygon blockchains' security using Proof-of-Stake.
The main thing that makes this Polygon cryptocurrency stand out is its easy use. Because it adheres to the ERC-20 standard, you can store TIKKA in most digital currency wallets that are already out there.
What Is Tikka Token (TIKKA) Used For?
Tikka Token is a wealth access token that makes high-quality financial guidance and investment opportunities available to everyone. It eliminates the disparity between the ultra-rich and the rest of the people by providing a level playing field for economic growth.
As a global Wealth Access Token (WAT), TIKKA grants holders access to the TIKKA platform for high-quality assets, allows investors to track the performance of the industry's most successful advisers, and grants Cube Wealth platform users access to time-saving functionalities integrated with the TIKKA app.
Where to Buy Tikka Token (TIKKA)?
So far, none of the prominent exchanges supports TIKKA. 
How Long Has Tikka Token (TIKKA) Been Around? 
The beta version of the Tikka token (TIKKA) is scheduled for release in the third quarter of 2023. 
What's Controversial About Tikka Token (TIKKA)?
Since the token has yet to be released at the time of this writing, we cannot provide any information about potential challenges with this cryptocurrency project.
How Many Tikka Tokens Are There?
The smart contracts specify a transparent, sequential, and finite token generation process, with a maximum token supply of 7,000,000,000 TIKKA tokens.
Can TIKKA Be Mined?
Because it is a Proof-of-Stake-compliant ERC-20 coin, TIKKA cannot be mined. Instead, TIKKA holders are compensated for staking (locking) their tokens on the platform, which acts as a transaction verification and liquidity provision.
Market Cap and Price History of Tikka Token (TIKKA)
These details regarding the TIKKA token are not currently available.
Biggest Competitors of Tikka Token (TIKKA)
Since this project is still in its early stages, it's too soon to say who will be its main competitor.
What Does the Tikka Token (TIKKA) Project Road Map Look Like?
The future aspirations of TIKKA are where its true substance can be found. For starters, TIKKA token holders will reap significant rewards as Phase 1 continues. 
But one of the most important steps is the launch of an exclusive platform for investors alone. TIKKA holders will have access to various cryptocurrencies, investment options, and airdrops. Although TIKKA's initial USDT airdrop ended on April 21st, there could be subsequent ones.
The community will receive an even greater amount of attention throughout Phase 2. The TIKKA team has already announced additional coin airdrops and a referral rewards system. 
The initial TIKKA public sale, however, is the most exciting part of this construction phase. Only 2.72% of coins will be distributed to early backers, with the remaining 50% will support the ecosystem and the foundation.
The TIKKA group is also keen to collaborate with index funds and other fixed-yield solutions. This adjustment aims to improve TIKKA shareholders' chances of seeing a return on their investments, thus maintaining TIKKA's high aims for a democratization of the investment process.
Top investors won't just sit on the sidelines and watch; they'll get TIKKA rewards for their efforts. In addition, these carefully selected investment experts will have the opportunity to put forth their names for the role of advisors on the upcoming TIKKA investment platform. The process will primarily adhere to democratic principles, as the community will have to approve any new platform advisors.
In addition, the minters' aspiration to expand into new markets is another reason TIKKA is a top Polygon currency. All holders will have access to a decentralized autonomous organization (DAO), expert investment guidance, and a brand new cryptocurrency platform in the future.
Pros and Cons of Tikka Token (TIKKA)
Pros
An innovative concept.

Promising

roadmap

. 
Cons
Yet to be released. 

Not traded on the major exchanges.