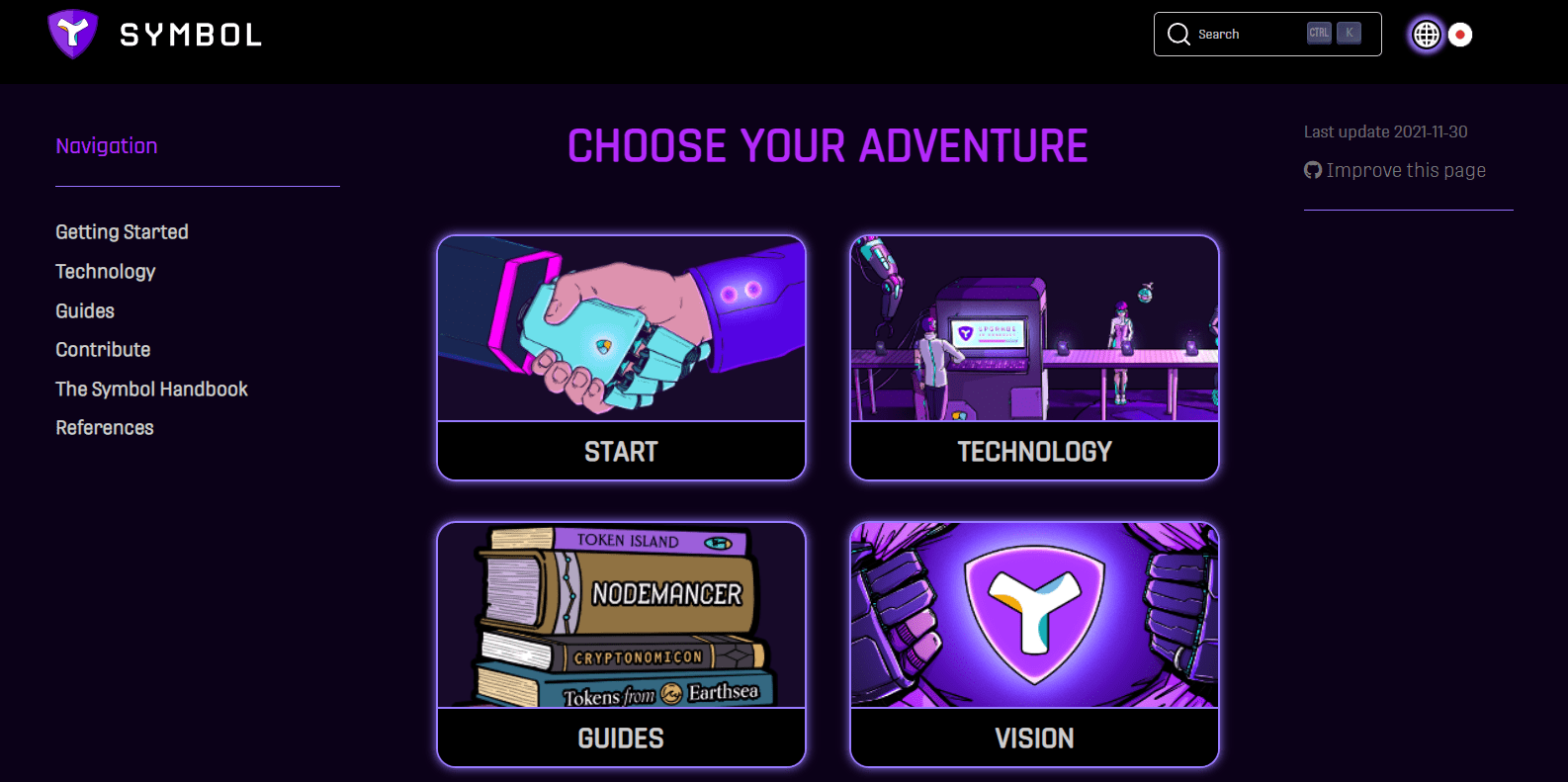 Symbol is an ambitious blockchain project that uses the XYM coin to create and power different types of decentralized apps (dApps) and facilitate financial transactions. The goal of Symbol is to become the dominant tool of a new digital economy based on blockchain technology.
Let's see what makes Symbol stand out on the market and what users can do with XYM.
How Symbol (XYM) Works
The Symbol project is a Layer-1 blockchain built by a team of passionate crypto advocates who want to create a new economic system based on blockchain solutions. 
Because of this, Symbol is a multifunctional blockchain that provides developers with all the tools they need to create powerful dApps in all segments, from DeFi, and digital markets, all the way to gaming and social platforms.
The project's XYM token is an essential asset of the ecosystem because all transactions use this coin, and it's the digital cash of the Symbol economic model.
The core mechanism that powers the Symbol network is called Proof-of-Stake-plus (PoS+). A classic PoS consensus mechanism uses validator nodes to process transactions based on their stake of coins in the network. Symbol uses this same mechanism, but it takes into account both the number of staked coins and the node's activity and assigns transactions based on three factors.
The first factor is the number of harvesting mosaics a validator node holds. A mosaic is an expression for the tokens in the Symbol blockchain model, and the term harvesting mosaics means staked tokens (in this case, the amount of XYM). You need to have at least 10,000 XYM to process transactions as a validator.
The second factor is how much the validator node contributes through network fees. This encourages node activity since more active validators get to process more transactions and earn a more significant portion of the total processing fees.
Finally, the network considers how often a node collects transaction fees. This measure encourages validator nodes to stay consistent and keep their stake in the network, gradually enlarging it to get access to more network fees.
The Symbol network protocol regularly calculates an importance rank list of nodes. Higher-ranking nodes have a higher probability of receiving processing transactions, but all eligible nodes generally receive some degree of network traffic.
What Is Symbol (XYM) Used For?
The Symbol's utility token XYM is a versatile crypto asset that allows users to conduct various operations.
XYM is primarily used for every transaction within the Symbol ecosystem. Developers can create decentralized apps that run on XYM, and businesses can integrate XYM-compatible features on their platforms. 
Symbol aims to reach widespread acceptance by providing developers and businesses with practical options for launching XYM-based apps and features. For this reason, it employs the popular C++ programming language, making it relatively easy for users to integrate Symbol within existing Web2 platforms and shift their business to the blockchain. 
Consequently, integrating XYM tokens is easier than including more complex cryptocurrencies that use blockchain-specific programming languages, such as Ethereum (ETH), which uses its native Solidity language. 
Symbol was deliberately designed this way to make XYM token adoption more fluid among businesses and dApp developers.
As far as dApps are concerned, the XYM token can power every type of decentralized platform. Let's take a look at some of the leading dApps on Symbol that use XYM to operate.
Quest

is an interesting tipping platform focused on Japanese users, just like most of the Symbol ecosystem. The app allows users to endorse creators, support their work with XYM tokens, and submit different quests, which act as social challenges. 

The Tower

illustrates how developers can launch Web3 games on the Symbol blockchain and XYM tokens to power an endless dungeon game that randomly generates new game levels.

COMSA

is a Symbol-based NFT marketplace that allows users to buy, sell, and even create NFTs using XYM tokens. 
Where to Buy Symbol (XYM)?
XYM is available on more than 20 crypto trading platforms and is easily accessible either through direct purchases with fiat currency or by exchanging other cryptos for XYM. Some of these exchanges are KuCoin, Bithumb.
You can't find XYM on any decentralized exchanges (DEX) because there aren't any DEXs on the Symbol blockchain. In fact, since XYM is the currency of all projects built on Symbol, there won't be any decentralized XYM exchanges in the future. 
How Long Has Symbol (XYM) Been Around? 
The XYM token was launched in April 2022, which makes Symbol a very young project, but the foundation of this crypto goes back to the NEM (XEM) cryptocurrency, which has been around since 2016. 
In fact, NEM was the inspiration for Symbol because the idea of the project was also to create a new blockchain economic model. However, NEM's development has been stagnating for years. That's why a group of blockchain enthusiasts and former NEM advocates decided to create the Symbol network. 
What's Controversial About Symbol (XYM)?
XYM isn't controversial. Quite the opposite, the network is well-developed, and the team behind the project is constantly introducing network updates and new features. However, for now, the project is primarily popular in Japan.
Symbol is struggling to reach any considerable adoption beyond Asia and isn't available on most exchange platforms focused on the European and US markets. Also, many Symbol dApps are only available in Japanese, which is quite limiting for the future adoption of Symbol as an economical alternative to the fiat system.
The developers need to make Symbol more catered toward the international market if they really want to achieve widespread adoption. 
How Many Symbol Coins Are There?
The maximum supply of XYM tokens that will ever be in circulation is a staggering 8,999,999,999 units, and all those coins already exist.
However, they aren't all available on the market. Instead, users earn XYM tokens by staking them through XYM validator nodes that reward them with a portion of the network's transaction fees. 
Can XYM Be Mined?
Users can't mine XYM. However, they can participate in harvesting XYM tokens, which is the expression used in the Symbol ecosystem for releasing new tokens into circulation through the staking mechanism. 
Market Cap and Price History of Symbol (XYM)
XYM is one of those coins that have reached their all-time highs during their initial market launch and haven't re-tested that value ever since. The XYM all-time high is 0.7 USD per token, but during 2022 and January 2023, the token's price was in the 0.17 USD to 0.045 USD price range. 
The project's market capitalization is 250 million USD, ranking 145th on CoinMarketCap. 
Biggest Competitors of Symbol (XYM)
Besides the already mentioned NEM, the largest competitor of Symbol is the NEO (NEO) project. NEO is another ambitious ecosystem that aims to replace the traditional economic system and allow users to conduct all sorts of transactions and payments with its native NEO token. 
NEO is much higher positioned on the crypto market than XYM and has a larger ecosystem of dApps. Also, despite being focused on the Asian market, a considerable chunk of the NEO ecosystem is in English and is available in most parts of the world. 
What Does the Symbol (XYM) Project Road Map Look Like?
Symbol is a complete project regarding its key features. Still, the developer team is constantly looking to improve the network by adding new features for dApp developers and new possibilities for integrating XYM into businesses. 
The project's website doesn't have a page with a defined roadmap.
Pros and Cons of Symbol (XYM)
Pros
Symbol provides developers with practical programming resources based on the popular C++ programming language.

The network allows users to earn XYM through staking.
Cons
The project mainly focuses on the Asian market, and it has a low adoption rate in Europe and the US.