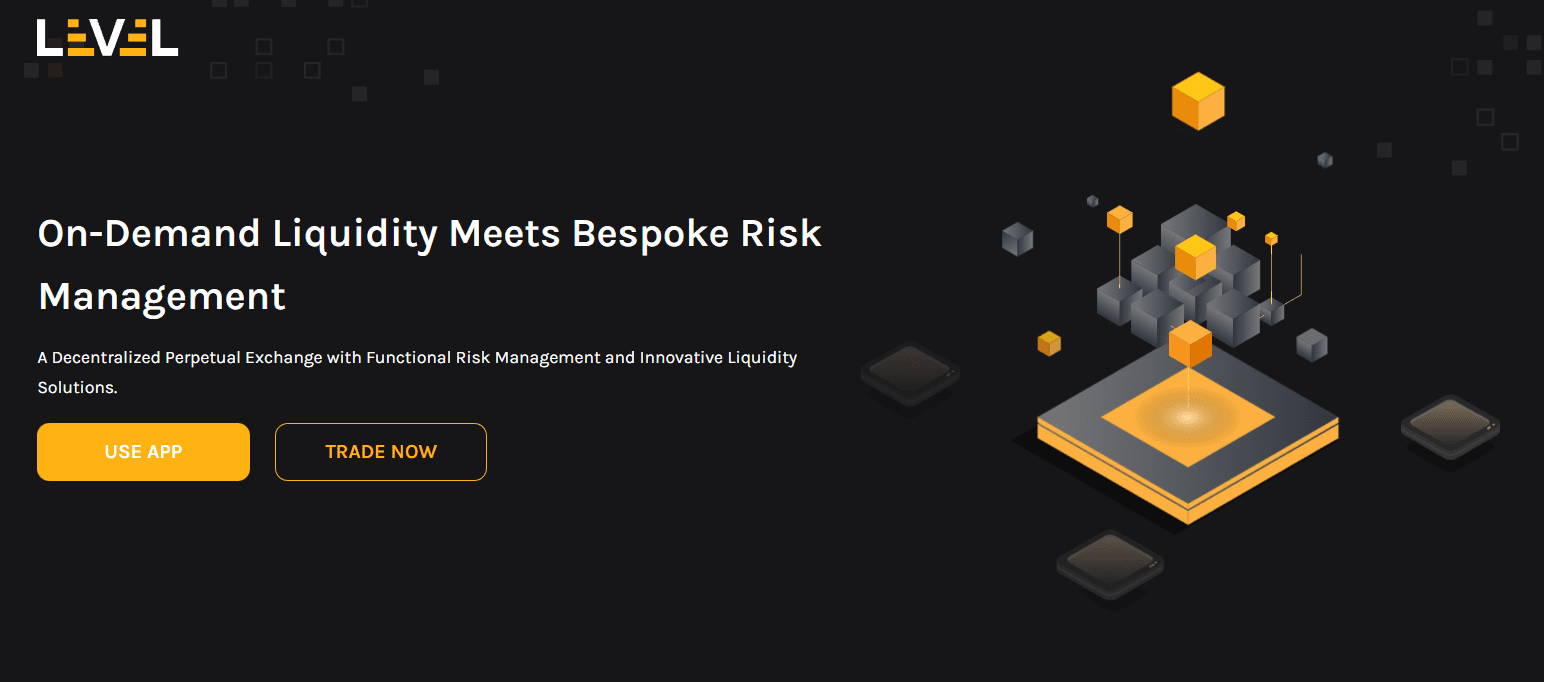 200+ Cryptocurrencies Listed
Get Crypto After Your First Buy
Protected By Insurance
Secure Storage With Vault Protection
The Most Trusted Cryptocurrency Platform

350+ Cryptocurrencies Listed
<0.10% Transaction Fees
120 million Registered Users
Secure Asset Fund for Users
Earn On Deposits

1,400+ Cryptocurrencies Listed
12+ million users
New account bonuses of up to $5,500
Deposit using 20+ fiat currencies
HODL and Earn
Level Finance (LVL) is a new DeFi project, which consists of the high-yield LVL token and a decentralized perpetual crypto trading platform based on Binance's BNB Chain.
The LVL token grants high liquidity-providing rewards to users, while the exchange platform provides access to various types of perpetual trading contracts across selected asset pairs, and thanks to its decentralized nature, users can access the platform with a crypto wallet.
In this review, we'll find out everything you need to know about Level Finance.
How the Level Finance Platform Works
Perpetual crypto trading refers to entering perpetual futures contracts where traders essentially bet on whether the price of an underlying crypto asset will rise or fall in the future.
Unlike classic futures contracts with expiration dates, perpetual contracts don't have time limits. Users can keep them indefinitely if they pay sufficient fees to keep their long/short positions open and avoid liquidation. Also, perpetual trading allows users to enter leveraged trading positions with funds they borrow from trading platforms to multiply their gains. 
Level Finance is one such platform that offers up to 30x leverage to traders. However, if you can't maintain your trading position and get liquidated, your losses are multiplied by your leverage. These contracts are extremely risky and only recommended to professional traders. 
This is the core feature of Level Finance. Essentially, the exchange caters to the needs of experienced users who use technical analysis to estimate future price changes of certain cryptos. These traders enter perpetual contracts focused on the price change of underlying cryptocurrencies.
For instance, perpetual traders don't need to invest Bitcoin (BTC) on Level Finance to enter a perpetual contract regarding the price change of BTC. Instead, they can deposit Ethereum (ETH), PancakeSwap (CAKE), Binance USD (BUSD), Tether (USDT), or Binance Coin (BNB). 
The platform uses the BNB Chain to host its operations. Since it's decentralized, users need an active software crypto wallet to use Level Finance, just like any other decentralized app (dApp). Level Finance doesn't require users to register or provide sensitive personal information. 
Level Finance lets users enter perpetual trading positions on four asset pairs: BTC/USD, CAKE/USD, ETH/USD, and BNB/USD. Since the exchange is brand new, it doesn't have deep liquidity. However, the exchange's liquidity levels have been steadily increasing since its launch. 
What Is Level Finance (LVL) Used For?
There are three key use cases for LVL tokens. Users can participate in liquidity pools, vote on the project's development, and stake their LVL.
The exchange has a Liquidity section, where users can provide liquidity to the platform and earn LVL token rewards in return. Users can participate in the LVL/BNB liquidity pool on PancakeSwap or join one of the three pools on Level Finance to receive an annual percentage yield (APY) between 140 and 180%. However, remember that these super-high APYs might be a cause for concern because such high rewards are hardly sustainable long-term.
Furthermore, Level Finance uses a decentralized autonomous organization (DAO) structure to let users participate in project governance. The community can submit proposals and vote on the project's future. 
Also, users can view the exact balance of the Level Finance treasury transparently in real-time. Additionally, users can stake their LVL tokens in the treasury to earn LGO tokens, which are the governance tokens on the Level Finance ecosystem. 
Where to Buy Level Finance (LVL)?

200+ Cryptocurrencies Listed
Get Crypto After Your First Buy
Protected By Insurance
Secure Storage With Vault Protection
The Most Trusted Cryptocurrency Platform

350+ Cryptocurrencies Listed
<0.10% Transaction Fees
120 million Registered Users
Secure Asset Fund for Users
Earn On Deposits

1,400+ Cryptocurrencies Listed
12+ million users
New account bonuses of up to $5,500
Deposit using 20+ fiat currencies
HODL and Earn
Traders can only buy LVL tokens on PancakeSwap for now. Users can purchase LVL with Wrapped BNB (WBNB) tokens, which they can acquire by exchanging some standard BNB for the wrapped version on PancakeSwap.
How Long Has Level Finance (LVL) Been Around? 
The initial development phase of Level Finance started in 2022, but the active launch of the exchange and its LVL and LGO tokens happened in early January 2023.
What's Controversial About Level Finance (LVL)?
In the case of DeFi projects, the test of time is one of the most critical indicators of a project's high quality. However, Level Finance's extremely high yields, between 140 and 180%, are controversial because high yields are generally unsustainable in the long run.
Most reputable DeFi protocols and decentralized exchanges offer far lower liquidity provider rewards. Because of this, users should be extra careful if they plan to participate in Level Finance liquidity pools and only invest what they are prepared to lose. 
How Many Level Finance Coins Are There?
There's a total of 50 million LVL coins, as well as 1,000 LGO governance tokens. All the LVL coins are pre-mined and distributed as follows: 18 million coins are reserved for liquidity providers as rewards, 17 million for community incentives, 10 million for the developer team with a vesting period, and five million were sold to strategic investors. 
As far as the LGO token, there aren't any pre-mined tokens. Instead, LGO is produced by staking LVL in the Level Finance treasury. The value of the treasury is divided between LGO tokens, which means that the total value of all circulating LGO tokens equals the number of funds in the project's treasury.
Can LVL Be Mined?
Users can't mine LVL, but they can earn LVL rewards for providing liquidity on Level Finance. Additionally, users can earn new LGO tokens by staking LVL.
Market Cap and Price History of Level Finance (LVL)
Level Finance has a three million USD market capitalization, according to the project's page on CoinMarketCap. As for the token's price, LVL initially had a value between 0.2 and 0.25 USD during the first half of January 2023. However, the token started rapidly increasing in value on January 15 and reached an all-time high of 1.85 USD on January 19. The current price of LVL is close to the one USD mark.
Biggest Competitors of Level Finance (LVL)
The competition in the decentralized perpetual exchange market segment is fierce since there are various popular, active heavyweight projects like GMX (GMX) and dYdX (DYDX). The native tokens of these two exchanges are ranked among the top 100 cryptocurrencies, making them far beyond LVL's reach. 
What Does the Level Finance (LVL) Project Road Map Look Like?
There needs to be an available project roadmap for Level Finance, but judging by the exchange's Twitter account, the team is focused on introducing new functionalities, referral bonuses, and special rewards to active platform users. Furthermore, the team is quite engaged in marketing activities to attract new users to the platform.
Pros and Cons of Level Finance (LVL)
Pros
Intuitive platform interface with all the necessary tools for engaging in perpetual crypto trading.

The platform has several liquidity pools where users can deposit funds and earn LP rewards.

The team managed to roll out all of the project's key features.
Cons
The LP rewards are extremely high, which seems unsustainable in the long run.

Level Finance has very low liquidity compared to the leading decentralized perpetual exchanges.
Level Finance User Reviews
Review Summary
0 out of 5 stars (based on 0 reviews)
Recent Level Finance Reviews
There are no reviews yet. Be the first one to write one.
Submit a Level Finance Review