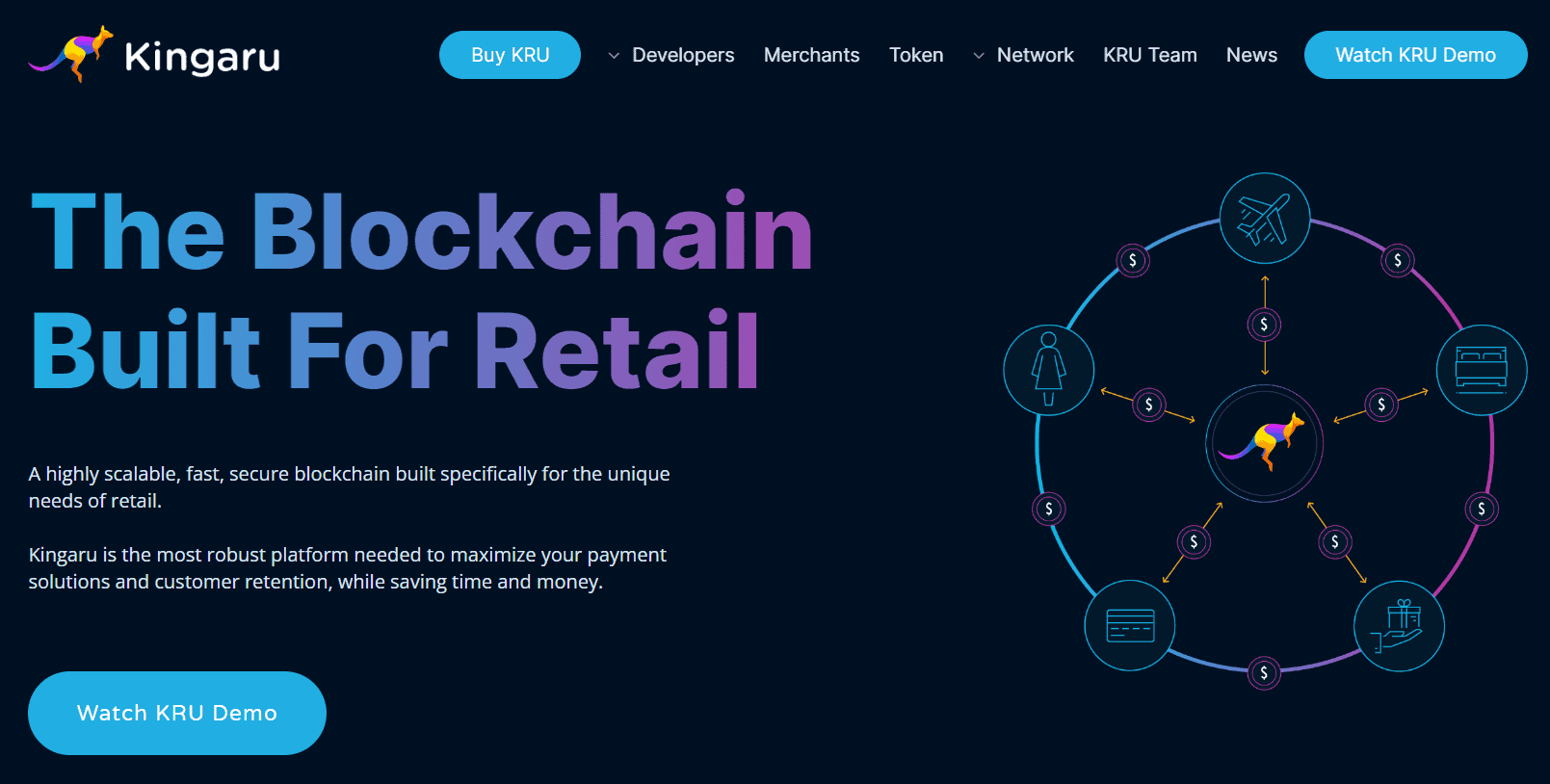 Kingaru (KRU) is an innovative blockchain built with retailers in mind. In order to become truly accepted on a mass scale, users need to be able to use crypto for everyday transactions and pay for products and services with crypto.
This is exactly what Kingaru aims to achieve. Kingaru is highly scalable, fast, and secure. It's ideal for facilitating fast payments across thousands of retail spots simultaneously.
The project's main goal is to provide the crypto world with a high-utility blockchain catered towards merchants and businesses that want to include simple crypto payments in their portfolio of services.
With the rapid crypto market growth, a project like Kingaru is welcome to boost the number of crypto-friendly payment spots and show businesses that it pays off to join the blockchain industry.
How Kingaru Works
Kingaru has several key aspects of its working mechanism that allow it to operate in a trustworthy and secure manner. 
The blockchain uses a Delegated Proof-of-Stake Authority (DPoSA) network architecture.
In its initial stages, the Kingaru blockchain only used a few trusted network nodes as validators that process all transactions. However, now that the project has launched the KRU token, any user with at least 100,000 KRU tokens can compete with other users to become a Kingaru validator.
The validator nodes are randomly selected every 24 hours, and there's a total of 21 validators of the KRU blockchain at all times. Validators have a stake of 100,000 KRU tokens to ensure that they only process valid transactions. In case a validator approves a fraudulent transaction, they will lose all of their staked tokens. This way, the Kingaru blockchain ensures the security of the network.
Users with less than 100,000 KRU tokens can contribute to the validation process by staking their tokens with the help of an approved network node. By doing so, users can earn staking rewards of new KRU tokens for participating in the network. 
The Kingaru transaction processing time is much shorter compared to many popular blockchains. It only takes 5 seconds to achieve transfer finality on the KRU network. Just for comparison, a Bitcoin (BTC) transaction takes between 5 and 10 minutes, while Ethereum (ETH) transfers take around 5 minutes.
This fast processing speed makes Kingaru much more suitable for fast cash transactions. Also, the KRU blockchain is highly scalable because it can process up to 1,400 transactions per second, which makes it great for retail use. 
The KRU blockchain doesn't have inflation. The block rewards remain constant and are paid out from the network's transaction fees.
What Is Kingaru (KRU) Used For?
Kingaru's main use case is to serve as digital cash in the retail industry.
There are already numerous merchants and businesses that accept crypto payments, but they are usually limited to the leading cryptos like BTC, ETH, Bitcoin Cash (BCH), and other digital currencies with a processing time of several minutes.
Kingaru, on the other hand, has a much faster processing time and aims to position itself as an ideal cryptocurrency for retail payments. This is a very ambitious goal, given that the crypto industry is valued in hundreds of billions of US dollars and that there are so many well-established competitors.
The Kingaru developer team has already secured several partnerships in the retail sector, which might prove essential for the project's growth. Kingaru already brokered a partnership with famous e-commerce platforms Magento and WooCommerce. The project has also partnered with Jifu, a US-based travel platform for wholesale travel arrangements.
Thanks to the integrations with the mentioned e-commerce platforms, retailers can easily integrate Kingaru into their businesses and start accepting KRU tokens as payment for their goods and services.
Retailers can accept payments in a matter of seconds with Kru, as it's faster than most fiat payment gateways. The processing fees are much lower than bank card payments, with fees of several percent. KRU retail payments incur a standard 0.5% processing fee.
Moreover, Kingaru announced the future integration of retail loyalty programs, which will reward users with special discounts and KRU tokens. 
The Kingaru team has announced plans to launch a secure non-custodial crypto wallet for storing KRU coins. This wallet will also allow KRU users to easily spend their coins at retail spots that accept KRU.
Where to Buy Kingaru (KRU)?
Since Kingaru was just recently launched, for now, it's only available on the BitMart cryptocurrency exchange platform.
How Long Has Kingaru (KRU) Been Around? 
The Kingaru blockchain was publicly launched on the 31st of October 2022 but the project itself started during the first quarter of 2020. The project's development stage lasted from early 2020 to early 2022, when the Kingaru platform was finally launched. 
However, the public launch of the KRU token and the listing on CoinMarketCap was in October of 2022.
What's Controversial About Kingaru (KRU)?
There's nothing controversial about the Kingaru project thus far. The team behind the project is doxxed, and their social media accounts are visible on the project's official website. The project has a thorough whitepaper and a development roadmap, and so far, the developers have managed to deliver on their promises. 
How Many KRU Coins Are There?
There are 151 million KRU coins in, according to CoinMarketCap, while the total number of KRU coins that will ever be in circulation is one billion.
Can KRU Be Mined?
No, KRU isn't a Proof-of-Work (PoW) cryptocurrency and can't be mined. The only way to obtain KRU coins is by buying them on BitMart or by staking KRU to earn staking rewards.
Market Cap and Price History of Kingaru (KRU)
According to CoinMarketCap, KRU has a market cap of 40 million USD. At the time of the coin's launch, KRU reached a high of 0.265 USD. A few hours later, it managed to reach as high as 0.275 USD per coin but then stabilized at 0.270 USD. 
Biggest Competitors of Kingaru (KRU)
Kingaru has entered a highly competitive section of the crypto market. There's a huge number of micro-cap altcoins competing for mass retail adoption. The situation is very challenging for new projects like Kingaru because the leading cryptos like Bitcoin, Ethereum, Bitcoin Cash, Ripple (XRP), and Litecoin (LTC) have already achieved high adoption rates among retail businesses. 
What Does the Kingaru (KRU) Project Road Map Look Like?
The Kingaru roadmap states that the developer team will make the KRU programming code public by the end of 2022. Kingaru will also launch a grant program and a token development platform for creating tokens based on the KRU blockchain.
In 2023, Kingaru will start cooperating with reputable metaverse projects, retail chains, and additional e-commerce platforms to introduce KRU integrations and payment functionalities. 
During the first half of 2024, Kingaru plans to incorporate metaverse shopping features.
Pros and Cons of Kingaru (KRU)
Pros
Great roadmap with plans to become a retail-first crypto.

High scalability.

Fast processing time.
Cons
Due to the fact that there are only 21 validator nodes of the Kingaru blockchain, the network might become centralized.