How to Buy Dogecoin on Coinbase
Dogecoin, or DOGE as it's called, is a famous meme coin the internet loves and treasures. DOGE hit its peak price in April 2021, during the biggest crypto bull run of the decade, but quickly reverted to its normal price level in the following weeks.
It still remains a popular asset, but it's not very valuable: it's mainly known as a joke coin.
If you want to buy Dogecoin on Coinbase but don't know how, don't fret. Here is a step-by-step breakdown of how to buy Dogecoin on Coinbase.
A Step-By-Step Guide on How to Buy Dogecoin on Coinbase
1. Register an Account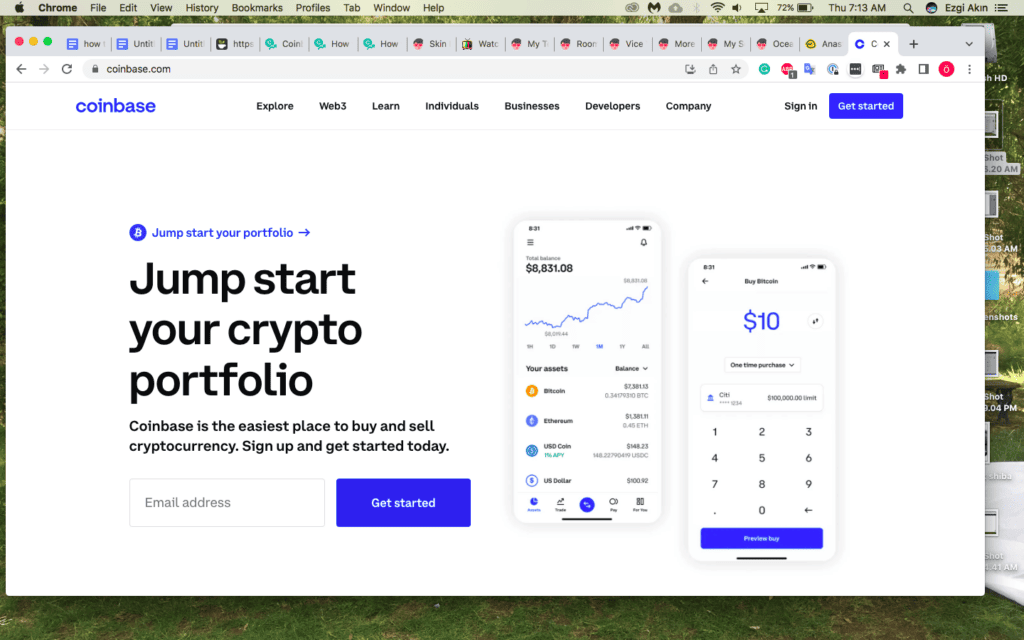 This might be obvious, but the first step is to open an account on Coinbase. Go to Coinbase's official website and click "Get Started."
Enter your legal name and a valid email address to register your account. Coinbase will send you a verification email to confirm your account. Follow the instructions to log in to your account.
Once you activate your account, Coinbase asks you to enter your mobile phone number. You will receive a one-time password on your mobile to log in to your Coinbase account.
2. Verify Your Account
You can't do much on Coinbase without identity verification, so it's important to take care of this step quickly.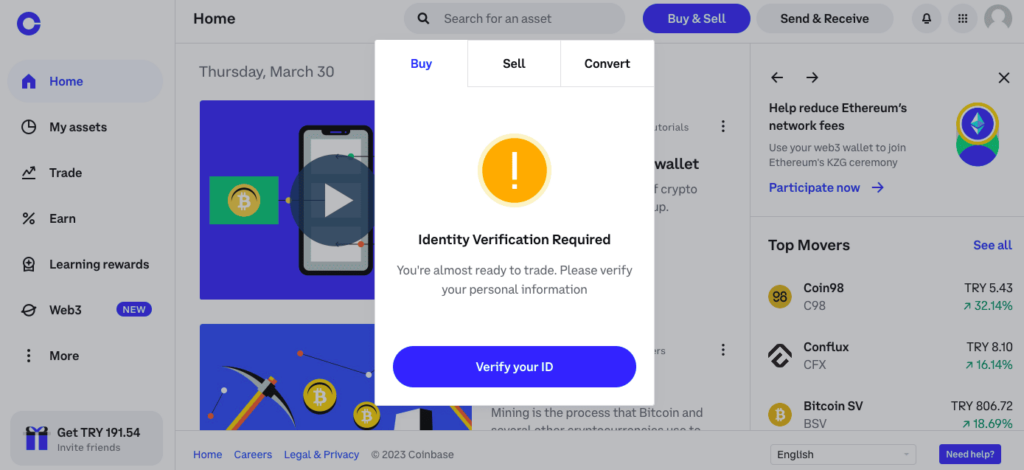 To start ID verification, click on the BUY/SELL option on top of the dashboard. You will receive a warning to verify your personal information. Click verify your ID to continue.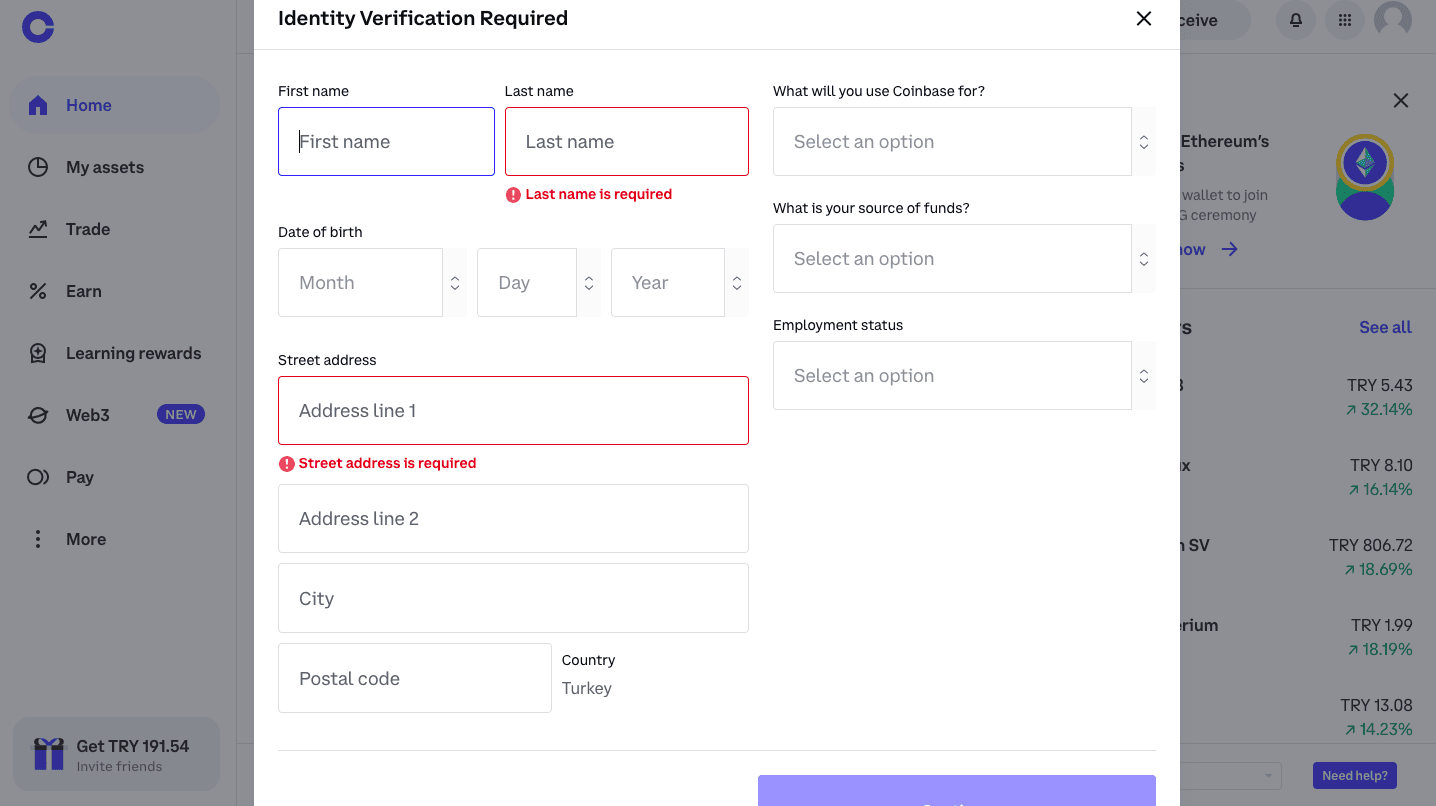 On the new page, enter all the required information. Coinbase has a detailed KYC procedure, so you must enter your legal name, address, and date of birth, and details about your financial state. You also must submit a photo ID like a passport page or driver's license.
3. Deposit Funds/Crypto
Once you finish identity verification, you can link a payment method to your Coinbase account. 
Select the profile icon (upper right corner) on the dashboard and click Settings. On the new page, select Payment methods.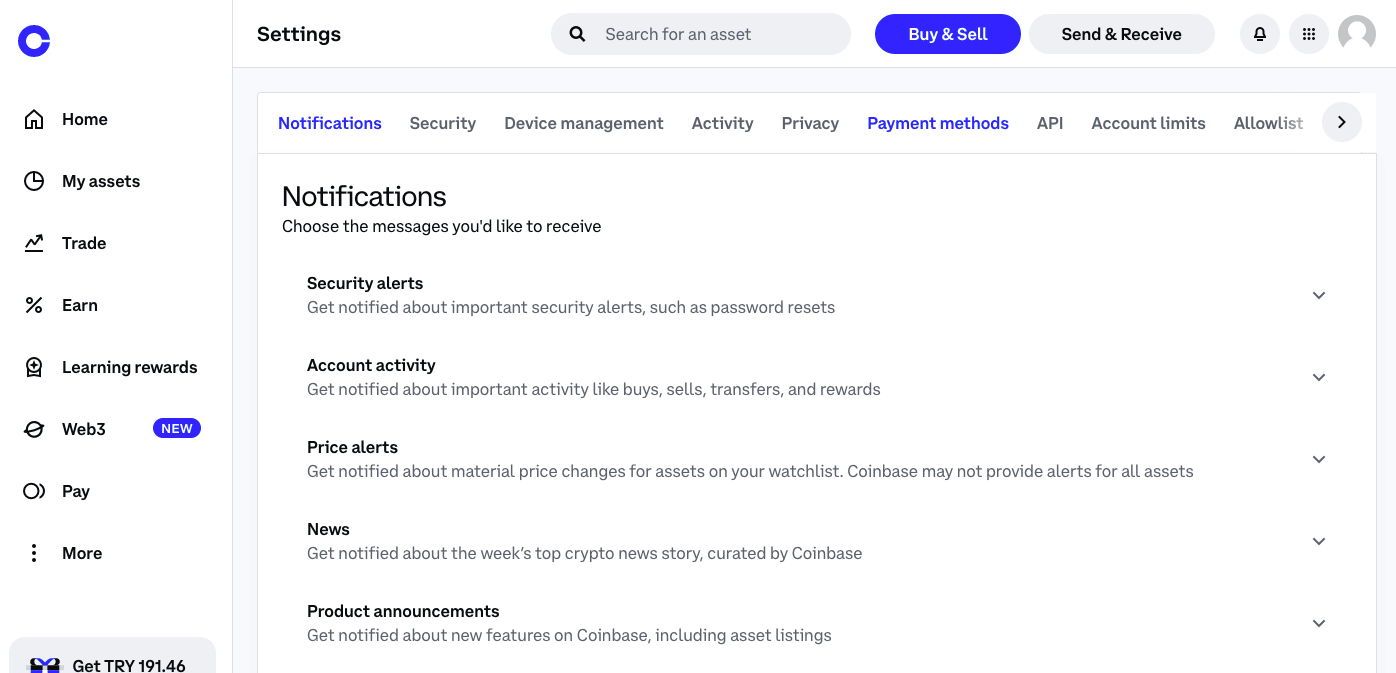 Select Payment methods.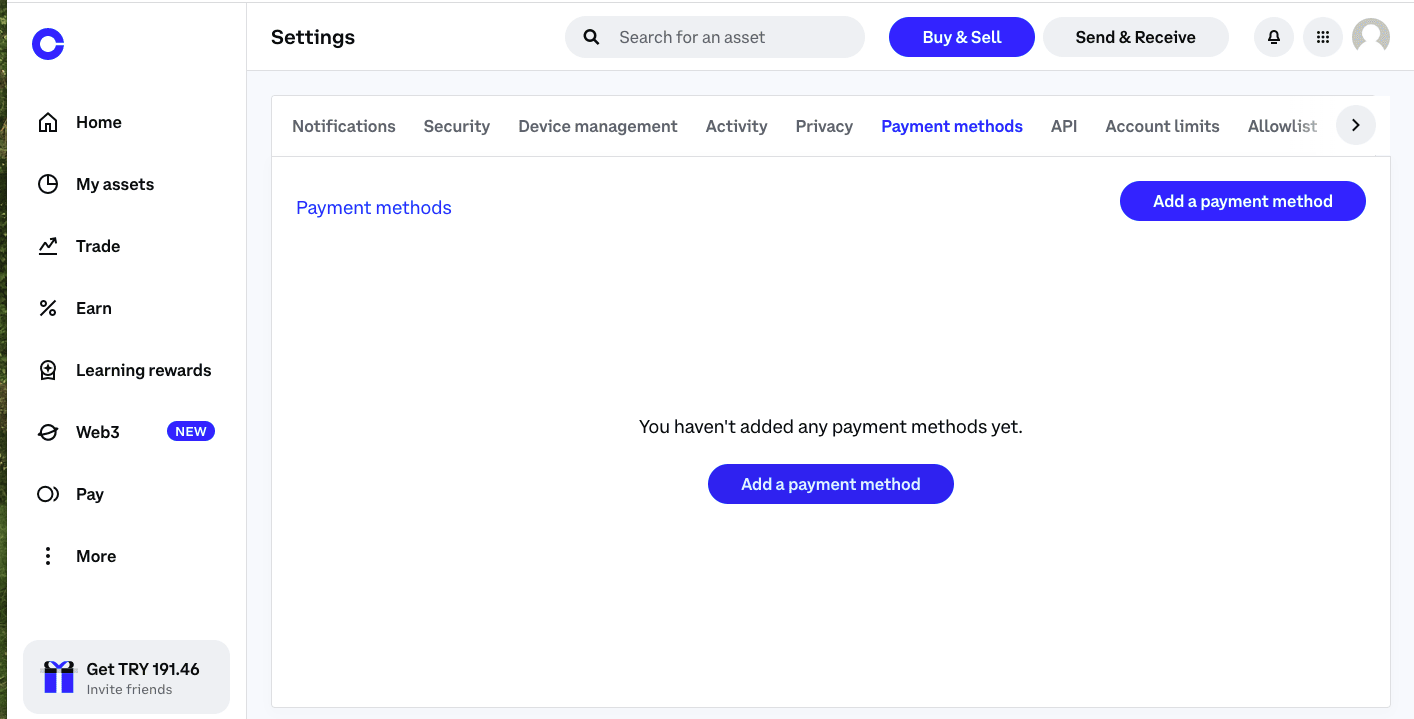 Click on Add a payment method.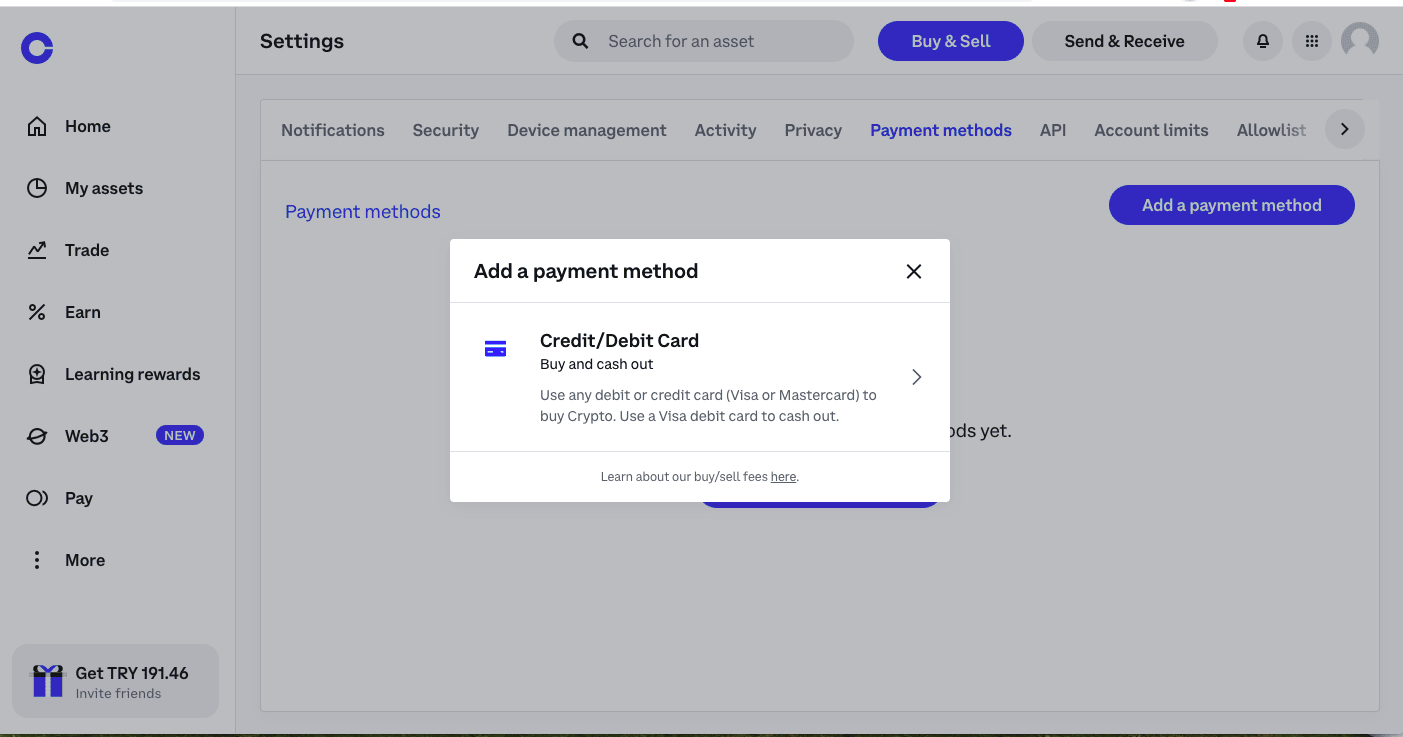 There are several payment methods you can use depending on your location. US and European customers can link their bank accounts to the exchange and transfer funds directly from their banks. 
You can also add your credit card or debit card information to your account. Bank transfers are usually cheaper, but they take days to arrive. Credit and debit card purchases are instant but cost higher fees. 
If you are okay with paying more to get things quicker, simply click on the "Credit/Debit Card" option.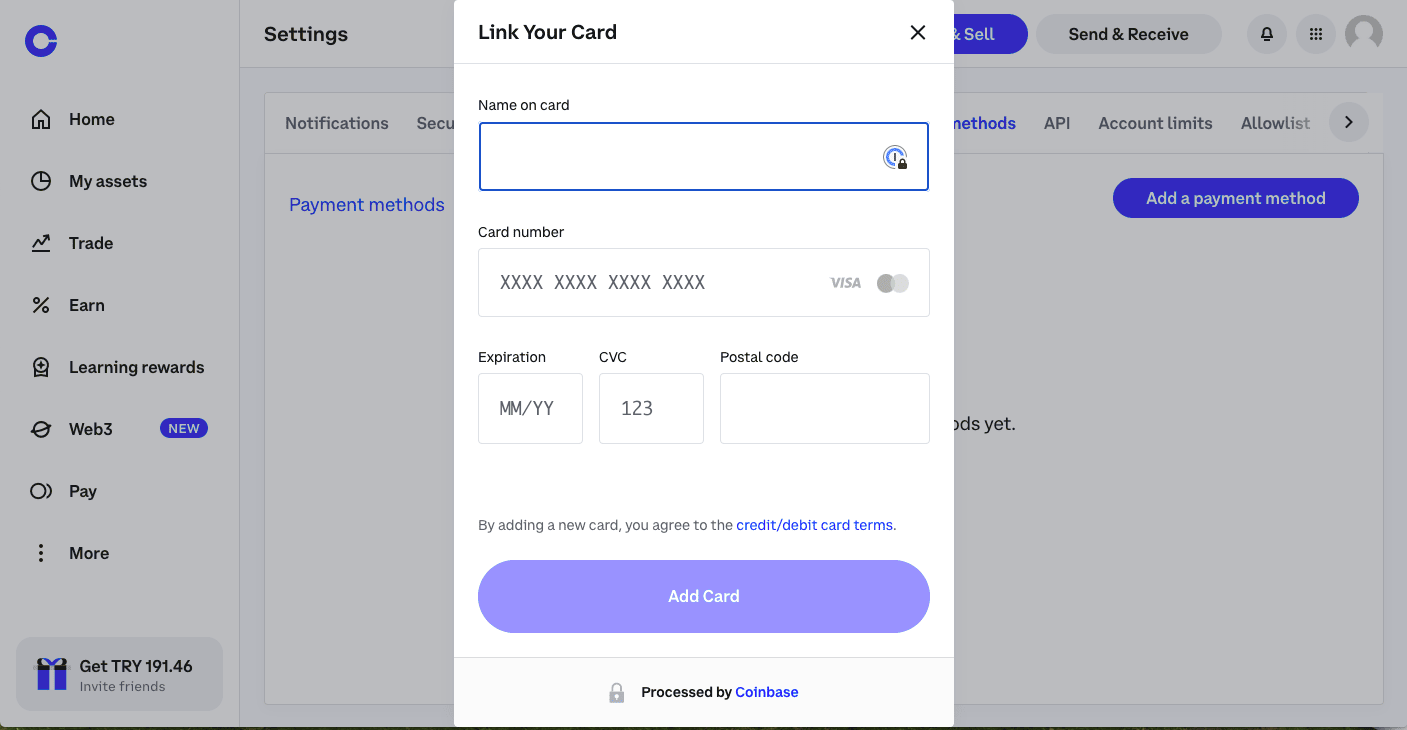 Enter your card number, expiration date, and CVC, and click "Add Card."
4. Navigate to the Relevant Screen to Buy
Now that you added a payment option, all you have to do is to click on the blue Buy/Sell widget at the top of the page.
Click on the buy column and select DOGE on the dropdown menu. Choose a payment method to execute your transaction. Finally, enter how much you want to spend on DOGE and click "Preview Buy."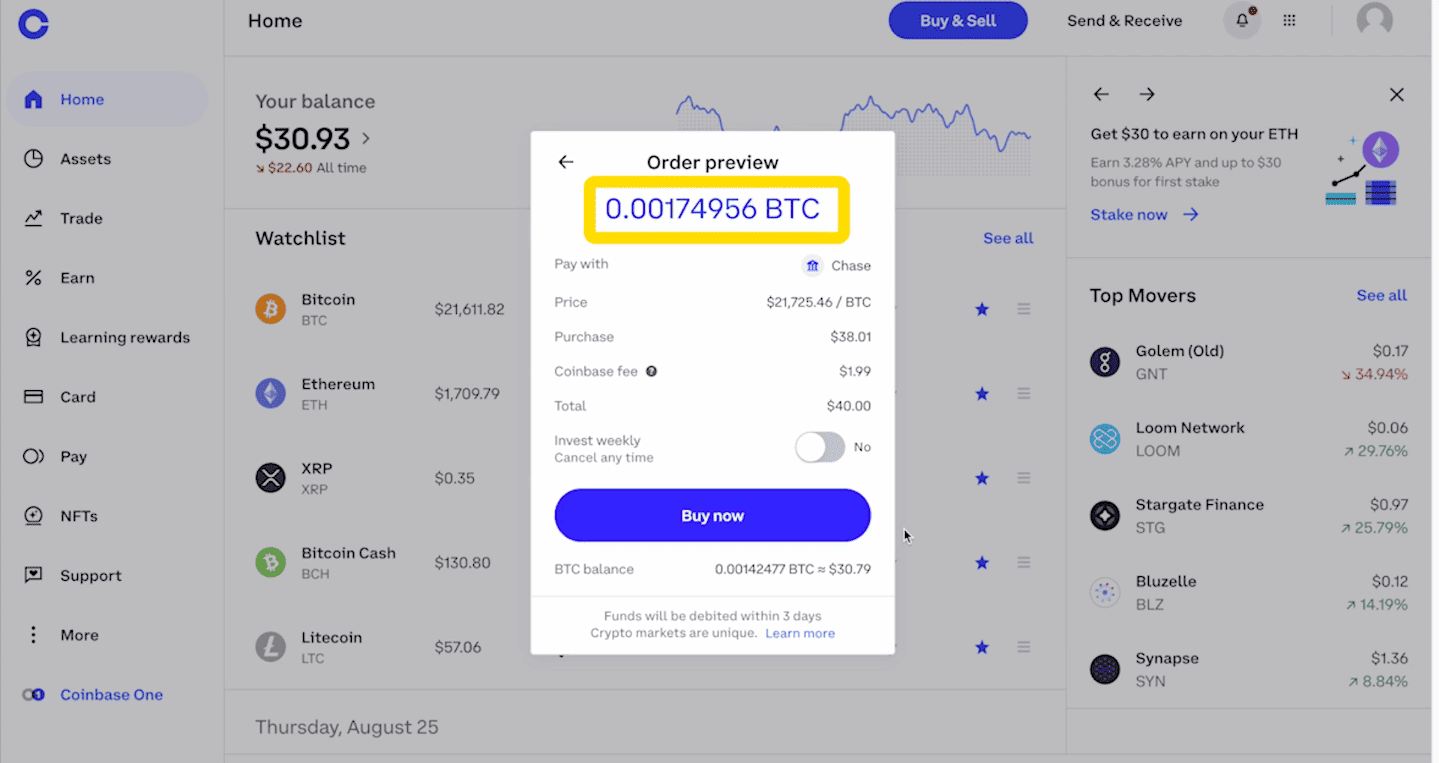 You will see a detailed preview of your order, including Coinbase fees. Review your order and click "Buy Now." Congratulations, you are done!