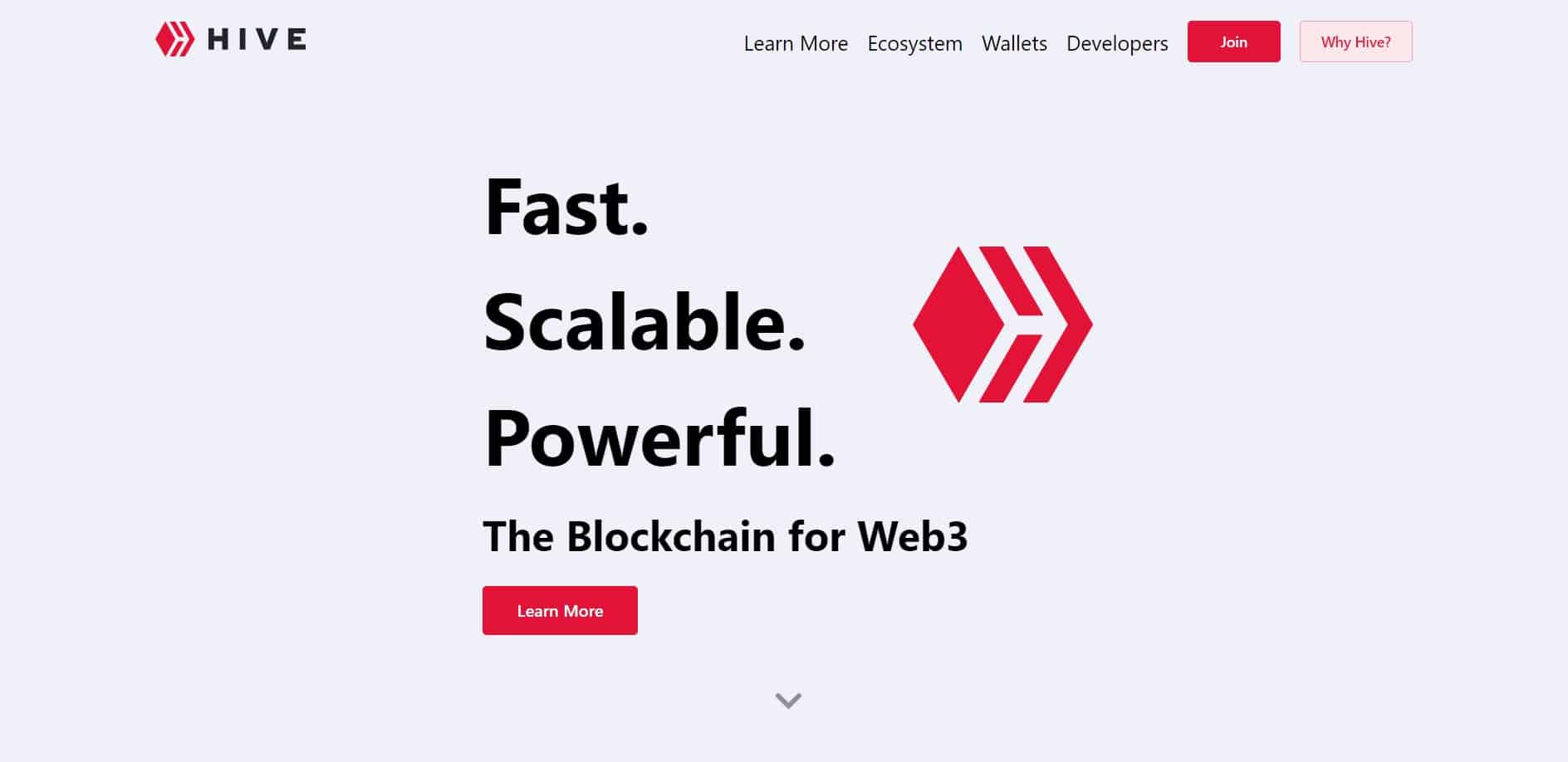 Hive (HIVE) is the decentralized and highly liquid medium of exchange on the Hive blockchain network. As the network's token and principal means of transaction, HIVE is crucial to the Hive blockchain's operation.
Hive is rapidly becoming the go-to blockchain for Web3 social dApps and games, thanks in large part to DPoS's lightning-fast, fee-free transactions.
The Hive Blockchain
Hive is a DPoS public blockchain created when the Steem (STEEM) blockchain was forked (or split) by its user base. Hive was designed as a hub for social networking and decentralized apps (dApps) to usher in the third generation of the World Wide Web (Web3). 
One of Hive's primary aims is to build a thriving crypto ecosystem that is completely decentralized, lightning-fast, cost-free, and unchangeable. Hive doesn't charge transaction fees because they can be expensive and inconvenient. Instead, it uses a new stake-based Resource Credit system to create a fee-free model.
Specifically, on the Hive blockchain, you can send money quickly and for free if you have a small number of staked HIVE tokens. This makes it easier for blockchain users to send and receive money. Also, transactions are completed in less than 3 seconds.
To add to the excitement, developers can participate alongside investors by either submitting their code to be reviewed and potentially implemented on the Hive Network or creating apps that can be deployed on the Hive blockchain.
How Does Hive (HIVE) Work?
Despite the fact that Hive and Steem are both DPoS (Delegated-Proof-of-Stake) blockchains with significant similarities, there are also developing disparities between them. For instance, Users must "lock" their HIVE assets and power them up as vested funds to participate in the governance of the Hive network, unlike the Steem users.
Specifically, Steem's network design allows users to take part in the governance of social networks simply by holding STEEM tokens rather than staking them. The core goal of the network is to facilitate the development of community-driven social networking platforms.
Back to HIVE now. Once users stake their HIVE tokens, they gain access to various features of the Hive network and can perform various tasks.
By staking funds through the Decentralized Hive Fund (Hive DHF), users have a voice in managing their money, who gets rewarded, and how new blocks are generated. They can make proposals for everything, from product development to advertising campaigns.
If you want your tokens back, you can "unstake" them by reverting them to liquid (usable) HIVE tokens, which takes 13 weeks. There is no token burn while staking HIVE.  Staking HIVE helps it gain value at a rate similar to the currency's inflation rate. This gives users a way to protect their holdings and use them for different operations within the ecosystem.
The Hive Tokens
The Hive blockchain network operates with two distinct digital currencies, HIVE and HIVE Backed Dollars (HBD).
There is a liquid form of the HIVE coin, which is simply referred to as HIVE, as well as a staked form of the same coin called HIVE Power (HP). The HIVE token serves as the ecosystem's tradable form of currency. 
The HIVE coin is a marketable asset you can buy, sell, stake, and exchange through a crypto trading platform. Being a stablecoin, the ultimate objective of the Hive Backed Dollar is to maintain a 1:1 exchange rate with the USD.
The term power up refers to the process through which HIVE Power, the staked version of HIVE, gets vested. After being powered up, HIVE Power can be partially or completely un-staked at any time by performing power down. Powering down a staked HIVE coin is a process that unlocks your HIVE Power coins from the Hive blockchain and makes them tradeable again.
The staked HIVE is subsequently converted back into its liquid form (i.e., HIVE) in equal proportions throughout the course of a period of 13 weeks, with a portion of staked incentive being distributed to your balance once every 7 days.
What Is Hive (HIVE) Used For?
In addition to powering a vast diversity of financial and social initiatives, the Hive (HIVE) cryptocurrency was designed to enable content-focused decentralized social blogging networks. Users can publish lengthy and brief content to the Hive blockchain, which the network can then moderate and compensate. 
More specifically, Hive is a Web3-based ecosystem that features decentralized social networks, user forums, and token-based economics. With Hive's quick, inexpensive, and scalable protocol, you can effortlessly make decentralized applications, including games and NFT markets. Users employ the HIVE and HBD cryptocurrencies on the blockchain, both of which have minimal transaction fees and a wide range of potential applications.
What's more, users of the Hive blockchain who invest in the HIVE coin have access to block transactions of under three seconds, fee-free trades, scalability, and customized usernames for their trading accounts and wallets. There are also escrow options and an incentive system for use cases involving social networking, gaming, and blogging.
Where to Buy Hive (HIVE)?
In case you're wondering where you can get Hive, currently, the best places to do so are the cryptocurrency exchanges Binance, Huobi Global, Gate.io, SuperEx, and MEXC Global.
How Long Has Hive (HIVE) Been Around?
The origins of Hive Blockchain stretch back to February 2020, when Tron CEO Justin Sun expressed interest in Steemit Inc. In addition to launching BitShares and EOSIO, Daniel Larimer is also responsible for developing the Steem blockchain. 
After some time, the Steem team decided to go off on their own. These gifted programmers and decentralization proponents got together and founded Hive Blockchain a few weeks later. It all started with the release of Hive Hardfork 24 in October 2020 and continued with the unveiling of Hive Hardfork 25 and the HIVE currency in June 2021.
What's Controversial About Hive (HIVE)?
Hive's initial supply was generated using a sample of Steem's supply. In accordance with Proof of Stake, stakes that participated in a 51% centralization assault on Steem were omitted from the initial distribution to safeguard the new chain from any future attacks. 
As an illustration, a 51% assault can happen on a DPoS blockchain if a single stakeholder gains control, either directly or indirectly, of 51% or more of the assets that are staked.
How Many HIVE Coins Are There?
Hive's supply has no fixed, recognized upper bound. Depending on inflation, the supply of HIVE coins may increase or decrease.
Can HIVE Be Mined?
In 2017, HIVE Blockchain Technologies became the first cryptocurrency miner to go public, trading under the ticker code HIVE on the Toronto Venture Exchange. Since its inception, the firm has employed an ESG approach (an environmental, social, and governance strategy) that includes the exclusive use of renewable energy to mine Bitcoin.
Market Cap and Price History of Hive (HIVE)
The current trading volume for Hive over the past 24 hours is $4,179,280 USD, and the live price of Hive is $0.404070 USD. The current position of the HIVE token on CoinMarketCap is #158, and the live market cap is currently equal to $187,753,441 USD. In addition, HIVE has a total quantity of 464,656,290 HIVE coins that are currently in circulation.
On November 26, 2021, the price of Hive (HIVE) reached an all-time high of $3.41, which was registered in the market (about 1 year). As a point of reference, the current price is currently 88.11% less than the all-time high.
On April 6, 2020, the price of Hive (HIVE) recorded its all-time low, which was $0.087309 per unit. When compared to the all-time low price, the current price is currently sitting at a level that is 364.03% higher.
To this end, two of the most important things about Hive are that its inflation rate is currently trending downward and that the number of mined coins is decreasing over time. The inflation rate slowly goes down to 0.95% at a rate of 0.01% per 250,000 blocks, or about 0.5% per year. 
The following is the breakdown of how hive inflation is doled out:
65% is used to fund the reward pool, which is then divided evenly amongst content creators and curators; 

15% is distributed to HP shareholders; 

10% is allocated to block signing witnesses; and 

And another 10% is contributed to the Decentralized Hive Fund.
Biggest Competitors of Hive (HIVE)
Should you put your money into the HIVE Blockchain Technologies coin or one of its rivals? If you are seeking an alternative to Hive (HIVE), you should consider the native coins of similar data processing and preparation businesses to the Hive blockchain network, such as Argo Blockchain (ARBK), Cipher Mining (CIFR), or PropertyGuru (PGRU).
What Does the Hive (HIVE) Project Road Map Look Like?
The Hive Blockchain was developed as a fork by a small group of people working on the Steem blockchain. In the four days following the announcement of Hive's release, the forking was completed, and the tokens for the decentralized blockchain platform HIVE were distributed to all STEEM holders. 
In October of 2021, there were 39 DApps available on the Hive Blockchain; now, that number has risen to almost 120. Such post-launch development is only one example. The community continues to submit and vote on new suggestions. Then, the development and contribution team works to implement the selected suggestions in the future.
Pros and Cons of Hive (HIVE)
Pros
Fast transactions (in less than 3 seconds);

Stable infrastructure for data transmission and storage.
Cons
Occasional account creation problems.