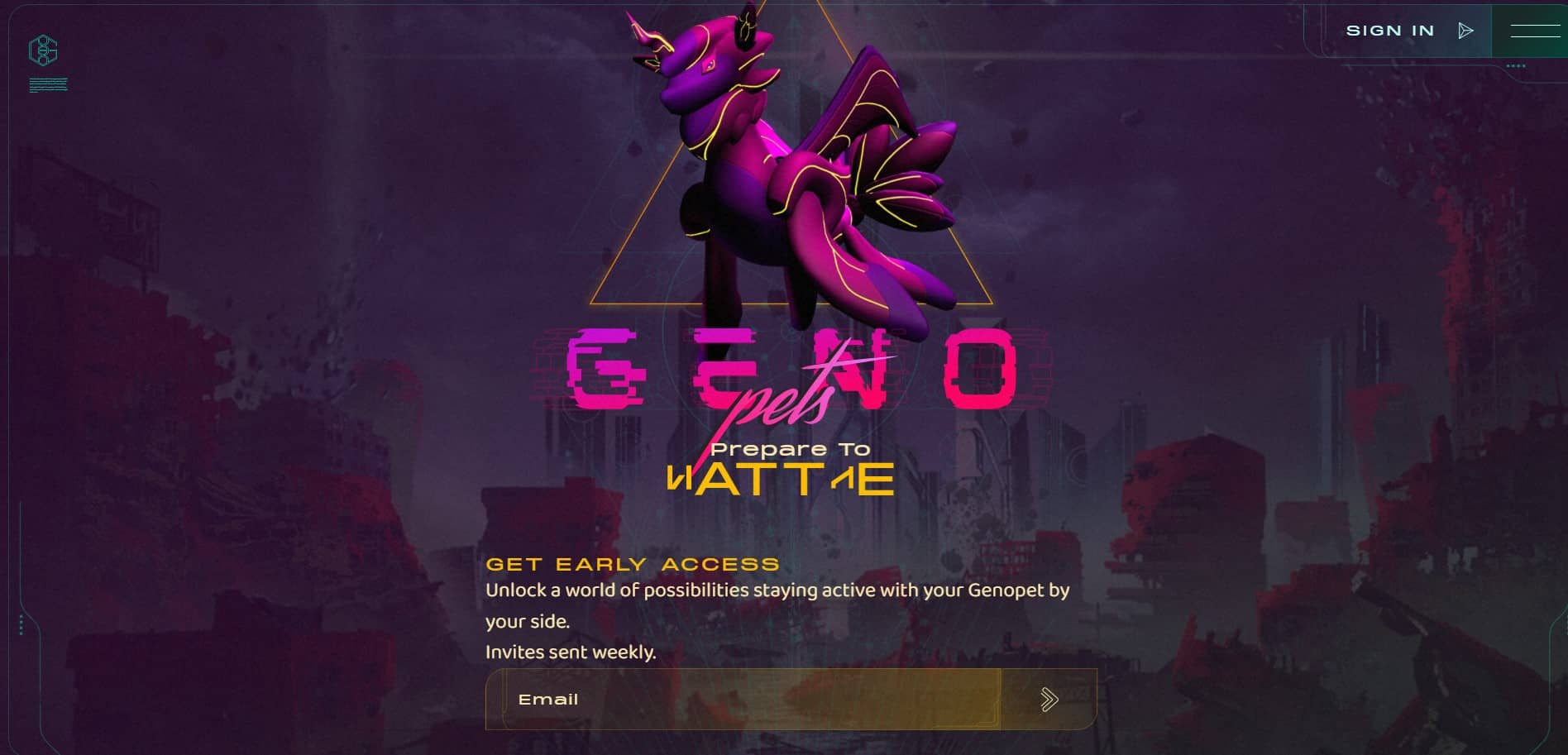 Genopets (GENE) is a virtual pet game that encourages healthy lifestyle habits. Powered by the GENE token, this play-to-earn game offers more than just a step counter and a reward system. 
The main objective of the game is for you to cultivate a relationship with your digital companion and ensure that it receives the same level of care on a daily basis by taking care of your own well-being.
Are you outside doing some park strolling? Running on the treadmill? Whizzing about the workplace in between the appointments? Your Genopet will always be by your side during your active pursuits, keeping track of the steps you take to fuel your gameplay. 
Read on for the breakdown.
How Does Genopets (GENE) Work?
According to its whitepaper, Genopets is the first global non-fungible token (NFT) game that's used as an incentive for participants from all over the world.
The game has been built on a proposed economic model that allows players to begin playing immediately without having to pay for anything. This approach succeeds in attracting the attention of people worldwide to the NFT arena and non-fungible token gaming.
This Pokemon-like smartphone game operates on the Solana blockchain and incentivizes players to get up and move about in return for virtual incentives. Genopets achieves this by combining blockchain-supported protocols with fitness tracker statistics, such as your heartbeat. 
The Genopets Move-to-Play Mechanism
Genopets replaces traditional mobile gaming with a healthier lifestyle by employing gamified self-care. This can be achieved by actively eliminating the need to stare and tap on your mobile phone screen for a prolonged period of time and getting financial incentives for taking care of your physical well-being by banking your active movement hours.
The Genopets game is all about creating unique digital pets that evolve and adapt to their owner's real-world physical activities. By collaborating with other players and taking on new challenges, each Genopet can increase its statistics and become better prepared for the battles.  
Each Genopet is packed with data on the player's personality and physical prowess, and it takes on the form of the player over time through a combination of nurturing and battles. While the battle mechanisms are intended to test a user's mental fortitude, the nurturing mechanics are designed to test their physical preparedness. 
When compared to the previous Play-to-Earn approach, Genopets' Move-to-Earn feature is superior since it rewards users for both mental and physical exertion. Genopets uses the pedometer on your smartphone to keep track of the amount of exercise you get while you go about your daily life. 
You can bank your step count at the end of a long day so that you can turn your real-life motion into Energy (E), which is your supply of in-game fuel, thus activating the Move-to-Play functionality.
Instead of relying on the constant influx of new users, the novelty of this platform lies in the fact that the game's ecosystem is viable only so long as players continue to actively engage and enjoy it. 
To this end, Genopets is only one of the examples of the thriving Web 3.0 market. In-game activities create value that can be exchanged between players, such as the creation of a scarce Augment, the geoengineering of a Habitat, or the honing of a diverse array of Crystals.
What Is Genopets (GENE) Used For?
The Genopets (GENE) token is a non-fungible token encrypted with biometric and personal data that serves as the game's major driving force. Every Genopet (GENE) holder has unrestricted access to bringing their NFT Genopet into existence and improving it. 
The GENE token is utilized for in-game NFT generation and as a governance and staking token, representing the value of the overall Genopets gameplay. Those that hold GENE are the first to see the upcoming updates and get a say in the game's development. They're also eligible for community-only benefits like token airdrops. 
In the bargain, players who hold Genopets (GENE) tokens have access to a wide variety of economic opportunities for generating and exchanging value with one another. The more work you put into improving your Genopet, the more powerful it will be in a battle, the further it will travel in the Genoverse, and the more valuable and rare it will be when exchanged on the market.
Genopet holders can also participate in a creative economy and marketplace in which they can create and trade value with one another, opening up potential career paths. 
Where to Buy Genopets (GENE)?
If you've decided to Move-to-Earn and invest in GENE, the best places to do so right now is through ByBit, CoinTiger, BitForex, or MEXC. Our best cryptocurrency exchanges page includes reviews of many different platforms so you can make an informed decision. 
How Long Has Genopets (GENE) Been Around?
The 22nd of January, 2022, marked the beginning of Phase 1A of the Genopets Private Beta. 
What's Controversial About Genopets (GENE)?
To the best of our knowledge, there have been no disputes or controversies raised over the Genopets project.
How Many Genopets Tokens Are There?
There will be a maximum of 100,000,000 GENE tokens ever created. The current supply of Genopets (GENE) in circulation is 4,792,667 tokens. 
Can GENE Be Mined?
The Genopets token is a non-mineable, non-fungible token, but every player has the potential to profit monetarily from the various game features powered by the token. 
Moreover, you can make more money in the long run by creating, using, staking, and selling Genopets NFTs. With the game's increasing popularity, this groundwork will pave the way for a more stable economic model that will allow for the addition of new features and content.
Market Cap and Price History of Genopets (GENE)
CoinMarketCap presently ranks this token at the 1,188 position, and its market cap is approximately around 2,520,346 USD. 
The price of Genopets fluctuates by about 0.525875 US dollars, while the trading volume is approximately 110,541 USD.
Biggest Competitors of Genopets (GENE)
Projects like DeFi Land, Aurory, and Star Atlas are quite comparable to Genopets. Therefore, these crypto initiatives are regarded as the main rivals of the Genopets project. 
What Does the Genopets (GENE) Project Road Map Look Like?
The Phase 3 objectives are to provide gamers with the opportunity to investigate other facets of the Genoverse, such as:
Discover the Open World of Genopets;

Discover the Epic Tale through your adventures in the Quests;

Fight it out with other players online and in teams;

App features will include the ability to Construct and Terraform, as well as connect with extra Health Sensors;

Participate in the seasonal Challenges to acquire Augments.
Pros and Cons of Genopets (GENE)
Pros
Powers the first Move-to-Earn/Free-to-Play NFT game;

Rewards you for taking care of your well-being and shape;

You can stake your GENE tokens for passive income;

You can design your own NFTs.
Cons
A non-mineable token;

Still in its development phase.