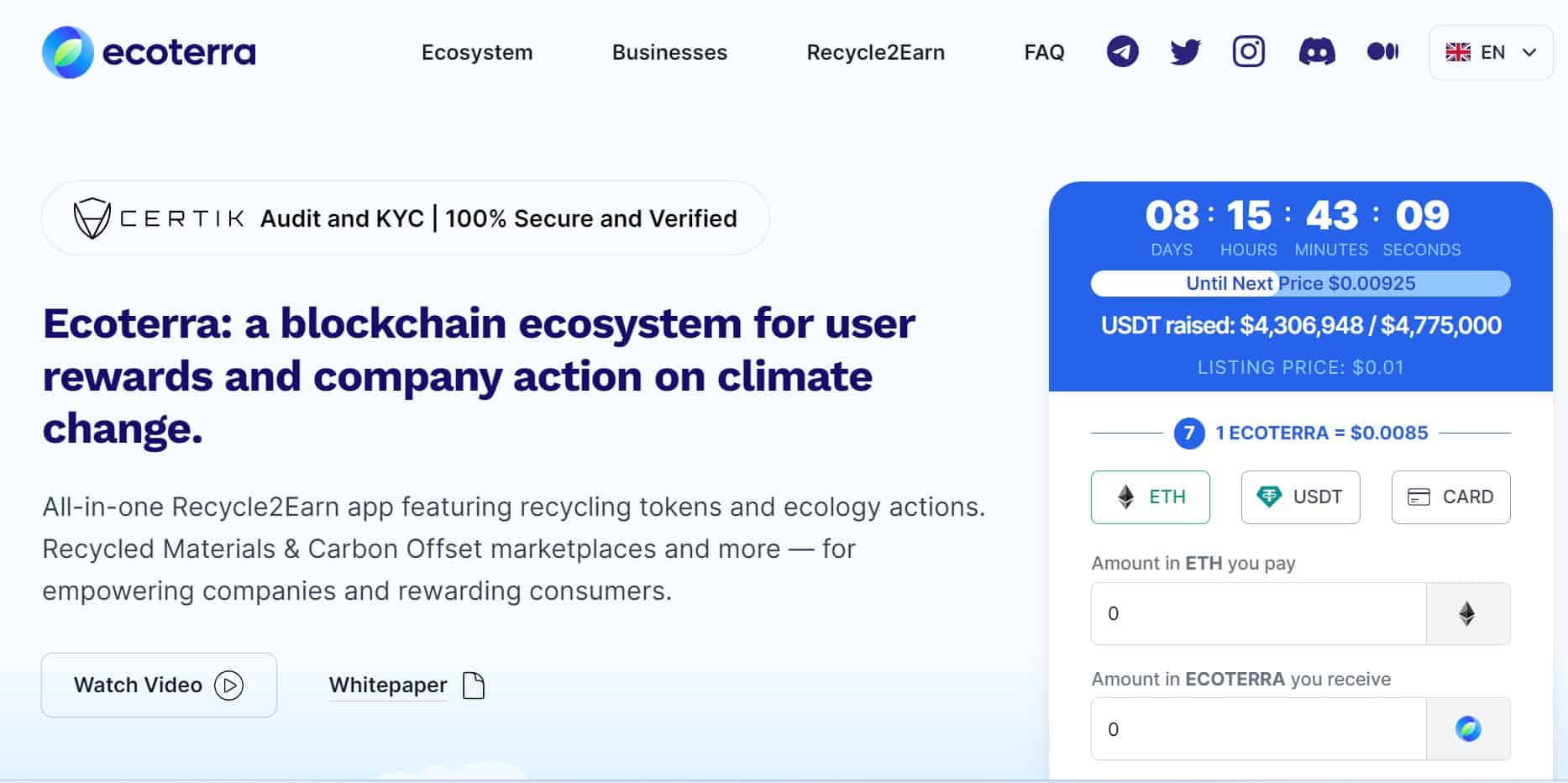 Ecoterra is an innovative cryptocurrency project powered by the ECOTERRA token that blends Web 3 solutions to protect the environment. It employs the monetary incentivizing mechanism Recycle-to-Earn, which motivates people to recycle more of their unwanted items to fight climate change and global warming. 
Based on blockchain technology, this initiative rewards its users with its native ECOTERRA token as an incentive to contribute more to this environmental cause. 
How Ecoterra (ECOTERRA) Works
In a time when the harsh effects of climate change are becoming even harsher, there's an increasing number of companies that dedicate their efforts to preserving the environment by planting trees, cleaning the beaches, or managing waste. 
Still, the token's developers have noticed there's a large number of unmotivated people that are either unaware of the pending ecological catastrophe triggered by the enormous waste accumulated in nature or don't have a convenient space, access, or time to select the waste appropriately.
In sum, Ecoterra creators saw a lack of incentive to impel unmotivated people to engage themselves more in waste management and recycling. 
To this end, they saw a solution in blockchain technology. The Ecoterra offers a green solution to this problem by incentivizing people with its native cryptocurrency to contribute more to global warming combat. 
There are several ways in which users of this platform can contribute to a greener environment. The most prominent strategy is the promotion of Reverse Vending Machines (RVM) through which you can deposit used plastic bottles or cans. In return, you'll get a financial reward determined by the volume of the disposed waste.
To make it easier for you to find such vending machines, the developers of this crypto project have created a mobile app that locates the nearest one in your vicinity. Additionally, whenever a user completes a few steps to preserve nature via the mobile app, such as registering on the app and scanning a number of waste items, you'll get an instant reward. 
As this Recycle-to-Earn system is blockchain-based, you can rest assured that your transactions are instantaneous, safe, and transparent. 
What Is Ecoterra (ECOTERRA) Used For?
Ecoterra (ECOTERRA) is the native utility token of the Ecoterra blockchain platform, built on the ERC-20 standard of the Ethereum blockchain. This token powers all transactions that go through this platform, including the crypto incentives that go to the users engaged in recycling plastic and aluminum as a part of the Recycle-to-Earn reward system. 
This token also operates as an investment vehicle of this crypto project. Crypto traders interested in investing in this token can purchase it during the pre-sales and profit from the rise and fall of its price on the crypto market. Also, you can pay with your ECOTERRA tokens on the market when buying recycled glass or plastic. 
In addition, you can stake your tokens on the platform and earn a passive income expressed in the same cryptocurrency. Also, you can use these tokens to buy carbon offset credits when the respective marketplace is up and running in the crypto ecosphere. 
Where to Buy Ecoterra (ECOTERRA)?
You can buy your first ECOTERRA tokens on the pre-sale launched via the Ecoterra dashboard. For this, you'll need a crypto wallet to receive the tokens, such as MetaMask. You can buy ECOTERRA tokens with your credit card/debit card, ETH, or USDT. 
How Long Has Ecoterra (ECOTERRA) Been Around?
The Ecoterra project and its native cryptocurrency were launched in 2023.
What's Controversial About Ecoterra (ECOTERRA)?
Considering the fact that this cryptocurrency project is still in its infancy, it's still early to discuss any controversies about it. 
How Many Ecoterra Tokens Are There?
There's a total supply of 2 million ECOTERRA tokens. Half of this balance will be used as working capital to boost the platform's liquidity, as well as for the marketing needs of the project. 
Can ECOTERRA Be Mined?
No. Considering the fact that ECOTERRA is an ETC-20 token built on the Ethereum blockchain, these tokens are not mineable as the other cryptocurrencies. Instead, you can lock your tokens to the platform through the staking option offered on its native platform for a passive return in ECOTERRA tokens. 
Market Cap and Price History of Ecoterra (ECOTERRA)
At the time of this writing, Ecoterra has an active pre-sale which is in its third phase. A single token's price is currently selling for around $0.0055. So far, the project has raised around 1.3 million USD. 
There is a total of 9 pre-sale stages, each having from 100 to 200 million tokens. According to the token's whitepaper, there's no investment limit during the pre-sales. 
Biggest Competitors of Ecoterra (ECOTERRA)
Released in 2022, the Green Token project is considered one of the main ECOTERRA competitors on the market. The Green Token (GREEN) is also an ERC-20 utility token powering a platform that aims to bring together individuals and companies that care about environmental protection. 
This token supports sharing of environmentally sustainable concepts and ideas among the global community of ecologists aiming to construct solutions for the preservation of our environment.  
Powered by its native GREEN token, the Green Token platform basically serves as an environmentally-friendly hub where the holders of this token can use it to purchase sustainable products and services from the platform's clients at a discounted price, vote on its development, and connect with other users. You can also trade this token for other cryptocurrencies through Pancakeswap or Uniswap. 
What Does the Ecoterra (ECOTERRA) Project Road Map Look Like?
Ecoterra is continuously working on its noble cause of preserving the environment by developing two more marketplaces. 
One of the marketplaces will deal with carbon offset points, which will appeal to the people concerned with the carbon footprint they leave behind. Through this marketplace, they can exchange their carbon footprint credits for cryptocurrency or fiat money. 
The second market will be aimed at companies interested in buying aluminum and plastic waste that will further be recycled and reused. Each company will also be able to track its recyclables until their reach the final destination and conduct transactions transparently and safely through the blockchain platform. 
Apart from these two new markets, Ecoterra plans to establish a comprehensive educational platform to educate the broader masses on the impact of waste on global warming and ways to combat it. When the platform is live, Ecoterra users will be able to access it by using their tokens. 
Pros and Cons of Ecoterra (ECOTERRA)
Pros
Eco-friendly token;

Powers the innovative Recycle-to-Earn concept;

Promotes recycling and reuse of plastic and aluminum waste;

It can be used as an investment vehicle;

You can use the ECOTERRA tokens to verify your carbon credits;

It provides a staking option for earning passive rewards. 
Cons