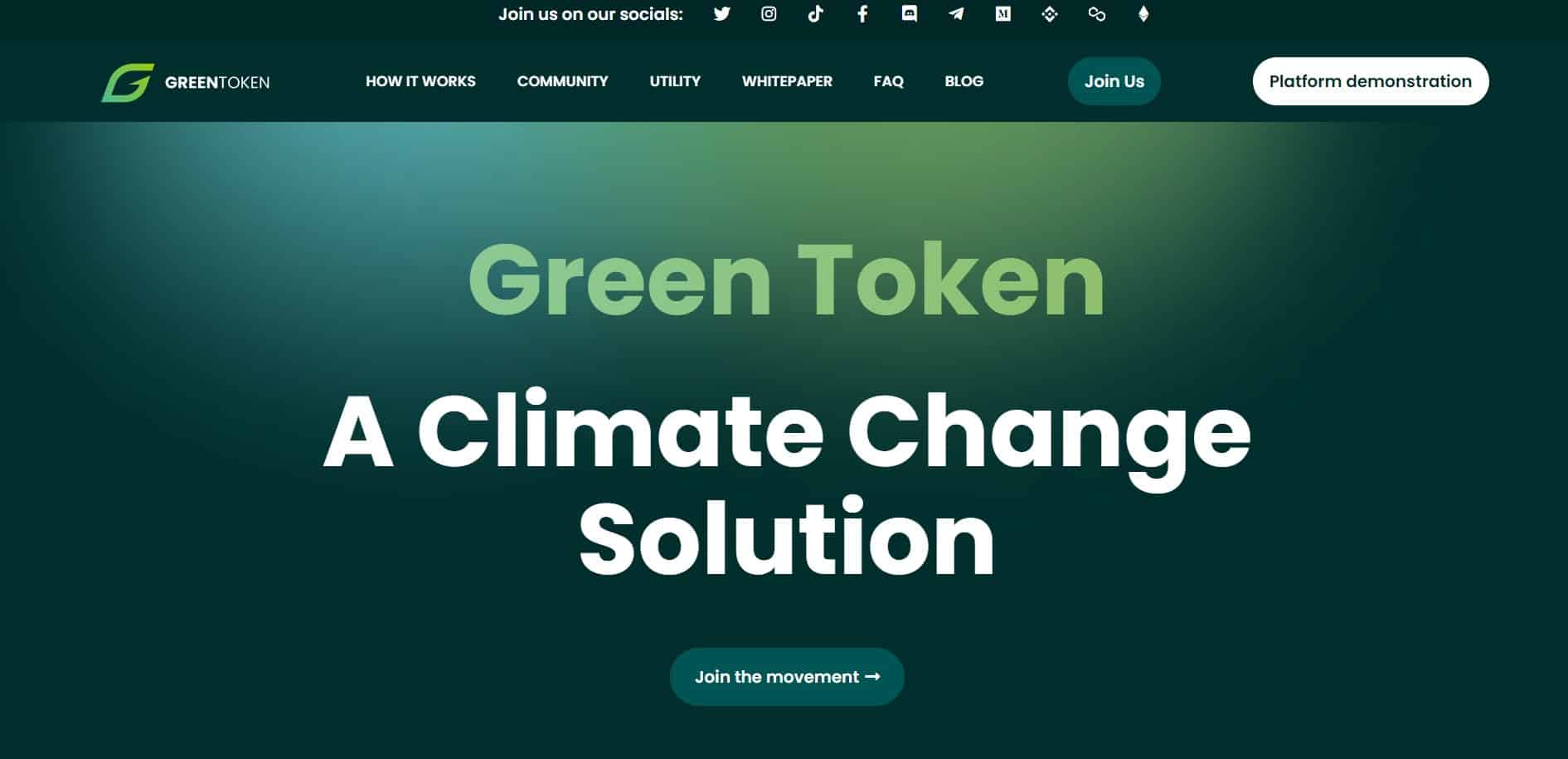 The Green Token is an ERC20 utility token created to facilitate the development of a blockchain-based conservation and sustainability platform. Its purpose is to facilitate communication between organizations and individuals concerned about environmental and social issues on a global scale.
Let's learn more about this eco-friendly token.
How Green Token ($GREEN) Works
The Green Token initiative aims to build a network of people, businesses, and institutions committed to resolving environmental issues (including nature, humans, marine, and animal life) via sustainable practices and conservation. 
To this end, the Green Token developers have created a shared digital space for the environmental protection movement worldwide. Local and international entities can quickly and readily identify conservation and sustainability activities through the Green Token blockchain platform powered by the $GREEN token. 
The project brings together a wide range of interested parties, from investors, businesses, and operators to researchers, game-changing fintech initiatives, and non-governmental organizations and consumers.
By bringing together mission-driven individuals, organizations, and entrepreneurs, Green Token ($GREEN) aims to safeguard our planet, build a sustainable and fair future for all people, and reward collective action.
Eventually, the Green Token platform will run an online store. This platform will offer for sale all partner-developed digital or physical products. Additionally, corporates must agree to contribute a predetermined portion of the profits from these sales to Green Token. In this way, they would help finance a part of the startup financing program.
As a result, there is a greater level of trust, openness, and responsibility among all parties involved. 
What Is Green Token ($GREEN) Used For?
You can use the Green Token in the following instances:
To submit questions to the survey pool and get responses from the general public.

The number of questions is proportional to the number of Green Tokens available to be won as prizes.

To identify environmentally friendly items and services and attract green stakeholders who advocate for their companies and projects.

Partner organizations must consent to accept Green Tokens as payment from clients for purchasing at least some of their brand portfolios at a discounted market value price. 

To gain early access to partner products.

Partner organizations pledge to make a portion of their manufacturing capacity accessible for purchase by the Green Token holders. These organizations may include new businesses specializing in anything from alternative proteins to sustainable fashion or any other environmentally friendly solution.

As a social currency that allows you to connect with other users.

Tokens have practical value in online and offline transactions with Green Token Partners. As the Green Token Community grows, more and more merchants will accept $GREEN in return for goods and services. 

To take advantage of the special privileges based on how many Green Tokens you have.

You'll be eligible for special deals or price reductions when making purchases from businesses or organizations that are part of the Green Token ecosystem and also get early access to any statistics or information that companies or organizations provide.
Where to Buy Green Tokens ($GREEN)?
Anyone who participates in Green Token events or makes sustainable purchase decisions will receive a reward of $GREEN in the form of the Green Token cryptocurrency. Your cryptocurrency wallet will receive $GREEN after it has been sent there by Green Token and its associated companies.
As soon as the developers publish the token on a decentralized exchange, you can trade it at Uniswap and PancakeSwap for other cryptocurrencies.
How Long Has Green Token ($GREEN) Been Around?
All Green Tokens were released on April 22, 2022.  
What's Controversial About Green Token ($GREEN)?
This cryptocurrency venture hasn't been the subject of controversies up to this point.
How Many Green Tokens ($GREEN) Are There?
The total number of Green Tokens equals the entire planet's population calculated on Earth Day 2022, i.e. 8 billion.
Can $GREEN Be Mined?
$GREEN isn't mineable because it's an ERC20-based token bridged to the Polygon blockchain and Binance Smart Chain networks employing the Proof-of-Stake consensus mechanism.  
Market Cap and Price History of Green Token ($GREEN) 
There is no publicly available information on the market cap of the Green Token ($GREEN) or its price history.
Biggest Competitors of Green Token ($GREEN)
Similar projects to the Green token will be on the rise as more people become concerned about the amount of energy consumed when mining cryptocurrencies. Reducing energy waste, increasing efficiency, and compensating for one's carbon impact are all good examples.
The Green Token effort faces direct competition from these other green cryptocurrency ideas. However, we can say that instead of competing with one another, these eco-tokens work together to combat environmental degradation. 
As such, the Green Token doesn't have competitors but allies in the efforts to preserve our environment.
What Does the Green Token ($GREEN) Project Road Map Look Like?
In the third quarter of 2022, the Green Token Listing Platform will be accessible to users. Startups, organizations that are not-for-profit, and any other organizations who are interested will be able to submit information about their projects and request assistance from other members of the Green Token community through the listing platform. 
Green Token holders will also have the ability to seek early access to goods or manufacturing capabilities through the listing platform. 
In addition, the Green Token Decentralized Autonomous Organization (DAO) will be established in the sixth year and moving forward. The DAO will enable members of the Green Token community to run the community in a decentralized way collectively. 
To ensure that the community can continue to function productively and autonomously, the Green Token DAO will establish procedures, regulations, and policies and reward the members for adhering to these guidelines.
Lastly, owners of Green Tokens will be allowed to vote for or against suggestions put forward. Those who own more Green Tokens will have a more significant influence over the voting process.
Pros and Cons of Green Token ($GREEN)
Pros
Facilitates sharing of conservation ideas among the global community of environmentalists;

Utilizes the Proof-of-Stake consensus protocol, which has a significantly lower demand on the available energy resources. 
Cons
Since the project is still in development, it is premature to discuss the potential drawbacks.