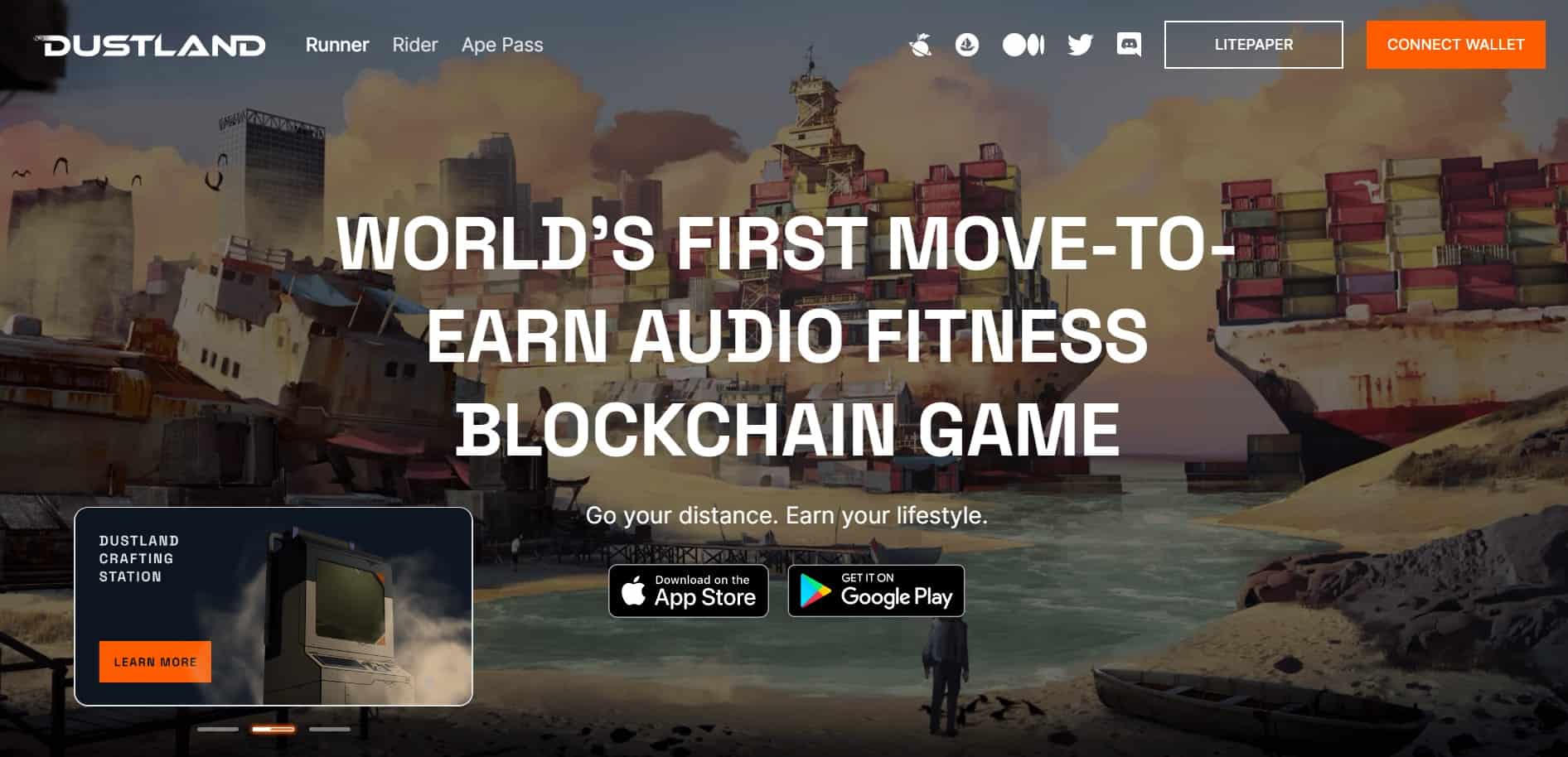 Dustland Runner is a gamified fitness crypto ecosystem powered by its native DOSE token. Developed by the OliveX Fitness Metaverse creators, Dustland Runner offers a Move-to-Earn fitness audio gaming, making Dustland Runner the first Proof-of-Workout platform in the evergrowing blockchain industry. 
Moreover, Dustland deftly integrates innovative technology and crypto with real-life fitness achievements and a creative storyline that brings attention to the destructive effects of climate change. Here's what it's all about.
How Does Dustland Runner (DOSE) Work?
The plot of the Dustland Runner game is set in the future. The year is 2227, and the location is the planet Earth, scorched by a powerful solar eclipse. All that has remained after the ecological catastrophe is dust lands and ghost towns besieged by pirates.
With only scarce resources left for survival, the players embark on a running mission to find the surviving inhabitants of the Earth and earn more resources by running, thus saving the future of our planet.  
To enter this blockchain game, you first need to download the Dustland Runner App to your Android or iOS device, sign up with your email, verify it, and pair your MetaMask or any other wallet of your choice to your account. This will get you ready for your Dustland fitness start.
Throughout the game, the storyline will guide you to do physical workouts and earn rewards for your fitness achievements. Don't forget your earphones so you can best enjoy the dedicated playlist and get immersed in the story. 
Note that you can earn DOSE tokens and NFTs as a reward based on the distance you cover in your fitness missions and not your performance. 
Furthermore, you can collect many in-game items and resources along your running missions that can help you progress further in the game and make you eligible for even greater crypto and NFT rewards. 
Dustland Runner Features
There are several features of Dustland Runner that promote different physical activities:
You can

run, jog, or walk

at your own pace to complete some Dustland missions;

For dedicated runners, there's an option to

run a preferred distance regardless of their location (indoors or outdoors)

;

For those who'd like to increase the intensity of their workouts, there's

interval training

available.
The platform also features three distinct games:
22 Pushups

intended to motivate first-time participants to get moving;

Dustland Runner

is a fitness audio-adventure where you can run for some DOSE or NFT incentives;
Dustland Rider

provides users with a new cycling experience set on Mars according to the game's scenario that can also earn you some DOSE tokens. Through this feature, you'll be cycling through the mystifying terrains of the Red Planet and sweat your way to the higher levels of the game with the help of Dustland's NASA Rover.
What Is Dustland Runner (DOSE) Used For?
DOSE is an ERC-20 cross-chain fungible token built on the Ethereum blockchain platform, but you can also transfer your tokens to the Polygon and BNB Smart Chain platforms. 
The token's acronym stands for Dopamine, Oxytocin, Serotonin, and Endorphin. These  are the 4 hormones that help promote the feeling of happiness, and you can boost them by performing a pleasurable activity, such as doing sports and playing games. 
Moreover, DOSE serves as a utility token for the Dustland Runner game and the OliveX gamified fitness ecosystem. With the help of this token, you can unlock numerous in-game items that help you advance in the game, buy new NFTs, or take part in special game events.
Where to Buy Dustland Runner (DOSE)?
The easiest way you can get DOSE tokens is by completing the workout missions of the Dustland Runner game. The best way to earn the maximum number of eligible tokens allocated in the Daily Reward Pool is to use up all of your game energy points on a daily basis, advance through the game levels by acquiring valuable in-game items, and unlock more Reward Points by running longer distances. 
Currently, the Reward Pool comprises around 33,000 DOSE tokens, automatically distributed each minute to the players as they run to complete the Dustland missions. Again, the speed doesn't affect the number of reward tokens you'll receive. It's the distance you manage to conquer that matters.  
If you'd rather invest your resources in this token, you can purchase it through some of the more prominent DEXs, such as PancakeSwap, Gate.io, OKX, etc. 
How Long Has Dustland Runner (DOSE) Been Around? 
The Dustland Runner (DOSE) was launched in 2022. 
What's Controversial About Dustland Runner (DOSE)?
The company behind the Dustland Runner game, the fitness metaverse giant OliveX, is one of the leading blockchain game and fitness app developers and hasn't been embroiled in any controversy so far. 
How Many Dustland Runner (DOSE) Tokens Are There?
When this project was established, a total of 5,000,000,000 tokens were minted at the same time. 
Can DOSE Be Mined?
No. The total supply of the DOSE tokens is fixed, so no additionally mined tokens can be generated according to the project's whitepaper. 
Market Cap and Price History of Dustland Runner (DOSE)
According to CoinMarketCap, the fully diluted market cap of this token fluctuates around $25,728,356 and points to a downturn, while its 24-hour trading volume is on the up, fluctuating around $1,166,759 at the time of writing this article. 
Biggest Competitors of Dustland Runner (DOSE)
GymLedger is also a Proof-of-Workout (or Proof-of-Exercising) blockchain-based gaming platform that rewards its players for participating in various fitness activities. 
Similarly to Dustland Runner (DOSE), GymLedger motivates crypto aficionados to take care of their well-being by doing exercises for some crypto incentives. The rewards you can acquire on this platform are equal to the intensity of your physical efforts. 
What Does the Dustland Runner (DOSE) Project Road Map Look Like?
Dustland Battlepass is a linear game-advancement system still in its development phase. According to this system, dedicated players will be rewarded for their constant participation in the game. 
When a player becomes eligible to buy a Battlepass for playing over a longer period of time, they'll also get a chance to earn some lucrative rewards (DOSE tokens, NFTs, and valuable in-game items) for their loyalty to the game. 
In the future development of the game, you'll also be able to build clans that will boost your gaming (and crypto-earning) power by pooling their in-game items and helping you level up with yours. 
Additionally, DOSE holders will be able to buy products, services, and event tickets from Dustland's fitness partners. 
Pros and Cons of Dustland Runner (DOSE)
Pros
You can start playing the fitness game for free;

Users can set their personal fitness goals;

Great story integration in the game;

Various gaming activities;

Your fitness missions are supported by different playlists for greater enjoyment;

You can sell both the DOSE tokens and the NFTs for a profit. 
Cons
You'll encounter some GPS bugs while using the app.