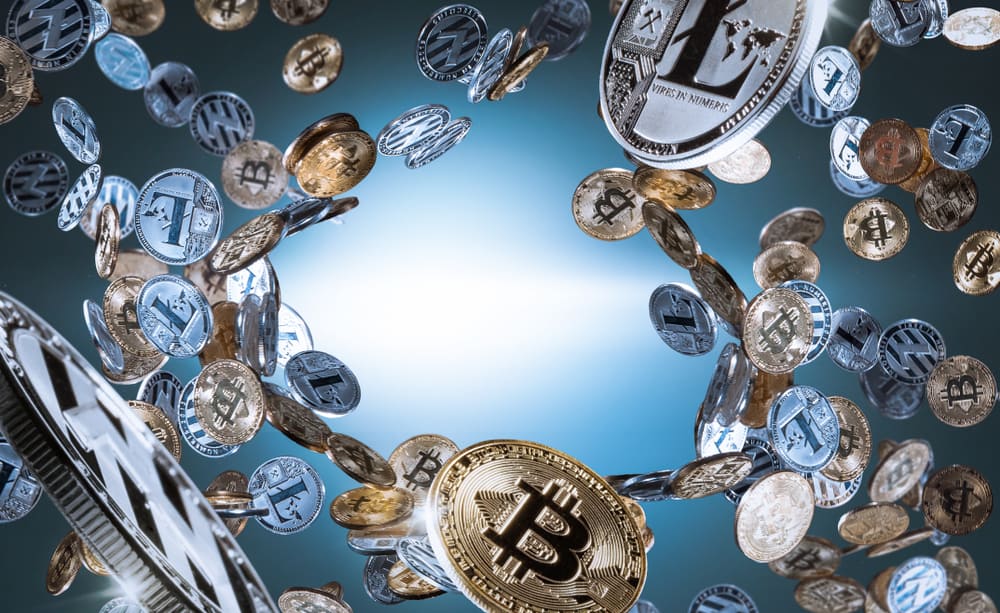 CoinSmart is a Canadian cryptocurrency trading platform based in Toronto. Its main focus is on facilitating instant crypto-to-fiat currency transactions, which makes it one of the most user-friendly exchanges in the industry.
This review will point out the pros and cons of the CoinSmart exchange, as well as its main features and costs, so that you can make an informed decision before venturing into a crypto deal through this platform. 
Pros & Cons of CoinSmart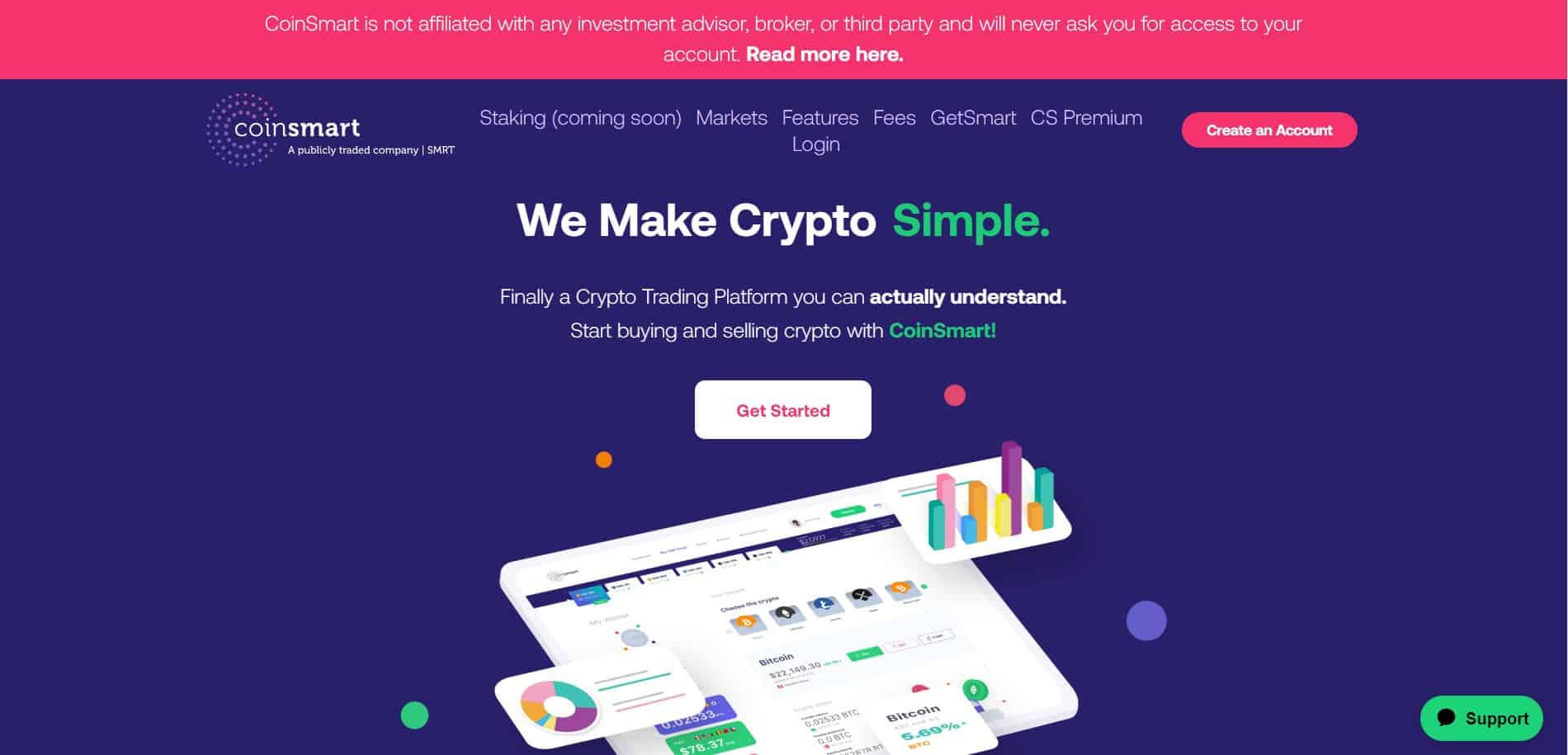 Pros:
A safe and registered cryptocurrency trading platform;

Fast registration process and instant account verification;

Offers a selection of some of the most liquid cryptos on the market;

A beginner and user-friendly exchange;

Features advanced trading tools for experienced traders;

Cold storage for 95% of the client's funds;

Email and 2FA confirmation for both fiat and crypto withdrawals;

Facilitates instant transactions;

Referral program;

Supports crypto-to-fiat payments. 
Cons:
Offers a handful of tradeable cryptocurrencies;

Expensive credit card/debit card payments;

Clearing fiat withdrawals could take a few days. 
About CoinSmart
Justin Hartzman and Jeremy Koven get the credit for developing streamlined crypto trading services integrated with CoinSmart – one of the most prominent blockchain platforms in Canada. 
The main goal of these two Toronto-based fintech developers was to provide a safe and secure crypto environment where everyone, regardless of their trading experience, could buy, sell, or effortlessly swap cryptocurrency. 
On top of it, Hartzman and Koven believed that a trader also needs to have strong technical support, so they put their efforts into establishing reliable and highly professional customer service, too. 
Let's see the result of their work and whether this exchange is worth your attention.  
Crypto Coins Available on CoinSmart
While most of the exchanges in the crypto ecosphere tend to compete in who would list more tradeable cryptocurrencies, CoinSMar executives have decided to stick with some of the most liquid ones to ensure the safe realization of the traders' orders. 
Currently, there are around 16 cryptocurrencies you can buy or trade through this platform. These include Bitcoin (BTC), Bitcoin Cash (BCH), Ethereum (ETH), and Litecoin (LTC), to name a few. 
Fiat Currencies Supported on CoinSmart
This exchange supports CAD, EUR, and USD as fiat currencies you can use to fund your account or buy crypto if you don't hold any digital currencies. 
To this end, you can make a deposit to your trading account through SEPA, Interac e-Transfer, bank wire, or credit/debit card, but do note that the latter payment option is the priciest one of all as it incurs a minimum of 6.75% of your trade. 
There are also 3 withdrawal options you can use to move your money from the platform: Interac e-transfer (imposing a 1% fee and instant withdrawal), or bank wire and electronic funds transfers (each imposing a 1% fee also, but you'll have to wait up to 5 business day for the withdrawal to be cleared). 
If you opt for the bank wire withdrawal, you should also know that there's a minimum of 15 USD for the exchange to process your transaction. 
Countries Supported on CoinSmart
For some time after it started operating on the crypto market, CoinSmart was accessible only to Canadians. But, as its business expanded, the exchange decided to open its door to traders worldwide. 
As a result, there are around 15 countries whose traders can access the financial services of CoinHouse. These include:

Austria

Cyprus

Denmark

Belgium

Finland

Norway 

Portugal 

Spain 

Turkey

Sweden

France 

Germany

Ireland

Italy

Netherlands 
CoinSmart Fees
When you land on CoinSmart's fee page, you'll be welcomed by a catchy slogan claiming that "The market may surprise you, but we (CoinSmart) won't!". We couldn't agree more. Namely, the trading fee scheme on this exchange is transparent and so easy to understand that you cannot possibly make a miscalculation when considering your final trading costs.
As this is a Canadian exchange, the majority of the transactions are conducted between CAD (Canadian Dollar) and the supported digital currencies. For these fiat-to-crypto transactions (labeled as single trades), CoinSmart levies a flat fee of 0.2% for a trade you complete through this platform. 
If, on the other hand, your trade includes a trading pair made of two cryptocurrencies (labeled as a double trade – BTC/ETH, for instance), this would cost you 0.3% of the transaction. 
Additionally, if you choose to employ the staking option and lock some of your coins, CoinSmart will charge you up to 30% of the staking reward. More specifically, the platform levies a fee that equals the percentage of the received staking reward. 
Main Features of CoinSmart
The main focus of this crypto trading exchange is to facilitate seamless crypto conversion and exchange for beginners in crypto trading. With only one click, you can trade one coin for another in real time. For this transaction, you'll pay some of the lowest fees in the industry, too. 
But, as CoinSmart strives to be one of the most user-friendlies platforms in the crypto ecosystem, it also caters to advanced traders by providing advanced trading options, such as limit/market orders and stop-loss orders.
Additionally, there's a possibility of earning a passive income (a feature that is yet to be launched). Until this feature is live on the platform, CoinSmart offers a referral program through which both the referee and the referred user get 15 USD to their balances when the newcomer registers and makes the first deposit.
How Easy Is It to Open a CoinSmart Account?
With CoinSmart, you'll get instant verification of your trading account. All you need to do is provide a valid email and phone number, fill out the form with your name and surname, set a strong password, and choose your country of residence from the drop-down menu. 
After you verify your email address, activate your account and log in to your newly established CoinSmart trading profile. As the exchange complies with the relevant financial regulations, you'll need to provide a few more details of yourself, such as your address of residence, your occupation, etc. The system will also prompt you to take a selfie and submit it as valid user authentication proof. At this point, CoinSmart will instantly verify your account.
When CoinSmart verifies your account, all you need to do is deposit some coins to your balance and start trading. 
How Secure Is CoinSmart?
This Canadian exchange is considered to be one of the safest trading platforms around. Its platform incorporates some of the best security practices in the industry, such as the 2FA protocol, serving as a double layer of protection for your account.
Also, CoinSmart has the backing of 2 Canadian banks as additional security to its clients' funds deposited on its platform and stores 95% of the funds in cold storage.  
Has CoinSmart Ever Been Hacked?
CoinSmart's bank-grade security, safety protocols, regulations, and regular audits have proved to be successful in maintaining the platform's overall trustworthiness and reliability. As a result, this platform has never had any security breaches or similar issues. 
Is CoinSmart a Regulated Exchange?
CoinSmart is a FINTRAC-registered Money Business Service in Canada and Estonia. The exchange is also a crypto trading platform that complies with the Anti-Money Laundering (AML) standards which are introduced as a protection against financial crimes.
How Does CoinSmart Compare to Other Crypto Exchange Alternatives?
Being the world's most user-friendly exchange, Coinbase is the logical alternative to CoinSmart. Both exchanges feature streamlined financial tools and straightforward crypto swapping. They also facilitate fiat-to-crypto purchases, which is very important for the newbies who are yet to buy their first cryptos.
In a similar fashion, both exchanges cater to experienced traders too, by offering more sophisticated trading instruments and advanced charting where you can follow market fluctuations.
Even the trading fees of these exchanges are similarly calculated, except Coinbase's fee model is much less transparent and difficult to understand than CoinSmart's fee scheme.
Also, you should be aware of the high fiat transaction fees levied by both Coinbase and CoinSmart. 
One thing that could be singled out as a difference in this comparison would probably be the fact that Coinbase had a security breach in 2021, while the security record of its Canadian counterpart is so far impeccable. 
If you'd like to have more options, please check our detailed guide on the best cryptocurrency exchanges and apps. 
Does CoinSmart Have an App?
Yes, CoinSmart offers a mobile app to its users for smarter, easier, and faster market moves. The app is supported on all Android and iOS-supported devices. Through the CoinSMart app, you can enjoy using the same features you can see on the website while on the go and never miss a trade. 
Conclusion
Considering the streamlined financial tools and trading mechanisms, alongside the user-friendly interface of the platform and transparent low-fee pricing plan, we'd say that CoinSmart developers have fulfilled their mission of creating a safe and secure crypto hub where just about anyone could effortlessly swap digital coins.
And while all these features and functionalities sound enticing, especially for a beginner trader, please have in mind that using your credit/debit card on this exchange might cost you an arm and a leg. Though the cryptocurrency transaction fees are quite reasonable, fiat purchases are something you might want to reconsider when using this exchange, as they could reach a staggering 6.75% (and beyond) of your total trading costs. 
Apart from this downside in its functioning, CoinSmart is a great crypto hub for making your initial crypto investment, as it's a highly transparent platform that's easy to use without prior experience in trading digital currencies.