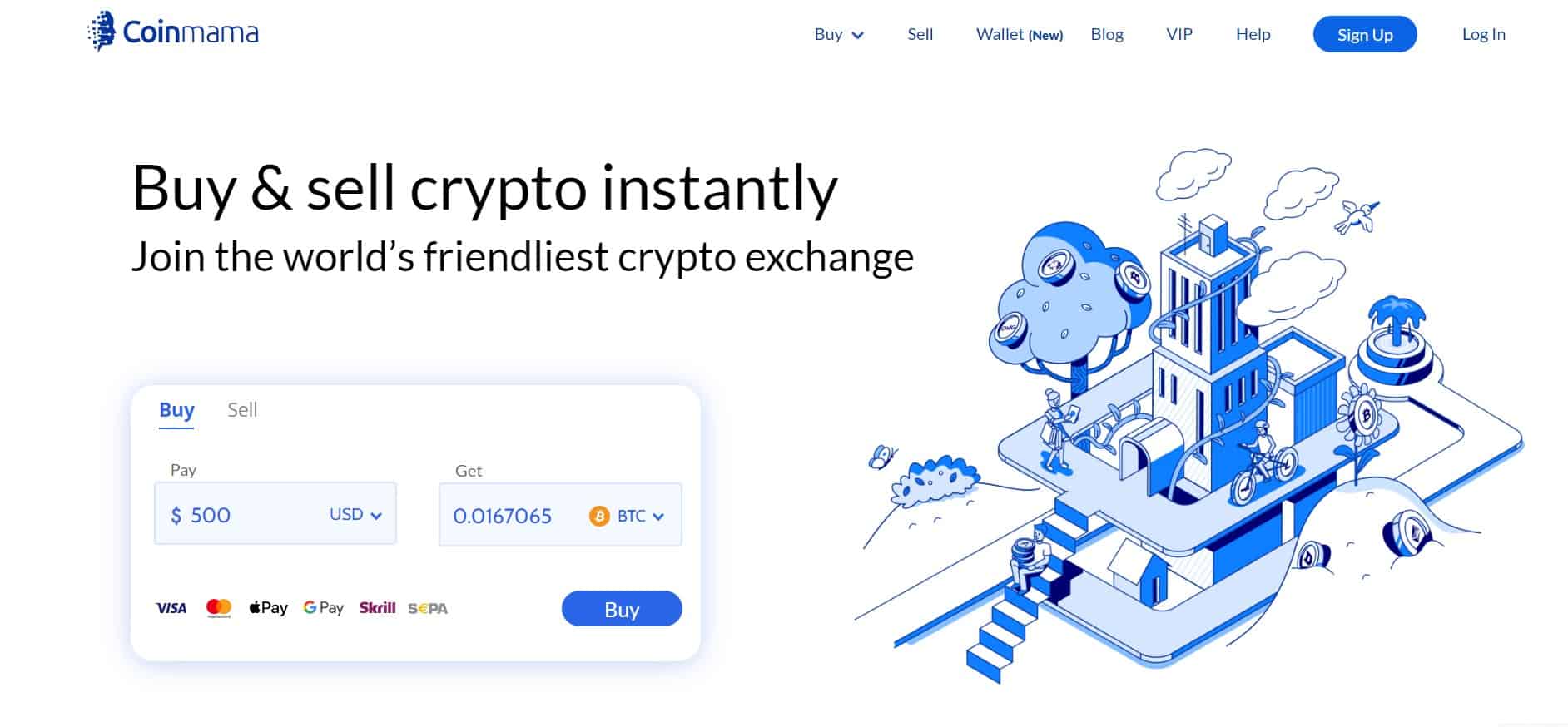 Since 2013, the team working on Coinmama has put countless hours of effort into providing the most streamlined and efficient financial services available in the industry. These services do not include any middlemen, concealed expenses, or fine print. 
The ultimate goal of this crypto project is to provide each and every digital assets investor with streamlined and effortless access and exposure to the market, backed by skillful customer support.
Pros & Cons of Coinmama
Pros
One of the most user-friendly trading platforms in the industry;

Offers a wide variety of payment options;

Trades the most prominent and liquid cryptos on the market;

Enables fiat-to-crypto purchases.
Cons
A handful of tradeable cryptocurrencies;

Credit/Debit card transactions can be costly. 
About Coinmama 
This cryptocurrency project was established in 2013 by a group of Israeli fintech developers and blockchain enthusiasts. Fun, prosperity, inventiveness, and transparency are some of the core tenets of the platform's blueprint, which is a label given by the creative and executive minds behind it. 
The team's final product is the Coinmama crypto exchange, an online marketplace that puts its customers' needs first and offers a wide range of trading tools that are simple and easy for a beginner to use. 
To this end, the user interface of this exchange reflects the same simplicity of this brokerage. It's interesting to browse and fun to use, while the lingo used across the site is understandable and free from the complex blockchain-related jargon that only a small subset of investors can grasp without having to constantly look up the terms online. 
Supported Cryptorcurrencies
Coinmama has been around for a while, and although it was founded to make buying Bitcoin (and altcoins) easier, it appears to have resorted to selling only the most popular and liquid cryptocurrencies. 
On the other hand, this brokerage enables you to use a wide variety of payment methods so you can easily pick the most convenient one for you. At the moment, they accept bank account transactions, Fedwire payments, SEPA money transfers and instant payments, Mastercard and VISA-issued credit/debit cards, Apple Pay, Google Pay, SWIFT (Global) transactions, and Skrill, to name a few among the many.
The exchnage's leadership is dedicated to expanding the range of payment options available to their clients, so it's advisable for you to check back frequently to stay informed on new additions and developments. 
You should also check their web page to learn about the transaction fees and minimum buy requirements imposed by some of these payment processors. 
For instance, credit/debit card payments tend to be the costliest. On the other hand, if you choose to buy your favorite cryptocurrency with Single Euro Payments Area (SWIFT) transactions or the SWIFT/Fedwire option, you won't have to pay a dime for the service. You're welcome. 
Fiat Currencies Supported on Coinmama
As the exchange accepts credit card/debit card payments, you have the choice of paying for your coins with Euros, US Dollars, Japanese Yen, British Pound Sterling, Canadian or Australian Dollars. 
Countries Supported on Coinmama
More than 200 jurisdictions worldwide have unrestricted access to Coinmama's financial services, with the exception of select US states and territories, as well as countries with a weak economy or affected by war, such as Iraq, Iran, Syria, Sudan, North Korea, etc.
Coinmama Fees and Limits
This crypto brokerage platform maintains the stability of its prices by using an overall average that is derived from the TradeBlock XBX Index and adding a 2% spread on top of it. This allows the exchange to maintain its cryptocurrency rates regardless of market fluctuations. 
Please note that the word "rate" here refers to the price of a certain digital coin as calculated by the marketplace. 
When you buy or sell cryptos on Coinmama, in addition to the exchange rate, you'll be charged an additional fee proportional to your loyalty level. For instance, those who have leveled up as Crypto Curious traders will pay 3.90% of the total value of the transaction, the Crypto Enthusiasts will be levied a fee of 3.41%, while the Crypto Believers will pay only 2.39% of the total amount as a reward for being the most prospective traders. 
Moreover, several factors (including local regulations, the payment method you select, and your account verification level) will affect the maximum amount you can spend on Coinmama. 
The minimum amount of cryptos you can purchase is around 50 USD worth of any of the accepted fiat currencies or the comparable amount represented in bitcoins. 
The verification level associated with your trading account determines the maximum amount you can spend on your crypto purchases. Therefore, the higher your user verification level is, the higher your spending limits will be, too. 
Main Features of Coinmama
Coinmama does not offer a comprehensive selection of financial products or services to its clients. Its primary goal is to make it quick and easy for a crypto investor to buy or swap some digital coins using the most convenient payment method for the trader. 
When it comes to buying cryptocurrencies, the most important thing for a beginner in crypto trading is a streamlined user interface and intuitive widgets that would seamlessly guide the trader toward a successful trade. The exchange's uncomplicated design and limited range of services meet both of these requirements. 
How Easy Is It to Open a Coinmama Account?
As a licensed financial services provider, Coinmama has stricter identity verification requirements than some other crypto trading services. For one, you're asked to provide a government-issued ID, a driver's license, or a valid passport, as well as a current photo of yourself holding a piece of paper that says "Coinmama" and has the current date on it.
To continue with your registration, you will need to provide additional data about yourself so that Coinmama can verify your identity and prevent money laundering and terrorist financing. For this, you'll be asked to submit your personal details, such as the full name and address of residence, a strong password to protect your account, a valid phone number, and a utility bill.
How Secure Is Coinmama?
Being a registered money service, Coinmama employs AML/KYC procedures to verify the identities of all users and a two-factor authentication technique (2FA) to ensure the security of user funds and reduce the likelihood of fraudulent activity.
What's more, the platform doesn't store user cash or credit card information on its servers.  
Has Coinmama Ever Been Hacked?
In 2019, top-level management of Coinmama notified customers that a security breach had compromised the credentials of more than 450,000 users.
To be more specific, the cybercriminals successfully stole the email addresses and passwords that had been hashed for traders who had created their accounts before August 5th, 2017. But this security breach didn't affect anyone's money because Coinmama doesn't store client assets on its platform.
Luckily, no security holes have been discovered since this incident. 
Is Coinmama a Regulated Exchange?
Yes, Coinmama is an authorized Financial Crimes Enforcement Network (FinCEN) platform. By complying with financial regulations, this cryptocurrency trading platform prioritizes the security of its users and their funds above anything else.
How Does Coinmama Compare to Other Crypto Exchange Alternatives?
Coinbase and Coinmama are two platforms that are very comparable to one another. Both of these services are among the easiest ways to invest in cryptocurrency using conventional money.
Although Coinmama is a popular cryptocurrency exchange, it pales in contrast to Coinbase due to the latter's wider support for trading pairs and a wider variety of digital currencies.
Does Coinmama Have an App?
Coinmama has a cryptocurrency wallet app that works on mobile devices running iOS and Android. By keeping your cryptocurrency in a self-custody wallet, you can buy and store it with complete peace of mind. 
With this wallet, you don't need any intermediaries and don't have to pay any upfront fees. Coinmama's self-custody wallet app simplifies the process of handling your crypto holdings in a way that ensures the safety of your transactions and cryptocurrencies.
Conclusion
Coinmama is a cryptocurrency market that's easy to use and focuses on giving traders the best experience possible when trading cryptos, despite the fact that it only provides access to a small selection of the most widely used and liquid coins.
This cryptocurrency exchange is used by a lot of people all over the world because its straightforward and has transparent trade rates. 
But, if you're looking for more options when it comes to buying and selling cryptocurrencies, you may want to read our detailed review of the best cryptocurrency exchanges on the market right now.