In this review, we'll compare and contrast Coinbase vs Poloniex, as these two global crypto exchanges enjoy great popularity among crypto investors as platforms that are user-friendly and simple to use. 
Let's see what trading functionalities Coinbase and Poloniex offer their clients, whether they're safe and legitimate, and how much it costs to close a deal through their blockchain platforms.
About the Exchanges
Coinbase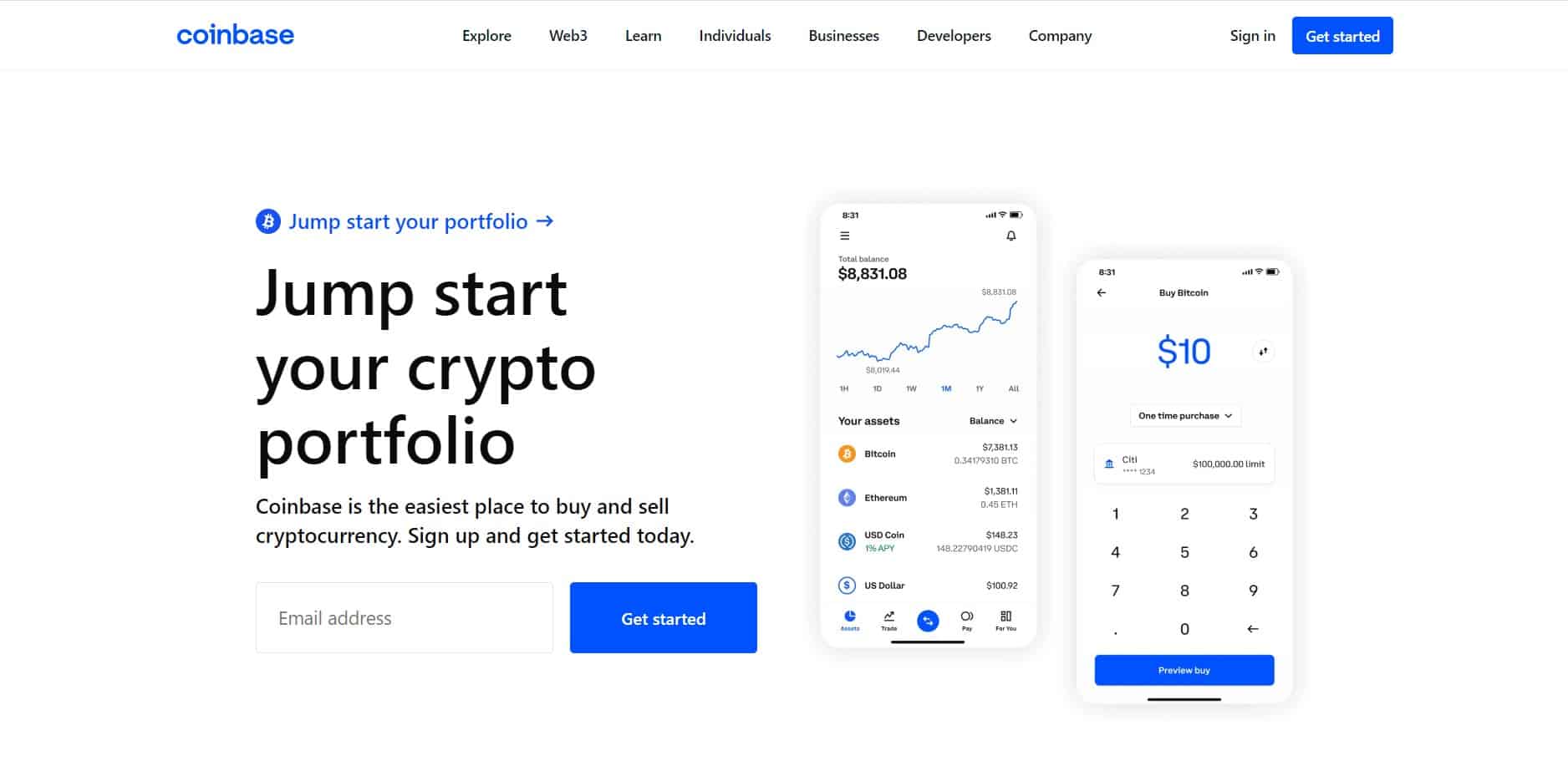 Coinbase is a leader in offering crypto trading financial services for beginners. Established in 2012, this American exchange is one of the pioneers in the industry, bringing crypto closer to a wider mass of investors by providing a safe and trustworthy blockchain platform with streamlined services. Trading cryptos through Coinbase literally takes a few clicks and nothing more, that's how user-friendly it is. 
The exchange features a sleek and simple user interface that makes all trading functionalities easily accessible. Every feature on the basic Coinbase platform is designed to provide fast and effortless trading.
The second market, Coinbase Advanced Trade (formerly: Coinbase Pro), is designed specifically for the need of more experienced crypto investors. As these traders deal with larger volumes and more prominent cryptocurrencies, they also benefit from trading with lower fees on this market. 
Poloniex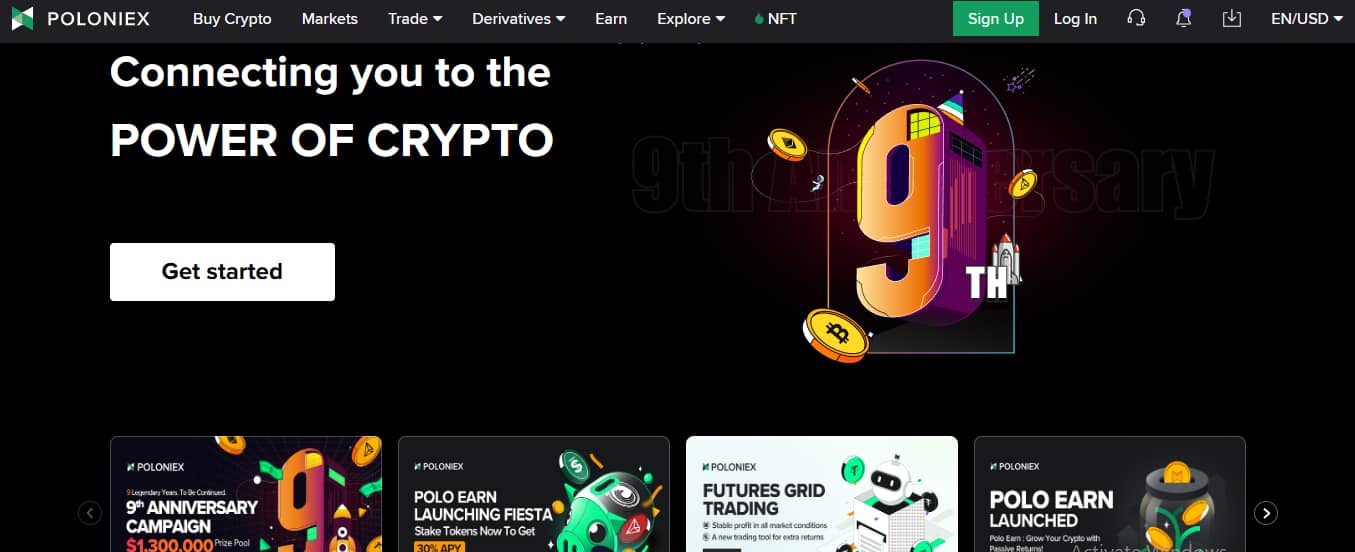 Established in 2014, Poloniex is a global cryptocurrency trading platform that focuses on spot and leveraged trading. Headquartered in the US, Poloniex provides numerous trading pairs and some of the lowest trading fees in the industry. The only caveat is that any financial regulatory body does not supervise this exchange and has a history of security breaches.
Poloniex's popularity skyrocketed among traders once it added ETC to its list of supported assets. From then on, the platform continued to expand its rich offer of cryptocurrencies combined with cheap trading costs. 
Pros and Cons
Coinbase Pros
The world's most customer-centric exchange;

Excellent for beginners in crypto trading;

Provides an

Instant Buy

feature;

Cold storage for 98% of clients' funds;

You can get your crypto by investing only 2 USD (which is the minimum);

Offers a wide list of supported cryptocurrencies;

Supports fiat-to-crypto transactions;

FDIC insurance for USD deposits of up to 250,000;

Abounds with educational articles on all things blockchain and crypto trading.
Coinbase Cons
A highly complex fee structure;

No longer provides the margin trading feature;

Using the

Instant Buy

feature can cost you an arm and a leg, especially if you use your bank card. 
Poloniex Pros
Offers low trading fees regardless of your trading volume;

Fee-free crypto deposits;

Insurance fund;

Enables futures trading with up to 100x leverage;

Lists more than 400 cryptocurrencies and has plenty of trading pairs.
Poloniex Cons
A non-regulated exchange;

There are only a handful of trading tools;

The platform has a history of security breaches;

The customer service could use some improvement;

Not available in the US because it isn't regulated.  
Coinbase vs Poloniex: The Crypto Exchange Comparison 
Opening an Account
To start trading with Coinbase, you have to be at least 18 years old and live in a supported jurisdiction. During the registration process, you'll need to provide a variety of personal data and support them with some documents, such as a government-issued ID, etc. 
As a regulated exchange, Coinbase must comply with many international regulations and protocols to ensure the transacted assets won't be used for illegal purposes. Therefore, every new trader who registers on Coinbase for the first time must go through the KYC protocol. While this protocol requires you to provide a bit more info on yourself, the process itself doesn't take long. 
Once you complete the check, all you have to do is fund your account (you can use your bank card if you don't have any crypto yet) and think of a good trading strategy. 
On the other hand, to start trading with Poloniex, you'll need only a valid email and to complete the application with a couple of basic details on yourself, such as your name, surname, and country of residence. 
As Poloniex does not mandate the KYC protocol, you can jump onto your new trading deal immediately after you verify your email with this exchange. 
When you complete the verification, you'll get access to the platform's Wallet functionality, where you can safely store your crypto holdings. 
Main Features
Coinbase provides a secure trading platform and a variety of trading possibilities for both beginners and professional traders. To this end, the developers have designed two distinct platforms – the basic Coinbase platform offering streamlined trading options for newbies, and Coinbase Pro, a platform designed to cater to experienced traders by providing more sophisticated financial mechanisms. 
Consequently, you can choose to instantly buy some cryptos or easily swap them for another coin, or go a step further and dive into the more volatile crypto waters by opting for some of the advanced trading options. 
Similarly to Coinbase, Poloniex features a user-friendly interface through which you can easily pick your preferred market to conduct a trade. Even though the platform doesn't have as many trading options as Coinbase, those few financial tools are good enough for both beginners and advanced traders to make the best out of their trading strategies. 
Crypto-rookies can use the streamlined buy/sell functionality, while expert traders can engage in margin trading or place advanced types of orders and perform their action plans in real time. 
There's also a crypto lending/borrowing feature on Poloniex that helps you make the most of your trade by increasing your investment capital. 
Supported Cryptocurrencies
Boasting one of the highest trading volumes and high liquidity, Coinbase is certainly a trader's paradise. Namely, you can find more than 250 cryptocurrencies to buy, sell, swap, stake, or invest by using some of its financial instruments in a simple and straightforward way. 
Through this platform, you can trade some of the most sought-after coins on the crypto market, but there are also many new and low-cap cryptocurrency projects. If you're a beginner with limited investment capital, you could start building and diversifying your portfolio by investing in some of these low-cap coins. This way, you can easily gain market exposure for less than making a BTC investment. 
There's also a wide range of prominent and less popular tradeable coins featured on Poloniex. The supported cryptocurrencies on this platform can be combined in more than 400 trading pairs, which gives you plenty of trading possibilities. 
Payment Methods
If you like to be spoiled for options, then Coinbase is your number one 'crypto hub'. You can find almost all possible payment methods on this exchange, including fiat-to-crypto payments. However, not all supported options are available to everyone, so don't forget to double-check what's available in your jurisdiction.
On Poloniex, you can conduct a crypto transaction by using your credit or debit card, which is great news for beginners. However, as the platform itself is not regulated and doesn't support fiat currencies, these transactions are processed by third-party providers that partner with Poloniex. Among them, Simplex features as the most prominent fiat currency payment processor, but please take note that these transactions are rather costly. 
On the other hand, the exchange doesn't support fiat currency deposits, which might confuse first-time crypto buyers if they are unfamiliar with the fiat-gateway concept of making a deposit. 
Trading Fees and Limits
Coinbase doesn't employ standard fee models, as most of its industry peers. Instead, the exchange temporarily locks the price of an asset for the transaction in question and calculates the spread, i.e., the difference between the buy and sell prices. The tricky part here is that you won't be able to see the total cost of the transaction until you submit your order and complete it. 
However, once you're confident enough, you can migrate to Coinbase Pro and enjoy lower market maker/taker trading fees. Again, you cannot possibly know whether you are classified as a liquidity maker or taker until you complete the trade. Tricky, alright. 
Things are different (and much simpler) with Poloniex. Similarly to the other cryptocurrency exchanges, Poloniex employs the market maker/market taker scheme for calculating the trading costs on its platform based on your 30-day trading volume. 
The exchange will basically charge you a fee every time you complete an order or a trade. When you reach a certain trading volume threshold, you can advance to a higher level and become eligible for a trading fee reduction. 
How Safe Are Coinbase and Poloniex?
Despite experiencing several security breaches, Coinbase is considered one of the most secure trading platforms in the industry, additionally confirmed by the ever-growing number of users. 
Coinbase developers have implemented a number of industry-best security mechanisms in its blockchain platform. These include 2FA user authentication to prevent unauthorized use of your account, cold (offline) storage for 98% of the clients' funds, encrypted communication, bank-grade security systems, and more.  
In addition, all USD balances of up to 250,000 USD are protected by the Federal Deposit Insurance Corporation.
Even though Poloniex has implemented a number of security mechanisms to protect the accounts and assets of its users, there have been several hacking incidents in the past.  
The first incident occurred only a couple of months after the platform was launched into the crypto sphere, in which Poloniex lost around 12.3% of its Bitcoin balance. As a result, the exchange's founder, Tristan D'Agosta, reimbursed the users affected by the hacking incident from his personal crypto balance. 
In an attempt to ameliorate the damage caused by the hacking event, the exchange was forced to increase its trading fees. But this didn't discourage Poloniex's executives, so they tried even harder to attract new users. To this end, in 2016, they were the first to list Ethereum Classic (ETC). 
What's more, the developers were quick to adapt to the changes that occurred after the great Ethereum Merge and added support for all the hard forks (i.e., new blockchains and coins) that stemmed out of the process. 
However, this exchange is not regulated by any financial body, leaving you vulnerable in case of a security breach. Essentially, you won't have any law or regulation protecting your balances. 
Still, based on how the platform has been solving these types of issues, we can definitely say that Poloniex takes care of its users and is ready to take responsibility for any possible hacking events.
Customer Support
The Coinbase customer support team is at your beck and call 24/7 via live chat or phone. Alternatively, you can send them an email detailing your issue, but this might take a bit longer than you expected. 
It might be wise for you to browse the rich knowledge base featured on the exchange's website, which is truly one of the most comprehensive and informative ones among Coinbase's peers.
One of Poloniex's weakest points is certainly its customer service. There are numerous helpful articles featured on the platform that could increase your knowledge of crypto and the exchange functionalities, but reaching for professional advice and support could take a while. 
Therefore, be prepared to wait for several days for the exchange's customer support staff to answer your email. Alternatively, you could contact the support team via some of Poloniex's social media channels, hoping for a faster response and solution. 
Mobile Trading
By using the Coinbase mobile app, you can easily buy, sell, or swap your favorite coins on the go. This piece of software truly makes the life of an avid crypto investor easier as it features all of the exchange's functionalities you can find on its online site. The Coinbase mobile trading app is free to download from Google's Play Store or Apple Store, as it supports all devices based on Android and iOS operative systems. 
Being also a customer-centric exchange, anyone can easily conduct a trade on Poloniex through its web-based platform. But if you want greater liberty in trading, you can always opt for its mobile trading app installed on any iOS or Android-supported device. Through this app, you'll gain instant access to the trading features and your balances for easier monitoring. 
How Do Coinbase and Poloniex Compare to Other Crypto Exchanges
Kraken is another veteran in the crypto industry that features trading options suitable for beginners and professional traders. The main difference between this platform and Coinbase and Poloniex is that Kraken enjoys an impeccable reputation as a cryptocurrency exchange that has never had any security incidents. 
As we already mentioned, both Coinbase and Poloniex have struggled to maintain the safety of their platforms and have failed several times. 
To this end, Kraken features one of the best (if not the best) safeguards to protect users' assets and accounts, including real military guards, 24/7 surveillance of the facilities that store the nodes and cold wallets, numerous innovative cryptographic methods for protection of users' data, and more. 
Conclusion
Coinbase and Poloniex are globally popular exchanges that provide the ultimate crypto investment conditions for their clients. While Coinbase primarily focuses on beginners in crypto trading, Poloniex offers more volatile products, such as margin trading, suitable for more experienced investors.
Regarding the trading fees, Poloniex is the winner in this category, as this exchange has not only lower fees but also a more straightforward model for calculating trading costs. 
Coinbase, on the other hand, can turn out to be more costly than you've planned, as it displays the final trading costs only after you confirm your trade. This is especially true if you use the basic Coinbase platform and its Instant Buy feature.