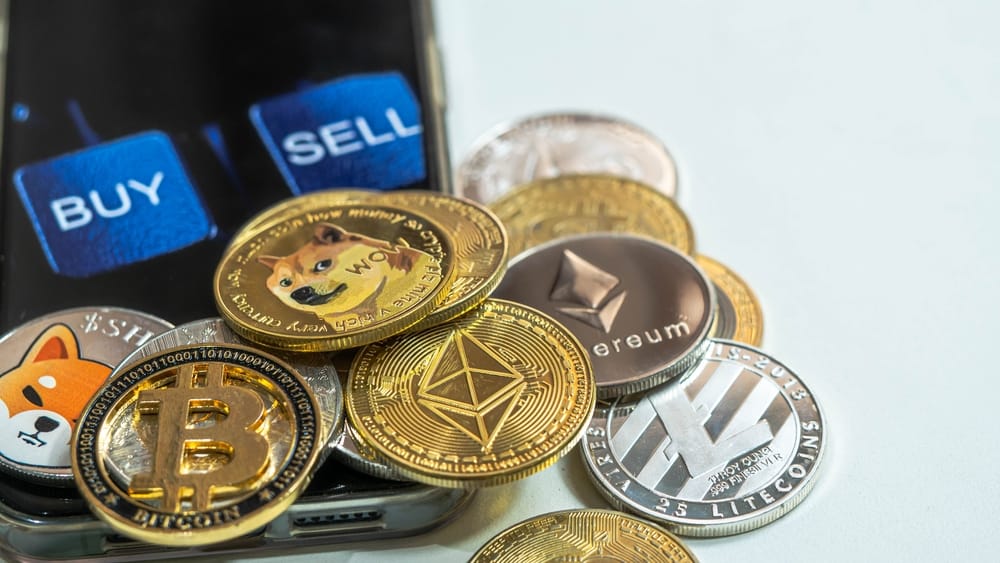 In this review, we'll compare Coinbase vs OKX in an effort to accentuate the pros and cons of trading through these platforms. We chose to compare these two particular exchanges because both Coinbase and OKX are ranked among the top 5 crypto trading platforms on CoinMarketCap in terms of trading volume and liquidity.
About the Exchanges
Coinbase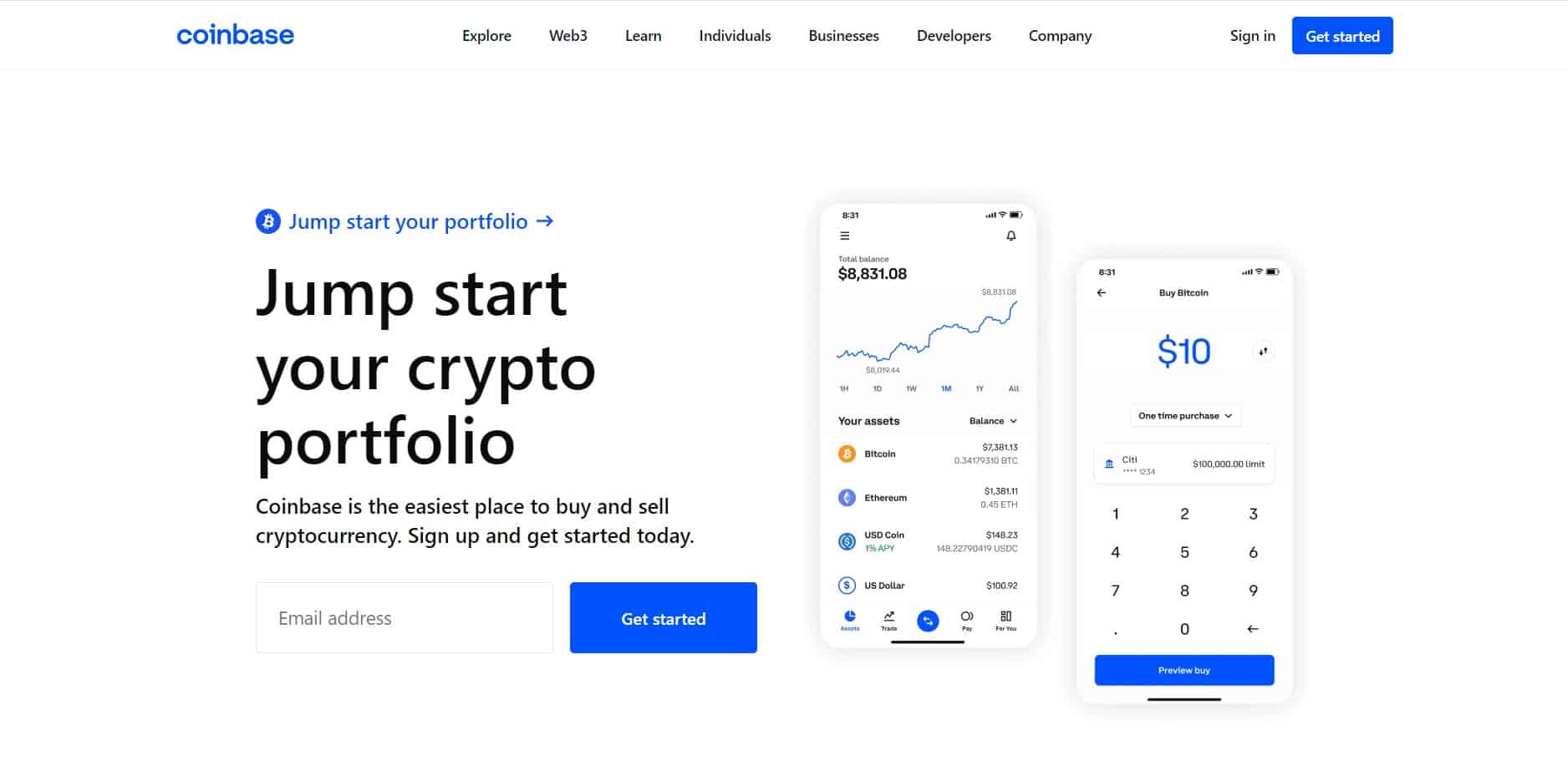 Coinbase is one of the most successful crypto projects ever launched in the crypto sphere. Ever since its launch in 2012, this exchange has been one of the trailblazers on the path to the new digital economy.
Created in a joint effort by Brian Armstrong and Fred Ehrsam, Coinbase is the ultimate crypto hub that blends the needs of all traders, regardless of their investment strategy or experience. 
The exchange features a long list of powerful cryptocurrencies you can use for your trades, supports many fiat currencies, provides streamlined options through which you can buy your first coins in just a couple of clicks, and more.
OKX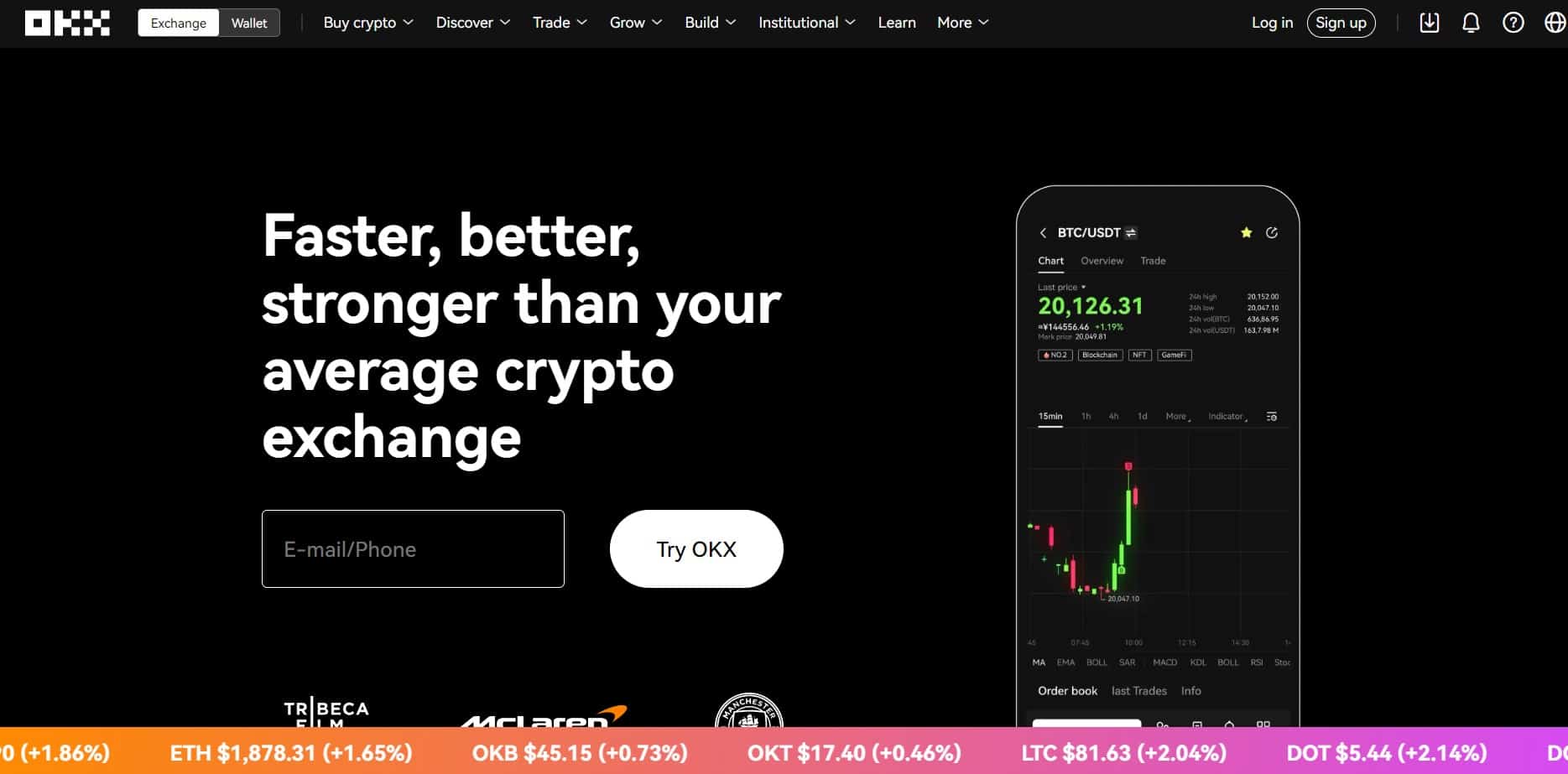 OKX is of the leading crypto exchanges in terms of trading volume and liquidity that provides financial services for traders worldwide. It was founded in China in 2017, but the executives moved the headquarters to Hong Kong after the Chinese government put a ban on the ICO trading of digital assets. 
Designed to primarily support professional crypto traders, OKX mainly focuses on trading derivatives. However, being a highly user-friendly platform, OKX also features spot trading and fiat-to-crypto transactions that help newbies easily swap crypto.
Pros and Cons
Coinbase Pros
Considered to be the most user-friendly exchange in the industry;

Provides numerous trading instruments suitable for beginners and experienced traders;

Enables instant crypto purchases in a couple of clicks;

24/7 live chat customer service;

FDIC insurance on deposits in a US bank;

Provides deep liquidity and cold storage for 98% of users' funds. 
Coinbase Cons
The Instant Buy feature on this platform is rather costly;

Uses a complex fee model;

The customer service could use some improvement;

Experienced a hacking incident in 2021.
OKX Pros
A secure and user-friendly platform;

Focuses on derivatives trading;

Features spot trading;

Enables trading with leverage up to 20x and fiat-to-crypto swaps;

Provides perpetual swap contracts;

No crypto deposit fees;

Detailed market charting,

24/7 customer support.
OKX Cons
Complex trading fee structure.
Coinbase vs OKX: The Crypto Exchange Comparison 
Opening an Account
In the spirit of the platform's user-friendliness, registering for a Coinbase account will take no more than a minute of your time and a few clicks. For starters, you'll need to provide your name, surname, email, and a strong password to protect your account. 
Also, as a new user, you'll have to go through the KYC verification protocol and verify your identity with additional personal documents. 
To start trading with OKX, you need to provide a valid email or phone number and verify your account with the exchange. After completing this step, you'll also need to provide your full name and address of residence to access the basic trading functionalities.
If you want access to a wider and more advanced selection of financial instruments, you'll need to go through the KYC user authentication procedure. To be KYC verified implies providing some personal documents, such as a government-issued ID, so be prepared in advance. 
Main Features
Coinbase started as a platform aimed at fast and effortless crypto buys, but nowadays, it's a real crypto universe offering numerous trading possibilities for both novices and experienced investors.
Namely, this platform used to offer two marketplaces – Coinbase, offering effortless cryptocurrency purchases and swaps for beginners, and Coinbase Pro – a platform designed to cater to professional traders, equipped with the graphic charting of the marketplace fluctuations and advanced financial instruments.
In 2022, Coinbase began migrating the Coinbase Pro platform accounts to the Advanced Trade section featured on the main Coinbase platform to further simplify the trading operations for investors of all levels of experience. This way, investors will have all trading features in one place without switching between the two platforms. 
Moving on to OKX now. As a dedicated crypto derivatives platform, OKX provides investors with a myriad of creative and innovative financial mechanisms to create and perform their trading strategies. To this end, the exchange offers: 
Futures trading with up to 20x leverage, 

A vast variety of tradable cryptocurrencies that you can pair with BTC, ETH, or USDT, with up to 3x leverage on these trades, 

Trading on perpetual swap contracts;

Real-time market quotes;

Spot trading;

Fiat-to-crypto and crypto-to-crypto swaps;

Interactive cryptocurrency graphics;

Detailed market charting for a more detailed insight into the market fluctuations, etc. 
Supported Cryptocurrencies
There are more than 250 cryptocurrencies on Coinbase you can use for your investment strategies. This exchange focuses on the most liquid cryptocurrencies, but you can also discover some interesting low-cap currencies, which can open up your way to the market with a smaller investment. So, if you love to be spoiled for choice, this customer-centric exchange could be a real crypto heaven for you. 
Having more than 20 million active daily traders from all around the globe, OKX is rightfully at the top of the crypto market charts, ranked according to its trading volume and liquidity. The investors are primarily attracted by the vast offer of tradable currencies and the fiat currency support. 
Namely, OKX offers more than 150 popular cryptos that you can combine in a vast number of trading pairs. When it comes to traditional currencies, you can use your USD (United States Dollar) or CNY (Chinese Yen) balances for your OKX trading operations. 
In addition, this exchange has a native cryptocurrency labeled OKB. OKB is a utility token that offers numerous benefits for traders. For one, you can hold the OKB token in your crypto wallet and earn passive income, take part in the token sales launched through this platform, or get a rebate of up to 40% on your trading fees. 
Payment Methods
The payment methods on Coinbase are many and versatile, but they will ultimately depend on the place of your residence, as well as on the international financial regulations that govern crypto trading in your jurisdiction. 
Enjoying the status of a user-friendly platform, OKX exchange remains true to its commitment and offers its clients almost all possible payment methods so that everyone can pick the option most suitable to them. Western Union or Visa/Mastercard credit/debit cards? Skrill or PayPal? Google Pay or ApplePay? Crypto or bank transfer? The choice is yours. 
Trading Fees and Limits
Coinbase Fees
Despite being the most user-oriented platform, Coinbase seems to be less transparent in the fees area. Namely, the exchange employs an intrinsic scheme for calculating the trading fees that used to be displayed on its site. 
However, it seems like those fee graphs have recently been removed, making this US-based exchange even more obscure regarding the costs it levies. But all's not lost, as you can still see the total transaction costs when you enter a trade.
Speaking of trading fees, Coinbase is not the most cost-effective platform nor the most expensive one. However, if you opt for Instant Buy and pay for your cryptos with your credit card, you could be in for an unpleasant surprise, as these costs could go over 3.99% per transaction. 
In essence, the fees levied by this exchange are based upon a percentage of the total trading volume of the investor. According to this fee scheme, you can expect to pay from $0.99 to $2.99 for completing a trade on Coinbase. 
When doing spot trading, also watch out for the spreads of the traded coins, as they could add up a lot more to the final sum of your trading costs. 
The curious thing is that professional traders who use Coinbase Pro pay a lot less for using Coinbase's platform. Namely, this marketplace imposes a market maker/taker fee that takes 15% of the market maker's trade and 25% of the market taker's trade. 
OKX Fees
Similarly to Coinbase, OKX has a rather complex trading fee model featuring several tiers that rank investors according to their 30 trading volume. But despite the intricate fee structure of this exchange, it still counts toward some of the more cost-effective platforms that levy low trading costs. 
OKX employs market maker/taker fees that cost 0.10% per trade for liquidity takers, while liquidity providers (or market makers) enjoy a super-low 0.08% fee per transaction. 
How Safe Are Coinbase and OKX?
In general, Coinbase is considered to be a safe trading platform that enjoys the trust of millions of daily users. To earn their trust, the developers of this platform have implemented numerous industry-leading security mechanisms to protect both the users' assets and their data. 
The 2FA protocol, cold storage for over 98% of clients' funds, encrypted communication channels, and whitelisting are only some of Coinbase's safeguards against security breaches.
But, even though the exchange's developers have put in all that effort to protect it, Coinbase experienced a hacking incident in May 2021, leaving more than 6,000 users short of a portion of their balances. 
On a more positive tone, Coinbase collaborates with the Federal Deposit Insurance Corporation (FDIC) that provides insurance on all USD deposits amounting to up to $250,000. 
OKX is one of the safest trading platforms in the industry and has never, in the course of its operation, had a security incident or been hacked. To further reinforce the good reputation regarding the safety of its clients' assets and data, OKX implements a network of security protocols, including a two-factor authentication protocol (2FA), email or SMS user authentication to prevent any unauthorized access to your account and balance, and code verifications for each withdrawal, to name a few. 
Customer Support
The advice of a professional could sometimes be of crucial importance for completing a successful trade, especially when dealing with volatile items such as cryptocurrencies. Knowing this fact, Coinbase offers 24/7 live chat and customer service you can contact through a dedicated email or send a support ticket through the Help Page. 
The best thing about Coinbase's support center is probably the vast knowledge corner through which you can learn a lot of new stuff about how this exchange operates and about all blockchain-related concepts. Additionally, this rich article base can offer a solution for your issues without the need to contact customer support. 
If you need technical support during your trading operations on OKX, the platform's support team is at your beck and call 24/7. You can send your feedback or question to the exchange's dedicated email to receive an answer to your issue. 
Before asking the support team for help, you can browse the vast knowledge base featured on the exchange's site, where you can discover some of the most frequently encountered issues and concerns with the platform's trading operations and maybe even manage to find the answer you need. 
Mobile Trading
When you strive to be a leader in the business, you need to provide the finest services and support for your clients. That's why both Coinbase's and OKX's developers have launched mobile trading apps for their respective exchanges through which you can conveniently trade on the go and never miss an opportunity for a lucrative deal.  
The Coinbase and OKX mobile apps are both free to download and compatible with Android and iOS operating devices. You can use them to safely and quickly check your balance, monitor your trades and market movements, and basically use all trading operations through the web-based platform of these two exchanges. 
Additionally, OKX features a loyalty program that rewards users for frequently using the trading app. For this, you'll need to log into your app and complete an educational mission, such as watching a video or reading an article, after which you'll become eligible for 50 satoshis. 
How Do Coinbase and OKX Compare to Other Crypto Exchanges
The Gemini exchange could be a great alternative that comes somewhat in between Coinbase and OKX. Namely, Like Coinbase, Gemini's AdvancedTrader platform is straightforward and easy to use, and just like OKX, it prioritizes sophisticated capabilities and solid platform security.  
Moreover, Gemini has a transparent fee model that never leaves you wondering about the fee structures or the ultimate trading costs you'll have to pay. It's also a highly regulated cryptocurrency exchange supervised by the New York State Department of Financial Services (NYSDFS). 
Conclusion
Coinbase and OKX rightfully hold the top ranks in the crypto industry. These globally popular and easily accessible exchanges are continuously developing new trading solutions and upgrading the security mechanism to earn the trust of an even larger number of daily traders. 
The user-friendliness of the platforms implies not only sleek interface and streamlined trading features but also financial services suitable for both beginners and experienced crypto investors. 
When comparing Coinbase vs OKX it looks like they have found the path to success – a strong blockchain platform, a vast trading offer, and relatively low fees (if we exclude Coinbase's instant buy costs and credit card payments). 
All in all, both platforms are great crypto hubs that provide you with seamless exposure to the crypto market regardless of your trading strategy. Still, you should have in mind the volatile nature of cryptocurrencies at all times, regardless of how easy some trading options may seem.