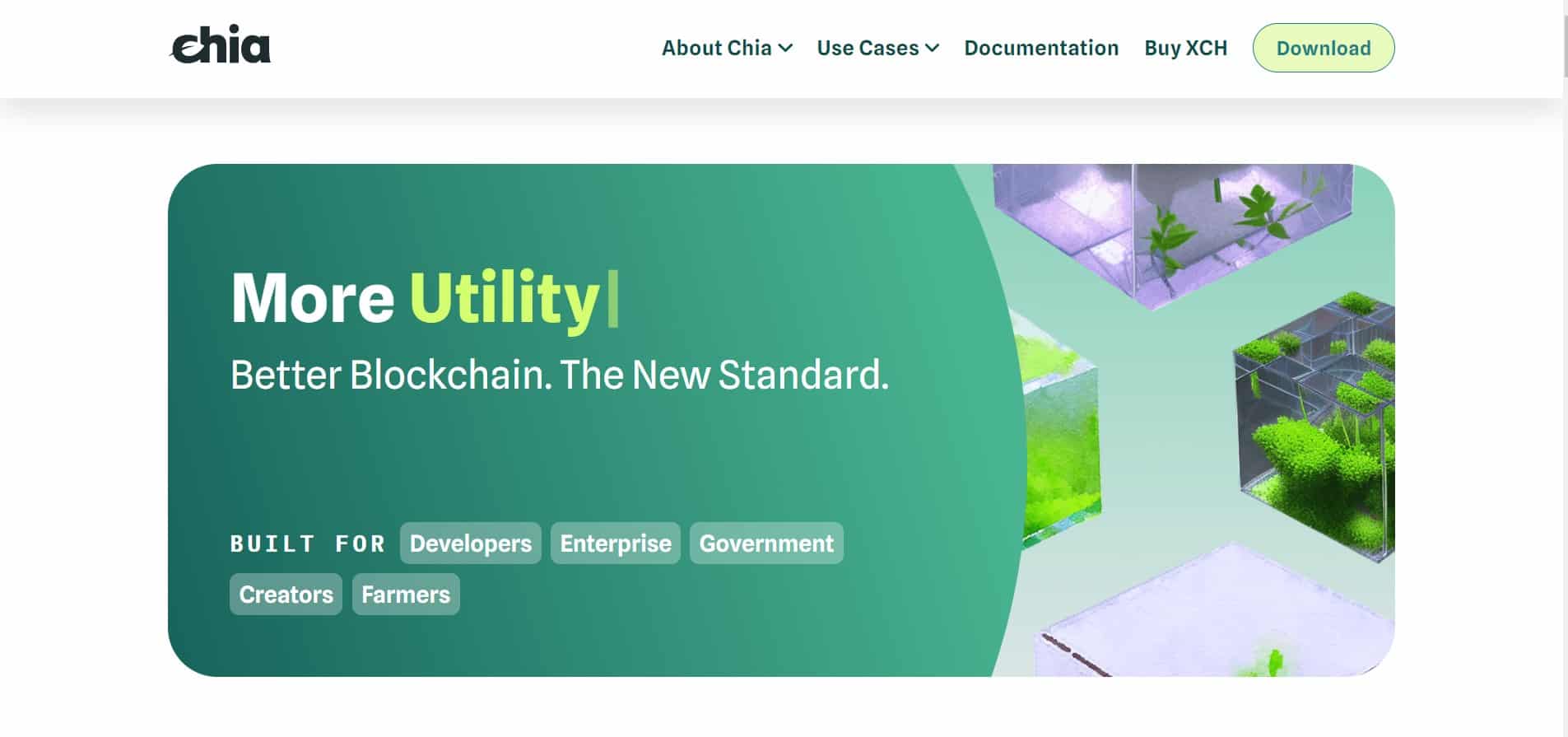 Chia Network (XCH) coin is the native currency of the Chia Network, which is a Layer-1 blockchain platform that features its own innovative smart contract technology. 
Bram Cohen, the mastermind of the BitTorrent technology, is also the man responsible for the creation of the Chia Network. When it was first released in May 2021, Chia's one-of-a-kind consensus mechanism quickly established it as one of the most promising alternative cryptocurrencies available on the market.
How Does Chia Network (XCH) Work?
The Chia Network employs a consensus method known as Proof-of-Space-and-Time (PoST), which is intended to be significantly more environmentally friendly than Bitcoin's Proof-of-Work (PoW) algorithm. 
Instead of following the crypto-native DAO concept, the Chia Network follows the more conventional joint-stock company structure. More specifically, Chia Network wants to go public on a stock market because its creators think that it will better represent the company's interests. To this end, Chia's approach to governance is unique among public blockchains since currency ownership plays no role in determining network outcomes.
As a result, the Chia Network (XCH) coin is not only regulated by a conventional corporate structure, but it also takes the novel method of combining an adapted Proof-of-Work consensus protocol with Proof-of-Time, which makes it a very innovative cryptocurrency.
What Is Chia Network (XCH) Used For?
Chia Network (XCH) has several practical applications. 
Facilitating Network Payments
Utilizing Chia coin to make decentralized payments is the major use case for this cryptocurrency. Since  Bitcoin (BTC) was the first mover in the cryptocurrency transactions field, many individuals choose to purchase it for this reason. But the technology behind Bitcoin has become outdated, and the mining consumes a lot of power. 
Chia coin is a competitive option to BTC since its members can utilize their spare disk space to help protect the blockchain using the network's Proof-of-Space-and-Time (PoST) consensus mechanism. That's why Chia Network is so much more efficient; it only needs around 1% of the power that Proof-of-Work (PoW) chains use.
Farming Rewards
If you have a spare hard disk drive (HDD) or solid-state drive (SSD), you can utilize it to strengthen the Chia network's security. This process, known as plotting, entails storing 100GB worth of hashes on the aforementioned storage devices.
Afterward, the hash of a newly generated block is compared to the hashes already saved on users' devices in a lottery-like process facilitated by the Chia Network. The market participant with the closest match earns a farming incentive in XCH, thus providing the network members with a passive revenue stream in its native currency.
NFTs
The Chia Network is home to several new NFT initiatives, such as Chia Friends and Marvelous Marmots. In addition to a specialized NFT marketplace for trade, the Chia blockchain has a 'Mint Garden' where anybody can mint NFTs.
As NFTs are so widely used, they are expected to have a substantial impact on the Chia Network (XCH) coin price. To be more specific, there will be an increase in the demand for XCH as more market participants decide to build decentralized applications (dApps) or issue non-fungible tokens (NFTs) on the Chia Network. This is due to the fact that XCH is the native token of the network and can thus be used to purchase NFTs and interact with dApps.
Where to Buy Chia Network (XCH)?
Gate.io, Huobi Global, KuCoin, Uniswap (V2), and OKX all list the Chia Network (XCH) coin as a tradeable asset.
How Long Has Chia Network (XCH) Been Around?
Chia Coin was launched in May 2021 on several centralized cryptocurrency exchanges (CEXs).
What's Controversial About Chia Network (XCH)?
To our knowledge, this project has not been plagued by any major controversy.
How Many Chia Network Coins Are There?
There are 22,582,025 XCH in circulation at the moment. At its inception, the Chia network was supported by 21 million pre-farmed XCH. The following is a schedule of farming incentives, as outlined in the whitepaper provided by Chia Network (XCH):
Over the first three years following the launch, 64 chia will be generated every ten minutes;

From year four to year six following the launch, 32 chia will be generated every 10 minutes;

Until the ninth year after the launch, 16 chia will be generated every 10 minutes;

Throughout the course of the 10–12 years of the launch, 8 chia will be generated every 10 minutes;

After the 12th year, 4 chia will be generated every ten minutes for each subsequent year. This indicates that the network itself holds the majority of XCH, and it will take another 21 years from the introduction of the mainnet before the incentives for farming will catch up with the amount of the strategic reserve.
Can XCH Be Mined?
Yes, but not in the conventional crypto-mining way. Namely, The Chia Network eliminates the need for conventional mining by securing the blockchain with the free space on users' hard drives and solid state drives. Here are the details. 
Chia Network's protocol is an improvement on PoS and PoW in that it employs a consensus process that uses less power than the other two. With the use of two separate but complementary protocols, Proof-of-Space and Proof-of-Time, the network is capable of achieving Nakamoto's PoW consensus.
How Does XCH Mining Work?
For the Proof-of-Space algorithm to work, miners need to hold on to spare space on their disks. PoW is like a puzzle, and in this case, miners install specialized software to allot spare space, which is subsequently employed to solve the task. 
When a block is created, the program pulls a challenge number from the preceding block and adds it to a cache of cryptographic numbers on the miner's hard drive. Using a scanning process, miners look for a number that is somewhat near to the challenge number.
The miner's computer is used to store a string of cryptographic numbers. These numbers are then used as the challenge that the miner has to solve when a new block is generated. Using a scanning process, miners look for a number that is somewhat near to the challenge number.
In contrast, Proof-of-Time, like the protocol implemented in the Solana (SOL) blockchain, uses Verifiable Delay Functions to prove the progression of time. To guarantee that the proof-of-space functions can be solved, the Timelords (the nodes responsible for documenting time) verify that accurate time documentation has been provided.
Finally, Chia Network includes its own scripting language—called Chialisp—that developers may use to build applications for the platform. Using the best features of Ethereum (ETH), Solidity, and Bitcoin Core, including the UTXO mechanism of Bitcoin itself, this on-chain programming language is smart contract-compatible. 
As a result, Chia Network is a speedier and more energy-efficient blockchain compared to its competitors, as it supports simultaneous transactions rather than sequential ones.
Market Cap and Price History of Chia Network (XCH)
Chia is currently trading at $42.69 USD and has a 24-hour volume of $10,565,356 USD. This cryptocurrency's current market cap of $278,387,668 USD places it in the #134 spot on CoinMarketCap. 
The maximum supply of the Chia Network (XCH) coin is currently unavailable.
Biggest Competitors of Chia Network (XCH)
Zcash, Litecoin, Token Daily Capital, and Amber are some examples of cryptos that compete with and are comparable to Chia Network.
What Does the Chia Network (XCH) Project Road Map Look Like?
Chia Coin's price potential largely depends on the development of its future roadmap. The Chia Coin team's primary objective is to have the firm listed on more public exchanges so that external investors can purchase shares of the company's equity.
This objective is rather uncommon in the crypto market as most cryptocurrency projects strive to be decentralized. Hence, it is impossible to predict how the price of XCH will behave once this is achieved.
Pros and Cons of Chia Network (XCH)
Pros
Innovative consensus protocol;

Energy-efficient mining.
Cons
Due to the project's relative newness in the cryptocurrency industry, it would be premature to include any drawbacks at this time.