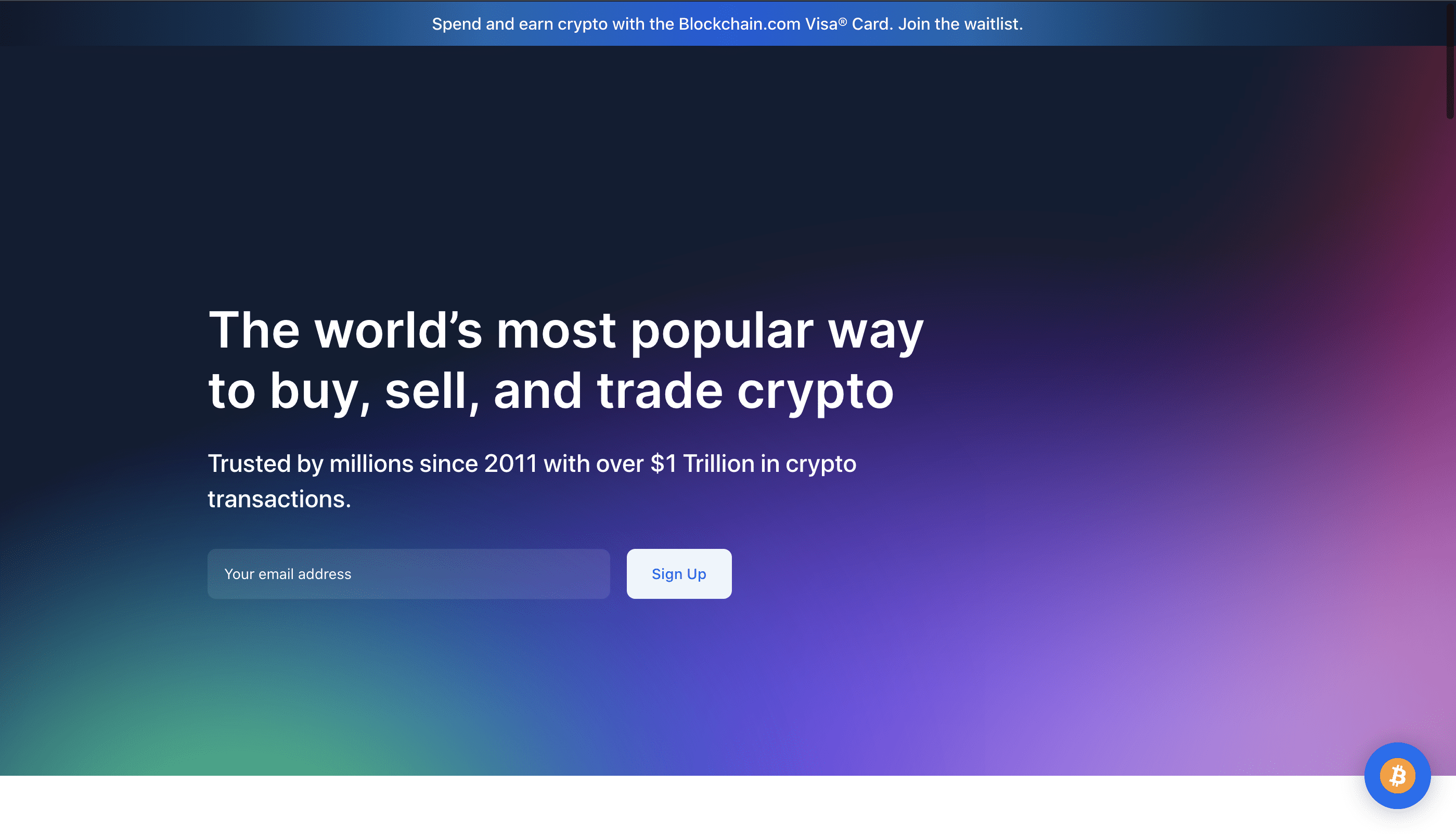 Blockchain.com is a company for storing, managing, trading cryptocurrencies, and monitoring crypto transactions. The company offers a non-custodial cryptocurrency wallet, a crypto exchange, and a block explorer.

200+ Cryptocurrencies Listed
Get Crypto After Your First Buy
Protected By Insurance
Secure Storage With Vault Protection
The Most Trusted Cryptocurrency Platform

350+ Cryptocurrencies Listed
<0.10% Transaction Fees
120 million Registered Users
Secure Asset Fund for Users
Earn On Deposits

1,400+ Cryptocurrencies Listed
12+ million users
New account bonuses of up to $5,500
Deposit using 20+ fiat currencies
HODL and Earn
In this Blockchain.com review, we'll look into the significant features of the platform, including the fees, features, and possible issues, so you can decide if it's the best wallet or crypto exchange for you.
Pros & Cons of Blockchain.com Exchange
Pros 
40 trading pairs

Supports three different fiat currencies

Offers a non-custodial wallet

Language support for 25 different languages

Industry-standard trading fees

The user interface is beginner friendly

Qualified users can earn interest on crypto investments

The airdrop program allows users to earn free crypto
Cons
Frequent reports of wallet safety issues

The customer service system needs refinement – limited technical support

Margin trading isn't available to US-based customers.

Charges a commission for withdrawing funds
About Blockchain.com 
Blockchain.com was founded in 2011 as a block explorer (formerly Blockchain.info) that allows the public to monitor crypto trades on the Bitcoin blockchain. 
The company released a closed-source non-custodial crypto wallet that quickly became one of the most popular crypto wallets in the world. The crypto wallet accounted for 28% of all Bitcoin transactions between 2012 and 2020. The wallet became open-source in 2020.
In 2019, the company launched its crypto exchange and started offering fiat-to-crypto transactions.
Blockchain.com lost around $270 million worth of crypto and US dollars when Three Arrows Capital became insolvent. The company laid off 25% of its workforce in 2021, followed by a second wave of layoffs in 2023, laying off 28% of its remaining staff.
Crypto Coins Available on Blockchain.com Crypto Exchange
Blockchain.com exchange supports 40 digital currencies and 75 trading pairs, including popular digital assets like
You can deposit unlimited crypto to your Blockchain.com exchange account, but crypto withdrawal limits apply based on your verification level. Limited access users can only withdraw 2000 USD worth of crypto annually. Full access and Platinum level users can withdraw unlimited crypto.
Note that the list above includes the assets you can trade on the Blockchain.com exchange. You can also buy and trade assets via your Blockchain.com wallet app. 
Blockchain.com wallet is a non-custodial wallet. You can send and receive the following cryptocurrencies through the wallet interface:
Fiat Currencies Supported on Blockchain.com 
Blockchain.com supports USD, GBP, and EUR. However, fiat deposits and withdrawals may not be supported in certain countries. 
You can deposit to the platform via domestic or international bank transfers through SEPA, ACH, Open Banking, and Faster Payments.
Verified users can also purchase cryptocurrencies with 3D secure enabled Visa and Mastercard credit and debit cards. You can also use Apple Pay and Google Pay linked cards for purchases.
Blockchain.com doesn't allow deposits or withdrawals from any third-party payment providers like PayPal, Venmo, or Western Union. You can deposit via TransferWise, but withdrawals aren't permitted.
Countries Supported on Blockchain.com 
Residents of over 100 countries, including the UK, Netherlands, New Zealand, France, Germany, Canada, and Hong Kong, can all buy and sell crypto via the Blockchain.com exchange.
Blockchain.com exchange is available in 30 different US States. 
Users from 230 countries can access Swap, the Blockchain.com Wallet's crypto-to-crypto exchange.
Restricted locations include the US Office of Foreign Assets Control (OFAC), the European Union, the United Nations, and HM Treasury (UK) sanctioned countries, including Iran and Cuba.
Note that some features may not be available to users from certain countries. Margin trading is prohibited for all US-based users. 
Blockchain.com Trading Fees
Blockchain.com offers different fees for different products and features.

200+ Cryptocurrencies Listed
Get Crypto After Your First Buy
Protected By Insurance
Secure Storage With Vault Protection
The Most Trusted Cryptocurrency Platform

350+ Cryptocurrencies Listed
<0.10% Transaction Fees
120 million Registered Users
Secure Asset Fund for Users
Earn On Deposits

1,400+ Cryptocurrencies Listed
12+ million users
New account bonuses of up to $5,500
Deposit using 20+ fiat currencies
HODL and Earn
Blockchain.com Exchange Fees
Blockchain.com exchange offers a tiered maker/taker fee schedule. Trading fees start at 0.40% for makers and 0.45% for takers.
Margin trading fees are 0.02%, applied every four hours.
Transaction Fees for Blockchain.com Wallet
Users can buy, sell or swap digital assets on the Blockchain.com Wallet (separate from Blockchain.com Exchange).
The fees include a quoted price with a baked-in spread, Blockchain.com fees, and network fees.
The quoted prices change depending on market conditions, and spreads can vary between 1% to 5%. The quoted price is displayed before you place your order.
A Blockchain.com trading fee is applied to all orders but varies depending on your payment method and order size.
Finally, you also pay a mining fee that's automatically calculated by the wallet. The mining fee ensures that the miners will process your transaction. There is a customize fee option for experienced users. 
Deposit and Withdrawal Fees
There is no deposit fee on the platform. Withdrawal fees vary depending on your withdrawal method.
Open Banking, SEPA, and Faster Payments withdrawals cost 0.50 EUR. Wire transfers cost a 25 USD fee. ACH withdrawals are free.
Please note that minimum withdrawal limits apply. The minimum withdrawal limit for Open Banking, SEPA, and Faster Payments is 5 Euros. ACH minimum limit is 10 USD. The international wire transfer minimum limit is 2,500 USD.
Purchasing crypto via debit cards and credit cards costs additional fees. Your bank may charge extra fees for wire transfers. 
Main Features of the Blockchain.com Platform
Blockchain.com provides a crypto wallet, an exchange, and a block explorer. Let's see some of the most notable features of Blockchain.com in more detail.
Blockchain Explorer
The Explorer section is one of the most popular features of the exchange. Users can view transactions in real-time as they're added to the blockchain. 
The explorer also has a charts page that displays a range of useful statistics in the form of aesthetically appealing graphs. You can find information on hash rates, block sizes, and transaction speeds.
Blockchain.com Non-custodial Crypto Wallet
Blockchain.com offers an open-source non-custodial crypto wallet where users can purchase, store and swap crypto assets. You don't have to sign up on the exchange to use this wallet.
You can deposit fiat currency or purchase crypto through the wallet when you verify your identity.
When you use the swap function, your assets are moved to a custodial trading wallet. The swap function is limited to crypto-to-crypto transactions.
With Blockchain.com's Airdrop Program, platinum-level eligible users can earn free coins. 
Other benefits include an interest account to stake your assets and earn rewards. You can stake Ethereum or join rewards programs for several cryptocurrencies, including Bitcoin, USD Coin, Tether, Solana, Polkadot, PAX Dollar, and Tron. 
The non-custodial wallet is a web-hosted hot wallet, and your private keys are entrusted to you. However, you may lose your assets in the wallet if your computer is compromised.
Blockchain.com Exchange and Trading Wallet
The Blockchain.com Exchange wallet is a custodial wallet controlled by the Blockchain.com platform. You can trade crypto in the exchange wallet for cheaper fees. The wallet allows you to deposit and withdraw USD, GBP, and EUR from the platform. 
You can connect your Exchange trading account to your non-custodial Blockchain Wallet.
Learning Portal
The Learning Portal contains resources to help new investors learn about cryptocurrencies and crypto exchanges. You can find useful information on different coins, trades, and exchange features. The articles are well-written and suitable for beginners.
Account transfer
Blockchain.com's terms of service cover a streamlined process to transfer the account of a user that has passed away. They currently don't allow the naming of a beneficiary. However, the transfer process can be triggered via official documents such as a death certificate or autopsy report.
As grim as this topic may be, it's quite a unique and valuable feature, particularly given the amount of money in crypto.
How Easy Is It to Open a Blockchain.com Account?
Opening a Blockchain.com account is easy, and you can sign up for a personal account in a few minutes.
Go to https://exchange.blockchain.com/ on your preferred web browser and click the Sign-Up button at the top of the page.
Enter your country of residence, a valid email, and a strong password, and select Create Account.
If you already have a Blockchain.com wallet, you can connect your wallet to your exchange account at this step. You can easily transfer funds from your Blockchain.com wallet to your exchange account. If you don't have a Blockchain.com wallet, you'll be given the option to create one, but you can also create one later on.
You'll receive a prompt to verify your email address. If you are a US-based user, you will be prompted to enter personal information once you verify your account, granting you limited access. You can select Continue to Full Access if you want to increase your trading options and limits. 
Full access is a good option for investors looking to unlock features such as fiat currency deposits and increased withdrawal levels.
Users from other locations must complete full access identity verification.
How Secure Is Blockchain.com?
Blockchain.com offers industry-standard security features, including two-factor authentication (2FA), cold storage for 95% of crypto funds in their hold, and multi-signature validation at the company level.
Here are the most noteworthy security features of the platform:
Two-factor authentication

A unique 12-word backup phrase for each of your wallets

An extra four-digit pin or biometrics to access your account.
It's also worth noting that the platform received many complaints in the first half of 2021, primarily related to missing cryptocurrency and blocked account access. This may be a cause for concern for investors.
Please note that Blockchain.com Exchange wallet and Blockchain.com Wallet trading accounts are both custodial, meaning users don't hold their private keys to these accounts. On the other hand, Blockchain.com users hold the keys to their non-custodial wallet.
With the Blockchain.com non-custodial wallet, users control their private keys, and the company can't access your funds or private keys. However, there is a downside to web-hosted non-custodial wallets: since your private keys are hosted on your web browser and computer, hackers can steal your keys to drain your funds.
This is a common problem that has affected many Blockchain.com users. Blockchain.com used to allow people to store seed phrases for recovery wallets in their Blockchain.com accounts, which, once breached, can cost you your wallet. Other causes include malware, phishing scams, and viruses that breach your security.
The company doesn't accept responsibility for these attacks since it's the users' responsibility to secure their seed phrases, private keys, and passwords. Most new users don't understand this part of the deal.
Common wisdom on the internet suggests that users should hold their own private keys. There is a good reason for the practice: When exchanges with custodial wallets go bankrupt (like FTX) or are hacked, user funds can disappear overnight.
However, crypto companies often have better security than inexperienced users can afford, especially if they are using web-hosted or software wallets connected to the internet.
In other words, Blockchain.com exchange wallet, while custodial, can be a safer choice for most new users, especially if they aren't well-versed in computer and internet security.
Overall, it's not a good idea to store huge amounts of crypto in a hot (internet-connected) wallet like Blockchain.com wallet or Blockchain.com exchange wallet. 
Has Blockchain.com Ever Been Hacked?
The company claims that Blockchain.com hasn't been hacked since its inception.
However, some users have reported their funds being stolen from their accounts, but this might be due to user error. Many users complain customer service ignores reports of hacked accounts.
Hackers often target trading platforms and crypto wallets, so users must exercise caution. Exchanges often have purportedly robust security systems in place, but this doesn't completely rule out the possibility of a hack. If your computer is breached by malware, you can lose your assets.
If you're planning on joining Blockchain.com or already have, check out their article on the most common crypto scams.
Is Blockchain.com a Regulated Exchange?
Blockchain.com Exchange is registered as a money service business in several US states. The company is licensed in Europe and other locations.
Please note that independent auditors or regulators don't necessarily audit registered companies. 
How Does Blockchain.com Compare to Other Crypto Exchanges?
Blockchain.com can be compared to Coinbase as both platforms are considered beginner-friendly. You can also check out our Coinase review for more information.
Fees
Blockchain.com fees start at 0.40%. (makers) and 0.45% (takers). Coinbase fees are a tad more expensive and start at 0.40%. (makers) and 0.60% (takers).
Features
Both platforms offer a non-custodial wallet you can use separately from the exchange. While both platforms allow you to trade cryptocurrencies, Blockchain.com only offers around 40, while Coinbase supports up to 200 digital assets. 
However, most Coinbase features are only available to US-based customers.
Non-US-based users from eligible countries can margin trade on the Blockchain.com exchange, which can be a huge bonus for some.
Security
Please note that the public needs an official audit to know the state of customer funds. Neither company has offered a public audit yet.
Blockchain.com exchange hasn't reported a hack since its launch. Coinbase exchange has been hacked a handful of times since its launch and was hacked again in 2021 in an attack that cost the exchange 6000 BTC. 
It's a good idea to avoid having large sums of crypto in crypto exchanges or trading platforms. You may lose your crypto if the platform declares bankruptcy, becomes inaccessible, or freezes withdrawals.
Does Blockchain.com Have an App?
The Blockchain.com mobile app is available to download for free from the Google Play Store and the Apple Store for both iPhone and Android users.
The mobile app features a clean interface and carries over all the features you'd expect from the desktop version. It allows users to access their blockchain wallet on the go, seamlessly receive and send bitcoin via QR codes, and use biometrics to unlock their wallet.
Blockchain.com Review: Final Thoughts
Blockchain.com is a popular crypto wallet and exchange service provider that operates in several countries. It allows users to buy, store, and trade around 40 digital assets, including major coins like Bitcoin and Ethereum. 
The platform offers industry standard fees (0.40%-0.45% at the first tier), but there are many exchanges that offer even lower prices. The platform's popularity is mainly due to its easy-to-navigate and beginner-friendly interface. 
Blockchain.com has received many poor reviews, and many customers have reported stolen cryptocurrency from their accounts. The customer service is very slow and may not return to complaints for weeks or months.
If you liked our Blockchain.com review and you want to learn more about other cryptocurrency exchange platforms, check out our post on the Best 22 Crypto Exchanges.
Blockchain.com User Reviews
Review Summary
0 out of 5 stars (based on 0 reviews)
Recent Blockchain.com Reviews
There are no reviews yet. Be the first one to write one.
Submit a Blockchain.com Review