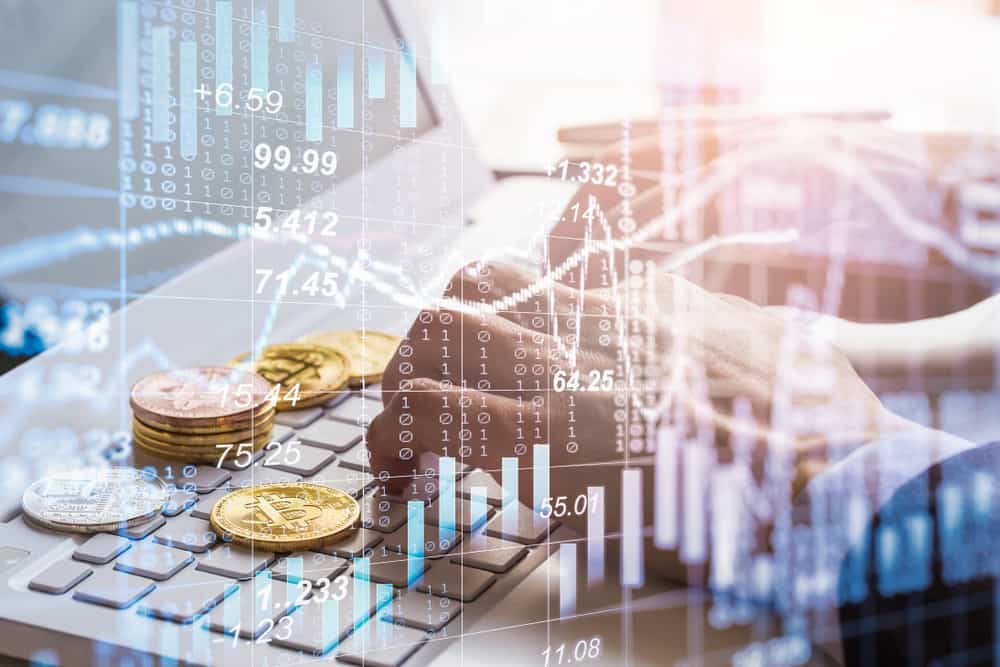 Binance is a household name when it comes to crypto exchanges, but there are many additional platforms that offer reliable services to crypto traders. Bittrex is a reputable exchange platform that supports numerous assets and essential trading features.
Let us jump into the Binance vs Bittrex review to see what these two platforms bring to the table regarding crypto trading and additional services.
About the Exchanges
Binance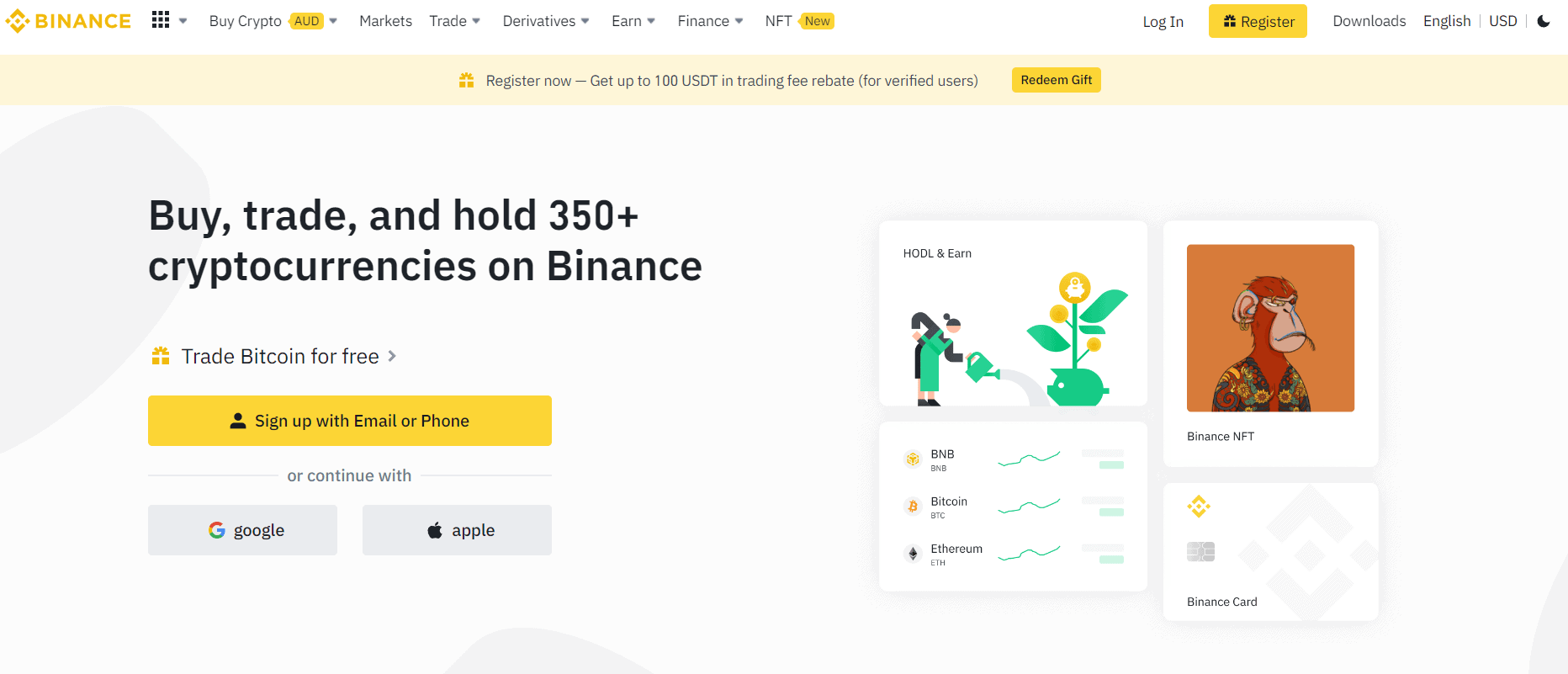 Binance is one of the first crypto trading platforms beginners hear about when they start exploring the crypto world because it's the largest one on the market. The platform has provided all types of traders with basic and advanced trading tools since 2017.
In less than three years, Binance became the market-leading exchange platform, and since 2020, none of its competitors have managed to reach its trading volume and market value even remotely.
You can find every type of crypto service on Binance. If you want to buy assets with a bank card, trade on a classic trading interface, borrow funds and engage in leveraged margin trading, Binance has you covered.
Also, if you're an NFT enthusiast looking for the newest Binance Chain or Ethereum-based NFT, you can make use of Binance's NFT market. On top of that, you'll even find some DeFi services such as yield-farming, staking, and crypto loans.
Bittrex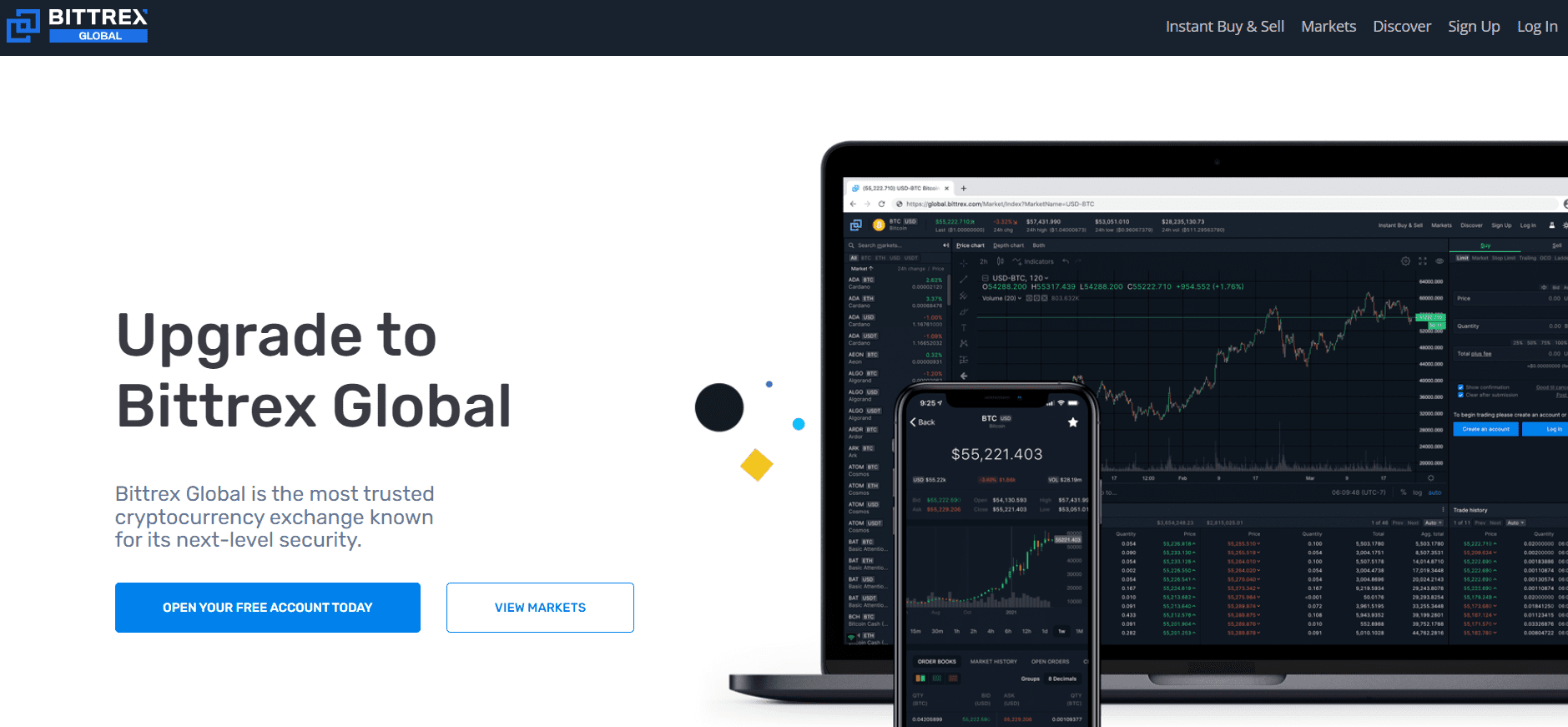 Bittrex is a US-based crypto trading platform that has been active since 2014. During the platform's early years, Bittrex only supported crypto-to-crypto trading, and users couldn't buy crypto with fiat currency.
However, the platform soon changed its operational mechanism. It began supporting fiat payment methods that allow users to deposit cash and spend it later on crypto or purchase digital currencies directly with fiat money. 
The platform is regulated and licensed to operate in most US states through the Bittrex US subsidiary. At the same time, users in other regions have access to the Bittrex Global version of the platform.
Depending on where you're accessing the platform from, the website will take you to the US or Global version of the exchange. In terms of services, Bittrex offers a classic crypto trading experience with instant buy/sell and spot trading features.
Pros and Cons
Binance Pros
Great platform for beginners and pro traders alike.

Leveraged margin trading and futures contracts.

Some of the lowest fees among crypto exchanges.

The Binance Visa debit card.

Hundreds of available coins and tokens (600+).
Binance Cons
Binance doesn't have any operating licenses from regulatory institutions.

The support service isn't very helpful.
Bittrex Pros
400+ cryptocurrencies.

Competitive fees.

The intuitive user interface is excellent for beginners.
Bittrex Cons
Support service needs to be improved.

Lack of advanced trading options.

No NFT marketplace.
Binance vs Bittrex: The Crypto Exchange Comparison
Opening an Account
On Binance, the procedure is as follows:
Navigate to the

platform's website

and start your account creation process. 

First, you need to decide whether to proceed with your Google account, Apple account, phone number, or email address.

Provide an account password and enter your referral code for a nice welcoming bonus.

Agree to Binance's terms of service and click on the

Create Personal Account

button.

Now that you have a Binance account, you need to activate it to start trading. Binance will send you an activation code to your phone number or email address. 

Enter the code on Binance during your account login procedure to activate the account. 
The initial account creation steps are similar on Bittrex:
Click on

Sign Up

to start creating a Bittrex account.

You'll be taken to the account creation screen, where you should choose the

Personal account

option.

Bittrex requires users to provide an email address for account activation purposes.

Next up are password creation and the optional referral code if you happen to have one. 

Select

Create Account

and enter the code Bittrex sent to your email address.

Now you need to fill your profile with various basic information. Once done, move on to the ID verification step, which is mandatory for Bittrex users because the platform complies with regulatory bodies in regions where it's available.

During ID verification, you'll have to choose a document based on your country of residence, such as a passport or ID card.

Now take a front and back photo of your ID document with your mobile phone or web camera.

The next step is a selfie photo. Old photos are not allowed, so you need to take a fresh image. That's why Bittrex needs access to your camera.

Once you're done with the photo, submit your data for verification. The platform will confirm your identity shortly, and you'll be ready to use all of its features.
Main Features
Binance caters to users of various needs and experience levels, from beginners to pro traders. You can invest in crypto through multiple options, such as instant, peer-to-peer (P2P), and spot trading.
Additionally, margin trading allows users to enter leveraged positions that multiply their gains (and losses). Traders can also bet on the price change direction of reputable cryptocurrencies using the Binance Futures option. 
Next up are Binance's DeFi features that allow users to engage in operations such as yield-farming and crypto staking and earn various rewards depending on the underlying cryptocurrencies.
Some staking/yield-farming rewards go as high as several tens of percent. Also, the platform allows users to borrow funds with crypto as collateral or earn interest on their own assets if they lend them to other users through Binance.
The exchange has a broad choice of NFTs on its marketplace, with a particular focus on Binance Chain-based collections. However, popular ERC-721 collections are also present on the platform. Finally, the Binance Visa card is the crypto-to-fiat gateway that lets you spend your Binance crypto balance anywhere merchants accept Visa payment cards.
While Binance is multifunctional and offers various additional features besides trading, Bittrex is a more traditional platform focusing on crypto trading services. You can buy, sell, and exchange crypto. That's it. If you're looking for a straightforward trading experience without any additional services, Bittrex is a great choice. 
The Instant Buy & Sell option lets you make quick purchases with a bank card or your USD/EUR balance. Also, you can conduct quick purchases with Tether (USDT) and USD Coin (USDC) stablecoins or sell your crypto with USDT and USDC as underlying currencies.
Also, Bittrex has a very straightforward spot trading interface where you can choose between hundreds of trading pairs. The interface has an order book, order menu, and a detailed price chart accompanied by various technical analysis tools to help you make informed trading moves.
Supported Cryptocurrencies
With more than 600 cryptocurrencies, Binance supports enough coins and tokens for most traders. This includes the leading crypto projects and a multitude of less popular altcoins. The only significant coins you won't find on Binance are the ones issued by competitor exchange platforms. 
These are some of the top coins available on the platform: Ethereum (ETH), Cardano (ADA), Stellar Lumens (XLM), Bitcoin (BTC), Bnb (BNB), Decentraland (MANA), Band Protocol (BAND), Gala Games (GALA), Ethereum Classic (ETC), Ripple (XRP), Fantom (FTM), Binance USD (BUSD).
Bittrex has a more limited selection of digital currencies at around 400+ projects, which is still quite an impressive selection of cryptos. You can trade most of the trending coins, including BTC, ETH, 1Inch (1INCH), Aave (AAVE), Avalanche (AVAX), Polygon (MATIC), Algorand (ALGO), ApeCoin (APE), Basic Attention Token (BAT), and more than 400 additional projects.
Payment Methods
The Binance crypto exchange goes to a great extent to provide users around the world with convenient payment methods. While instant trading supports bank cards, account funding is done through bank account transfers, Google Pay, and Apple Pay.
However, the P2P trading service allows users to pay for crypto with more than 100 payment service providers. Some of these services are global companies like Banxa and Simplex, while others are locally popular payment methods such as POLi and OSKO in Australia.
Bittrex users have far fewer payment options at their disposal. Users can purchase crypto with bank cards or fund their accounts through a bank transfer or wire transfer. These payment methods are standard for most popular fiat-friendly platforms.
Trading Fees and Limits
The Binance fee structure allows users to trade up to one million USD of assets on a monthly basis while incurring a modest 0.1% fee. Moreover, the fees are even lower for investors with multi-billion dollar trading appetites.
Also, holding BNB coins in your account can decrease your expenses by another 25%. For example, the average user with a monthly volume of less than one million USD needs to hold at least one BNB coin in their account to receive the 25% fee discount. 
Bittrex has relatively affordable fees, but its fee structure is divided into tiers for trading volumes between 0 and100+ million USD per month. That's because Bittrex doesn't have the multi-billion dollar trading volumes of Binance.
The Bittrex trading fees for traders with a monthly volume below 25,000 USD are 0.35%. Progressively, the costs decrease with the increase in a user's trading volume.
For example, users with a trading volume between 100,000 USD and one million USD pay a 0.1% maker and 0.2% taker fee. However, lower-tier traders incur much higher fees compared to Binance.
How Safe Are Binance and Bittrex?
Binance and Bittrex use similar security features, which are pretty common among crypto trading platforms. This includes passwords, SSL encryption of platform data, as well as two-factor authentication (2FA). Additionally, both exchanges keep most of the user funds in cold wallets offline. 
Binance didn't have any direct hacks, but the company's Binance Chain had a huge security breach in 2022. However, the platform itself wasn't affected by the hack. On the other hand, Bittrex has had no hacks since its launch.
The main security difference between these two platforms is their regulatory status. While Binance isn't regulated and doesn't have operating licenses, Bittrex is a strictly regulated platform that follows crypto regulations and is licensed to provide money services in numerous global regions, including 46 US states.
Customer Support
Binance's customer support service is one of the platform's rare drawbacks, but that's the case with numerous popular exchanges. You can contact support directly via email or the Binance website to file a support ticket. However, the support team members often don't respond for days, which can be annoying.
With Bittrex, the situation is almost the same, except that the platform uses email and chatbot options for customer support. The chatbot is somewhat helpful for basic issues, but it isn't beneficial for complex questions regarding user accounts. 
Mobile Trading
Regarding mobile trading, Binance provides one of the smoothest mobile crypto experiences among leading exchange platforms. It doesn't matter whether you want to quickly buy some crypto, sell an NFT, or stake assets, the app has you covered. Also, it's effortless to use and has an intuitive interface.
The Bittrex mobile experience is also enjoyable, the app has an overall positive rating by users. Since Bittrex doesn't have any features besides instant and spot trading, the app is very practical because you can literally do two trading operations with it.
How Do Binance and Bittrex Compare to Other Crypto Exchanges
Binance and Bittrex have some significant differences between each other when we analyze the features they offer, but how do they compare against other leading exchanges?
In the case of Binance, we'll check out how it compares with KuCoin, one of the top exchanges by trading volume. KuCoin is very similar to Binance because of all the platform's features. The exchange supports more than 300 cryptos and has low fees and many trading options, from instant to spot and margin trading.
Essentially, Binance's critical advantages over KuCoin are the somewhat more extensive crypto selection (600+) and the fact that Binance wasn't hacked. KuCoin, on the other hand, had a 150 million USD hack, which is very alarming and doesn't paint a positive picture regarding the platform's security. 
Bittrex is similar to Gemini because both platforms offer instant and spot trading services. However, instant trading fees on Gemini are high, but the Active Trader fees for the Gemini spot trading interface are similar to the Bittrex fees.
The main issue with Gemini is that the platform only supports 100+ cryptos, which is way less than Bittrex (400+). Still, it's worth noting that Gemini has considerably higher liquidity levels than Bittrex.
Conclusion
When we look at Bittrex and analyze the platform's trading features, the exchange really offers ideal trading options for both beginners and experienced traders used to spot trading. However, these are the only key features of the platform. 
Binance, on the other hand, goes above and beyond to provide users with every possible type of crypto trading feature, from instant and spot trading to margin and derivatives trading. Furthermore, Binance provides users with additional features like NFTs, futures contracts, staking, etc. Because of this multitude of additional options, Binance is a better overall choice than Bittrex.