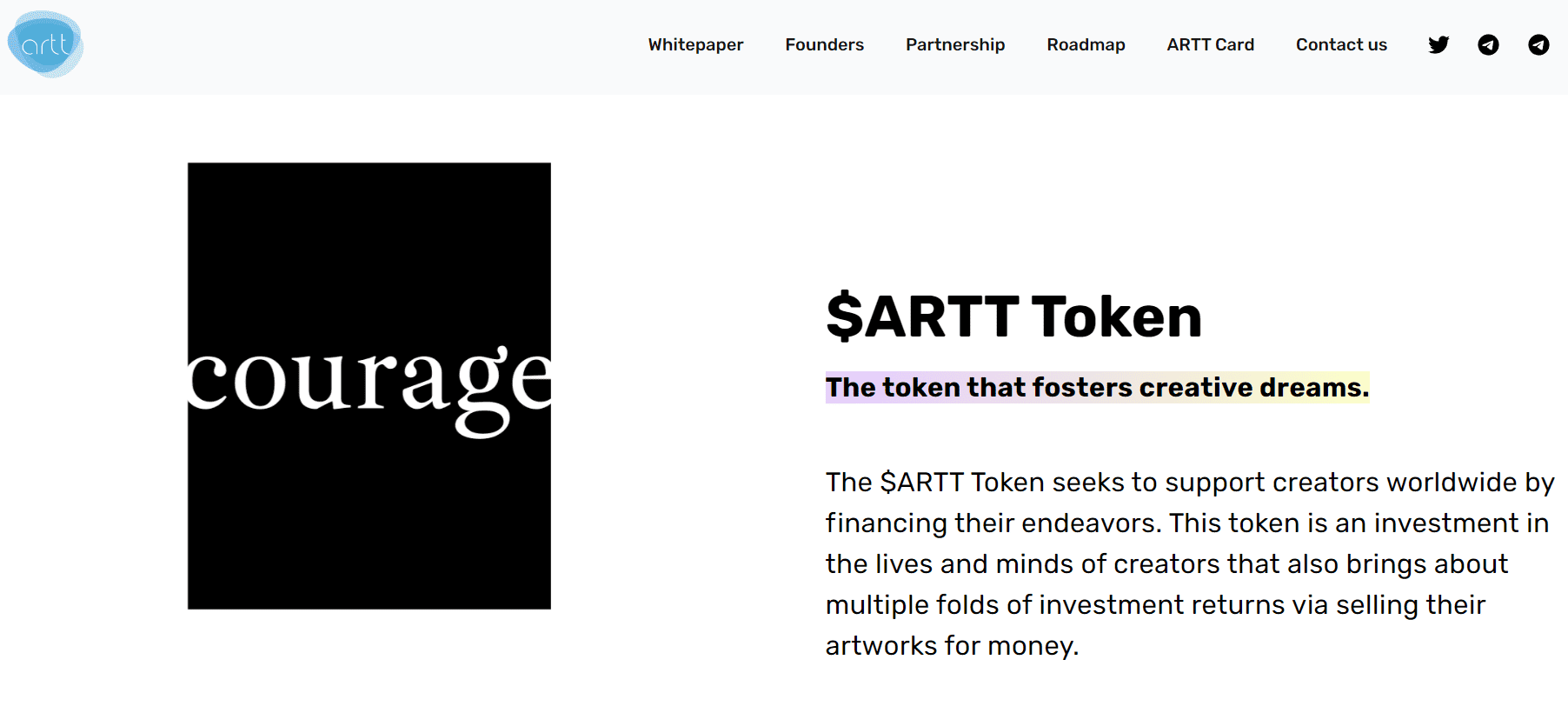 The ARTT Network (ARTT) token demonstrates how independent artists can benefit from blockchain technology by getting scholarships and investment funds for their artistic projects. 
This ARTT Network review will showcase all the features of this new art-focused crypto token.
How ARTT Network (ARTT) Works
The core idea behind the ARTT token is to help upcoming independent artists create authentic artwork and get paid for their products. The ARTT Network relies on the Binance Smart Chain (BSC) to facilitate blockchain transactions of ARTT tokens between different stakeholders of the digital art ecosystem. 
The ARTT Network platform is founded by blockchain enthusiasts who believe that digital artists can benefit from cryptocurrency and make their artwork more accessible by tokenizing it in the form of NFTs. With the platform's help, artists can get scholarships, raise funds from art investors to create art pieces and get paid in ARTT tokens. 
The developers promise to launch the ARTT Network during the second quarter of 2023.
After the launch, the ARTT Network will work as a blockchain-based hub for digital artists, connecting artists with investors looking to finance their work or simply buy their art. Instead of searching for fundraising options online, artists can showcase their projects on ARTT Network, while potential investors can browse artists seeking funds or scholarships. 
The artists will be able to tokenize their art and sell it as NFTs on the ARTT Network virtual marketplace, which will be a key element of the platform. Also, the use of blockchain technology is crucial in assuring investors that their funds are used for the projects they decide to support. Every ARTT transaction is visible on the blockchain, and investors can check where their funds are headed. 
The ARTT Network will charge a small fee for all transactions facilitated through the platform, but these fees will be modest compared to the fact that artists can connect easily with investors. 
Since the Binance Smart Chain is based on a Proof-of-Stake (PoS) mechanism for approving transactions, users can validate ARTT transactions and earn ARTT token rewards in return. 
What Is ARTT Network (ARTT) Used For?
ARTT is a high-utility token built to allow ARTT Network users to reap various benefits.
Primarily, ARTT tokens are a tool for financing young, independent digital artists. By applying for a scholarship on the ARTT Network platform, creators get to show their art and attract investors willing to fund their dream. Once a creator connects to an interested investor, the investor can facilitate an ARTT payment to the artist through the platform.
Since the ARTT Network platform will have an NFT marketplace section, artists can sell their creations on the platform. However, unlike most NFT markets that use Ethereum (ETH), BNB (BNB), or other top cryptos, users can buy and sell art with ARTT tokens.
This way, the ARTT token will attract a larger audience because users would need ARTT to purchase NFTs on the platform. Also, creators will receive ARTT token royalties every time their artwork gets resold to another buyer. 
After the launch, ARTT Network will shift to a decentralized autonomous organization (DAO) governance model, allowing ARTT token users to govern the whole platform. ARTT holders will be able to suggest changes and updates for the platform, along with suggestions for partnerships and new development ideas. 
ARTT tokens are PoS-based, and users can earn massive staking rewards when this feature goes live. According to the developer team, the fixed staking reward rate will be 30% annually. This is a very high reward rate that might attract a considerable number of users to the platform, but it might not be sustainable in the long run. 
Finally, the ARTT Network will launch the ARTT crypto debit card, enabling artists to spend their ARTT tokens at any retail spot that accepts payment cards. This is especially important for artists who need to purchase equipment or other assets to create their artwork. 
Where to Buy ARTT Network (ARTT)?
ARTT is available on one decentralized and one centralized crypto exchange for now. 
Users who prefer to purchase crypto with fiat currency can create an account on BitForex and deposit some USD. Afterward, traders can buy Tether (USDT), Bitcoin (BTC), or ETH on BitForex and exchange it for ARTT tokens.
Users who already have some crypto can just connect their wallet app to the PancakeSwap decentralized trading platform and purchase ARTT with Wrapped BNB (WBNB). It's important to emphasize that traders need to exchange some crypto for BNB and then trade it for WBNB before buying ARTT. This means that the process is a bit more complicated than just depositing some cash on BitForex. 
How Long Has ARTT Network (ARTT) Been Around? 
The ARTT Network developer team launched the official ARTT website in early 2023, along with their marketing campaign for attracting platform partners and investors. The ARTT token's launch followed a bit later, in early May 2023. 
What's Controversial About ARTT Network (ARTT)?
The ARTT Network's idea can be highly beneficial to art creators looking to raise funds for their new project and sell their artwork online. Instead of just offering an NFT marketplace, the ARTT Network also offers fundraising features to creators. 
However, the platform heavily depends on successful marketing because there are a lot of popular NFT marketplaces that also offer NFT launchpad services where artists can apply to raise funds for their projects. Because of this, the new ARTT Network platform will have major difficulties in attracting users unless it offers something that isn't available on competitor platforms. 
For example, the ARTT debit card and the 30% staking rewards can be highly attractive ARTT Network benefits, but it remains to be seen whether these aspects of the platform will truly work. 
How Many ARTT Network Coins Are There?
There are 812 million ARTT tokens currently in circulation, while the maximum supply is two billion ARTT. Around 41% of the total supply is allocated for different causes and is subject to linear vesting periods between four weeks and 48 months, depending on the token allocation purpose.
A small portion of 0.5% of the tokens was allocated to the BitForex exchange liquidity, while 15% went to the ARTT Network DAO treasury. The team reserved 10% of the tokens for ARTT scholarships and another 10% for staking rewards.
A tiny portion of five percent went to the team for development incentives, and the remaining tokens are split between the ARTT Network project launchpad and the private token sale.
The remaining 59% of ARTT tokens are the project's long-term reserve. It isn't clear what this reserve will be used for, but it will probably be connected with additional staking rewards, scholarships, and project development.
Can ARTT Be Mined?
ARTT token holders will be eligible for staking ARTT and earning a 30% annual percentage yield on their holdings once the platform launches the staking feature. This is the only way to unlock new ARTT tokens, which are part of the pre-mined token supply but aren't released on the market.
Market Cap and Price History of ARTT Network (ARTT)
The ARTT Network market capitalization is sitting at around 18 million USD, with the token's price going between 0.022 and 0.036 USD per token.
Biggest Competitors of ARTT Network (ARTT)
ARTT Network's competition is mainly crypto tokens of reputable NFT marketplaces such as LooksRare (LOOKS), Rarible (RARI), and Super Rare (RARE). These marketplaces have their own crypto tokens, which artists and investors can use to trade NFTs and earn staking rewards. 
However, these projects don't have payment cards, and their fundraising features are also quite limited. While these competitor tokens are far more valuable than ARTT in terms of market cap, the project might be able to compete with them if the developers deliver the fundraising features and the payment card option. 
What Does the ARTT Network (ARTT) Project Road Map Look Like?
Crypto enthusiasts can expect the launch of the ARTT Network platform during the second quarter of 2023, along with the ARTT Network DAO governance structure. Simultaneously, the developer will launch a full-scale marketing campaign to attract partners.
Pros and Cons of ARTT Network (ARTT)
Pros
Creators and investors will be able to trade NFT with ARTT tokens as payment on the ARTT Network marketplace

The 30% ARTT staking reward is extremely high

ARTT token holders will be able to participate in decision-making in the ARTT Network DAO

The ARTT payment card will allow users to spend ARTT tokens like fiat currency
Cons
None of the ARTT token key features are available for now

The 30% ARTT staking reward might be hard to sustain by the platform