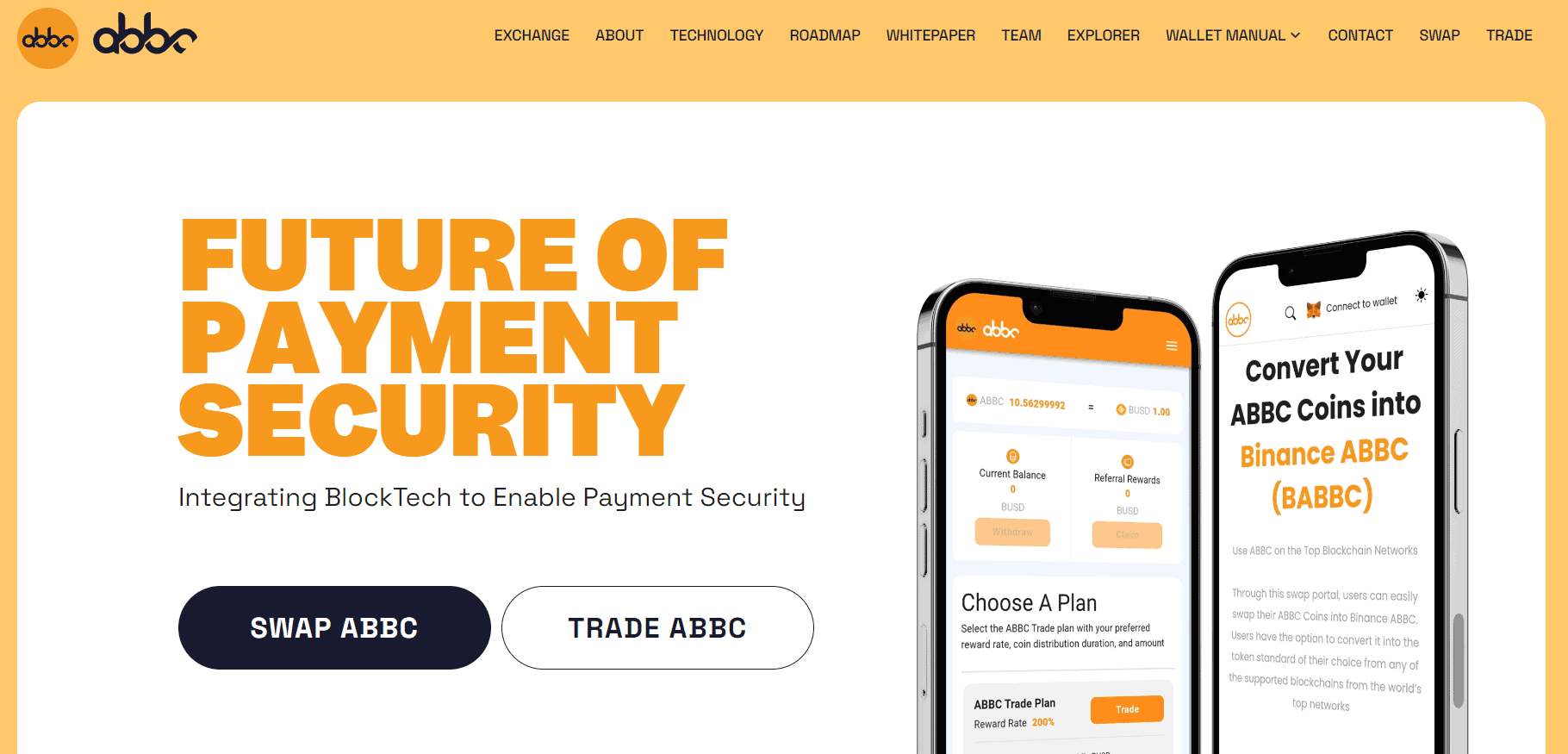 ABBC Coin is a highly-versatile cryptocurrency that offers users quick access to DeFi services and possibilities, such as crypto swapping, trading, storing assets, and conducting quick payments through the blockchain.
Let's see what ABBC Coin is all about. 
How ABBC Coin (ABBC) Works
The ABBC Coin project aims to cover a wide range of essential DeFi features that enable users to conduct financial operations with crypto instead of fiat currency.
The developer team sees ABBC Coin as the future of payment security. To achieve this, the developers decided to build ABBC Coin's blockchain on the EOSIO blockchain programming framework used by the Eos (EOS) crypto project. 
One of the key reasons for choosing the EOSIO network architecture is that it allows developers to create custom blockchains according to the specifications of their projects and take advantage of the massive 10,000 transactions per second throughput. Additionally, each transaction takes a maximum of 30 milliseconds to process through the blockchain.
These characteristics allow ABBC Coin to become a highly-scalable crypto fit for mass adoption. Also, ABBC Coin uses the EOS Delegated Proof-of-Stake (DPoS) blockchain consensus mechanism, which is more reliable and faster than standard PoS blockchains.
The ABBC Coin DPoS mechanism uses network nodes with a stake of ABBC coins to process transactions. However, the delegation mechanism tends to choose more trustworthy nodes with a reliable history, thus speeding up the approval process. 
ABBC Coin is available as a cross-chain asset on various blockchains thanks to the versatile EOSIO framework, which makes it easy to adapt specific cryptos to different blockchain standards. You can use ABBC on the Ethereum (ETH), Fantom (FTM), Avalanche (AVAX), Binance Chain (BNB Chain), and Polygon (MATIC) networks. 
The main model for ABBC Coin's expansion is through ecosystem growth and new partnerships, which allow users to make payments on e-commerce platforms and DeFi protocols that enable them to swap and trade ABBC. 
What Is ABBC Coin (ABBC) Used For?
ABBC Coin is best used with its native Aladdin crypto wallet that also acts as a payment app for conducting transfers on ABBC Coin partner websites. This is one of the key benefits of using ABBC. Of course, users can store their ABBC in other compatible wallets, but with Aladdin, they'll unlock their full potential.
For example, some partners that accept ABBC payments are Overstock and Buyaladdin, which have a wide range of products and brands for sale with ABBC Coin compatibility. Users can make an order on these websites and pay with ABBC through their Aladdin wallets.
Also, ABBC is a practical cryptocurrency for exchanging assets between different blockchains because you can hold ABBC on various blockchains. The swap section of the Aladdin wallet lets users quickly convert ABBC between different networks and other digital currencies. Additionally, ABBC has numerous partnerships with reputable crypto exchanges, meaning that you can easily find trading platforms with high liquidity for trading ABBC.
Furthermore, users can earn rewards for helping operate the ABBC network through crypto staking on existing network nodes, or they can opt to create their own staking nodes.
Where to Buy ABBC Coin (ABBC)?
More than 20 cryptocurrency exchange platforms allow traders to invest in ABBC. You can use KuCoin, HotBit, MEXC, Huobi Global, and a bunch of additional centralized exchanges to purchase ABBC with stablecoins like Tether (USDT). All you need to do is create and fund your platform account with money or directly purchase USDT before trading it for ABBC.
Also, various decentralized exchanges (DEX) support ABBC across different blockchains. For example, PangolinSwap is based on Avalanche, SpookySwap is based on Fantom, and SushiSwap is based on the Ethereum blockchain. 
How Long Has ABBC Coin (ABBC) Been Around? 
ABBC has been active for quite some time. In fact, the project's development goes back to 2016, when the developer team started working on the concept of a fast crypto network for facilitating payments and cross-chain swaps.
ABBC's launch finally happened in 2017, when it started as an ERC-20 token, but it eventually moved to its own blockchain built with the EOSIO programming kit. 
What's Controversial About ABBC Coin (ABBC)?
ABBC aspires, just like many other crypto projects, to become a go-to solution for making payments, shopping, and trading assets. The project didn't secure a prominent market position since its launch in 2017 and has stagnated at a similar trading level and market cap in the last few years. 
Although ABBC has some useful and practical features, such as shopping at more than 50 companies and easily swapping assets between blockchains, it hasn't shown signs of any significant growth potential in the last couple of years.
Without some substantial innovations and project updates, it's hardly possible for ABBC to increase in value and climb upward on the global crypto market. 
How Many ABBC Coins Are There?
ABBC has a supply limit of 1.5 billion coins, and around 75% of this amount is already on the market. ABBC has a gradual market release mechanism that produces new coins through the ABBC validation mechanism, which rewards users with staking rewards. These staking rewards are actually new ABBC coins. 
Can ABBC Be Mined?
ABBC uses the EOSIO Delegated Proof-of-Stake consensus mechanism, which makes it impossible to mine ABBC. The staking process is the only way to release new coins on the market, and users can participate in the process by delegating their ABBC to an active network node or by operating a node themselves. 
Market Cap and Price History of ABBC Coin (ABBC)
ABBC has a rather unique price history because the price at which the coin started trading was its all-time high of 1.27 USD. Since then, ABBC's value has fallen considerably to an all-time low of 0.04 USD. 
The coin had two price spikes during the 2021 bull market when it reached the 0.6 to 0.75 USD price range, but since then, it has been confined to the much lower 0.25 USD to 0.04 USD range. 
As for the market cap of ABBC, it's 87 million USD, according to available data.
Biggest Competitors of ABBC Coin (ABBC)
Among cryptocurrencies with a focus on fast payments and digital cash functionalities, there are a bunch of projects with a much higher adoption rate than ABBC.
For example, Ripple (XRP) is among the top 10 cryptos on the market, and its key function is facilitating fast payments. Not to mention projects like Litecoin (LTC) and Bitcoin Cash (BCH), which are geared toward retail payment adoption and are accepted by thousands of companies worldwide. 
What Does the ABBC Coin (ABBC) Project Road Map Look Like?
Navigating to the Roadmap section of the ABBC website shows a detailed development roadmap up until the end of 2022. For now, there aren't any publicly announced development plans for 2023.
Pros and Cons of ABBC Coin (ABBC)
Pros
ABBC is cross-chain compatible and available on various popular networks.

Users can spend ABBC coins at more than 50 businesses on products and services.
Cons
ABBC has had a relatively poor market performance for years and isn't showing any signs that it can improve its market position.