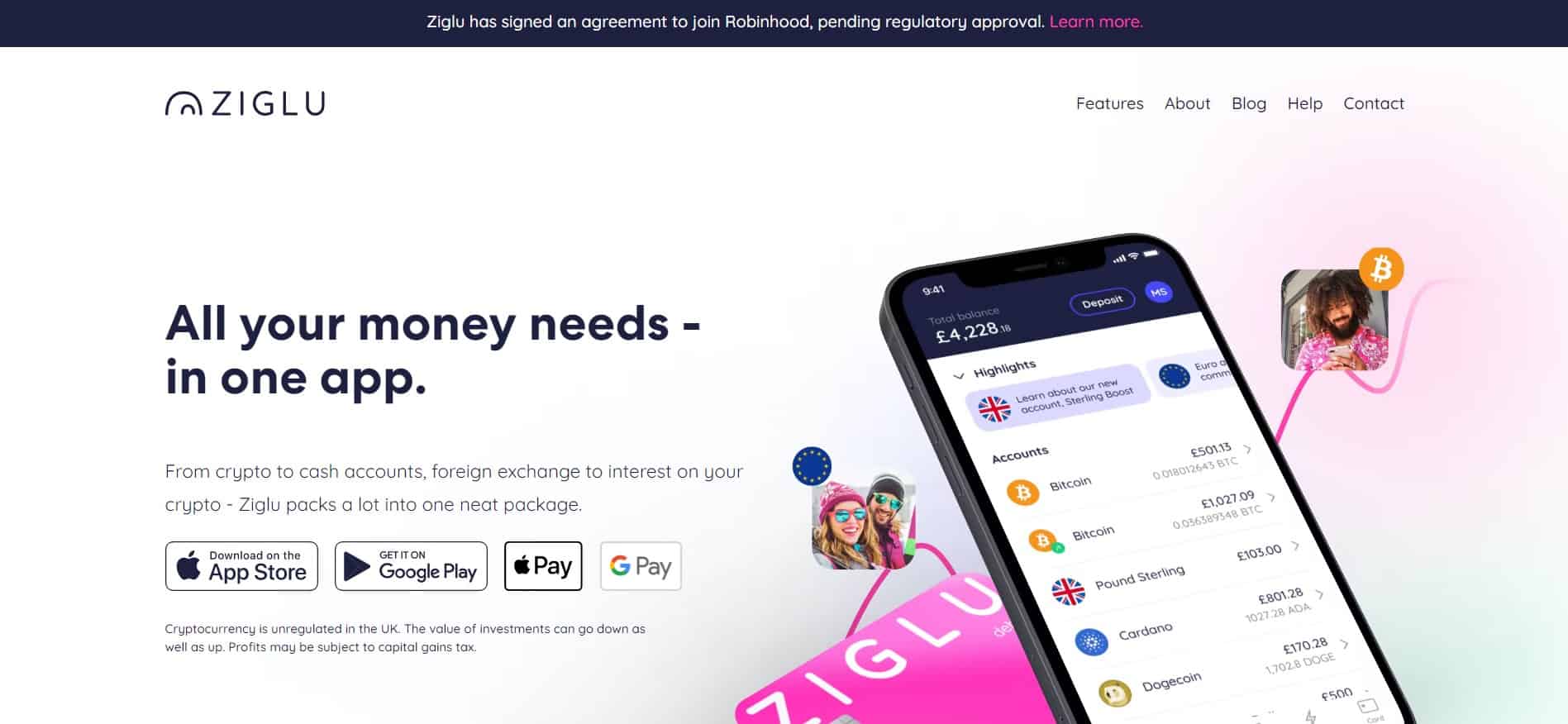 Ziglu, headquartered in the United Kingdom, is a cryptocurrency trading app designed with newbies in mind. It allows users to store and exchange both fiat and cryptocurrency through their mobile app. 
What's more, Ziglu offers its customers the chance to make a profit through its Boost accounts for a single exchange fee, with no additional spreads or margins. Its fancy pink debit card, which emits a glow in the dark, stands out as a novel option for accessing cryptocurrency holdings. 
Read our Ziglu review to learn about this beginner-friendly crypto app.
What Is Ziglu?
The finance arena may seem perplexing, especially in light of the recent proliferation of challenger banks, fintech companies, and other financial alternatives. One of the most significant differences between a bank and an EMI (an electronic money institution), such as Ziglu, is that banks are allowed to receive deposits from their customers, give loans, and collect interest upon those funds. Ziglu, however, is not permitted to engage in any of these activities.
What Ziglu can do is provide you with a digital account that has many familiar bank account features, such as making money transfers or using a debit card. Nevertheless, Ziglu is unable to lend you money or accrue interest on funds that are already in your possession simply because it's not a bank.
As an EMI, Ziglu can act more like a tech company. This lets its developers focus on improving its products and services, with the main goal of making a multi-currency app that is easy to use, safe, and meets the needs of traders. 
Ziglu Review: Features
First-time users will like the clean interface and straightforward pricing structure of the Ziglu app. You also have the opportunity to try crypto banking thanks to features like the Ziglu debit card and Ziglu Boost accounts.
Ziglu Debit Card
The Ziglu debit card is ideal for making purchases abroad due to its favorable conversion rates and lack of associated costs.
The pink Ziglu debit card that glows in the dark is loaded with a plethora of security features and can be used anywhere they accept Mastercard® payments. Ziglu will give you the very best conversion rate available at the moment and won't charge you a fee if you use your card while traveling outside the country. 
You can choose to pay in GBP or EUR when in Europe, so choose the currency of the country you are in. This ensures you get the best possible conversion rate.
When paying with pounds (GBP) instead of the local currency, the connected bank takes care of the estimation, also known as the dynamic currency exchange. Please note that choosing a foreign currency means you might have to pay a higher rate. 
You also have complete command over your Ziglu card and get a notification for every purchase made with the card. Additionally, you can block your card to prevent someone else from using it for gambling or e-shopping. In the event that you misplace your card, you can deactivate it with only one tap.
Last but not least, you can use the card to send cash or cryptocurrency to friends and family members instantaneously and without any extra cost. You can make a payment in the sterling pound or one of Ziglu's other supported cryptocurrencies to split a bill with your friends or send someone a present. Indeed, the Ziglu pink card opens up a world of possibilities for you to explore.
Ziglu Boost Accounts
Need a hassle-free way to increase your Ziglu holdings' yield to 5%? Ziglu's Boost accounts provide you with a return that is advantageous in comparison with some of the savings rates that are currently available on the market. These Ziglu investing accounts also provide you with immediate access to your funds at no additional cost and without incurring any penalties. 
There are two types of Ziglu Boost accounts: 
Stablecoin Boost

accounts (GBP, USD, EUR); 

Crypto Boost

accounts. 
Here's how they function. 
Stablecoin Boost Accounts
Investors looking to gain exposure to stablecoins can do so through Ziglu's stablecoin Boost accounts. Stablecoins are a type of crypto whose value is fixed to another asset, such as fiat money or commodities.
When you transfer money from your Ziglu sterling cash account into your Sterling Boost account, you are essentially exchanging your pounds sterling for a stable cryptocurrency. The platform provides you with the current exchange rate and locks that rate for the duration of the conversion. 
Also, your Stablecoin Boost balance will increase or decrease in value in accordance with the market price of the underlying stablecoin. 
Ziglu will then borrow your stablecoin. Prominent lending platforms lend these funds to institutional investors through Ziglu. Lending your stablecoins earns a return that Ziglu subsequently transfers to you every Saturday morning as interest.
Crypto Boost Accounts
So, let's say you decide to sign up for Bitcoin Boost. Bitcoins held in a Bitcoin Boost account are worth the same as bitcoins held in any other Bitcoin wallet, fluctuating up and down in value in line with the asset's market price.
Whenever you fund your Ziglu Bitcoin Boost account, you are effectively lending that money to Ziglu in exchange for a loan of bitcoins. Zigly collaborates with top lending platforms, who then lend the bitcoins to other parties, typically institutions.
When you lend your bitcoins out, you receive interest distributed to you via Ziglu in BTC. The system updates your interest balance every second, so you'll always have the most current information on your earnings.
How to Register With Ziglu Crypto App?
The minimum age to open a Ziglu account is 18, and UK residency is mandatory. Besides a government-issued picture ID, you'll also need a smartphone running either Android or iOS.
The following forms of photographic identification are accepted at Ziglu: passports, full driving licenses, residency permits, and national identity cards.
The registration of a Ziglu account is a straightforward process that can be finished very quickly. Everything is handled through the mobile app that Ziglu offers; all you need to do is supply your personal information and respond to some prompts concerning the reasons you are interested in using the platform.
Fees
Even if you switch exchanges, you will never be in the dark about the costs that you are obligated to pay when using this platform because Ziglu does not employ any hidden spreads or margins. This comes at the expense of having a limited selection of currencies available for investment and a somewhat complex set of features.
The fact that you can buy as little as one pound's worth of any cryptocurrency makes it very easy to try out the waters of the crypto market. Ziglu's currency conversion cost is 1.25% of the amount converted, with no minimum or maximum. As little and as simple as that.
Security
If you've never bought or sold cryptocurrency before and are interested in finding out more, Ziglu can serve as a trustworthy starting point. It was one of the first exchanges to register with the Financial Conduct Authority (FCA). Thus, its digital banking services are fully compliant with all applicable laws and regulations.
At this point, it's important to keep in mind that the FCA does not regulate virtual currencies. Because of this, customers who have accounts with Ziglu cannot depend on the Financial Services Compensation Scheme (FSCS), a government-run insurance program that would normally compensate customers if a financial services company went bankrupt, or the Financial Ombudsman Service in the event of a dispute. 
Put simply, once your money is converted to a stablecoin or crypto through Ziglu, it is no longer protected in the same way as fiat currency is.
Ziglu Pros and Cons
Pros
An FCA-registered crypto trading platform;

Trading costs are fully disclosed, including any applicable spreads or margins;

There are no transaction fees incurred when making a deposit or withdrawal;

Boost account offers the chance to earn a stablecoin or Bitcoin yield.
Cons
Cryptocurrency investment options are somewhat restricted;

You can't use a third-party wallet to store crypto bought through Ziglu.