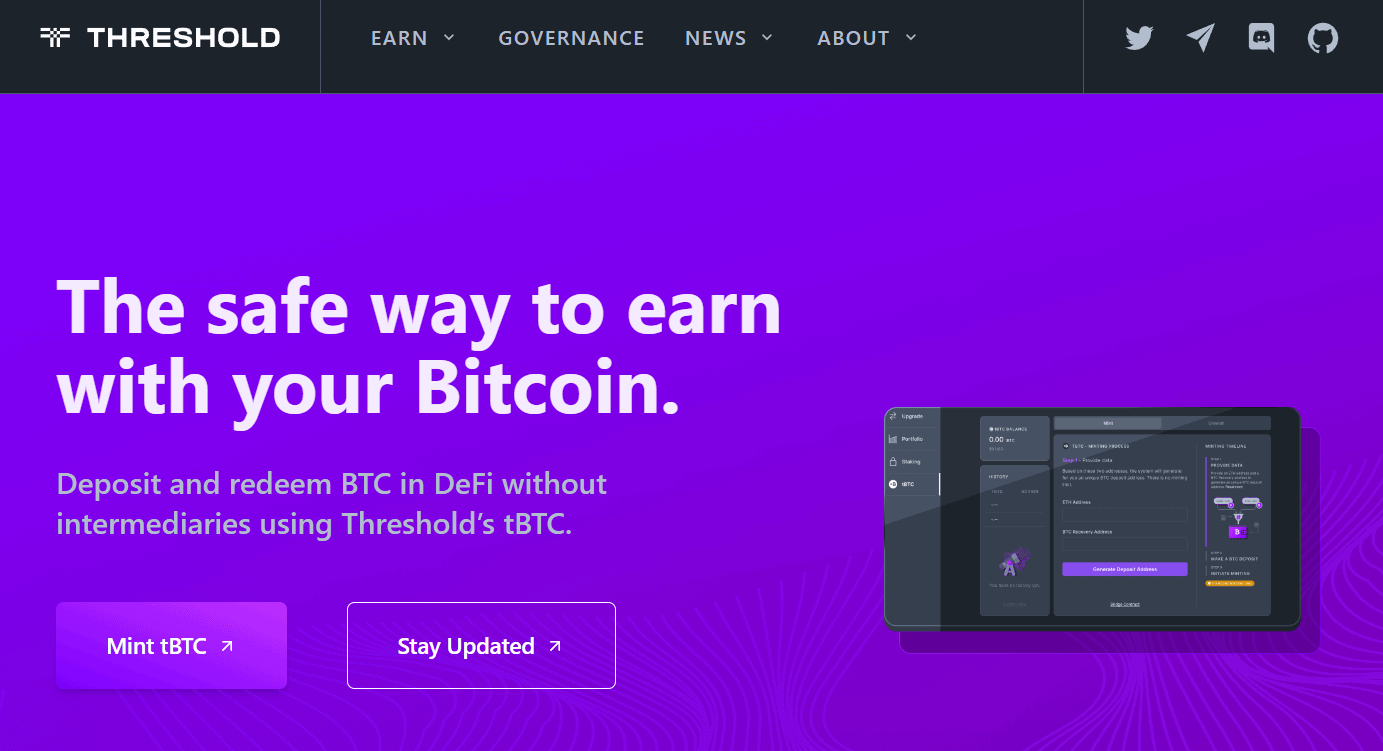 Threshold (T) provides users with a suite of cryptographic features and various DeFi services like crypto staking, bridging, and liquidity, with the T token at the center of the Threshold ecosystem. 
In this coin review, we'll find out how Threshold works and what are its key benefits for users. 
How Threshold (T) Works
Threshold uses Ethereum (ETH) as its native blockchain, which means that T is an ERC-20 token. However, the Threshold ecosystem is fully autonomous and has an internal operating mechanism independent of Ethereum. It only uses Ethereum as the chain on which it hosts the Threshold network.
Threshold is the product of a major crypto merger between two crypto projects, Keep and NuCypher, whose communities agreed to create the Threshold network in mid-2021. The merger aimed to launch a decentralized crypto network that provides super-secure transactions and various practical staking and liquidity-providing features. 
The Threshold token's key security features are its proxy re-encryption, distributed key generation, and threshold signatures. Proxy re-encryption lets users decrypt messages or transactions they received and then forward them to third parties without revealing their own public addresses. This measure is great for retaining privacy when sending crypto.
Distributed key generation is valuable for managing crypto treasuries or company crypto vaults. This feature lets users create private keys distributed to several parties in pieces. They only get access to the funds in the treasury once all parties have submitted their key elements. 
Threshold signatures, also referred to as Threshold Signature Scheme (TSS), represent a cryptographic protocol used to facilitate secure multi-signature key generating and signing procedures.
Besides the robust security features, Threshold's main product is tokenized Bitcoin (tBTC), which uses the T token's security features. tBTC is basically Threshold's version of Bitcoin, which mimics the price of classic BTC, but it has all the security benefits of the Threshold network.
The token is permissionless, and there's no custodian. Users can tokenize their BTC and maintain full custody of it while using it in different DeFi protocols for staking, as collateral, or for yield-farming. 
When you convert BTC to tBTC, you're bringing Bitcoin into the Ethereum network, but in a more secure way compared to Wrapped Bitcoin (WBTC), which is the more common version of BTC on Ethereum.
What Is Threshold (T) Used For?
The Threshold token is incredibly versatile because it allows users to perform numerous beneficial operations. Firstly, users get access to more secure transactions than most popular cryptocurrencies. 
As far as crypto storage is concerned, users can store T tokens and tBTC using Threshold's multi-sig key generation feature and create project treasuries or company crypto funds that require multiple parties for managing.
This means that the crypto secured by Threshold's TSS protocol is safer than assets that use a single private key for access. Instead, Threshold users can choose to create multi-sig storage entities.
One of the most attractive use cases of T tokens is staking. Anyone can start staking T on the Threshold official platform and earn staking rewards for contributing to the Threshold Network.
When staking T, you're participating in the account verification process and earning rewards from a portion of the network's fees. Also, users can convert KEEP or NU tokens to T tokens in the platform's staking section. 
The next use case of T is liquidity providing. Users can deposit their T tokens in liquidity pools to provide platform liquidity for DeFi protocols that use T. For now, users can deposit their T tokens in the T + ETH liquidity pools on Curve Finance and Balancer. 
Also, T holders can participate in the governance of the Threshold DAO and vote on various propositions regarding the platform's future. Threshold itself is a result of successful community governance, which led to the community vote on merging Keep and NuCypher into Threshold. 
Where to Buy Threshold (T)?
More than 30 popular crypto exchanges and several DeFi protocols support Threshold trading.
If you want to purchase T with fiat currency, you can use a platform like Binance, Gate.io, or Coinbase. Just create a personal user account and either make a purchase with a bank card or make a deposit to your account with a bank transfer. 
The second option is to buy Threshold on a decentralized exchange (DEX), like UniSwap, Curve Finance, or Balancer. However, you can't purchase T with cash on DEX platforms. You need to connect a crypto wallet to one of these exchanges and exchange some assets for T. Curve Finance, and Balancer will let you trade some Wrapped Ethereum (WETH) for T, while UniSwap lets users trade Dai (DAI) stablecoins or KEEP tokens for T.
How Long Has Threshold (T) Been Around? 
Threshold is the result of the merger of KEEP and NuCypher. The initial community proposal of the merger happened in January 2021, while the vote itself and the creation of Threshold happened in June 2021. 
Threshold managed to amass nearly 150 million USD worth of crypto in its treasury in less than two years and become a reputable project close to the top 100 cryptos by CoinMarketCap.
What's Controversial About Threshold (T)?
Threshold is a stable, feature-rich DeFi protocol that hasn't experienced any controversies since its inception. In fact, the team introduced most of the protocol's essential features during Threshold's launch. 
Soon after, the T liquidity pools on Curve Finance and Balancer were launched, and finally, the protocol launched tBTC in January 2023, which made all of Threshold's services available to users.
How Many Threshold Coins Are There?
Threshold's initial supply is 10 billion tokens, of which nine billion were distributed to the KEEP and NuCypher communities. Each community got 4.5 billion tokens. The remaining one billion was reserved for the Threshold DAO treasury, governed by the community through voting.
However, the circulating supply is around 8.5 billion T because the tokens are gradually released on the market through staking and liquidity rewards. 
Can T Be Mined?
Users can't mine T, but they can get it as rewards for providing liquidity on Curve Finance and Balancer or earn T through staking.
Market Cap and Price History of Threshold (T)
Threshold has a market capitalization of nearly 350 million USD, and its value has lately been between 0.04 USD and 0.055 USD. The token's all-time high is 0.19 USD, which it reached in March 2022. Threshold's price has been on a downward path ever since and hit its lowest value of 0.016 USD in November 2022.
Biggest Competitors of Threshold (T)
Regarding DeFi features, Threshold has a lot of major competitors, including Curve Finance and Balancer, which host the T+ETH liquidity pools. However, when it comes to cryptographic features such as TSS and the Threshold multi-sig protocol, T is one of the top tokens on the market.
As for Threshold's tokenized Bitcoin, the main competitor is Wrapped Bitcoin, which is a far more popular version of Ethereum-compatible BTC.
What Does the Threshold (T) Project Road Map Look Like?
In January 2023, Threshold launched tBTC as its core product. Judging by the network's latest press releases, it looks like Threshold will focus on creating partnerships and tBTC integration throughout 2023 to enable users to utilize their tokenized Bitcoin on various DeFi protocols.  
Pros and Cons of Threshold (T)
Pros
Highly-secure cryptographic features such as multi-signature signing and the TSS protocol.

Users can earn T from liquidity-providing and staking.

The tBTC token is a more secure version of WBTC.
Cons
tBTC has a far lower adoption rate compared to WBTC.