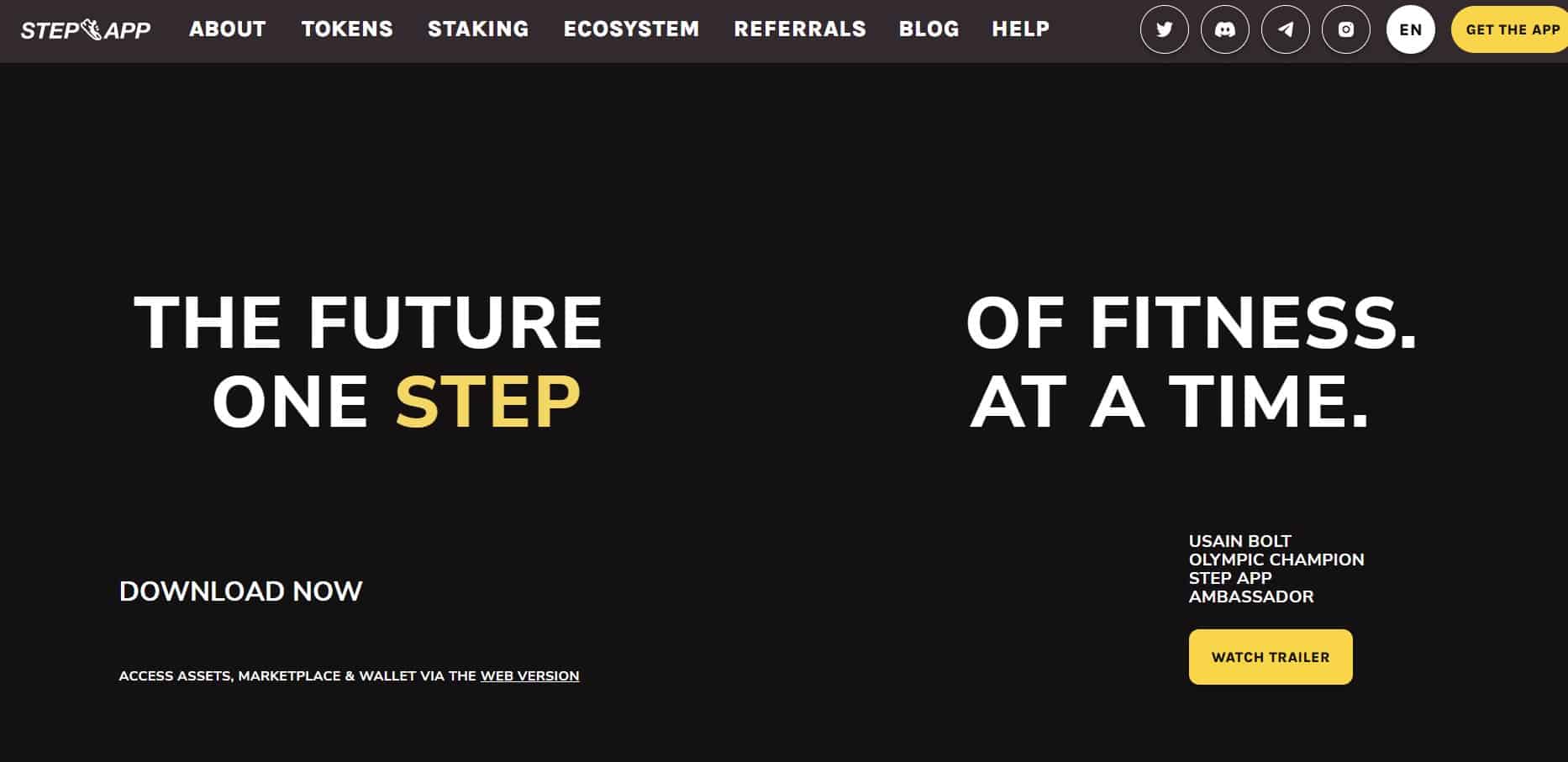 By using the Step App, powered by the FITFI token, the health and fitness industry enters its own gamified virtual metaverse which encourages players to step outside and walk, jog, or even earn some money, have fun, and make friends.
The Step App (FITFI) represents a new technological frontier for the metaverse and the GameFi industry that fuses real-world activities with virtual ones.
With the Step App, working out won't feel like a chore but more like a fun social event that pays you for taking part. Walk, jog, or run to increase your step count. Challenge your friends or complete strangers, make new connections in your neighborhood or across the globe, and enjoy a whole new perspective on both the real and virtual world.
More details, next on. 
How Step App (FITFI) Works
There is a tipping point in crypto adoption when a blockchain product integrates with something that is integral to many people's everyday life as more and more people incorporate some form of fitness or physical activity into their daily routines. 
In only a short time in the business, Step App has amassed over 250,000 users. These individuals are excited to use the Step blockchain fitness program to compete against each other in a global Move-to-Earn platform.
Even though the concept of Move-to-Earn sported by Step App has only been around for a short while, it shows a lot of potential to revolutionize the blockchain industry. The app serves as a metaverse upgrade for the fitness economy, underpinned by its native Step Protocol.
Burn your KCAL tokens to show you have achieved your fitness goals by participating in an elite SNEAK NFT. You can also compete with partners, form teams, or go alone.
The native Step App crypto wallet and NFT marketplace are both accessible from within the app, which works on any iOS or Android smartphone. There's no better motivation to get moving than this. 
The Step Protocol
The Step Protocol is a blockchain solution developed on the Avalanche blockchain's architecture intended to improve a person's health and financial well-being.
The Step blockchain has additional components built on top of the Avalanche code that serves as its foundation. With the enhancement, the proven network security of the existing codebase can be used at a higher speed. This sets the stage for making life-improving apps on the Internet in general. 
Lifestyle, health, and fitness are the pillars of the Step ecosystem. The goal is to provide consumer brands, developers, and enterprises with the ability to benefit from NFT infrastructure, interconnected metaverses, and composable intellectual property.
The Step Protocol's native gas token, FITFI, is used by all of the apps and projects that make up the Step ecosystem. 
What Is Step App (FITFI) Used For?
The Step App (FITFI) token is the utility token of the Step Protocol and the governance token of the Step App functionalities, developed on the Avalanche dApp blockchain. The token powers all Step App activities but also serves as an incentive for the app's users. Namely, gamers can get their hands on FITFI tokens by completing sports-related tasks through this app.
You can also try staking your tokens to earn an additional passive income from your cryptocurrency holdings. 
Where to Buy Step App (FITFI)?
You can acquire some FITFI tokens by using a centralized cryptocurrency exchange (CEX) such as OKX, Gate.io, Huobi Global, or Kucoin. These are just some examples. 
If none of these markets meet your needs, check out our reviews of the top cryptocurrency trading platforms to find the best place to buy FITFI tokens.
How Long Has Step App (FITFI) Been Around? 
The year 2021 saw the birth of the concept that would later become the Step App, powered by the FITFI token. The beta version of the Step App (FITFI) was released in the second quarter of 2022, while both the mainnet and the NFT market were introduced in the third quarter of the same year.
What's Controversial About Step App (FITFI)?
What could possibly be controversial about a blockchain app that promotes better health and exercise habits and rewards users with cryptocurrency at the same time? So far, nothing. 
How Many Step App (FITFI) Tokens Are There?
There are currently 1,526,083,151 FITFI tokens in circulation, with a maximum supply of 5,000,000,000 FITFI tokens.
Can FITFI Be Mined?
FITFI (or Fitness Finance) is not a mineable cryptocurrency, but you can earn it by completing tasks through the Step App. You can also earn passive income on your FITFI tokens by staking them.
Market Cap and Price History of Step App (FITFI)
FITFI's current market cap amounts to approximately $16,849,405, making CoinMarketCap rank FITFI #687 among all cryptocurrencies. 
Recently, the market price for one FITFI token has been hovering around $0.011041, while the 24-hour trading volume fluctuates slightly above $2,000,000.
Biggest Competitors of Step App (FITFI)
The concept of "play-to-earn" emerged from the intersection of cryptocurrency and gamification. There's no denying that GameFi has generated a lot of buzz over the past few years. 
In Play-to-Earn games, players engage in in-game currency exchange and earn virtual currency for their efforts. The pioneering P2E game Axie Infinity has inspired many similar initiatives, including Step App.  
Since this is the case, Axie Infinity is viewed as a serious challenger to Step App (FITFI).
What Does the Step App (FITFI) Project Road Map Look Like?
After the initial development plan was carried out in 2022, the Step software executives will shift their attention to advertising the app and the token. 
So far, influential athletes such as Usain Bolt have become global fitness ambassadors for the Step App by signing on as members of the Step App team.
As a result of the positive impact that it has on society as a whole and the fact that it encourages people to be more active, many prominent individuals are happy to be associated with this cryptocurrency movement.
Step's ultimate objective is to make blockchain technology available to everyone and create products that help people progress in all ways (physically, mentally, and financially) so that everyone in the world can enjoy a better quality of life. 
Pros and Cons of Step App (FITFI)
Pros
Offers some of the highest staking rewards;

Boasts high liquidity;

Recruits a worldwide team of athletes and fitness influencers to represent the Step App and promote the FITFI token;

Listed on some of the most prominent CEXs.
Cons
To withdraw staked FITFI tokens after 10 days, there's an exit charge of 12% of the initial stake.