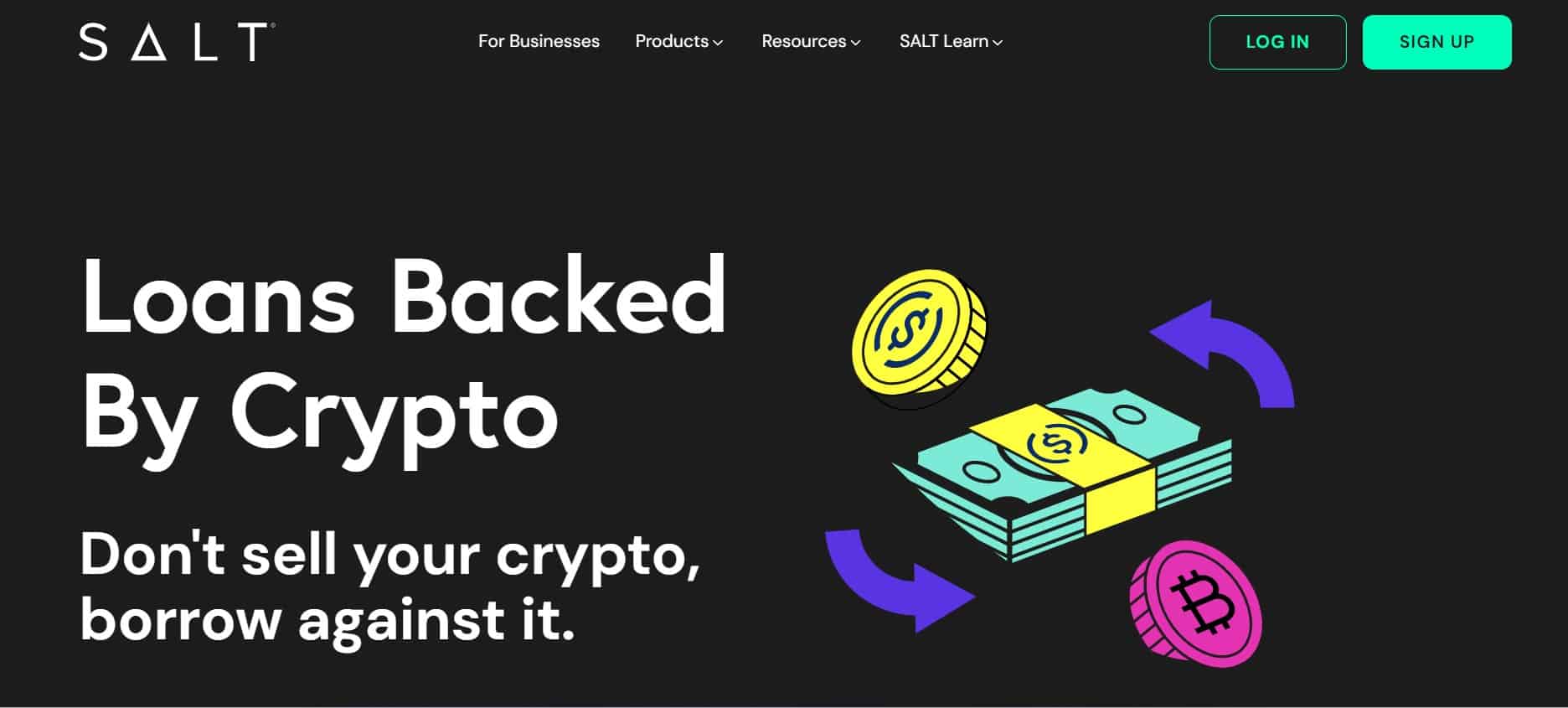 Secured Automated Lending Technology, or SALT Lending, is one of the most prominent companies operating in the cryptocurrency lending industry. The company was founded in 2016 in Denver, Colorado, USA, and has grown significantly since then. 
This decentralized and automated lending platform was established to enable users to borrow fiat currency using their cryptocurrency holdings as security. 
As a result of its efforts, the SALT Lending crypto lending platform has become unrivaled in the cryptocurrency industry, thanks to its many added features and the ease with which its customers may manage a secure and diverse crypto holdings portfolio.
What Is SALT Lending?
SALT Landing is a platform that connects crypto borrowers and lenders. The platform makes it possible for registered users to use blockchain assets as collateral for currency loans. The ultimate goal of SALT Lending is to be cryptographically safe, automated, and flexible enough to accommodate the ever-expanding category of blockchain assets.
Clients often run into trouble when they require available cash but would rather not sell their assets to get it. The SALT platform is geared towards providing an appealing solution to the issue by allowing users to take advantage of the rising value of select digital assets.
Through the SALT Lending platform, users can get their hands on foreign currency, reduce their taxable income, save money on currency conversion expenses, and keep their long position in the asset they own. 
How Does SALT Lending Work?
The SALT Lending platform provides an alternative to the conventional methods of lending and borrowing using cryptocurrency. When a user applies for a loan through SALT, they don't have to fill out any loan agreement documents or wait for a lengthy period for their loan to be granted.
Here's how the platform works.
Create an Account
The first thing you need to do to borrow money from SALT is to sign up for a membership account with the platform. Even though the SALT Loan platform has a KYC protocol in place for taking a loan, merely signing up with SALT Lending only needs you to visit their website, enter your email address, create a password, verify your email address, and finally enter your personal information.  
Transfer Your Funds
As soon as you finish the first step, you need to wait for the application to be approved. To use your crypto as collateral, just transfer it to the newly established account utilizing the SALT oracle wallet. With the SALT oracle multi-signature wallet, you can safely store your collateral and automatically manage the loan conditions.
Determine the Amount of Your Loan
The next step is for you to select your collateral and determine the amount of the loan, keeping in mind any limitations imposed by the state. The following cryptocurrencies can be used as collateral: SALT, BTC, ETH, LTC, USDC, and USDT. 
Your APR (the percentage you expect to earn as interest on your investment) and loan repayment terms will change depending on whether you choose to make interest-only payments or principle and interest payments, with the LTV ( Loan-to-Value) ranging from 20% to 70%.
For instance, SALT needs a collateral amount of $300,000 for a loan of $150,000 with a 50% loan-to-value ratio that is paid back over one year with principle and interest payments. The APR for this loan would be approximately 3.82%.
Periodic Payments
When you borrow money through the SALT lending platform, you become a debtor who has to pay back the money you borrowed on time. The payments are set up as recurring monthly payments.
To this end, it's good to know that SALT does not verify the applicant's employment or income and lends money without any assurances other than the borrower's promise to return the loan principal in cryptocurrency.
If you are successful in reimbursing the entire loan amount, you will be able to reclaim the collateral assets and keep them in your account.
SALT Lending Margin Call
To begin with, an investor's margin account comprises assets acquired using both the investor's own funds and funds borrowed from the investor's lender. 
When an investor's capital (and balance value) falls below the maintenance requirement, their lender may issue what is known as a margin call, demanding extra funds or securities to be deposited into the account.
When you receive a margin call, the value of the securities you have in your margin account has likely dropped. Investors who receive a margin call must decide whether to add more money or marginable assets to their balance or liquidate part of their holdings.
Any cryptocurrency loan is susceptible to margin calls in a down market, and the loan product offered by SALT Lending is no exception to this rule. When the value of your cryptocurrency assets drops, you may receive a margin call from your exchange or wallet provider. 
If the lender issues a margin call, this reaction indicates that your loan-to-value ratio has increased. Lenders like SALT Landing will give you a chance to add extra collateral to the loan before they sell off your existing assets as part of the lending process. 
The following describes how the margin call procedure works for SALT:
When the loan-to-value ratio of your investment reaches 75%, you will receive your first margin call notification. At this time, SALT will not be taking any further action.

When the loan-to-value ratio of your investment reaches 83,33%, you will receive a formal margin call. In the allotted time frame of 48 hours, you must take action to reduce the loan's LTV to 70% by either paying down the principal or increasing the amount of cryptocurrency used as collateral.

When the loan-to-value ratio reaches 90%-/91%, SALT will "stabilize" the loan collateral by exchanging the tokens for USDC. Borrowers should make every effort to prevent this scenario from playing out since it will result in a "stabilization charge" of 5% assessed to their balances.
The SALT Token
The SALT (SALT) token is an ERC-20 digital asset token built on the Ethereum blockchain that was launched in 2017 as part of the platform's concept. The SALT token holders (SALT Lending members) can utilize SALT as a medium of exchange on the platform and receive discounts on lending products. 
The platform also takes SALT tokens as interest on loans. In addition, SALT token holders can use their tokens to conduct transactions on the platform and obtain discounts on existing services and products.
You can buy SALT tokens directly through the SALT Lending platform or on some of the most prominent exchanges, such as Binance, Huobi Global, and Bittrex. Keep in mind that the cost of SALT tokens may vary in different markets.
Circulating Supply, Market Cap, and Price History of SALT
According to data provided by CoinMarketCap, the current market price of SALT is $0.071654, and the amount of trade over the past 24 hours totals $15,765.85. In addition, the current position on CoinMarketCap is #948, and the live market cap amounts to $5,752,663. Currently there are 80,283,615 SALT in circulation, while the total supply is currently unavailable.
SALT Lending Fees
Everything associated with borrowing money through the SALT Lending platform is free of charge. There are no costs associated with making withdrawals, having funds held in custody, making prepayments, or initiating an ACH transfer. 
Because of this, borrowing money on this platform is quite inexpensive, and the annual percentage rates (APRs) associated with borrowing money are often lower than the industry standard.
SALT Lending Rewards
SALT Lending is an innovative platform that allows you to leverage your cryptocurrency holdings into a loan, with the added bonus of rewarding you for doing so.
SALT Lending gives its users ETH, BTC, or USDC as a reward whenever they make a payment, and they are free to put this money to whatever use they choose. Borrowers can also use these rewards to make interest payments, provide more collateral, and fulfill other financial obligations.
Security
The fact that SALT Lending offers complete insurance coverage for the funds belonging to its customers is among the company's most appealing benefits. They provide cyber liability insurance in the case that a threat or breach occurs, as well as crime coverage in the of theft.
Moreover, customer funds are kept in cold wallets, where they are guaranteed to be 100% secure at all times. In addition, SALT complies with the industry's security requirements and provides multi-signature wallets for the safe storage of the investor's assets.
Mobile App
SALT Lending provides users with a mobile app that can track their crypto holdings, wallet addresses, and external accounts associated with those assets. You will also get a comprehensive view of all of your assets and will be able to effectively control all of your loans if you use the SALT app.
And furthermore, you can activate the alerts to receive the most recent information on your account. Plus, the SALT mobile app allows you to check in to your account and enable push alerts on your device. By activating this option, you will be able to monitor the status of your loans in real time and immediately respond to any issues.
Customer Support
Helping clients resolve their questions and concerns is crucial to any business. The client can reach out to the loan manager at SALT at any time through phone or electronic mail with any inquiries about the loan.
Clients can contact SALT's global support team 24/7 through e-mail, phone, or live chat. Clients can contact the SALT customer support team at any time with general inquiries or technical concerns, and they will respond swiftly.
SALT Lending Pros and Cons
Pros
No background credit checks;

A full range of insurance options;

Multi-signature authentication and cold storage for client's assets;

Supports a variety of crypto assets that can be used as collateral;

Prompt customer support and live chat option;

Fast and effortless account registration.
Cons
Conclusion
SALT Lending is an option worth considering if you're hunting for a cryptocurrency platform that will let you borrow money against a limited number of cryptocurrencies in your portfolio. 
This consolidated finance lending platform offers low-cost solutions and protects borrowers' assets in the event of a market collapse. Finally, its flexible lending features make it simple for clients to tailor their loans to their specific requirements.