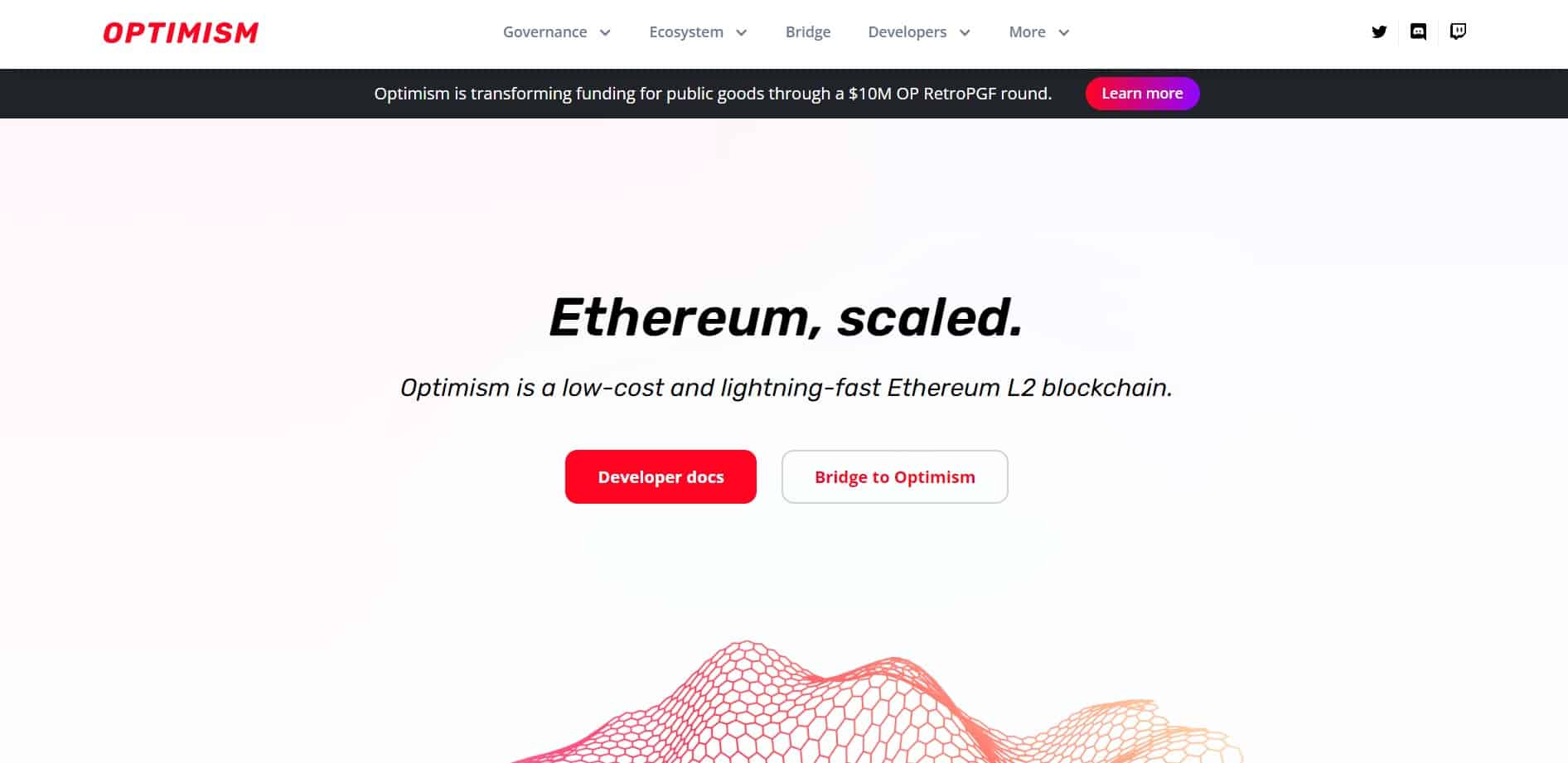 Despite Ethereum's popularity and proud record of its use, the platform still suffers from high transaction fees and sluggish confirmations. As a result, the platform is unable to develop into an industry-wide network that covers the whole financial sector.
Several new initiatives have surfaced in recent years to offer scaling options, with rollup-based approaches rapidly rising in popularity. One of them is called Optimistic Ethereum, or just Optimism. Employing its Optimism (OP) token, the platform implements a rollup scaling technique to cut gas costs and accelerate transaction processing.
What Is Optimism?
Optimism is what's known as an Optimistic Rollup, which is merely a fancy name for a blockchain that relies on the safety measures of another "parent" blockchain. Optimistic rollups do not provide their consensus mechanism but rather use the one provided by their parent chain, such as Proof of Work (PoW) or Proof of Stake (PoS). 
If you're wondering whose blockchain Optimism looks up to, it's Ethereum. More specifically, Optimism represents a scalability solution for Ethereum's Layer 2 that provides a fix to the Ethereum network. Optimism helps boost the speed at which transactions may be completed on Ethereum without compromising its decentralization or security.
Moreover, Optimism uses cutting-edge roll-up technology to optimize transaction times and prices. To this end, the Optimism Virtual Machine (OVM) provides a unique and appealing alternative to traditional roll-up methods and sidechains for the deployment of software. With OVM, developers will be able to simply launch their apps without having to make major changes to the smart contracts' code.
How Does Optimism Work?
To address the Ethereum scalability problem and lower the gas fees, Optimism takes advantage of a concept known as a rollup. This process condenses the hundreds of transactions that take place on Ethereum's Layer 1 into a single transaction. 
This innovative technique developed by Optimism combines the data regarding hundreds of transactions, including mintings of non-fungible tokens (NFTs), exchanging of tokens, and any other type of transaction.
During the processing, all of these transactions are combined into one single transaction before being sent to the Ethereum mainnet (Layer 1). When multiple separate transactions are rolled into one, the blockchain transaction cost, also known as a gas fee, is reduced to just one single transaction. 
Since a bundle contains several separate transactions, the gas fee is split amongst all of the customers. While rollup is being processed on Optimism's Layer 2, the transaction data is uploaded to Ethereum's Layer 1 to be processed, too.
The transactions sent to Ethereum have yet to be confirmed, which takes up a certain amount of time (approximately seven days). Once verified, the transaction is marked complete. That's why, withdrawals from Optimism to the Ethereum blockchain can take up to a week.
To avoid unnecessary computations on Optimism's Layer 2, optimistic rollups make the conservative assumption that all transactions are legitimate (hence their name). When the system has reason to suspect fraud, it will initiate the fraud-proofing process to confirm the transaction. 
In the bargain, Optimism will pay for a fraction of the gas fees incurred during the fraud-proof computation.
What Is Optimism (OP) Used For?
Optimism (OP) is an ERC-20 governance token of the Optimistic Ethereum network. There is presently very little information available concerning the use of the OP token. 
From what is known, the holders of the OP token are granted the privilege to participate in The Optimism Collective, governed by a two-tiered structure consisting of the Citizens' House and the Token House. 
The Token House (comprised of OP token holders) is the decision-making body for all technical matters about Optimism, such as software changes. On the other hand, the Citizens' House (comprised of Optimism NFT holders) is in charge of making choices about the funding of public services.
In essence, the Citizens' House is responsible for the majority of choices about public spending, while the Token House is in charge of making technical decisions regarding optimism. OP holders have a voting voice in both chambers, contributing to the token's high degree of functionality.
However, according to Optimism's statement, the OP token will largely be utilized in the Token House for governance objectives. In this voting process, the OP token holders will be able to decide how the Governance Fund's incentives will be allocated.
Optimism's native token also helps fund third-party development proposals and integrations on the Optimism platform via the Optimism Collective decentralized autonomous organization (DAO).
What Is Optimism NFT?
The Optimist NFT profile photo project allows users to upload a unique image that serves as a universal symbol of their identification inside the Optimism ecosystem. Optimists can generate millions of one-of-a-kind combinations for their NFT, and there are a wide variety of theme sets, each of which tells a distinct aspect of the overall Optimism storyline.
As the Optimism Collective expands to include all forms of cryptocurrency, more and more Optimist NFTs will be accessible to mint and modify.
Where to Buy Optimism (OP)?
If you are interested in investing in OP tokens, you will find that they are available for purchase on a number of the most well-known trading platforms, including Binance, KuCoin, Huobi Global, Gate.io, Coinbase, and Bybit, amongst others.
If you haven't already done so, you will need to create an account and verify your identity before you can start trading crypto through these platforms. In most cases, this procedure will require you to provide some personal info, such as your home address, a driver's license (or some other kind of official identification), and your social security number. 
After your account has been validated, you should be able to start trading immediately after making a deposit of fiat currency (such as USD or EUR) or another cryptocurrency.
How Long Has Optimism (OP) Been Around? 
On May 31, 2022, Optimism officially introduced its OP token to the public. The distribution of free OP tokens, often known as airdrops, was open to a total of 231,000 different addresses, and it involved 214 million tokens. This sum amounts to 5% of the entire supply of 4.29 billion OP tokens.
What's Controversial About Optimism (OP)?
Although you may come across phrases like "Optimism coin price forecast," keep in mind that OP is built on the Ethereum blockchain and is, therefore, more accurately described as a token than a coin.
How Many Optimism Tokens Are There?
The total number of OP tokens distributed was 4.29 billion, and the initial airdrop only distributed 5% of those tokens. 
After the first distribution of 4.29 billion OP tokens, the total quantity of tokens will continue to grow at a rate of 2% each year. As a rule, this includes any tokens not set aside for specific uses, such as those used for making core donations.
There are five distinct pools from which users can receive OP tokens, according to the website. Here's a quick breakdown of the total amount currently in circulation:
The

Optimism Ecosystem Fund

receives the bulk of OP tokens (which make up a quarter of all tokens). 25% will go into this fund which will be used to support a wide range of initiatives aimed at fostering positivity across the Optimism ecosystem.

There will be a 5.4% split between the governance, partner, and investment funds.

20% of the budget will go toward a fund designated for rewarding projects that have a demonstrated positive impact on the public benefit. The Optimism Foundation has unlimited access to these resources, as there is no predetermined distribution schedule.

Token holders, donors, and other stakeholders may all benefit from airdrops, which account for 19% of all distributions. To show appreciation for their hard work, the fund will progressively distribute a certain sum to each member of this team of contributors.

Investors continue to play a significant role in bolstering the project, accounting for 17% of the entire allotment.

The final 8.6 % is up for grabs, so the Optimism community will decide what to do with it.
Can OP Token Be Mined?
The Optimism coin (OP) is an ERC-20 token, as was previously indicated. While you can mine Ether (ETH) as a crypto coin based on the ERC-20 standard, the tokens are not mineable.  
As all ERC-20 tokens built on Ethereum have already been pre-mined, it is not possible to mine them again. Accordingly, a new OP token is minted each time a pre-mined token is distributed. Before a smart contract goes live, the team behind it has to make sure that the token supply is divided up as planned. 
The most common mechanisms for this are Initial Coin Offering (ICO), Initial Exchange Offering (IEO), and Security Token Offering (STO). These abbreviations may appear in different forms, but the ideas behind them are essentially the same. 
To purchase ERC-20 tokens, investors first need to transfer ETH to the contract address. The funds will be put toward the project's further development. As the project progresses, users consider the fact that they will be able to utilize the tokens that they have purchased (either instantly or at a future date) or resale them for a profit.
Market Cap and Price History of Optimism (OP)
With approximately $500 million in TVL, Optimism is one of the largest scaling solutions for Ethereum. The largest protocols on the network are Synthetix (SNX), a derivatives exchange; Uniswap (UNI), a decentralized exchange; and Velodrome (VELO), an autonomous multi-merchant micropayments network.
Optimism stands a great chance to entice a significant number of app users and developers with its OP token. Since the market meltdown in cryptocurrency, Optimism has experienced tremendous price swings, often regaining a significant portion of its value only to lose it again not long afterward. 
Biggest Competitors of Optimism (OP)
 In the blockchain space, Optimism's main competitors are Arbitrum and other Layer 2 chains.
What Does the Optimism (OP) Project Road Map Look Like?
The Optimism project is groundbreaking both in terms of its technology and its guiding philosophy, which seeks to preserve Ethereum's ideals through the development of a foundation for public benefit and long-term viability. 
There is a seasoned group of fintech developers and crypto aficionados behind the endeavor who also developed Ethereum, as well as a sizable supporter base, notable backers, a defined strategy, and a proven path to success.
Pros and Cons of Optimism (OP)
Pros
Facilitates faster and cheaper transactions on the Ethereum blockchain;

Employs innovative transaction roll-up technology to lower gas fees;

Presents a solid investment opportunity;

Offered on several prominent cryptocurrency exchanges.
Cons
Withdrawals from Optimism to the Ethereum blockchain could take up to a week.