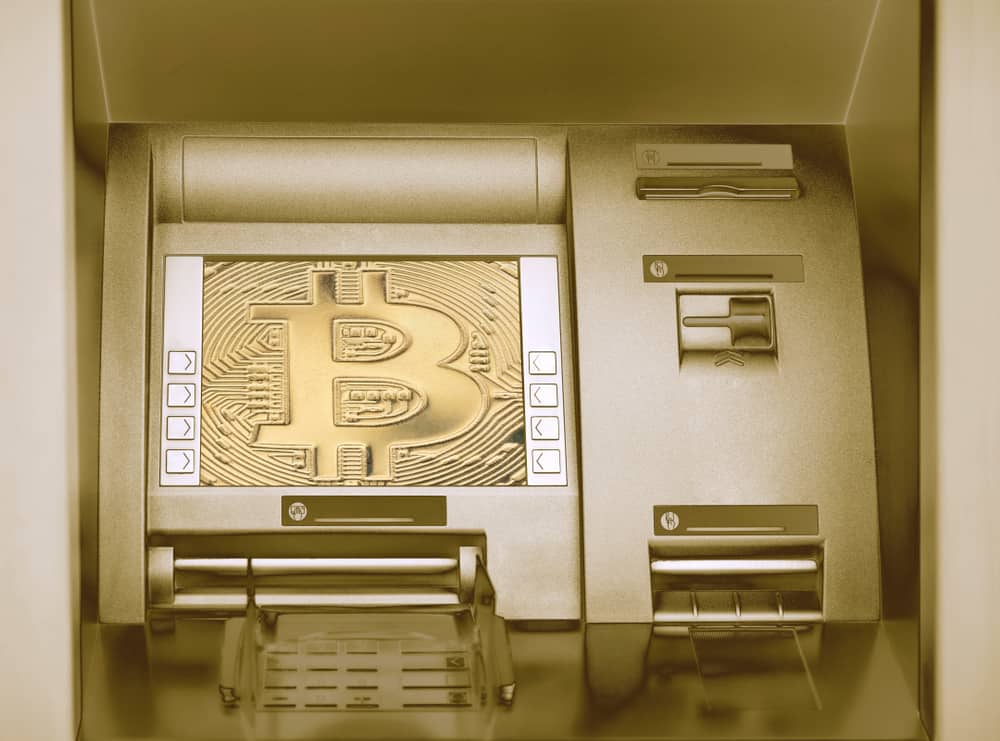 If you think withdrawing your bitcoins from a cryptocurrency exchange is too much hassle, we've got some great news! You can cash out your bitcoins in a fast and simple way, just like you take out cash from your fiat currency account by using an ATM. 
Yes, we're talking about specialized BTC ATMs. Keep reading to learn how to use one. 
What Is a Bitcoin ATM?
In essence, a Bitcoin ATM is the same thing as a fiat currency ATM. The only difference is that you can buy some bitcoins through this crypto Automated Teller Machine with your credit/debit card. There are some Bitcoin Teller Machines (BTMs) that even allow you to sell your bitcoins for fiat money. 
Just like cryptocurrencies, Bitcoin ATMs have faced many regulatory hurdles. Ultimately, the international financial regulatory bodies agreed that these crypto machines must adhere to the same regulations governing the work and services provided by the fiat currency ATMs.
Regarding the BTC ATMs operating on US territories, they are regulated by FinCEN and comply with the AML (Anti-Money Laundering) provisions of the Bank Secrecy Act (BSA). 
To this end, more often than not, the BTC ATM will ask you to go through a verification procedure so that you can transact a larger amount of bitcoins. Typically, you'll need to provide your phone number or a scanned ID or passport. 
You'll mostly find BTMs at crowded places like supermarkets, airports, and train or bus stations. These locations are the perfect commercial spot for businesses that operate a Bitcoin ATM. But, before they install the BTM on the site and put the electronic BTC kiosk to service, they need to make a contract with a Bitcoin ATM provider.  
How Does a Bitcoin ATM Work?
There are two basic types of Bitcoin ATMs: unidirectional and bidirectional BTM. A bidirectional BTM can process both buying and selling requests, whereas a unidirectional BTC ATM can only help you buy BTC through the electronic kiosk. 
Both types of BTM look and function almost the same as fiat currency ATMs. The main difference is that the BTC ATMs connect to your digital wallet instead of your bank account. 
Also, while conventional ATMs allow you to make fiat currency deposits and withdrawals in cash, BTMs – logically – support blockchain-based transactions. These automated machines move your funds from a blockchain to a wallet by using a public key or by scanning a QR code. 
How to Use a Bitcoin ATM?
There are several simple steps that you need to perform to complete your first Bitcoin ATM transaction.
Input Your Phone Number 
You must complete this step as a part of the AML and user verification procedures. After you input your phone number into the dedicated field, you'll receive a verification code. 
Verify Your Identity 
The next step is to verify your identity using the code you received via SMS. The code typically comprises a string of digits and prevents users from manipulating the machine or the resources by using a fake phone number. 
When the BTC ATMs were first introduced to crypto investors, they conducted private transactions without tracing or revealing the user's identity. Nowadays, you can be easily traced by regulatory bodies because you leave your phone number and an ID scan, so be mindful of that. 
Input your Bitcoin Address 
Using a BTC ATM implies that you already have a Bitcoin address, so that's where the coins you buy from the Bitcoin Teller Machine will go. If, however, you don't have a Bitcoin address, you can get one by utilizing a paper wallet or an exchange's address. 
Confirm the Sum and the Transaction  
Finally, input the fiat money you intend to buy bitcoins with into the machine's slot. The BTC ATM will calculate how many bitcoins you can get for your money. If you're happy with the result, you can proceed and confirm the transaction by pressing the dedicated button (BUY or CONFIRM, depending on the BTM). 
After you conclude the transactions, the machine will send your bitcoins to your Bitcoin address. You're done here. 
Now, all it takes is to wait for several blockchain confirmations of your transaction, which typically take between ten minutes to an hour. Only then will you be able to see the bitcoins you just purchased on your balance. 
Selling Bitcoins Through a BTC ATM
If you decide on selling your bitcoins through a BTC ATM, you'd be surprised how similar this process is to making a withdrawal with your credit card:
First, pick the option you'd like to perform. In this case, pick the 'Sell BTC" option. 

Next, scan the QR code of your digital wallet. There are three ways you can do this: by inputting your wallet's address manually, scanning it through your mobile app, or printing it. 

After this, you must verify your identity by providing your phone number, a scanned copy of your government-issued ID, or taking a selfie. It depends on the machine itself. Some BTC ATMs even have a fingerprint-scanning functionality. One way or another, user verification is necessary if you plan on transacting a larger sum of bitcoins.

Now, send the digital coins to the Bitcoin wallet address by scanning it or its QR code.

Finally, confirm the transaction, have patience until the BTC ATM finishes the process, and don't forget to take your receipt, as you'll need it to report to the tax office at the end of the fiscal year.  
Of course, these are the most standard instructions that may vary from a BTM to a BTM. But don't let your worries get the better of you. Simply follow the on-screen instructions, make sure you input the correct data, and you'll get it right. 
Also, these crypto ATMs are called Bitcoin ATMs, but most of them support many other altcoins. So, don't be confused if you see an option to transact Ethereum (ETH) or Litecoin (LTC) on a BTM, for instance. 
What Are the Bitcoin ATM Fees?
Normally, we always pay more for a better and faster service. Cryptocurrencies are no different. By now, you are probably well familiar with the fact that using an exchange's Instant Buy feature costs quite a bit. BTC ATMs are no exception. 
Considering the fact that you can get your hands on your coins faster by using a Bitcoin ATM than going the cryptocurrency exchange route, prepare to pay even higher fees. 
In general, the BTC ATM fees range somewhere between 10% and 25%, which is quite a significant sum of money, really. Selling your bitcoins will incur somewhat lower fees, but still, you'll likely pay out A LOT just for the transaction. 
Conclusion
In times when technology and the world are rushing ahead, financial technology successfully keeps pace with the newest developments. As our lives speedily become reliant on digital technologies and products, having instant access to cryptos is a must. 
But, while Bitcoin ATMs are considered highly advantageous and convenient solutions for all crypto investors, never forget that blockchain technology is in constant development.
Also, considering the volatile nature of digital currencies, what's today's advantage in the world of finances could overnight become the greatest obstacle as no one can guarantee that the Bitcoin blockchain can endure the planned number of confirmations. Therefore, plan your investments wisely.