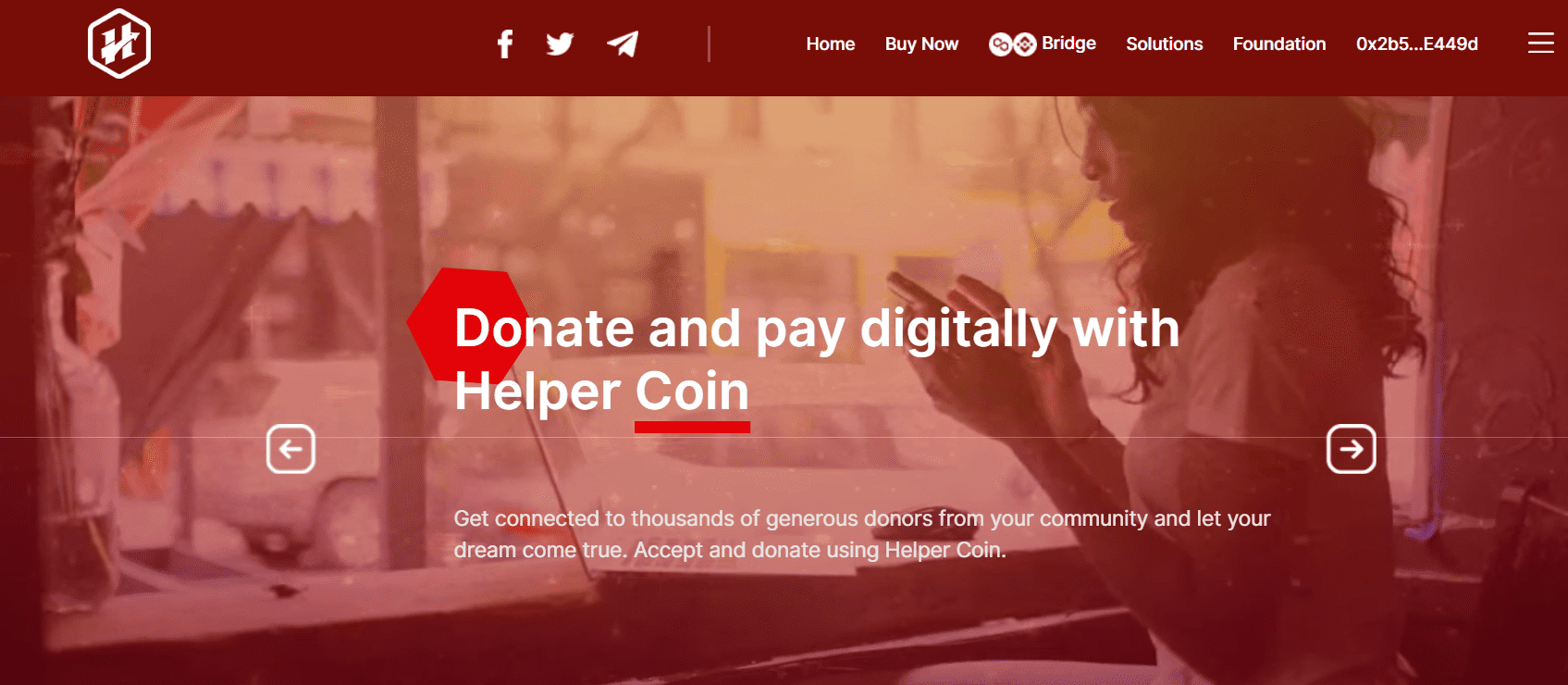 Helper Coin (HLPR) is part of the CallforBlessing community app, which will focus on donating assets to charitable causes and helping people in need of financial aid once launched. With the help of HLPR, users can make direct crypto donations without using banks or other intermediaries.
Let's see how Helper Coin makes donating crypto quick and easy.
How Helper Coin (HLPR) Works
Helper Coin uses the BNB Smart Chain (BSC), which means it's a BEP-20 token and runs on a Proof-of-Stake (PoS) consensus mechanism. Users can stake HLPR through the project's network nodes and earn regular rewards. 
HLPR is part of a donation-focused project called CallforBlessing, which plans to launch a mobile app for donating funds to charities and individuals around the globe. The idea is to avoid the slow and often expensive banking system when sending donations. Also, banks require a lot of paperwork and personal information from users.
CalforBlessing leverages blockchain technology with the help of its HLPR coin as the project's digital money. The app still hasn't been launched, but the developer team claims that users will be able to quickly connect to charities and people in need of financial aid. 
The app will connect people and allow donors to send assets through the blockchain in a matter of minutes, thanks to the high speed of the BNB Smart Chain. Instead of using a payment service provider or bank, users will be able to purchase HLPR on a crypto exchange with fiat currency and donate HLPR through the CallforBlessing app directly.
Apart from the BSC network, users can also bridge HLPR coins to the Polygon (MATIC) network and vice versa, with the help of the blockchain bridge on the project's website. Polygon achieves transaction finality in a matter of seconds, which means that HLPR donations can travel lightning-fast on the Polygon network.
The Helper Coin network charges fees for each transfer, distributed between four funds evenly. One-fourth of the fees go to the project's marketing fund, another-fourth goes to the development fund, and the remaining 50% is evenly distributed between the operations and prime holders' funds. Prime holders are users who hold a portion of their HLPR coins over time and stake them. 
What Is Helper Coin (HLPR) Used For?
Primarily, HLPR coins are meant to help people in hard financial situations. Users will be able to donate their HLPR through the project's app when it goes live. The developer team claims that the CallforBlessing app will have a rigorous mechanism to filter charities and individuals who are really in need of donations, but it isn't yet clear how this mechanism will work.
Users can also keep a portion of their HLPR to help the growth of the Helper Coin ecosystem by staking coins. The Helper Coin staking mechanism is called the holder program and has six tiers. Users can stake their HLPR for 120, 240, 360, 480, 600, or 720 days and earn rewards from 5% to 27.5%. Also, if users decide to move or sell their HLPR before the staking period ends, they'll incur a penalty fee of 35% for the first tier, down to 5% for the last staking tier. 
Essentially, users can stake their HLPR holdings to earn staking rewards and then donate those rewards. This way, users can have a steady inflow of extra HLPR coins and give out donations without investing additional funds. However, if a user wants to just take profits from staking HLPR, they can do so by exchanging HLPR on a fiat-friendly trading platform for cash.
Where to Buy Helper Coin (HLPR)?
Users can only buy Helper Coin on the XT trading platform. This exchange is a centralized crypto trading platform, and users need to register an account before buying HLPR coins. XT allows users to purchase various cryptocurrencies with fiat money through third-party payment providers or bank cards. 
To buy HLPR, users must have some Tether (USDT) stablecoins and exchange them for HLPR.
How Long Has Helper Coin (HLPR) Been Around? 
The HLPR coin was launched at the beginning of April 2023, but the project's development goes back to early 2022 when the idea of CallforBlessing was born.
The early phase of the project's development was focused on designing the concept of the CallforBlessing app and the HLPR coin's tokenomics.
What's Controversial About Helper Coin (HLPR)?
The main controversy regarding Helper Coin is that none of the platform's features are operational except for the HLPR coin and the blockchain bridge. Users haven't seen any substantial evidence of the CallforBlessing app's development, although the team claims the first version of the app will be launched in April 2023.
Also, it's quite unclear how the app will filter people in need from malicious individuals who want to trick app users into sending them money.
How Many Helper Coins Are There?
According to the official website of Helper Coin, there are one billion coins, but not all of them are available yet. Only a tiny portion of 30,000 HLPR (3%) has been launched through a private sale round, while the next 10% will be launched through a token pre-sale.
The team will allocate five percent each toward legal expenses, project reserves, and developer incentives for a total of 15%. 
Furthermore, 22% is reserved for liquidity for both centralized and decentralized exchange platforms. Marketing activities will have a 15% fund, while 10% is reserved for venture capital investors. Project advisors will get 10% of the supply, while the remaining 15% is for the Helper Coin ecosystem's growth. 
Can HLPR Be Mined?
The Helper Coin website calls the HLPR staking mechanism "mining," but it's actually straightforward staking because users need to deposit a certain amount of coins and receive an annual percentage rate for staking. 
In true crypto mining, users need to dedicate computing power toward finding transaction hashes. There's no such process in Helper Coin's operational mechanism.
Market Cap and Price History of Helper Coin (HLPR) 
The project's market capitalization is 1.2 million USD, with an average daily trading volume between one million and 1.5 million USD since the coin's launch. 
As for the HLPR price, the coin's initial market price was 43.8 USD, and it has been situated in the 40 to 45 USD per coin value range ever since. 
Biggest Competitors of Helper Coin (HLPR) 
The charity crypto niche is quite small since the vast majority of crypto projects are either focused on DeFi and digital cash features or on NFTs and crypto gaming. However, there are a few charity projects that stand out, such as BiblePay (BBP) and Pawthereum (PAWTH). 
Both projects have launched all of their key features. BiblePay offers users an easy way to support orphanages through its app, while Pawthereum is dedicated to supporting animal shelters. 
Although these projects have higher market ranks than HLPR, their coin prices and market capitalization are far below Helper Coin's level. If the Helper Coin team stays true to its plans, the project might manage to expand its user base and climb up on the market charts.
What Does the Helper Coin (HLPR) Project Road Map Look Like?
The Helper Coin roadmap shows that the team plans to launch the first public version of the CallforBlessing app in April 2023. In May, the project will launch its proprietary decentralized exchange for swapping HLPR with other cryptos, while the rest of the year will see a few additional versions of the CallforBlessing app. 
Finally, in late December 2023, the team plans to launch the app's final version with all of the promised features. 
Pros and Cons of Helper Coin (HLPR) 
Pros
Dedicated to a very noble cause – helping charities and people in need

Different staking plans and high rewards

Super fast Helper Coin transactions via the BSC and Polygon networks
Cons
The team hasn't launched the first version of the CallforBlessing app

It isn't clear how the app will filter individuals in need of help from potential scammers