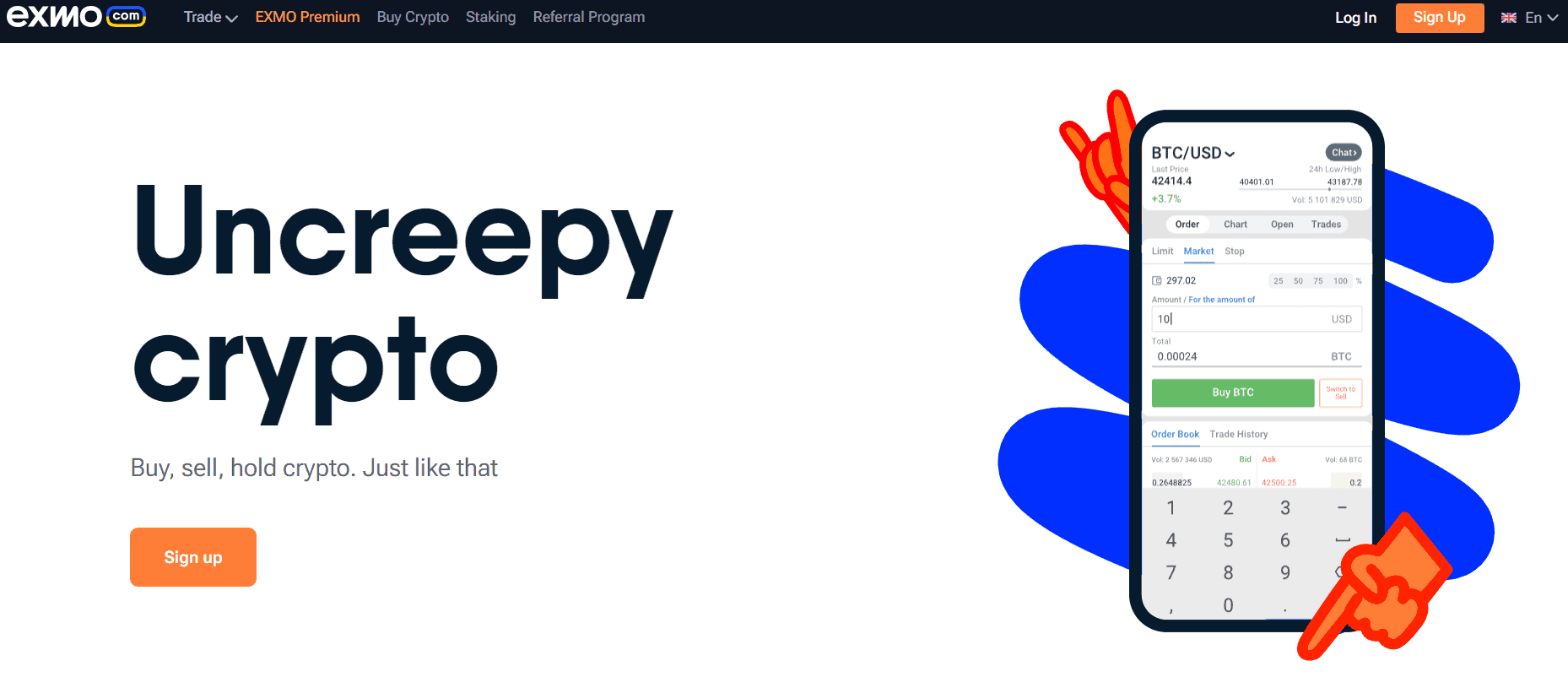 EXMO is an experienced cryptocurrency trading platform from the UK designed to onboard crypto newcomers and provide veteran traders with crucial tools for implementing complex strategies. 
Let's begin our journey through EXMO's features to learn more about this reputable trading platform.
Pros & Cons of EXMO
Pros
The platform has its native EXMO Coin (EXM), which gives users various benefits and discounts.

Numerous payment options.

EXMO Premium section for business clients.

High reward referral program that grants users up to 40% of the referee's EXMO trading fees.
Cons
EXMO hack

in 2020.

Just a few cryptos available for staking.

Not available in the US.

EXMO isn't registered with any notable financial institution.

Most popular exchanges offer more than 50 coins for trading.
About EXMO
EXMO was launched in 2014 and based in London. Back then, EXMO only supported Bitcoin (BTC) and a few altcoins.
As time passed and the crypto market continued to grow, EXMO also expanded its range of features to meet the needs of both novices and seasoned investors. 
That's why the EXMO trading features are divided into several sections aimed at different users. When you visit EXMO's website and click on the Trade button, you'll see three options: Simple, Advanced, and Margin. 
The Simple experience is for beginners who just want to purchase or sell assets at the current market prices. Advanced is for experienced crypto enthusiasts who are used to reading complex price charts and placing different types of trading orders to implement their trading strategies. Finally, Margin is for professional traders who wish to take advantage of high-risk leveraged trading. 
EXMO also has an EXMO Premium interface where users can choose one of the four Premium account packages (Basic, Standard, Advanced, or Professional) for a monthly fee. EXMO Premium provides huge fee discounts for market makers and takers and is primarly designed for traders with high trading volumes who wish to minimize their trading fees. 
The exchange also has an express trading feature for instant purchases, as well as custom API tools that traders can use to automate their trades and set recurring purchases for specific assets. 
Furthermore, EXMO's native EXM coin is a valuable asset for traders who want to receive an additional fee discount and higher referral program rewards. 
Crypto Coins Available on EXMO
EXMO doesn't support a very high number of digital currencies. In fact, there are only 50 projects available on EXMO, but the platform has around 150 trading pairs in total.
Most trading pairs include BTC or ETH, but there are also crypto/fiat trading pairs with USD or EUR. This means that users can directly trade crypto for fiat currency with the cash balance in their EXMO accounts.
These are just some of the trending altcoins you can invest in on EXMO: BTC, Bitcoin Gold (BTG), Ripple (XRP), Cosmos (ATOM), Dai (DAI), Dash (DASH), Polkadot (DOT), Cardano (ADA), Tronn (TRX), Ethereum (ETH), Tether (USDT), and Zcash (ZEC).
Also, the EXMO staking feature supports EXM, ATOM, DOT, and Tezos (XTZ). The highest staking reward of 17% is reserved for EXM stakers.
Fiat Currencies Supported on EXMO
EXMO users can fund their accounts or buy assets directly through the Simple feature with five fiat currencies: USD, UAH, PLN, EUR, and GBP. 
Countries Supported on EXMO
Crypto investors from numerous regions can use EXMO, however, there are some notable exceptions, including China and the US. Given the fact that US traders make up a significant portion of the global crypto market, the fact that EXMO isn't available in the country is a considerable drawback for the platform.
EXMO Fees
EXMO charges trading fees depending on your position as a market taker or maker and applies a fee tier based on your 30-day trading volume. 
The basic fee tier is for makers and takers who trade up to 10,000 USD. They pay a flat 0.1% fee. Although the fees are low to begin with, large-scale traders with multimillion-dollar monthly trading volumes can further decrease their fees. For instance, the five to ten million USD trading volume tier incurs a 0.007% maker and 0.04% taker fee.
There isn't a separate fee policy for the EXMO Simple trading option, so it's safe to assume that market taker fees are applied to this feature because all instant trading orders are filled instantly at current market rates.
However, EXMO adds a twist to its fee policy with the EXMO Premium feature, which requires users to pay a monthly subscription for massive fee discounts. The Basic EXMO Premium plan costs 1 USD and requires users to keep at least 61 EXM tokens in their accounts for a 33% maker and 6% taker fee discount.
The Standard package costs 10 USD and requires 617 EXM tokens for a 60% maker and 26% taker fee discount, while the Advanced subscription costs 100 USD and requires 6,176 EXM for a massive 80% maker and 46% taker discount.
The final, Professional tier is for large-scale investors and enterprise clients. It costs 500 USD and requires 30,881 EXM. The fee discount equals 100% and 70% for makers and takers, respectively.
As far as crypto and fiat withdrawals, EXMO doesn't charge any fees. The platform gives users numerous options for topping up their accounts with cash, including bank account transfers, credit and debit cards, Advcash, wire transfers, SEPA transfers, Faster Payments, Payeer, and Chaps. 
Bank card deposits cost from 1.99% to 3.99%, depending on the currency you're depositing. SEPA and wire transfers are free, while Payeer is available only for USD and incurs a 2.49% fee. Faster Payments and Chaps are available for GBP and cost 3 GBP and 20 GBP.
Main Features of EXMO
The main features of EXMO are located under the Trade tab. If you choose the Simple option, you'll see a menu of all the available instant trading assets, along with their prices changing in real-time.
Unlike many competitors, the EXMO instant trading feature constantly updates asset prices. Users can choose the fiat or cryptocurrency they want to spend to buy an asset or receive back when selling their cryptos. 
The Advanced section of EXMO is where the more advanced users will find abundant tools for analyzing market trends and price charts. Also, the interface has an order book along with a compact menu for initiating trading orders.
When you scroll down below the interface, you'll see a detailed guide on how to use the interface, which is quite helpful for beginners who want to start using advanced trading tools. One of the most useful additional features of the Advanced EXMO section is that traders can choose between three interface layouts to find what works best for them.
In the Margin section of the exchange, users have access to a similar interface to the one in the Advanced tab, but this one allows them to engage in leveraged margin trading. Also, traders can use the margin trading feature to enter leveraged margin contracts for 30 different company stocks, along with two stock indices and 39 digital currencies.
Besides the listed options, EXMO also supports a limited crypto staking feature, along with a Buy Crypto section made exclusively for buying tokens with bank cards.
Finally, EXMO has one of the most beneficial referral programs on the market, allowing users to earn up to 40% of the trading fees of users who sign up with their referral code.
How Easy Is It to Open an EXMO Account?
EXMO isn't obliged by regulators to verify trader identity because the platform lacks regulatory licenses, but it has its own Anti-Money Laundering protocol that requires users to provide personal data before they can use the EXMO.
Here's a step-by-step guide on how to open an EXMO account:
First off, visit

EXMO

and tap the

Sign Up

option.

The platform will give you detailed instructions on what types of characters to use when choosing your username and password.

During this step, you'll also be asked to enter your email address and referral code.

Once you're ready, solve the captcha and agree with the platform's user terms before clicking

Sign Up

.

Before signing into your account, you just need to enter the code EXMO will send to your email address.

When you're logged in, navigate to the ID verification option.

EXMO will require you to enter various details, such as your full name, address, and other information.

Choose your preferred ID document and take a photo of it according to EXMO's instructions.

The next step is a bit unusual because it requires you to take a photo of yourself while holding your ID document, a paper with the current date written on it, and a clearly visible "EXMO" sign. Everything needs to be clearly visible, so it's best to ask someone to take a photo of you while holding the document and the paper.

When you're done, EXMO will get back to you within one business day to approve your ID verification data.
How Secure Is EXMO?
EXMO's services are quite reliable, but when it comes to the platform's security, the platform has had some significant problems in its history, involving a 2020 hack and the kidnapping of its CEO by armed criminals in 2017. 
EXMO's CEO was kidnapped and held for ransom until he paid over one million USD worth of BTC to his kidnappers. However, it isn't clear whether the ransom funds were his personal assets or whether the EXMO exchange provided them.
As for EXMO's security features, they include essential measures such as two-factor authentication and website encryption. Also, the platform introduced a bug bounty program after the hack in 2020 to prevent future hacks from compromising the platform and shifted from partial hot wallet crypto storage to using third-party hot wallet custodians.
Has EXMO Ever Been Hacked?
The unfortunate 2020 hack of EXMO cost the company 10 million USD, which was around 5-6% of all the exchange's assets at the time of the hack. Since EXMO kept between 5 and 10% of assets in hot wallets for platform liquidity purposes, the hackers actually stole  the contents of EXMO's hot wallets.
EXMO has promised to refund all of the users who got their assets stolen. The platform decided to decrease the amount of crypto it kept in hot storage and store nearly all of the crypto in cold wallets. Also, EXMO stated that they would hire a reputable crypto custodian service to keep the platform's liquidity assets in hot storage. 
Is EXMO a Regulated Exchange?
It's important to note that EXMO isn't a regulated crypto trading platform, although it has a temporary license from the UK Financial Crimes Enforcement Network (FinCEN). Users don't have regulatory protection like in the case of licensed exchanges, and EXMO can't operate in the US because of its lack of US money service licenses.
How Does EXMO Compare to Other Crypto Exchange Alternatives?
Kraken is among the most popular trading platforms with services similar to those on EXMO. 
To begin with, Kraken is fully regulated by US financial bodies, with a license to provide US customers with money services, while EXMO isn't available to US traders. 
In contrast to EXMO's 50 coins, Kraken covers over 200 popular tokens, but in the fee segment, EXMO has a massive advantage over the platform. Its trading fees are way more affordable compared to Kraken's 1.5% instant trading fee and its 0.16% maker and 0.26% taker fees.
The advanced trading interface of EXMO is very similar to that of Kraken Pro, but apart from spot trading, EXMO only supports margin trading, while Kraken also supports futures contracts. 
It's worth mentioning that Kraken supports fewer payment options than EXMO because it only allows users to deposit money through bank cards and bank account transfers.
Does EXMO Have an App?
You can download the EXMO mobile app from Google Play or App Store. Overall the app has a solid rating of over 4.8 with more than 100,000 downloads. The mobile version of EXMO is quite straightforward to use, and traders can manage their portfolios, trade crypto, and top up their accounts with cash very easily. 
Also, the app comes with an account analytics feature that shows users how their portfolio is performing regarding the price at which they bought a specific asset and its current price compared to the initial value. This is very useful for estimating your trading operations' profitability and whether to buy or sell certain cryptos.
Furthermore, users can set up price alerts for any crypto or trading pair on EXMO, and the app will notify users with an audio alert. 
As for the advanced trading interface, it's available on the EXMO mobile app, but using the technical analysis tools for drawing patterns on the price chart is a bit difficult.