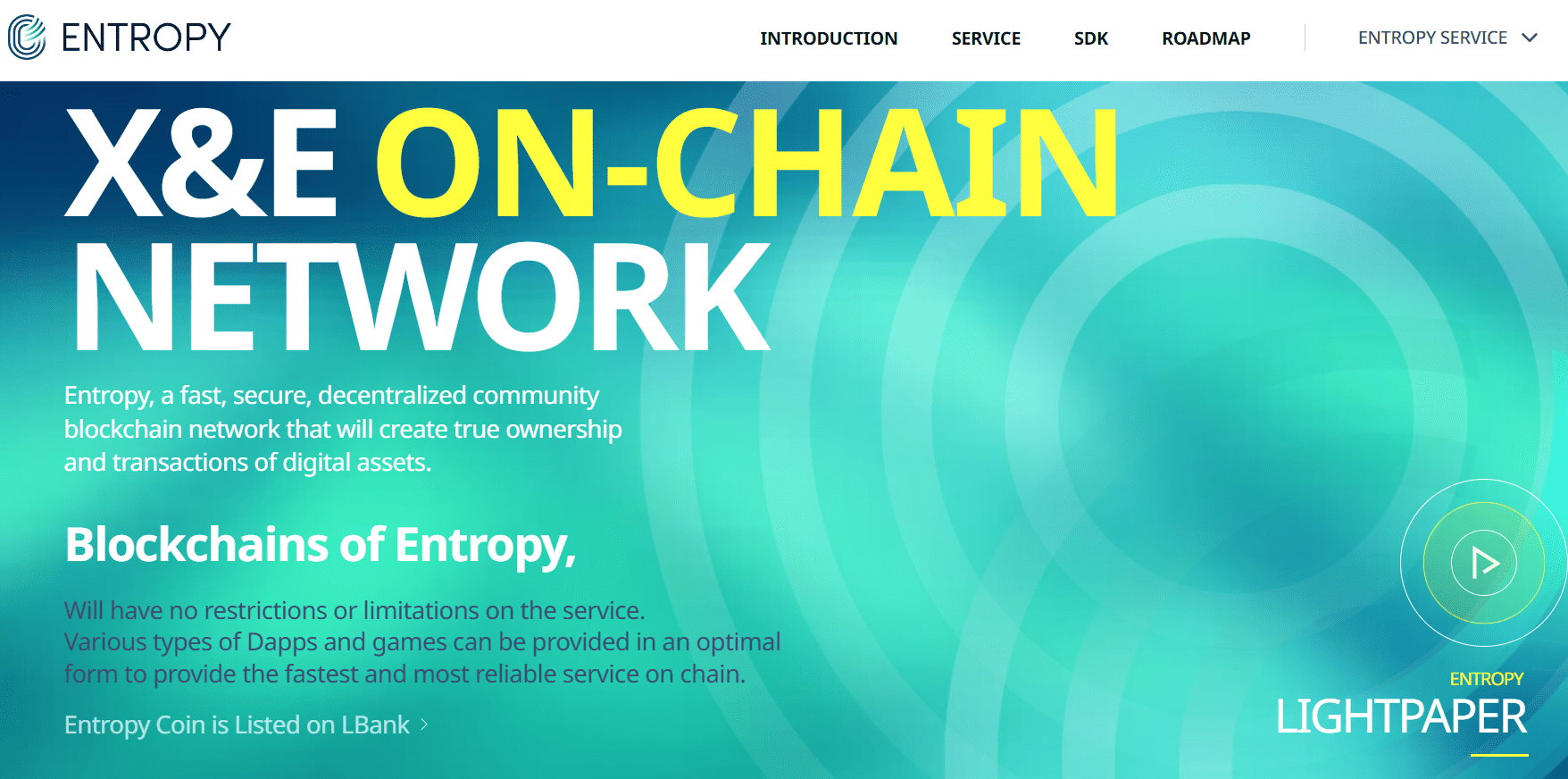 The Entropy (ENT) token powers the ambitious Entropy blockchain network built to help developers launch and manage decentralized applications (dApps). Entropy's particular focus is blockchain games and NFTs.
Let's check out what kind of innovations Entropy brings to the table and how you can use the ENT token for potential blockchain projects.
How Entropy (ENT) Works
The Entropy network is built on the Ethereum (ETH) blockchain, but the internal architecture of the network is considerably different than Ethereum, and the ENT token uses a unique operating approach. ENT uses a Proof-of-Authority (PoA) validator mechanism that only lets trusted validator nodes approve ENT transactions.
There are 21 trusted validators on the Entropy network at all times. To start a node, an operator needs to get approved by the Entropy Foundation that governs the project. This means that the blockchain is quite centralized. However, it simultaneously guarantees that node operators are to be trusted, minimizing the probability of hackers taking over the network. 
What's more, all validators need to sign a legally binding contract with the Entropy Foundation, and in case they validate a fraudulent transaction, they will be held accountable and subject to a lawsuit. This is how the Entropy network ensures all ENT users have maximum security when using ENT tokens to power their gaming apps and NFT platforms.
Although the Entropy network uses Ethereum as its foundation, the block processing time is considerably faster and only takes three seconds, which means ENT tokens can be used for dApps with thousands of simultaneously active users.
Validator nodes get ENT token rewards for processing traffic. The mechanism is similar to the Proof-of-Work (PoW) model of Bitcoin (BTC) because these ENT rewards are new ENT tokens. However, ENT validators don't consume high amounts of electric power because the verification process is considerably shorter than Bitcoin's 10-minute block time. The network trusts the validator's authority and approves transfers in just three seconds.
The ENT token rewards are fixed at 0.2 ENT per data block, and each block can house up to 62 transactions. Furthermore, instead of competing against each other, all validator nodes get rewarded with ENT tokens periodically in a circular fashion. Validators take turns in receiving ENT rewards. 
What Is Entropy (ENT) Used For?
The ENT token is inseparable from the Entropy network as a platform that provides blockchain services to developers. Entropy has its own software development kit (SDK), which lets developers create and power dApps with ENT as their crypto token. The critical benefit developers get from using ENT in their dApps is the ENT oracle system.
The Entropy SDK uses ENT tokens to power oracles, which are pieces of computing code made to monitor certain procedures, pull data, and integrate it in specific operating environments such as dApps.
This means that developers can launch a blockchain game on the Entropy network and use ENT tokens to streamline the data flow between their dApps and off-chain data sources regarding changes in the player ranks, scores, rewards, and other gaming mechanics. 
The oracles act as a bridge between external and blockchain data, which makes ENT very practical for dApps that rely on real-time data from external sources. Because of this, ENT tokens offer more utility than some popular networks for launching dApps, such as Polygon (MATIC) or Avalanche (AVAX), which only use smart contracts. Smart contracts aren't capable of pulling data from sources that aren't based on the blockchain.
Besides using ENT for operating dApps, the token is also highly beneficial for Entropy validators because of the processing rewards. However, the fact that there can only be 21 validators means this benefit is reserved for a tiny group of users. 
Furthermore, the Entropy network has its own projects that utilize ENT tokens. The first blockchain game launched by Entropy is called Frutti Dino Stories. Also, users can store their ENT tokens in the Entropy Wallet, which is available as a browser extension for Google Chrome. 
Where to Buy Entropy (ENT)?
Similarly to most newly launched cryptocurrencies, traders can only find ENT on one exchange platform. You'll need to register an account on the LBank centralized exchange and trade some Tether (USDT) stablecoins for ENT. You can transfer USDT from a private crypto wallet to your LBank account or buy USDT with fiat currency.
How Long Has Entropy (ENT) Been Around? 
The Entropy team launched the project's testnet in July of 2022, while the mainnet launch happened a few months later in September. However, the ENT token launch had to wait until early May 2023, when the team released the initial 1% of the total supply on the market. 
What's Controversial About Entropy (ENT)?
Combining oracles and smart contracts for creating dApps is a pretty ambitious plan, and it gives developers a lot of options for integrating off-chain data with blockchain apps. However, Entropy is still very young, and there aren't any dApps that use the network so far, except for the Frutti Dino Stories game. 
How Many Entropy Coins Are There?
The Entropy token's hard cap is set at 54,6 million tokens, with a currently circulating supply of 1%.
The remaining supply of ENT will be produced over time through the network's consensus mechanism as block rewards for validators.
Can ENT Be Mined?
ENT isn't a Proof-of-Work (PoW) crypto that users can mine, but the PoA mechanism works in a similar fashion because validators need to process transactions and get rewarded with block rewards for their services. 
However, since there are only 21 validator nodes on the Entropy network, producing new coins is reserved for a small group of verified node operators.
Market Cap and Price History of Entropy (ENT)
As seen from the Entropy page on CoinMarketCap, the token has reached a 2.3 million USD market capitalization in the days after its launch, along with a daily trading volume of 170,000 USD. 
The ENT price at the time of writing was 5.45 USD, slightly below its all-time high of 5.46 USD, while the token's launch price was around 5.2 USD.
Biggest Competitors of Entropy (ENT)
There are various projects among the top 100 cryptocurrencies that deal with dApps, gaming, and NFTs, but only Chainlink (LINK) combines smart contracts and oracles to feed live off-chain data to decentralized platforms. 
Chainlink's value is over 3.6 billion USD, and it's one of the most reputable digital currencies on the market, used by numerous developers to connect off-chain data sources with the blockchain. Chainlink also uses the Ethereum blockchain, but unlike ENT, LINK has a vast developer community with numerous dApps. 
However, Entropy might become popular if it succeeds in positioning itself as a gaming and NFT-focused platform that utilizes oracles. 
What Does the Entropy (ENT) Project Road Map Look Like?
The next steps in Entropy's roadmap include the launch of the Frutti Dino Fishing and Frutti Dino RPG games for mobile users during 2023. These games will utilize ENT tokens for rewards and on-chain transactions. 
Pros and Cons of Entropy (ENT)
Pros
Users who become Entropy validators can earn passive income from processing ENT transactions

ENT transfers only take three seconds

Developers can power NFT and gaming-focused dApps with ENT

ENT uses oracles to feed blockchain apps with off-chain data
Cons
Users can only purchase ENT on LBank so far

There aren't any apps that use ENT except for the Frutti Dino Stories blockchain game