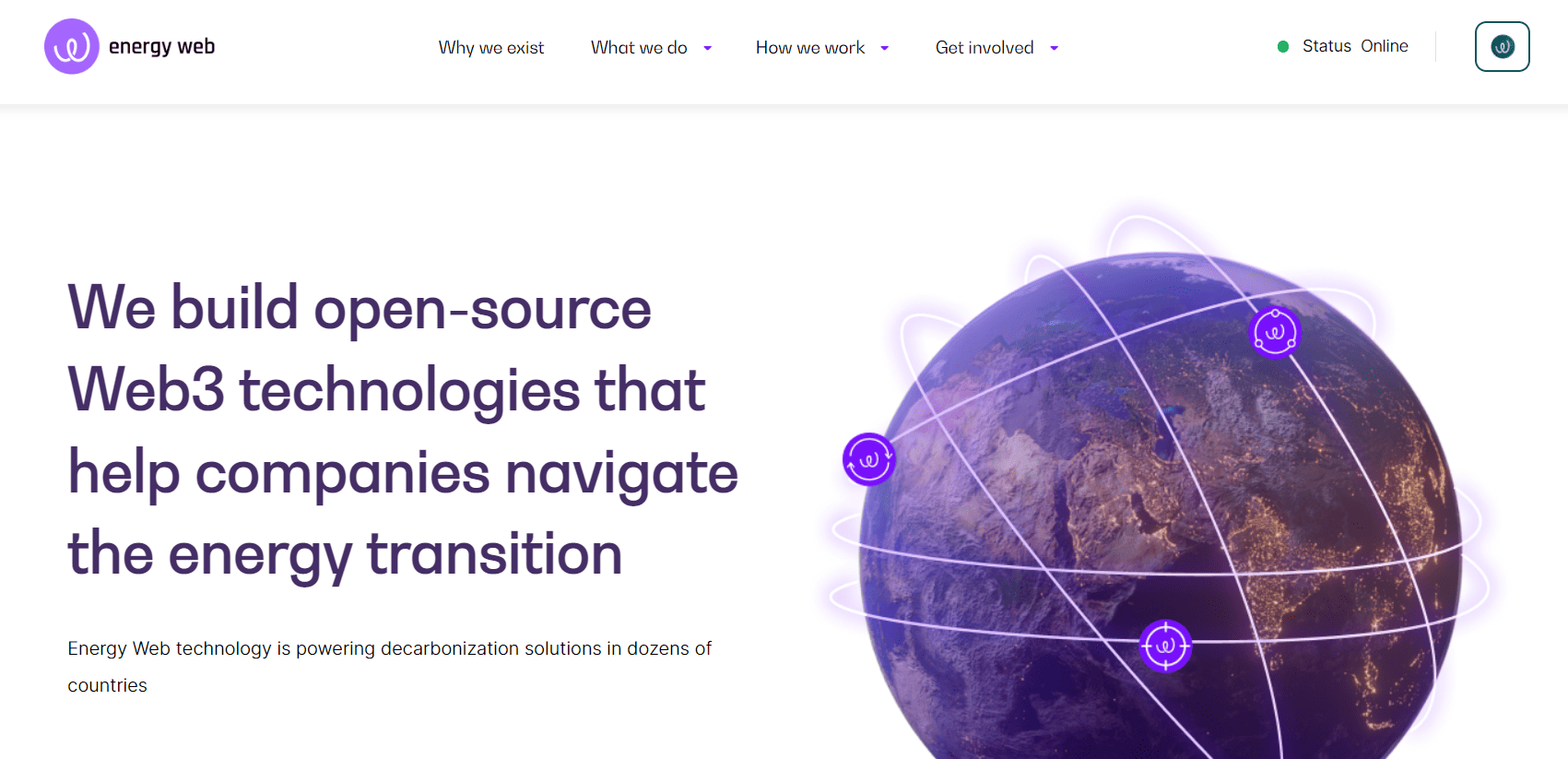 The Energy Web Token (EWT) is built by sustainable energy enthusiasts and blockchain experts to provide the energy industry with a blockchain-based solution for operating clean energy infrastructure.
This review will go over the main characteristics of EWT and help you learn the details of this innovative crypto project.
How Energy Web Token (EWT) Works
Energy Web Token was built as a joint effort between a blockchain company called Grid Singularity (GSy) and the famous Rocky Mountain Institute (RMI) for energy industry-related research.
This cooperation resulted in the Energy Web Token project, which has its own blockchain that uses a special kind of adapted Proof-of-Work (PoW) mechanism called Proof-of-Authority (PoA). The blockchain is called the Energy Web Chain. 
Essentially, the consensus mechanism works very similarly to Bitcoin (BTC). The Energy Web Token blockchain has a bunch of network nodes that validate transactions by finding the appropriate transaction hashes through a mining mechanism. 
The difference from Bitcoin is that only trusted validator nodes approved by the Energy Web Foundation can mine EWT and process transactions. Only these nodes have the authority to approve transfers.
The nodes get mining rewards and produce new EWT tokens. These nodes are companies that are partners of the Energy Web Foundation, which means that the network is relatively centralized, and random users can't start mining EWT. Furthermore, unlike Bitcoin, EWT mining exclusively uses renewable energy sources, and validator nodes are thoroughly checked to ensure clean energy use.
The Energy Web Chain uses the EWT token for all transactions and provides companies with blockchain-as-a-service (BaaS) features related to managing clean energy within their business models. This includes managing clean energy production, distribution, and use in transport, factories, supply chains, and more. 
Instead of using closed electronic networks to introduce and control clean energy use, EWT tokens allow companies to streamline the process through a fast and scalable blockchain network. With the Energy Web Chain, companies can connect with clean energy suppliers, source energy, and manage its use with EWT tokens.
What Is Energy Web Token (EWT) Used For?
The Energy Web Chain can process 76 transactions per second, and each transfer only takes five seconds. This means that energy producers and companies that want to introduce clean energy in their business models have a tremendously high-speed asset at their disposal.
EWT was built with the energy sector in mind, allowing programmers to create decentralized apps (dApps) for the clean energy industry. Developer teams can create custom dApps for specific companies and energy networks using EWT tokens as the intermediary currency.
When companies build dApps on the Energy Web Chain, they are compatible with each other because they use EWT tokens. Suppliers and users don't need to create custom APIs or intermediary apps to connect their services.
EWT tokens have three critical use cases provided by the Energy Web platform:
Asset management

. EWT users can utilize the Energy Web chain for managing electric grids, improving transmission systems, and keeping track of energy assets, such as wind turbines and power inverters. Companies can use the EWT token as the powering block for their electric assets.

Data exchange

. Complex electric market networks of energy providers, product producers, and end-user companies can synchronize their operations with EWT tokens and create a unified, mutually compatible network for getting the most out of renewable energy. EWT acts as the mutual asset of all network participants.

Green proofs

. Companies that utilize clean energy sources and pledge to contribute to global energy decarbonization need to have some mechanism to prove that they're using renewable energy. They can do so efficiently using EWT tokens to create green proofs on the Energy Web chain. 
The platform can track a company's assets and production line with custom-built APIs and EWT-based dApps to ensure all sourced energy comes from renewable sources. Clients using EWT tokens for green proofs come from the aviation industry, the electric vehicle charging market, electricity distribution, and Bitcoin mining. 
Where to Buy Energy Web Tokens (EWT)?
If you're looking to invest some funds in EWT, you can choose between nine centralized crypto exchanges at the moment. 
These platforms include the likes of KuCoin, Kraken, Gate.io, and a few additional exchanges. On centralized platforms, you need to register your profile, and some of them, like Kraken, require you to comply with the Know Your Customer (KYC) protocol and provide extensive personal details. 
If you want to buy EWT with fiat currency, you can do so on Kraken with EUR or USD. On KuCoin, you can trade Tether (USDT), BTC, and KuCoin Token (KCS) for EWT. Gate.io only allows traders to swap ETH for EWT.
There's no support for EWT on any decentralized platform since EWT has its own blockchain that only uses the EWT token as its currency. Because of this, there's no point in creating a DEX on the Energy Web chain. 
How Long Has Energy Web Token (EWT) Been Around? 
The Energy Web chain network was established in 2019 by the Rocky Mountain Institute and Grid Singularity, while the token's launch happened a bit later, in early 2020. 
The partnership between RMI and GSy ensured that the project started with many reputable partnerships in the clean energy industry right away. Some of the early partners and enterprise clients of Energy Web include the likes of Vodafone, Volkswagen, Shell, and Hitachi. 
RMI and GSy established the Energy Web Foundation as a governing body of the network. The governance model includes a council comprising RMI, GSy, and prominent partner companies dedicated to the clean energy transition.
What's Controversial About Energy Web Token (EWT)?
The Energy Web Token and the whole Energy Web platform have been rapidly developing during the last few years by introducing new features and expanding into new industries that include renewable energy in their business models. 
However, some crypto enthusiasts may be concerned with EWT's blockchain consensus mechanism because the Proof-of-Authority (PoA) model is heavily centralized and concentrates power in a small number of network nodes. 
The nodes are operated by Energy Web Foundation members and partner companies, meaning the blockchain isn't controlled by average, everyday users. Instead, enterprises control the network and synchronize with each other, meaning they can arbitrarily decide on making changes to the network protocol. 
This operating mechanism isn't really in line with decentralization, which is one of the key pillars of crypto and blockchain technology.
How Many Energy Web Token Coins Are There?
There are 48 million EWT tokens in circulation, which amounts to 48% of the 100 million EWT hard cap. Initially, 14 million tokens were given as incentives to the EWT developer team, while RMI and GSy got 10 million tokens each, and a further four million tokens were allocated to an EWT community fund. 
The rest of the tokens need to be mined.
Can EWT Be Mined?
EWT is a mineable cryptocurrency, but not everyone can participate in the mining process. Only network nodes approved by the Energy Web Foundation have the authority to validate traffic and reap mining rewards. EWT validators are different enterprises and corporations pledged to the Energy Web mission of merging blockchain technology and renewable energy. 
Also, a key condition for participating in EWT mining is the use of clean energy for powering the mining operation. This means that EWT miners need to use Energy Web green proofs to prove they are using clean energy.
Market Cap and Price History of Energy Web Token (EWT)
EWT's market value is nearly 80 million USD, and it's ranked as the 310th cryptocurrency on CoinMarketCap. In May 2021, EWT set its all-time high of nearly 21 USD per token. During the 2022 bear market, EWT reached a low of 2.4 USD and has since been in the 2 USD to 5 USD range.  
Biggest Competitors of Energy Web Token (EWT)
There aren't many reputable crypto projects that focus on sustainable energy. In fact, Energy Web Token doesn't have any direct competitors among the top 100 projects on the market. Sure, there are various blockchains like Cardano (ADA) and Solana (SOL) that are green in terms of low energy consumption, but there aren't any coins with a focus on renewable energy.
EWT's direct competitors are located in the micro market cap segments, where Powerledger (POWR) and Efforce (WOZX) offer similar services to those of EWT. Efforce has a market cap of 20 million USD, and its market position is far lower compared to EWT, but POWR, on the other hand, has a 90 million USD value and a somewhat higher market position than EWT. 
The key advantage offered by EWT is that it has its own super-fast blockchain fit for high scalability, while the two competitor platforms use Ethereum, which is way slower and more expensive.
What Does the Energy Web Token (EWT) Project Road Map Look Like?
For news about EWT's future development plans, it's best to refer to the project's Twitter profile since there aren't any development details on the platform's website. 
The Energy Web team has been very active lately in terms of live and online events regarding EWT features and real-world use cases. The project was even featured on a panel discussion at the World Economic Forum regarding renewable energy.
The team has also been securing new partnerships with reputable companies in the crypto space like Uphold, as well as with those in industries such as aviation, where EWT is helping reduce the carbon emission of air transport company Jet Blue.
Pros and Cons of Energy Web Token (EWT)
Pros
EWT is incredibly useful for companies that deal with clean energy or enterprises looking to include renewable energy sources in their business models

dApps built on the Energy Web chain all use EWT tokens and are therefore compatible with each other

EWT has its own blockchain, which is faster and more scalable than some leading networks such as EWT
Cons
The EWT consensus mechanism is highly centralized, and only nodes approved by the Energy Web Foundation can mine EWT

Despite being a well-established crypto, EWT is only available on a few trading platforms