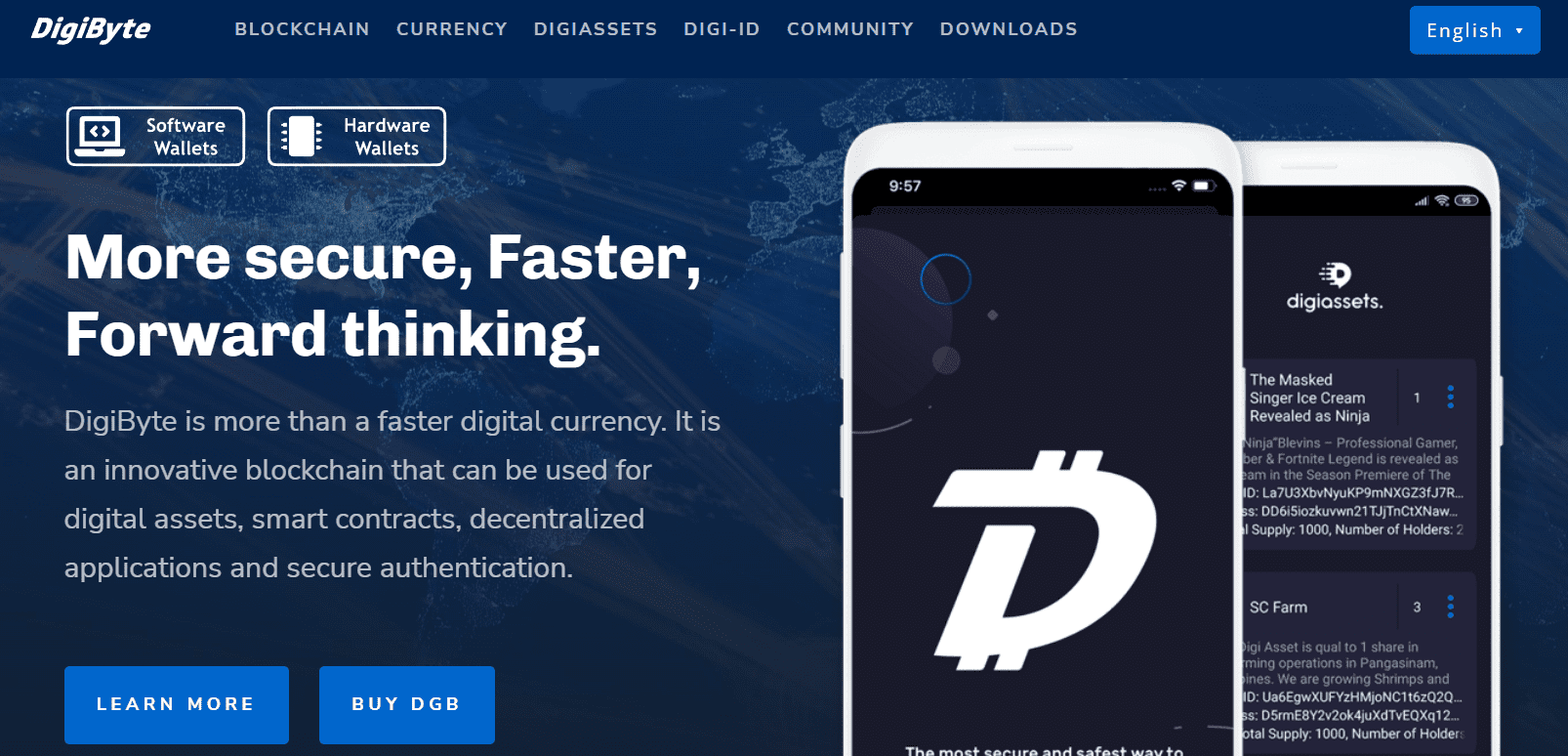 DigiByte (DGB) has one of the most elaborate Proof-of-Work (PoW) blockchains on the market, with numerous features and operating mechanics that make DGB fit for mass use.
The DGB coin is suitable for facilitating fast payments, powering decentralized apps (dApps), and securely storing assets, thanks to its top-of-the-line safety protocol. Let's go through DigiByte's key elements to better understand the DGB coin. 
How DigiByte (DGB) Works
Unlike many modern cryptos that use a Proof-of-Stake (PoS) blockchain mechanism where users delegate crypto to validator nodes that process transactions, DigiByte uses a PoW structure somewhat similar to that of Bitcoin (BTC). 
The difference is that DigiByte's PoW blockchain has numerous characteristics that put the network ahead of its time. DigiByte is faster, more scalable, and fit for launching dApps with thousands of active users and facilitating mass crypto payments. 
DigiByte's blockchain is decentralized and has a vast number of fully independent network nodes that check and process transfers.
Since DGB is a Proof of Work crypto, the validators are miners who use their GPUs to validate transactions. However, unlike BTC, whose mining requires a lot of computing power and electricity, DigiByte is optimized for mining with far lower energy consumption. 
Instead of using one hashing algorithm to verify transactions like Bitcoin, DGB uses a combination of five algorithms: SHA-256, Odocrypt, Qubit, Scrypt, and Skein. This ensures that ASIC miner machines, which are far stronger than GPU mining rigs, can't take advantage of the network and mine more DGB than GPU miners. 
Also, the algorithm combination adds to the network's exceptional security. It makes it nearly impossible for hackers to hijack DGB transactions or breach the network. Strong security is extremely important for financial transactions. That's why a considerable portion of DigiByte's utility is focused on payment solutions.
DigiByte is one of the fastest PoW-based coins, with a transaction time of just 15 seconds on average. Depending on network traffic, the transaction per second capacity is between 266 and 1,066. 
Furthermore, DGB is highly scalable because it has a blockchain with three layers responsible for different aspects of the network. The first layer is DigiAssets, which works as a hub for creating and launching dApps, while the second one is responsible for network security and checking transaction validity. Finally, the third layer is the core protocol that handles communication and processing traffic through network nodes.
What Is DigiByte (DGB) Used For?
Individuals and businesses can take advantage of DigiByte in various ways. 
The DGB coin is 40 times faster than Bitcoin, according to the project's website. This makes DGB much more practical for virtual cash payments than BTC. 
Users don't need to wait five to ten minutes to process a payment. Instead, a DGB payment goes through in just 15 seconds, which means e-commerce platforms and physical retail payment spots can use DGB to enable crypto payments just like standard bank card payment options. 
This high speed and scalability are great for businesses looking to accept crypto payments, while buyers can take advantage of the service and pay with crypto instead of fiat currency.
Unlike Bitcoin, which doesn't utilize advanced smart contracts, developers can use the DigiByte network to launch dApps and power them with DGB coins. Launching smart contracts and dApps on DigiByte is cheaper than doing it on networks like Ethereum (ETH) because the DGB transaction fees are much lower and cost less than a dollar cent. In comparison, Ethereum transaction fees are at least a couple of dollars but can go as high as 100 USD when there's a lot of network traffic.
The network's DigiAssets layer enables users to create digital representations of physical assets such as documents, contracts, cars, and land deeds with the help of DGB tokens. 
Also, users can opt to run a DigiByte validator node by mining DGB with their GPUs. The miners get block rewards by validating transactions and approving new DGB data blocks.
The DigiByte network is highly secure thanks to its use of five consensus mechanisms and the Dandelion++ privacy protocol, which hides user IP addresses. The high security and privacy make DGB a good choice for facilitating huge transactions without fear of hacks, and perfect for retaining user privacy. 
Where to Buy DigiByte (DGB)?
DigiByte is a well-established crypto, which is why it's available on over 50 exchanges and a total of 85 trading pairs, according to CoinMarketCap. Market-leading exchanges like Binance, KuCoin, ByBit allow users to exchange various cryptos for DGB, including ETH, Tether (USDT), and BTC. 
.
DGB isn't available on decentralized exchanges.
How Long Has DigiByte (DGB) Been Around? 
DigiByte is one of the oldest active cryptocurrencies, alongside the likes of BTC, Litecoin (LTC), Dogecoin (DOGE), and ETH. The project was founded in 2013 by crypto enthusiast Jared Tate, who introduced the idea of a faster, more scalable PoW crypto than Bitcoin. 
The DGB coin didn't have an initial coin offering. Instead, the developer team pre-mined 0.5% of the coin supply and gave it out to active community members in early 2014. From that point on, all of the coins were mined by the DGB miners. 
Since its launch, DigiByte has gone through massive changes, and it was the first PoW crypto to adopt essential network upgrades such as SegWit, which allows PoW chains to process more traffic and eliminate excess transfer data. Bitcoin and Litecoin both adopted SegWit after DGB.
The DigiByte developer team is very dedicated to maintaining and improving the blockchain and implements regular network updates. The most recent one was in February 2023. 
What's Controversial About DigiByte (DGB)?
DigiByte has managed to stay relevant in the crypto market since the early years of the industry, which is a great achievement if we take into account the fact that most early cryptos didn't survive so long. 
One of the key reasons behind DigiByte's success is that it has a dedicated developer team, constantly striving to deliver new features and improve the project. Controversy was never something associated with DigiByte. 
How Many DigiByte Coins Are There?
There are currently 16 billion DGB coins in circulation, while the hard cap of the currency is 21 billion coins. All of the coins except the initial 0.5% of the supply were mined by DigiByte validator nodes. The initial portion of the coins was pre-mined by the developer. 
Since there wasn't any ICO, there hasn't been any specific token supply allocation. The coins are launched on the market by mining, and the mining rewards decrease on a monthly basis. The last DGB coin will be mined in 2035, according to current estimates.
Can DGB Be Mined?
Yes. DigiByte is a PoW crypto, and just like BTC or LTC, it can be mined with the computing power of a GPU mining rig.
It's important to note that using an advanced ASIC miner machine won't yield considerably higher profits from DGB mining. The DGB mining mechanism prevents ASIC miners from taking advantage of the network and dominating the DGB mining pools with their hashing power. 
This makes DGB mining much fairer than BTC mining because small-time miners using a single mining rig can take profits by participating in the network with an average GPU rig. Miners don't need to invest thousands of dollars in ASIC machines to mine DGB efficiently. 
Market Cap and Price History of DigiByte (DGB)
DigiByte's market cap of 150 million USD ranks it as the 181st crypto on CoinMarketCap, with a coin price of 0.009 USD.
This was a considerable increase in coin price compared to the DGB price back in 2014 when the coin was initially trading for 0.0014 USD. DigiByte reached its highest coin price in 2021 when it briefly achieved a value of 0.15 USD per coin. 
Biggest Competitors of DigiByte (DGB)
If we take a look at the top cryptocurrencies, it's obvious that Bitcoin, the market leader is the main competitor of DigiByte since BTC was primarily designed as digital cash. However, Bitcoin has evolved into the main reserve currency of the crypto market, and users mostly treat BTC as a store of value since it has a low transaction per second capacity and a slow processing time.
DGB is much faster and more scalable but lacks mass adoption. DigiByte will never be able to achieve Bictoin's adoption rate, but it might be able to become more popular thanks to its capability of launching smart contracts and decentralized apps, which is something that Bitcoin and similar cryptos like Litecoin and Dogecoin (DOGE) lack. 
What Does the DigiByte (DGB) Project Road Map Look Like?
DigiByte doesn't have an explicit roadmap, but the team is constantly updating the protocol, and the project's Twitter account is very active, with lots of news regarding partnerships and new DigiByte features. 
Lately, there have been numerous interviews and live broadcasts featuring DigiByte team members and developers with announcements regarding updates and network usage statistics.
Pros and Cons of DigiByte (DGB)
Pros
DGB is a highly secure crypto and hides user IP addresses, which is great for retaining privacy

Users can mine DGB and earn mining rewards

DGB transactions only take 15 seconds, which makes DGB ideal for crypto payments
Cons
DigiByte has very low chances of competing with digital cash cryptocurrencies like BTC, LTC, DOGE, and Ripple (XRP) unless the project manages to attract a huge influx of new users

The coin's price is much lower compared to its most relevant competitors