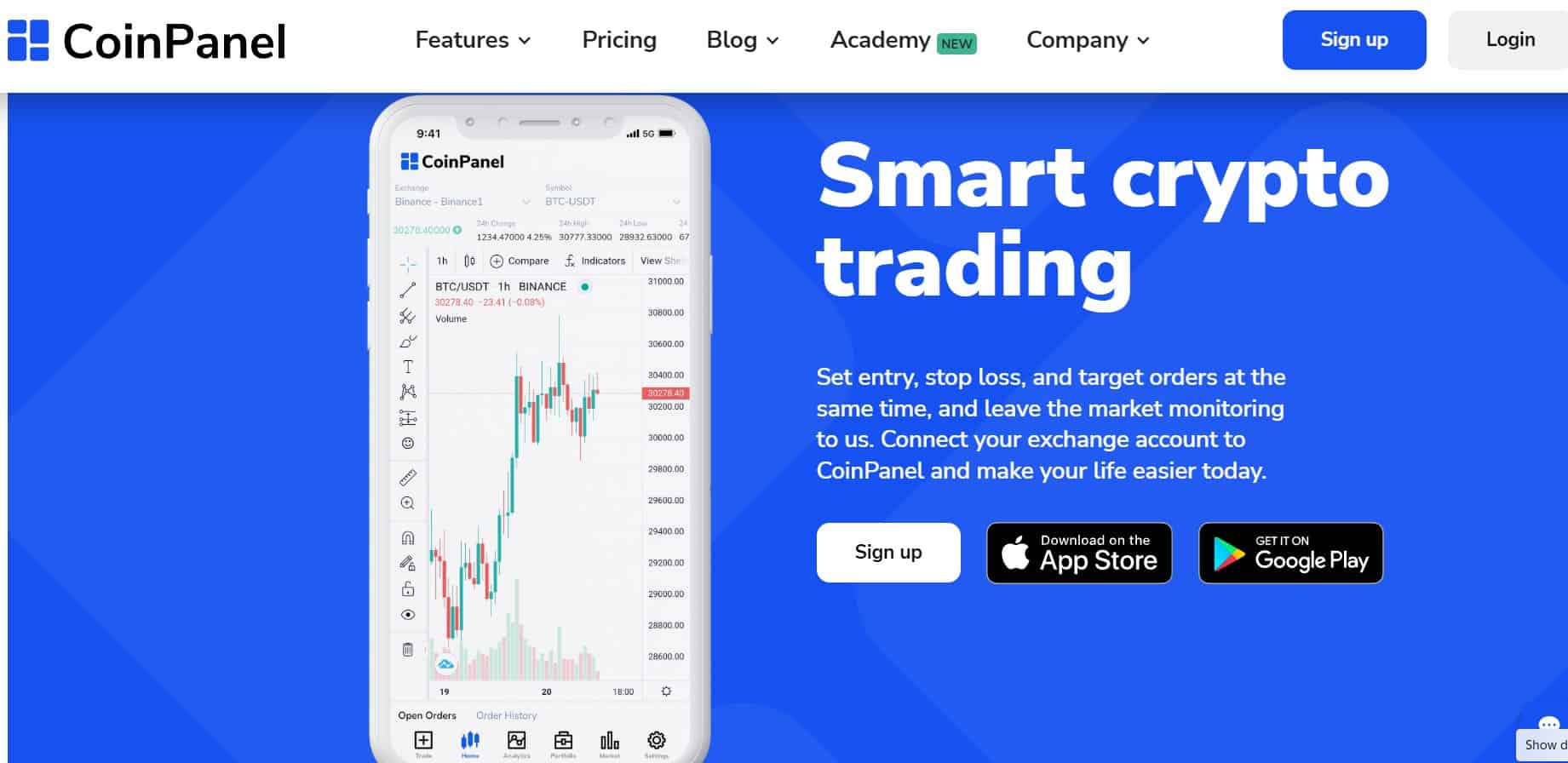 CoinPanel is a Swedish crypto startup encouraging businesses to engage ethically and sustainably. This blockchain platform combines a cryptocurrency exchange, a risk management tool, and a portfolio management API service for cryptocurrencies, connecting it to many popular centralized exchanges.
Here are the details.
What Is CoinPanel?
When it comes to trading assets, especially volatile ones like cryptocurrencies, many retail traders risk financial losses. Many people who trade manually are also influenced by their emotional responses while making an investment decision, which could make them do the wrong thing. 
CoinPanel and similar trading automation tools are real game-changers for the typical crypto trader. More specifically, CoinPanel is a smart crypto trading automation platform that helps traders achieve financial success while minimizing any anxiety associated with investing in the crypto market. 
In essence, CoinPanel is a blockchain-based trading hub that combines a number of different functions into a single interface. The platform is designed to accommodate traders of all experience levels. CoinPanel's automated trading features take the guesswork out of buying and selling cryptocurrencies by communicating directly with some of the best cryptocurrency exchanges and making orders based on your predetermined criteria and market circumstances.
For the time being, CoinPanel integrates with Binance.US, Kraken, Binance, Coinbase, Bybit, Huobi, KuCoin, and OKX, but this list continues to grow, so keep checking the site for any new additions. 
How Does CoinPanel Work?
The main goal of using trading instruments is to make more money while reducing losses and potential risks. The CoinPanel platform gives you the flexibility to collect data and place orders at the most convenient speed, which may result in both time and financial savings for you. 
Cryptocurrency traders must have a reliable risk management system in place at all times, indeed, and CoinPanel offers just that. To add to the convenience, CoinPanel allows you to connect to different trading accounts. For this, the trading interface features a convenient tab for quickly switching between them.
By providing CoinPanel with API credentials to access your cryptocurrency exchange account, you will have the power to grant or withdraw the automated protocol's access to your account at any moment you want. That's how easy it is to start trading with CoinPanel. 
Main Features
Even a crypto trading newbie would likely understand that trading is a process that may take a long time and that market changes can have serious financial consequences. This is why CoinPanel offers various financial instruments for automated trading and portfolio management.
The Full Trade Feature
You can take advantage of CoinPanel's trading platform in a simultaneous manner by employing its stop-loss and take-profit functionalities combined with the Full Trade functionality to enhance your prospective gains from a fluctuating market.
The Full Trade feature allows you to set up the whole trade at once and automatically handles the entering, stop-loss, and take-profit actions.
In its most basic form, Full Trade is a trading bot that simultaneously executes the Buy (Entry), Sell (Stop-Loss), and Take-Profits orders. CoinPanel will automate all these trades for you through Full Trade. This way, you can sit back and relax while platform's mechanisms take care of all the details surrounding the trading operations for you. 
While utilizing this feature, keep in mind that you can only cancel the entire Full Trade. As such, it is impossible to cancel any orders included inside the Full Trade separately. Also, once a limit order is placed in Full Trade, it cannot be canceled without also terminating the Full Trade automation.
The CoinPanel Portfolio Feature
The Portfolio section of CoinPanel allows you to keep track of all of your cryptocurrency investments in one place. The Estimated Value field displays the overall value of all of your assets in Bitcoin, US Dollars, Euros, and British Pounds.
The right-hand pie chart, labeled Portfolio Distribution, graphically displays the compositional variety of your cryptocurrency holdings. If you want a more realistic display, you can opt to hide balances that are less than $10.
If you go to your crypto exchange account's Settings page and click on Balances, you'll see the total value of your holdings, including those that are not committed to orders. In contrast, the Reserved column shows the assets used to execute predetermined deals. The sum of all units for each cryptocurrency is in the Total section.
Is CoinPanel Safe?
CoinPanel is the product of a Swedish development team comprised of Google Certified Professionals. The platform is operated on the highly secure Google Cloud Platform, which is also housed in Sweden. The information is stored in Google Data Centers, which is completely secured and protected by encryption. 
Moreover, none of the CoinPanel employees have access to the funds that you've deposited to your account, despite the fact that the platform provides you with a trading interface that integrates with your existing exchange account. It is only possible to purchase and sell assets using the CoinPanel API that links to your exchange account. 
CoinPanel strongly suggests that you enable two-factor authentication (2FA) to further protect your account. To activate 2FA, you can use Google Authenticator.
Customer Support
The CoinPanel Academy has the potential to be a game-changing opportunity for the majority of its users as it helps them acquire the necessary expertise regarding cryptocurrency trading. In the long run, you'll benefit from combining your theoretical knowledge with the hands-on expertise you gain by trading online independently.
In addition, the CoinPanel website features its own blog, which is an excellent resource for keeping up with the most recent happenings in the blockchain industry. There is also crypto price research available, which could assist you in becoming more adept at managing the fluctuations of the market, as well as professional investing recommendations, experiences, and more.
More importantly, this trading platform provides customer service to its users during business hours and online, using a dedicated email address for both business queries and individual questions.
Mobile App
To celebrate the first anniversary of launching the CoinPanel platform, the developers marked the occasion by launching a mobile app in 2022. The app is compatible with iOS and Android systems.
Conclusion
CoinPanel is an all-in-one trading platform that offers a wide variety of features designed to meet the needs of both novice and expert crypto traders. When it comes to trading, the trading tools of this platform remove the possibility of human mistakes and emotional interference by interacting directly with cryptocurrency exchanges and executing orders automatically, depending on the pricing conditions you specify.
Furthermore, the portfolio management solution enables cryptocurrency traders to monitor their holdings and returns without employing the services of separate software or manually entering trades. CoinPanel is unlike other trading bots since it is both a trading toolkit and a platform for managing cryptocurrency portfolios.
Last but not least, this automatic trading platform runs twenty-four hours a day, seven days a week, according to the trading techniques that you have established. This guarantees you will never lose opportunities to strike a profitable trade ever again.