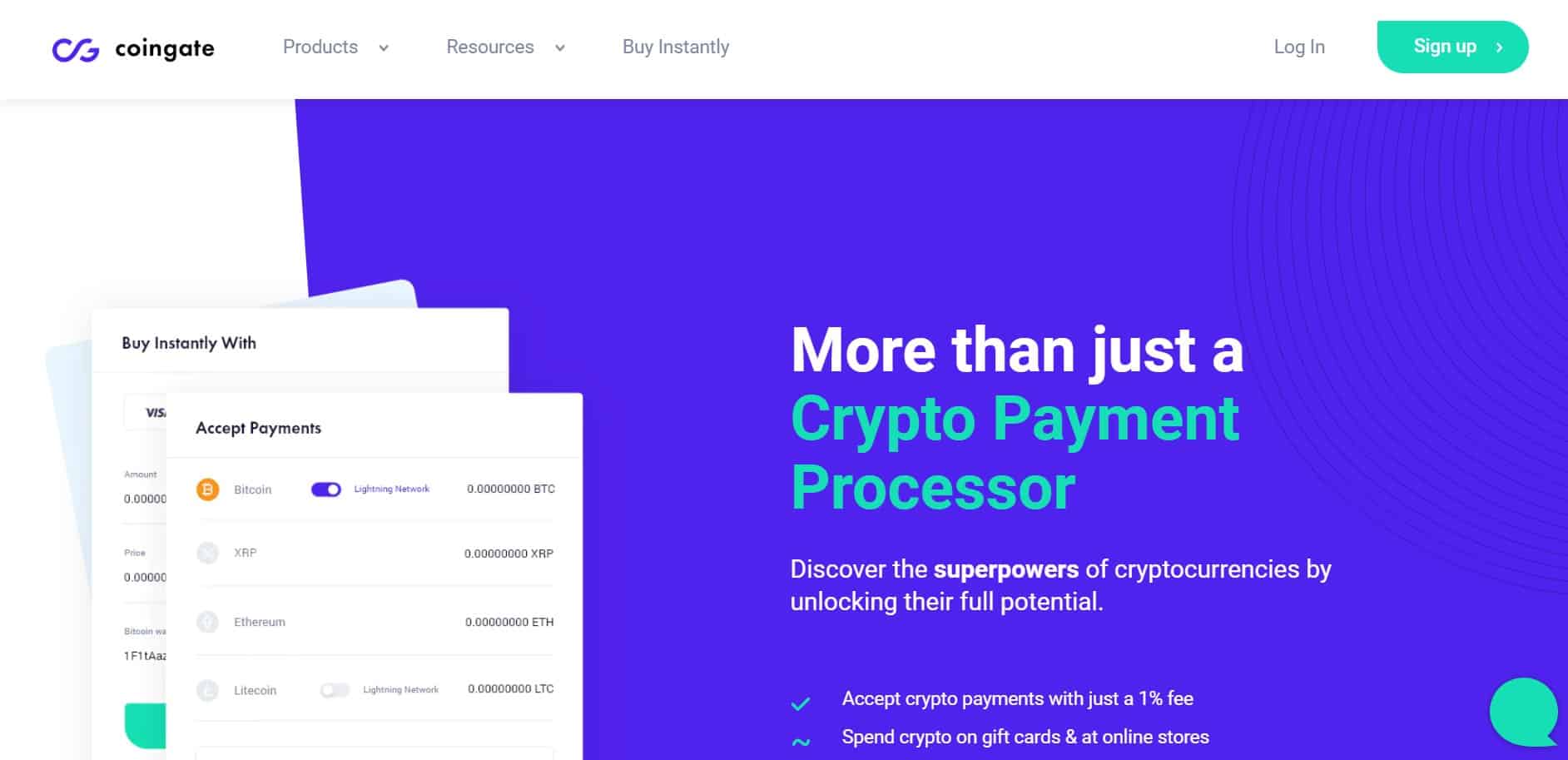 This review will look at CoinGate, a financial technology company founded in Lithuania in 2014. Regardless of the size of your business, this convenient payment gateway can handle all your cryptocurrency processing needs. 
Recently, CoinGate's popularity has grown due to the convenience of its various features, including permission-based account management, fiat remittances to bank accounts, and a recently added email billing option. 
To get even closer to its ultimate goal, the exchnage's team has produced a number of innovative items throughout the years.
Here's all you need to know about this platform. 
What Is CoinGate?
CoinGate is a blockchain platform that offers payment processing services to merchants but also serves as a marketplace where users can buy and sell multiple cryptocurrencies with a single transaction. 
The company facilitates the widespread use of cryptocurrencies by providing multiple options for accepting cryptocurrency payments on any website or store. Payment buttons, web-based Point-of-Sale (PoS) applications, Application Programming Interface integration (APIs), and authorized plugins for the industry's most popular e-commerce platforms are some available options.
You can use various payment methods, including credit/debit cards, SEPA bank transfers, and mobile balances, to purchase or cash out your cryptocurrency holdings.
Verifying a CoinGate Account
You must verify your account as a trader or business to use all available payment options and services on CoinGate, such as cryptocurrency-to-fiat payouts to a bank account. Depending on this information, CoinGate will ask for different forms of ID from you, so decide in advance. 
For instance, if you are a store proprietor and want to provide customers the option to pay with cryptocurrencies, you must establish a trading account by selecting the Create a Business Account option in the upper right-hand corner of the dashboard. This will allow you to accept cryptocurrency payments from your customers.
You can begin the Business Account verification process by clicking the Continue button when ready. In most cases, a business requires a government-issued international passport or other official government-issued identification cards, a company registration document, and articles of association. 
A business can open an account and begin the verification process in a matter of minutes, on average between three and five.
In order to use a personal account for buying and selling cryptocurrencies, you must first go through the Trader Account verification process, which is very similar to the above verification but does not require business-related documentation.
Main Features
To fulfill its vision of being a one-stop shop for all things crypto and bringing crypto payments closer to everyday people, CoinGate develops technologies that enable blockchain transactions and bridge the gap between centralized and decentralized markets.
Send Crypto Bills Immediately
After completing the registration process for this platform, you will immediately be able to begin delivering crypto bills without having to spend any more time on configuration or formatting. Simply enter the recipient's email address, the amount due, and the currency of payment to create and send a bill immediately.
Multiple Payout Options
The digital currency you collect or acquire is yours to keep. If your compensation is denominated in Ripple (XRP), you can withdraw that amount to the external wallet issued to you.
CoinGate also functions as a cryptocurrency exchange, allowing you to convert digital currency into fiat currency. Coins and tokens can be effortlessly converted into your chosen fiat currency with the click of a button through this CoinGate functionality.
Accept Crypto Payments
Choose a CoinGate option, and you'll see a selection of coins you can buy. After this step, the platform creates a payment invoice for the merchant who had previously produced a crypto payment invoice. 
To complete the sale, CoinGate converts the price into the buyer's preferred cryptocurrency.
The platform will collect any cryptocurrency payments made to a merchant and send them back in the cryptocurrency the merchant supports. 
Payment Processing Integrations
Payment Buttons, an Application Programming Interface (API), and integrated Point-of-Sale platforms are some CoinGate solutions you can integrate with your business to better meet your client's needs.
CoinGate's Payment Buttons allow merchants to accept payments in various cryptos with a single click. CoinGate's flexibility means that merchants can tailor the platform to their needs, from the look and feel to the notifications they receive when customers make purchases and send funds.
Furthermore, the CoinGate API has a wide variety of potential uses for any business or retailer looking to accept cryptocurrency payments online. To this end, the platform manages the entire payment process from purchase to settlement. Businesses can accept this new form of payment without taking the risk of exchange rate changes. This functionality works best when integrated at the corporate level. 
Merchants can also accept customer payments instantly and safely with the help of CoinGate's official Plugin modules, which you can download and install with a few mouse clicks.
Instant Buys
Before we get into the core of the subject, I would like to emphasize that the Buy Instantly feature on CoinGate does not necessitate setting up an account on the user's end. It will take no more than an hour for you to receive your cryptocurrency following a quick verification process. However, remember that you'll need an appropriate external crypto wallet to buy cryptocurrencies on the platform.
To complete a Buy Instantly transaction, all you need to do is enter your credit/debit card details, select the cryptocurrency you want to buy, choose the amount you want to buy it for (between $50 and $20,000), and input the wallet address where you want to receive the funds. Remember that a substantial price tag is associated with using this feature.
Then, enter your payment details on the secure checkout page to finalize your purchase. Simplex, a trusted name in the worldwide payments industry, processes your credit card information quickly and securely utilizing industry-leading encryption software.
Gift Cards
Customers of this platform can use their cryptocurrencies to purchase gift cards from over a thousand different retailers and services, including Netflix, Amazon, and Xbox, to name a few.
CoinGate gift cards are unique, and you receive them via email almost instantly (in 99.9%). You can also ask CoinGate to email them directly to a friend or family member, making them ideal for last-minute gifts.
In addition, if a customer pays for a membership with a gift card instead of a credit or debit card, they can circumvent geographical constraints and gain full access to the subscriptions' features.
Merchant Directory
Customers can locate online merchants accepting more than 70 different cryptocurrencies through the Merchant Directory.
Using CoinGate's list of stores that accept crypto, cryptocurrency buyers can choose from more than 150 online stores in the gaming, consumables, leisure, luxury brands, software, and digital services industries.
CoinGate Fees
When figuring out exchange rates for invoices, CoinGate uses rates from multiple exchanges around the world. Our platform's top priority is always to assure compliance with all functional, legal, and solvency standards while also making every effort to maintain its position as a competitive player in the market.
To accomplish this, the platform uses its own unique algorithms to retrieve up-to-the-minute exchange rates and then adjusts them for the inherent risks in each individual transaction. As an additional safety measure against market fluctuations, the platform locks in the applicable exchange rate for the duration of 20 minutes. 
Additionally, the exchange rate is laid out in plain view on the payment invoice, contributing to an overall rise in the level of openness of the company's operations.
CoinGate's standard charge for conducting SEPA bank transfers is 1%, which covers the service's buttons, integrations, web PoS, APIs, and invoicing. On the other hand, if you want to make purchases with your credit card, expect to pay a whopping 8% in fees. CoinGate's page features a detailed breakdown of all of their associated fees.
Security
Being a financial technology firm, CoinGate is required to adhere to all applicable local, national, and international regulations, as well as the 5th Anti-Money Laundering Directive (AML) approved by the European Parliament in order to prevent fraud, the financing of terrorism, money laundering, and other illegal acts. That's the only way the business can guarantee that bad actors won't use the service.
This platform also employs the two-factor authentication (2FA) protocol, a tried-and-true method for securing user access to cryptocurrency platforms widely utilized in the financial services sector. The 2FA protocol protects your account from illegal access by asking you to input a passcode sent to your mobile device.
In order to protect digital assets from theft by cybercriminals, the company also stores the bulk of its assets in cold (offline) storage.
Also, CoinGate conforms with the requirements of the General Data Protection Regulation (GDPR). Send an email to dpo@coingate.com if you have any questions, comments, or complaints about how the platform gathers, uses, and keeps your sensitive data. CoinGate's Data Protection Officer will respond to your inquiries and address any issues.
To wrap this up, CoinGate has never been the victim of a hacking attempt, suffered a loss of funds, or had sensitive data stolen from its platform since its inception.
Customer Support
Users that have questions can get their questions answered by visiting CoinGate's Frequently Asked Questions section or the CoinGate Blog.
Customers can email support@coingate.com or use the contact form on this page to explain their issue if they cannot address it using the Help Center. CoinGate's customer service representatives will get back to you with responses to your inquiries within twenty-four hours.
Conclusion
CoinGate is a one-stop shop for all your cryptocurrency payment processing, trading, and gift card needs. The company promotes the general adoption of cryptocurrencies by offering a variety of methods for integrating crypto payments into the operations of any store, virtual or brick-and-mortar.
More specifically, CoinGate users can trade their cryptocurrency for fiat currency thanks to the platform's support for a wide variety of payment methods. Now that CoinGate merchants have the ability to convert their cryptocurrency holdings into fiat currency, they can accept more than 70 cryptocurrencies through this platform. 
Introducing this feature is unquestionably brilliant news for crypto enthusiasts who are interested in using their digital money in day-to-day transactions.