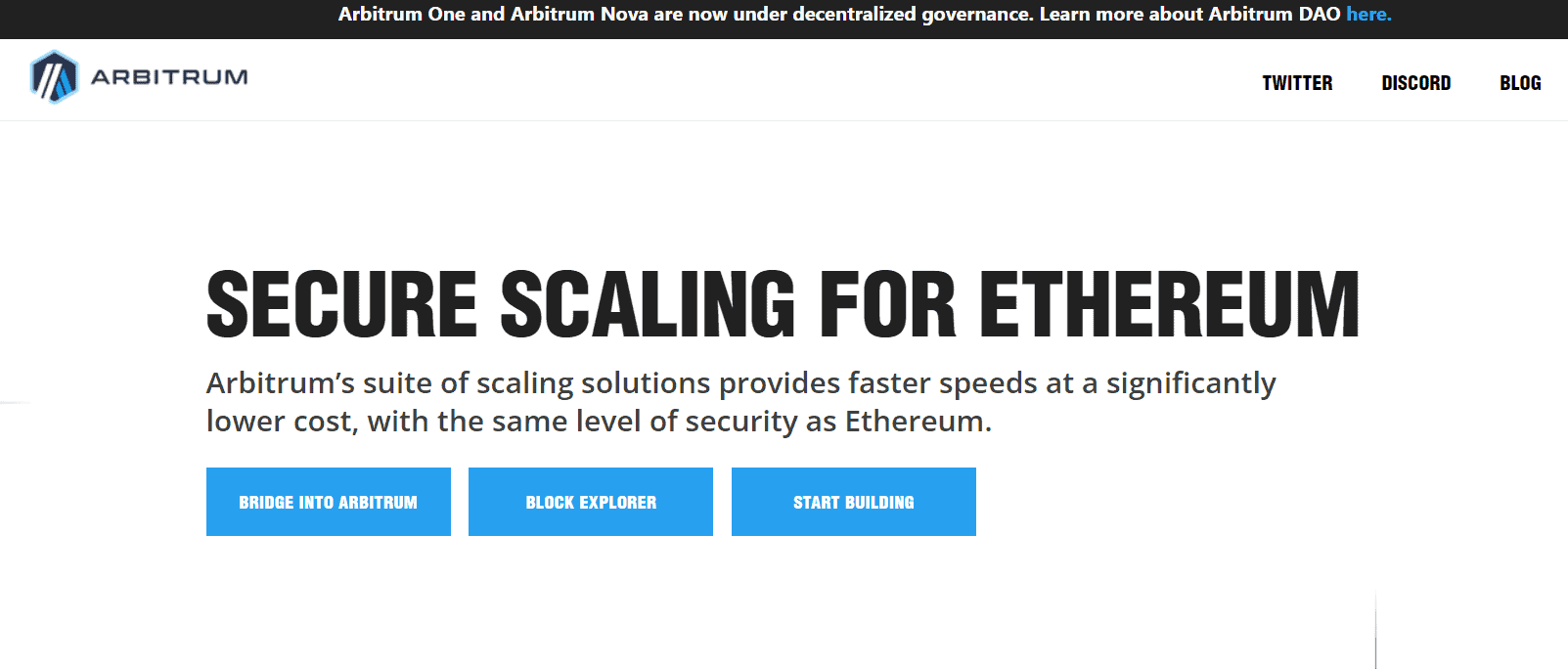 Arbitrum has been a trending Layer-2 Ethereum scaling blockchain project for quite some time, but its native ARB token was launched recently. The newly launched token has attracted much attention in the crypto community and introduced various utilities for Arbitrum holders.
Let's learn more about the story behind the ARB token and its essential features.
How Arbitrum (ARB) Works
The ARB token is the result of a two-year journey of the Arbitrum project, which started as an Ethereum (ETH) scaling solution that works as a Layer-2 blockchain network, similar to Optimism (OP) and Polygon (MATIC).
The key difference compared to other Ethereum Layer-2 networks is that Arbitrum didn't have a native token during the first two years of its existence. This didn't prevent the network from attracting loads of crypto projects and developer teams who decided to launch their decentralized apps (dApps) on the platform.
Arbitrum uses a highly-versatile blockchain structure that doesn't require a native token to launch dApps or pay transaction fees. Developers were able to use ETH or any other Ethereum-based asset to facilitate transfers on Arbitrum. Still, the Arbitrum team decided to launch the ARB token to add extra utilities to the network.
Before the ARB introduction, it was necessary to use Arbitrum network-compatible assets, such as Arbitrum-based Tether (USDT,) to take advantage of the network's high scalability and speed. Now, users have the blockchain's native ARB token at their disposal. 
With ARB tokens, users can take advantage of the tremendous network speed that can process thousands of transfers per second, with plans to increase the speed over time. For comparison, Ethereum can only process around 30 transfers per second. 
The ARB token takes advantage of key Ethereum network strengths, such as its blockchain security, while providing users with higher network speed and scalability. When you send some ARB through the blockchain, it uses the Arbitrum Layer-2 network to facilitate a transaction much faster than Ethereum, but it relies on Ethereum's high security to ensure the validity of transfers.
Similarly to Ethereum, it uses a Proof-of-Stake (PoS) consensus model, but instead of staking ETH, users can now stake ARB tokens and earn token rewards. The Arbitrum validator nodes check every transaction and use a mechanism called optimistic rollups to shorten transaction finality and process transfers in large batches simultaneously. 
What Is Arbitrum (ARB) Used For?
The launch of the ARB token was a prerequisite for the transition of the Arbitrum network from a centralized decision-making model headed by Offchain Labs to a fully decentralized crypto run by a DAO (decentralized autonomous organization.
Active members of the Arbitrum community can now participate directly in the network's development by voting in the Arbitrum DAO if they hold ARB tokens. 
Around 12% of the total 10 billion ARB token supply was distributed on March 23, 2023, to active Arbitrum community members. This included early Arbitrum developers who had already launched dApps on the network and individual holders who were active on the project's social media channels, such as Twitter and Discord.
These early Arbitrum advocates form the initial Arbitrum DAO membership, but anyone who holds ARB tokens is eligible to vote on the network. Of course, community members with more ARB tokens have a bigger influence than others. 
The ARB token can also be used as a convenient currency for transferring assets between different blockchains because it's designed for inter-blockchain compatibility with networks that use the Ethereum Virtual Machine (EVM) programming suite. It's pretty easy to transfer assets between Ethereum, Arbitrum, and other Layer-2 or Layer-1 EVM networks. 
Despite being launched quite recently, ARB is already a large-cap crypto with massive market demand, which makes it a potentially profitable investment. 
Arbitrum token staking is another way to profit from ARB tokens by simply delegating your ARB to a network validator node. You don't have to do anything else because the staking mechanism automatically distributes rewards.
Also, dApp developers can use ARB as the token of their decentralized platforms because it can handle thousands of simultaneous transactions. Developers can use the token for DeFi yield-farming protocols, liquidity pools, blockchain marketplaces, and more. 
Where to Buy Arbitrum (ARB)?
The launch of the ARB token in March 2023 gained so much attention that the token was already trading in the form of IOU (I owe you) contracts on various popular exchanges several days before its official launch. 
On the day of the Arbitrum airdrop and market launch, dozens of popular exchanges immediately listed ARB, and less than a week later, the token was already available in over 130 trading pairs across 50+ crypto exchanges. 
Crypto enthusiasts who prefer to connect their wallets to a decentralized platform can try KyberSwap, TraderJoe, and UniSwap. Some of the assets you can use to buy ARB are USD Coin (USDC), True USD (TUSD), Wrapped Ethereum (WETH), Dai (DAI), and Tether (USDT). 
Be sure to have the Arbitrum-compatible version of these cryptos before you attempt to purchase ARB. For example, if you want to buy ARB with DAI on a DEX, you can only do it with Arbitrum-compatible DAI. You can't purchase ARB with Avalanche blockchain-based DAI. 
Most of the key CEX platforms also support various ARB trading pairs. For example, you can ARB on Binance with Bitcoin (BTC), USDT, TUSD, and even directly with cash through an ARB/EUR trading pair. On KuCoin, you can trade USDT for ARB, while Kraken lets users buy ARB with EUR and USD. 
How Long Has Arbitrum (ARB) Been Around? 
While ARB was launched in March 2023, the Arbitrum network is far older and goes back to 2021 when Offchain Labs, the team behind Arbitrum, raised 120 million USD of assets from various major crypto investors such as Pantera Capital and Lightspeed Venture Partners.
Since the launch of the network, Arbitrum has been on an exponential growth path, and the launch of the ARB token was the most recent development phase of the project. Offchain Labs needed to launch ARB to give users more network utility and to introduce the DAO governance mechanism.
What's Controversial About Arbitrum (ARB)?
Some crypto enthusiasts might find it controversial that Arbitrum didn't have the ARB token for nearly two years since the network's launch, but this is easily explained by the fact that the Layer-2 chain is incredibly compatible with Ethereum and didn't need its own token. 
Also, the launch of ARB is a result of the community's need for true decentralized control over Arbitrum, and if the developers hadn't launched ARB, the project would have remained under centralized control by Offchain labs. Basically, the launch of ARB helped solve the question of control over Arbitrum. 
How Many Arbitrum Coins Are There?
A little over 12% of the 10 billion ARB token supply is available on the market right now. 
Nearly 43% of the remaining supply will remain in the Arbitrum DAO treasury, while almost 27% goes to the Arbitrum developer team for future development salaries and for paying advisors. The remaining 18% is for the project's early investors, who helped finance Arbitrum. 
Can ARB Be Mined?
ARB isn't a mineable cryptocurrency.
Market Cap and Price History of Arbitrum (ARB)
Nearly instantly after the ARB token launch, Arbitrum gained a market capitalization of over one billion USD, which makes ARB a large-cap cryptocurrency.
The token's price, however, suffered a 90% decrease since the launch when it was trading above 11 USD for a few hours. A considerable portion of traders who received the airdrop tried to immediately dump the token and sell it for profits, which created a massive fall in the ARB price. 
The token has since been changing hands at the 1.2 USD price level. 
Biggest Competitors of Arbitrum (ARB)
Before the launch of the ARB token, Arbitrum couldn't really compete with other Ethereum Layer-2 solutions because competitors like OP and MATIC had their native tokens. However, since the ARB launch, these two projects became Arbitrum's main competitors.
While OP has a considerably lower market position than ARB and a market cap of around 700 million, MATIC is a much stronger competitor because it's in the top 10 cryptos and has a market cap of around 10 billion USD. 
What Does the Arbitrum (ARB) Project Road Map Look Like?
Now that the ARB token has been officially launched, the following period will see the development of the Arbitrum DAO and the treasury governance mechanism. 
Also, the developers have announced the development of Arbitrum's Layer-3 blockchain development framework called Arbitrum Orbit. The Arbitrum Orbit project will let users quickly launch their own blockchains based on Arbitrum technology and integrate dApps that use popular programming languages like Rust and C++.
Pros and Cons of Arbitrum (ARB)
Pros
ARB token holders can participate in the Arbitrum DAO through voting.

ARB holders can earn staking rewards by delegating their ARB to staking pools.

The ARB developers increased the transaction throughput significantly without compromising Arbitrum's security
Cons
Arbitrum's price suffered a massive 90% decrease after the token's launch.